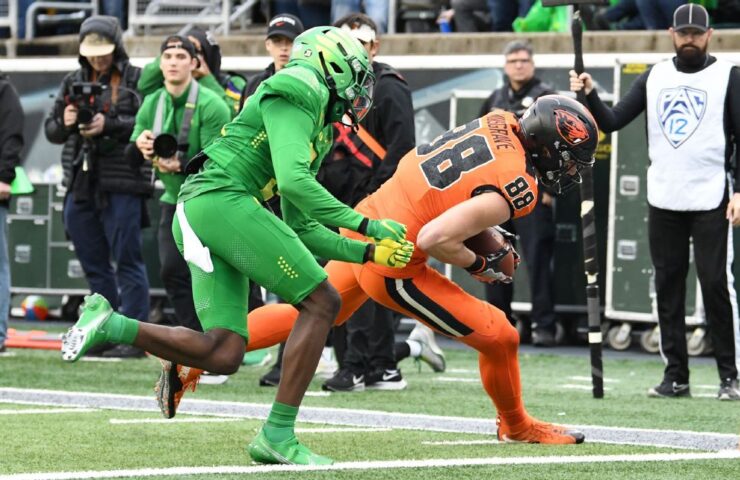 The biggest NFL draft risers since last summer: Seven who
Draft boards are built over a year in the NFL, not in the weeks crammed between the combine and the start of the first round.
And while there are no real "sleepers" invited to the combine or Senior Bowl, a draft riser climbs the charts through the season and into the pre-draft process. He gets somebody's attention and forces an adjustment, or three, to the grade he carried when the college football season began.
With the start of the 2023 NFL draft approaching on April 27 (8 p.m. ET on ESPN, ABC, ESPN App), let's take another look at some of the players in this draft class who have gained the most ground. Last year's list included Troy Andersen (No. 58 pick), Jelani Woods (No. 73 pick) and Joshua Williams (No. 135 pick).
Here are some of the top risers for this year's draft, with a lineman leading the way.
Scouts Inc. ranking: 17
How far he climbed boards: Wright is the body-of-work riser. Scouts had a third-round grade on him, at best, in August. They thought he had been inconsistent at the Vols' left tackle in 2021. So, in a lot of databases, he opened the season as a Day 2 or even early Day 3 pick. Now, he sits solidly with a first-round grade and is expected to be among the first tackles off the board.
Turning point: Sept. 1, when Wright lined up at right tackle in the Vols' season opener against Ball State. After the 2021 season at left, he went back to the right side. And the confluence of time, experience, work and the positional return — he played right tackle and right guard in 2019, right tackle in 2020 — resulted in Wright playing with better footwork and technique this past fall.
play
0:50
Darnell Wright's NFL draft profile
Check out the best highlights that contributed to Tennessee OT Darnell Wright's career in college.
Why he rose: There are still some bobbles in pass protection at times — he lets rushers get into his body a little too often — but he was far more comfortable in his technique throughout the year. And his work against Will Anderson Jr. in Tennessee's 52-49 win over Alabama this past October, when the Crimson Tide had one sack — by DJ Dale — in the Vols' 32 dropbacks, was reviewed plenty.
What they're saying: "I built on the things I lacked and stayed strong with the things I was good at … just progressing." — Wright on the biggest difference between his junior and senior seasons
Scouts Inc. ranking: 48
How far he climbed boards: Some evaluators said early in the 2022 season Musgrave "felt like" a late Day 2 or early Day 3 pick in a deep tight end class. But Musgrave's 11 catches for 169 yards and a touchdown over the Beavers' first two games got their attention. His pre-draft testing, including at the combine, has pushed him more than a round up the board.
Turning point: Musgrave suffered a left knee injury Week 2 against Fresno State, had surgery and didn't play for the remainder of the season. Oregon State coach Jonathan Smith indicated during the season Musgrave might return, but Musgrave said at the combine coming back during the season "was not a possibility" and Smith's open-ended comments during the season were "more of a strategic game-plan thing." When Musgrave showed up at the Senior Bowl ready to go, he had a captive audience. He dominated throughout the week on the field and coaches have lauded his composure in interviews.
Why he rose: At 6 feet, 5 ⅞ inches tall and 253 pounds, Musgrave ran a 4.61 40-yard dash at the combine. It was a few weeks after he had shown top-end route-running skills and reliable hands at Senior Bowl practices.
What they're saying: "I played in the Senior Bowl, I'm 100 percent confident [in my knee]. … I think I have a good feel for manipulating coverage, I think, just practicing what I can, and can't, get away with." — Musgrave on his health and readiness for the NFL
Scouts Inc. ranking: 102
How far he climbed boards: It varies from team to team, with those who have a specific role for him saying he could be a late Day 2 pick. That's a multiple-round jump from the heart of the 2022 season for some in the league. But again, it likely depends on there being a defensive coordinator who has a vision for a player who produces as an edge rusher despite height-weight measurements that don't fit the norm.
Turning point: He is the classic case of a player getting plenty of attention throughout the season who does something astonishing at the Senior Bowl or the combine to force scouts to reconsider. People knew he rushed the passer with success despite being 6-0 ½, 237 pounds, but when he uncorked a 4.47 40-yard dash at the combine, he got a deeper look.
What to know for the 2023 NFL draft
Ranks: Kiper | McShay | Positional
Mocks: Kiper | McShay | Miller | Reid
• Biggest needs » | Riddick's favorites »
• QB Hot Board » | First-round grades »
• Scouting reports » | Order » | More »
Why he rose: He has moved some as teams set their boards in recent weeks. The combine and pro day workouts further bolstered a résumé that includes 23.5 sacks and 43 tackles for loss at Louisville.
What they're saying: "On one hand, too small, and on the other, I watch him get off the ball with upper body power and I'm like, 'Let's coach that up.' Too much speed to dismiss." — AFC general manager
Scouts Inc. ranking: 213
How far he climbed boards: An underlying principle in any draft is there are essentially two draft boards — the quarterback board and the board for everybody else. Because the demand for quarterbacks far exceeds supply, they are routinely selected well above their grades. Bennett, depending on who you ask, could have moved himself into an early Day 3 pick after the pre-draft workouts and visits.
Turning point: Before the combine, Bennett's draft prospects were certainly aided by the Bulldogs' back-to-back national titles. But he was arrested Jan. 29 on charges of public intoxication and bypassed the all-star games, sometimes considered a no-no for quarterbacks intent on showing evaluators they want to compete. But Bennett did strong work at the combine and the Bulldogs' pro day, and his interviews with coaches are considered favorable.
Why he rose: After he raised some eyebrows when he skipped the all-star-game circuit, Bennett was one of the busiest players in the post-combine weeks. He had double-digit team visits in recent weeks, throwing both at the combine and at pro day. Bennett's size is still a concern for some (5-11⅜, 192 pounds), but he was conditioned well for his workouts and showed good downfield arm strength in throwing sessions.
What they're saying: "There's so much more to playing quarterback than people know. … The mental acuity and how you can handle certain situations, you can't really measure that. I have confidence in my ability." — Bennett on his NFL potential
Scouts Inc. ranking: 251
How far he climbed boards: Zavala, who was not invited to the combine, has made several top-30 visits in recent weeks. He has the potential to be a draft weekend surprise and could sneak into the top 120 picks if the board falls his way.
Turning point: He missed seven games in 2021 because of a back injury after transferring from Division II Fairmont State, where he was a two-year starter. Fairmont did not have a fall season in 2020 because of COVID-19. His work this past season — when he showed himself to be a powerful drive blocker with quality footwork in pass protection — has moved him up the charts.
Why he rose: He played well this past season, and while he is older than many of the prospects because of his six seasons at two schools, his pro day workout would have been one of the best of any guard at the combine. He ran a 5.01 40 at 6-3 ½, 322 pounds, with quality work in position drills and 30 repetitions of 225 pounds in the bench press.
What they're saying: "He gets after it in the run game, just pounds guys with his hands, and I watched him stone guys in the pass rush. I'd want him in our camp for sure, and I hope he is." — AFC team area scout
Scouts Inc. ranking: 273
How far he climbed boards: He could move into Day 3 if a team is comfortable with the idea that he might have to learn a new position as they try to take advantage of what he has shown as an edge rusher.
Turning point: Land is an example of a tweener, and his standing after the 2021 season was likely higher than it was as the 2022 season unfolded. He has rebuilt some of that interest over the past four months. When he drew favorable reviews for his work at inside linebacker in some of the Senior Bowl practices, it added to the premium work he already had on game video as an edge rusher. At 6-3½, 236 pounds, teams are going to have to figure out where to play him, especially since his timed speed (4.62 in the 40 at the combine) didn't really match his game speed.
NFL draft coverage from
Football Outsiders projects top draft prospects at key positions:
• QBASE 2.0: Projecting the top QBs »
• Playmaker Score: The top WRs »
• BackCAST: Projections on top RBs »
• SackSEER: The best pass-rushers »
• More NFL draft coverage »
Why he rose: His pass-rush numbers were ridiculous, especially in 2021, when he won the Buck Buchanan Award with 19 sacks and 26.5 tackles for loss. In his three seasons with the Rattlers, he had 29 sacks and 42.5 tackles for loss. With the potential versatility he showed at the Senior Bowl, teams are thinking about him.
What they're saying: "I'm still not totally sure what you do with him, but he's got bend, he plays with a high motor, he knows how to rush, he knows how to hand fight, all those things. He might need some time, but I'd like to see what he can become." — NFC team director of scouting
Scouts Inc. ranking: 292
How far he climbed boards: He has climbed enough that 31 teams had representatives at his pro day. It was an important day on the calendar for Fisher since he was injured during the NFLPA game, could not participate in the Senior Bowl and was not invited to the combine. After his pro day, scouts have said he could land anywhere from the fourth to sixth round.
Turning point: Fisher and Kentucky cornerback Keidron Smith were late invitees to the Senior Bowl rosters, but Fisher suffered a fractured hand on the second snap of the NFLPA game. He was scheduled to fly to the Senior Bowl immediately following the NFLPA game but didn't get to participate in practices in Mobile.
Why he rose: His pro day was proof he was one of the biggest combine snubs. He started games at both tackle spots at Shepherd, could move to guard in the NFL and was willing to work as a center in drills during pro day. At 6-4⅛, 296 pounds, he was clocked at 4.96/4.97 in the 40 at his pro day and did 40 repetitions of 225 pounds in the bench press. Those two marks, in addition to some of the times in his drills, would have been the best, or tied for the best, among the offensive linemen at the combine.
What they're saying: "The goal is get drafted. … I think people were able to see my footwork and what I can do; hopefully it's all a boost." — Fisher on his draft status