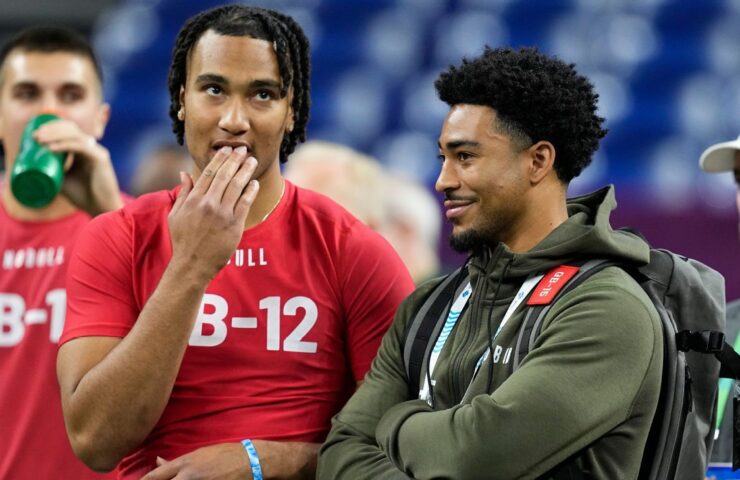 C.J. Stroud vs. Bryce Young: A tale of the tape,
CHARLOTTE, N.C. — Bryce Young over C.J. Stroud?
C.J. Stroud over Bryce Young?
Those are the questions facing the Carolina Panthers as they decide which quarterback they will take with the No. 1 pick in the NFL draft on April 27 (8 p.m. ET on ESPN, ABC, ESPN App).
Many in the league who were interviewed believe it will be Stroud, mostly because the former Ohio State quarterback, at 6-foot-3 and 214 pounds, fits the physical stature that first-year Carolina coach Frank Reich is accustomed to working with.
None of Reich's quarterbacks the past 17 years has been shorter than 6-2.
Many others interviewed believe Alabama's Young (5-10, 204) checks more boxes.
"Bryce is a better player despite his size," said one NFL executive, echoing the thoughts of others speaking on condition of anonymity.
Said another, "With Bryce, it's hard to poke holes."
Unknown is whether the early buzz that Reich might prefer the bigger Stroud over Young was a smokescreen or whether concerns over Young's size and durability (despite starting 27 of a possible 28 games over the past two seasons) really will be the deciding factor for Carolina.
What is known, according to front office sources with knowledge of the situation, is the Panthers traded from No. 9 to No. 1 with the intent of drafting Young or Stroud, even though publicly, team officials have included Florida's Anthony Richardson and Kentucky's Will Levis in the mix. General manager Scott Fitterer and Reich — and everyone else involved in the Panthers' process — say they are on the same page and don't anticipate a dispute with the final decision.
Let's take a closer look at what separates Young and Stroud as Carolina evaluates which criteria will carry the most weight when making the final call.
Ohio State quarterback C.J. Stroud, left, and Alabama quarterback Bryce Young are expected to be the top two picks in the NFL draft. Who will the Carolina Panthers take at No. 1? AP Photo/Darron Cummings
Leadership and character
These are two of the first things Reich mentions when asked what he's looking for in a quarterback.
"Marv Levy, when I used to play for him, he would always say, 'Give me high-character players who have good football intelligence — and they're always going to figure out how to get better,"' Reich said of the former Buffalo Bills coach.
Young and Stroud are humble and confident. That came off at their respective pro days when they declined to make an argument for being the No. 1 pick.
"I don't have any arguments [for why I should be the top pick]," Young said at his pro day. "I try to be myself. I want to present myself in the best light. Where I'm picked, who picks me, I'll be grateful for whatever team that takes a chance on me."
Said Stroud, "It's not my job [to make a case for being the top pick]. My job is to be as best as I can as myself. Whatever happens, happens. It's not in my control."
What they're saying
Reich: "Different styles of leadership, but both, really good leaders. And one of the jobs as a leader is to create moments. Not just on the field. As a leader, you can't manufacture those. It has to happen organically. And you have to have that leadership instinct and sense to know when to seize the moment, to know when to step up and create that moment. Those guys you can see have that."
Ohio State coach Ryan Day on Stroud: "He has the right makeup, just in terms of who he is as a person, his leadership and his ability to handle himself in a professional manner."
Unnamed NFL executive: "Bryce would be my pick just watching them both play football, smarts, leadership."
When it comes to extending plays, Ohio State quarterback C.J. Stroud thinks he's as good as "anybody else in the country." Dale Zanine-USA TODAY Sports
Pocket presence, escapability and playmaking
In terms of handling pressure, both excelled the past two seasons, but Young was significantly better.
During that stretch, according to ESPN Stats & Information, Young ranked first in passing yards (2,132), passing touchdowns (24) and completions of 20-plus yards (34) when under pressure. Stroud ranked 16th in total yards (1,364) and passing touchdowns (15), and was 20th in completions of 20-plus yards (20).
The big difference is Stroud seldom had to make plays outside the pocket for the Buckeyes because his protection was so good. He never had a game with more than eight rushes in his career.
What to know for the 2023 NFL draft
Ranks: Kiper | McShay | Positional
Mocks: Kiper | McShay | Miller | Reid
• Biggest needs » | Riddick's favorites »
• QB Hot Board » | First-round grades »
• Scouting reports » | Order » | More »
Young often had to ad-lib because of breakdowns behind a line that for Alabama was substandard, yet his production didn't suffer.
In 2022, Alabama's offensive line allowed a quarterback pressure within 2.5 seconds 9.9% of the time, which ranked 29th in the country. Ohio State's line ranked 17th at 8%. However, Alabama ranked 80th in pressure rate allowed at 29.2%, and OSU ranked 22nd at 23.4%.
Nevertheless, in part because of Young's mobility and ability to avoid sacks, Alabama had a lower sack percentage: 7.5% to OSU's 8.0%.
In terms of production, Young finished with the highest Total QBR rating outside the pocket (95.7) of the 98 FBS quarterbacks who attempted at least 250 passes in 2022. Stroud ranked 49th at 69.0.
What they're saying
Stroud: "When I need to extend plays, I can extend them just as far as anybody else in the country."
Jim Nagy, CEO of the Senior Bowl and a longtime NFL scout: "[For] C.J., you're really pointing towards the last couple of games of the year when he seemed to put it all together. If you look at the whole body of work, I might have some questions about some of the out-of-pocket feel and awareness … things Bryce does really well."
Todd McShay, ESPN draft analyst: "With Bryce, you get a player that can extend plays and create magic inside and outside the pocket."
Jordan Reid, ESPN analyst and former college quarterback: "[Bryce] can kill you from inside the pocket. He can beat you from outside the pocket, but it's his poise that I'm so amazed with."
Peyton Manning sees a bit of @JoeyB in @AlabamaFTBL's @_bryce_young. pic.twitter.com/tzmUALfmhW

— Omaha Productions (@OmahaProd) April 11, 2023
Ability to process and anticipate
Stroud completed 66.3% of his pass attempts for 85 touchdowns with 12 interceptions the past two seasons. Young completed 65.8% for 80 touchdowns and 12 interceptions.
But their processing stands out the most when pressured or blitzed.
Since 2013, quarterbacks with a career college Total QBR above 30 when pressured include Patrick Mahomes, Joe Burrow, Kyler Murray, Trevor Lawrence and Mac Jones. In 2022, Stroud had a Total QBR when pressured of 30.6 and 85.3 when blitzed. Young's Total QBR was 30.1 when pressured and 89.9 when blitzed.
But this sticks out as much as anything said during the process: Both Saban and Fitterer said Young's processing was "off the charts."
As complimentary as Fitterer was about Stroud at his pro day, his comment in regards to Young's processing was telling.
What they're saying
Saban on Young: "He plays quarterback like a point guard."
Day on Stroud: "What I've shared with some of the [Panthers'] personnel and some of the folks that I've met with here is, you know, if you can handle being the quarterback at Ohio State, you can handle being in the NFL."
McShay: "With Bryce Young, it's like watching Steph Curry in basketball. … Everything is so slow in the way they process things so quickly and see the whole field or the whole court is so similar."
Nagy: "Bryce just, he plays the position with a calm that is really hard to find. … He has a lot of things you can't coach [that Young knows] instinctively."
What is "processing"?

Learn it on paper-feel it in a game!!@_bryce_young has BY FAR the best feel in this class-to any spot on the field #NFLDraft pic.twitter.com/l4B1aVoFgJ

— Dan Orlovsky (@danorlovsky7) April 12, 2023
Arm strength
There has never been a question about Stroud's arm strength. He can throw deep and accurately without much effort.
Fitterer left Alabama's pro day saying Young's arm strength was better than he thought. His performance at the pro day also confirmed that he can throw exceptionally well from different arm angles and maintain velocity.
It's the accuracy that will carry more weight, according to those who know Reich, and both quarterbacks have shown that.
On throws of 21-plus yards in 2022, Stroud completed 50% of his attempts, compared to 45% for Young. But where Young had the edge was in off-target throws of 21-plus yards. He had an NCAA-best 25% off-target rate, while Stroud was at 32.7%.
In terms of short and intermediate throws in 2022, Young was off target on only 1.8% of his tries from 10 or fewer yards and 11.9% on throws from 11 to 20 yards. Stroud was at 6% and 17%.
"[Reich values] what we all value in quarterbacks … being able to throw with accuracy; being able to make good, quick decisions; being able to extend plays and having arm strength good enough to be able to pierce the wind," Philadelphia Eagles coach Nick Sirianni said.
What they're saying
McShay: "C.J. is the best pure pocket passer with a bigger build."
Nagy on Young: "He's got a live arm. I've seen him play a bunch over the years. I've seen him in different camps throw it. Even [former Alabama quarterback] Mac Jones was coming out, and Bryce would be put into late games, blowouts, there was an uptick in the ball velocity even compared to Mac."
play
1:10
Why Riddick sees C.J. Stroud as the 'gem' of the 2023 QB class
Louis Riddick breaks down why C.J. Stroud is his favorite quarterback of the 2023 NFL draft.
Size/durability
This part of the evaluation will be critical.
Reich has made it clear durability is a bigger concern than height with Young. How much he factors in height is the mystery.
"That would be like giving out the proprietary formula for Kentucky Fried Chicken," Reich said when asked how much quarterback height will be a factor.
Height of NFL QBs coached by Frank Reich
| Player | Height |
| --- | --- |
| Nick Foles | 6-6 |
| John Skelton | 6-6 |
| Peyton Manning | 6-5 |
| Kerry Collins | 6-5 |
| Dan Orlovsky | 6-5 |
| Phillip Rivers | 6-5 |
| Carson Wentz | 6-5 |
| Curtis Painter | 6-4 |
| Andrew Luck | 6-4 |
| Jacoby Brissett | 6-4 |
| Matt Ryan | 6-4 |
| Ryan Lindley | 6-2 |
| Sam Ehlinger | 6-2 |
He added there aren't enough quarterbacks under 6 feet who have started in the NFL to have analytics on the injury risk of a 5-10 quarterback.
When asked about Young's durability, Reich turned to Hall of Fame receiver Marvin Harrison (6-0, 185) and running back Barry Sanders (5-8, 203) for comparisons of small players at other positions who avoided big injuries because of their ability to avoid big hits.
Reich also reminded he had a "very high grade" on Russell Wilson (5-11) when the Seattle Seahawks drafted him in the third round in 2011. Fitterer was part of the executive team that made that pick, so he's comfortable with a smaller quarterback.
But size is why ESPN analyst Dan Orlovsky, a 6-5 quarterback who played for Reich in Indianapolis in 2011, and others interviewed believe Stroud may be Carolina's pick.
"The size, just candidly, it's just the size argument," Orlovsky said. "When you go up to No. 1, you're trying to get a difference-maker. You're also trying to be risk-averse in some aspects. There is more risk of taking Bryce than C.J. because of the size."'
In almost the same breath, Orlovsky reminded that Reich has been around the game long enough to realize modern NFL teams can succeed with smaller, more mobile quarterbacks, so height won't necessarily be a concern.
Starts by QBs 6-1 or shorter since 2013
| Season | Starts |
| --- | --- |
| 2022 | 107 |
| 2021 | 104 |
| 2020 | 95 |
| 2019 | 94 |
| 2018 | 79 |
| 2017 | 60 |
| 2016 | 64 |
| 2015 | 60 |
| 2014 | 45 |
| 2013 | 54 |
The number of starts by NFL quarterbacks 6-1 or shorter has grown over the past decade from 54 in 2013 to 107 in 2022.
Orlovsky made the same argument for selecting Young that he made for the Cincinnati Bengals to take LSU quarterback Joe Burrow (6-4) with the top pick in 2020.
"You take Joe Burrow as the No. 1 pick because he never panics," he recalled. "If you have the ability not to panic with the football, you have a chance to be a special player. And that's what Bryce is."
What they're saying
Saban on Young: "There's really no negatives. The only real negative anybody could bring is his height."
Nagy on Young: "Ideally, would you feel better if Bryce were 6-2? Of course you would. But there is enough compensating stuff with the instincts, where he doesn't put himself in harm's way a bunch, that he's worth it. With Bryce, it's difficult to poke holes in his game beyond the size thing."
Bottom line
The Panthers hope to get a long-term solution to a long-term quarterback issue whether they take Young or Stroud.
"Bryce is the best pick; Stroud is the safer pick," said McShay, echoing what others said. "On paper, C.J.'s built to last longer in the NFL versus Young, who can extend and create and has this presence and field vision like no other in this class.
"If he was 6-2, 220 pounds, there would be no conversation. Bryce Young would clearly be the No. 1 quarterback in this class."