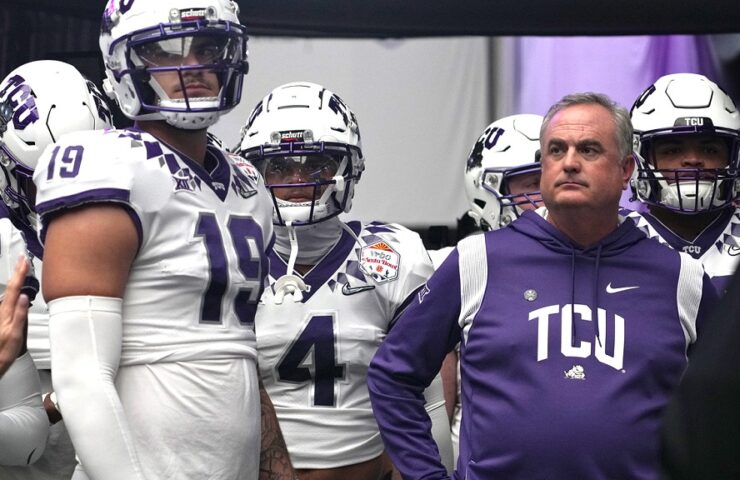 Georgia vs TCU College Football Playoff National Championship First Thoughts,
It's Georgia vs TCU for the College Football Playoff National Championship. The first reaction, initial thoughts, and early prediction
Georgia vs TCU College Football Playoff First Thoughts, Early Prediction
Peach Bowl: Georgia – Ohio State 5 Thoughts
Fiesta Bowl: TCU – Michigan 5 Thoughts
– Contact/Follow @ColFootballNews & @PeteFiutak
5. TCU is really in the College Football Playoff National Championship
The dust has settled, the Georgia win over Ohio State was an amazing enough game to take some of the attention away from the TCU win over Michigan, so now we can speak freely here …
Michigan royally screwed that up.
Of course TCU deserves the credit for pulling it off. It's making the trip to Los Angeles and 129 other college football teams aren't. The offense ripped through a Michigan defense that was among the best in the country all year, the defense came up with two pick sixes, and – oh yeah – Michigan scored 39 points in the second half.
This all just ended a little bit ago, and it's all still fresh – I might change my mind and thoughts over the next several days – but no one is going to pick TCU to win this. I thought Michigan would rumble though the Horned Frogs – and still do – and will take the own goal after it didn't happen.
I'll eat it again if I'm wildly wrong.
TCU will do the "no one believes in us" thing. Yeah, right here. Hand raised.
4. Will the national interest be there without Michigan?
People will watch because if the College Football Playoff National Championship … maybe. And this falls on both sides.
TCU just isn't that big. It's a great story, and the fan base is rightfully going out of its mind, but best believe that ESPN people who care about ratings are breaking something tasteful that Michigan didn't isn't in this.
Michigan vs Ohio State would be better for national interest, but Michigan vs Georgia wouldn't have been horrible – even if last year's meeting in the CFP semis in the Orange was a blowout.
Georgia just doesn't have any star power outside of the wonky NFL draft football types, and that sort of includes Stetson Bennett.
Unless there's an unstoppable buzz coming off the semifinals, TCU vs Georgia might have a hard time resonating with the world pivoting to the NFL playoffs.
With that said …
Peach Bowl: Georgia – Ohio State 5 Thoughts
Fiesta Bowl: TCU – Michigan 5 Thoughts
3. The Georgia talent level
Here's where the obvious concern is.
Michigan has a ton of talent on both sides of the ball, but it's nothing like what Georgia is bringing.
As my overused line goes, there are 3.5 teams in college football at the same elite NFL talent level. Alabama, Ohio State, Georgia, and the USC offense. TCU had everything go its way against Michigan – and it made its own breaks, of course – and it still took everything in the bag to get out alive.
Michigan isn't Georgia talent-wise. Almost nobody is. TCU can extra plucky, but those Bulldog lines should be able to take over, and …
Wait, that sounds familiar. It's like I wrote that about Michigan or something. (Full disclosure: I've been a disaster trying to pick for or against TCU this year.)
2. We're not that lucky to get three amazing College Football Playoff games
It hasn't happened in the eight years of the College Football Playoff. There was only one good semifinal undercard – Georgia over Oklahoma in the 2018 Rose – and there certainly haven't been three good games in the tournament. Now we're spoiled by TCU and Georgia winning like that.
TCU has now broken every mold and expectation, but three good playoff games? Not likely, so if it skews one way, I'm going with …
1. College Football Playoff National Championship first prediction
Georgia 34, TCU 20
Don't get into a twist over this yet – I'll adapt and adjust as we go – but I'll run with the idea that TCU holds down the Bulldogs for a little while, and then the problems kick in up front.
Yes, this was supposed to happen against Michigan, but this Georgia offensive line will barrel away where the Big Ten team didn't.
TCU will move the ball on the suddenly shaky Georgia defense, but there will be a lot of bending but not breaking. It won't be enough as Stetson Bennett and the offense go on a flurry early on so the D could take over.
I'm seeing the Oregon game for Georgia. It comes out perfectly polished, scores easily on the first two drives and coasts from there.
Peach Bowl: Georgia – Ohio State 5 Thoughts
Fiesta Bowl: TCU – Michigan 5 Thoughts