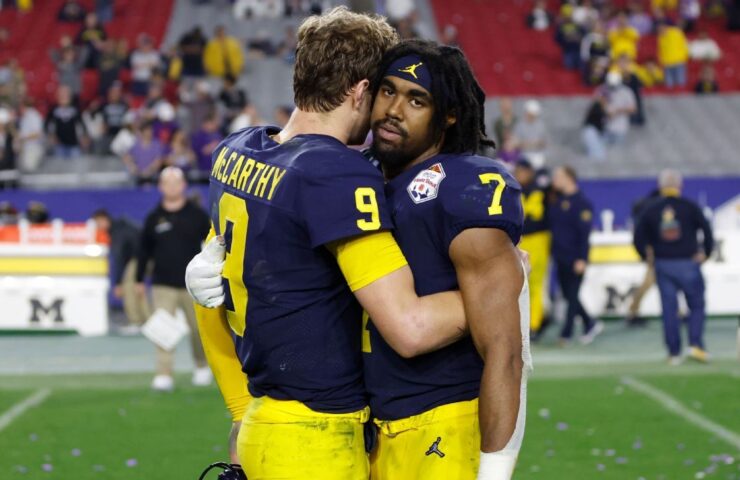 U-M on another CFP disappointment: 'We beat ourselves'
GLENDALE, Ariz.– Michigan junior receiver Roman Wilson echoed what most of his teammates were stating in some form or fashion Saturday in a somber Wolverines locker room.For the second
straight year, Michigan beat bitter competing Ohio State and won the Big 10 champion. But for the second straight year, the Wolverines lost in the College Football Playoff semifinal, this one a 51-45 heartbreaker to TCU in the Vrbo Feast Bowl.
"Simply a lot of errors, too many times where we had opportunities and didn't make plays or messed plays up," Wilson stated. "I indicate, they're an excellent team. I still believe we're the better group, but they got the best people. Whatever they did on film is how they played in the game. So we weren't shocked. We just didn't get it done."
1 Related Junior offensive guard Zak Zinter was a lot more succinct.
"We didn't lock into some little details. We hurt ourselves. … We beat ourselves out there," Zinter said.One by one
, Michigan's players did their finest to evaluate their second straight CFP semifinal loss, which saw the Wolverines fall behind early and try to play catch-up the rest of the method. The Wolverines routed 21-3 in the 2nd quarter and 41-22 late in the third quarter and kept fighting back. In the end, they couldn't conquer 2 interceptions returned for goals, 3 first-and-goal scenarios that produced a total of 3 points and a rushing defense (ranked third nationally) that gave up 263 yards on the ground.
"To be the defense we are, quiting 51 points isn't up to our standard," stated senior defensive back Mike Sainristil, part of a Michigan defense that enabled 7 plays from scrimmage of 15 lawns or longer. "I think that's simply the summary of the game. We didn't dip into our level."
Michigan quarterback J.J. McCarthy tossed for 343 backyards and two goals and kept bringing the Wolverines back every time it looked like they might be out of the game. But his 2 interceptions returned for touchdowns were expensive, as was Kalel Mullings' fumble at the TCU 1-yard line in the second quarter. On the play prior to Mullings' fumble, Wilson hauled in what Michigan thought was a 51-yard touchdown pass. But the play was reviewed, and authorities ruled his knee was down at the 1.
"I believed I remained in, but I don't know," said Wilson, who had 5 catches for 104 yards.The loss extended Michigan's issues in the postseason. The Wolverines have actually now lost 6 straight bowl games. They lost 34-11 to Georgia a year ago in the playoff semifinal.But this one, given the Wolverines'miscues
, hurt even worse, according to the players."I'm sure in hindsight, perhaps when I'm older, that I'll appreciate, you know, having won the Big 10 champion and all that for the 2nd year in a row and beating Ohio State for the second year in a row," Mullings stated. "But, right now, guy, it simply feels like there was a lot left on the table for us."
Senior protective lineman Mazi Smith said the Wolverines waited far too late in the game to begin playing "complementary football," which despite the turnovers on offense, the defense ultimately enabled it to become a shootout. Before Saturday's game, Michigan had not quit more than 27 points in a game all season.
"I mean, I just looked up and resembled, 'There's been a great deal of kickoffs,' you know what I'm stating?" Smith said. "I was like, 'Damn, this may be as numerous kickoffs as we had all season.' However at some time, the scoreboard don't matter. You've just got to go play your heart out."
Smith also pushed back at any talk that Michigan underestimated TCU and thought it could push around the Horned Frogs physically.
"You look at TCU, and they play great football," Smith said. "They've got huge guards. They've got big deals with. They have actually got a good center, and they have actually got a real huge back [Emari Demercado] who runs like Derrick Henry. So I'm taking a look at them like they can play, these young boys can play. … This is a College Football Championship game, and you do not arrive by drawing."
As bitter as the loss was for the Wolverines, they stated it would only press them that much harder this offseason.
"We'll be back," Wilson said. "This is going to be the new steppingstone for this program, the culture, the brand-new guys and everybody here, simply the dedication and the effort everyone puts in. This might be the new future for us.
"This is what we're supposed to do, go out there and get it carried out in these games."
Said Michigan coach Jim Harbaugh: "There were big plays being made, mistakes being made, by both groups. We simply had one less than we required. They had another, and that ended up being the distinction in the game."