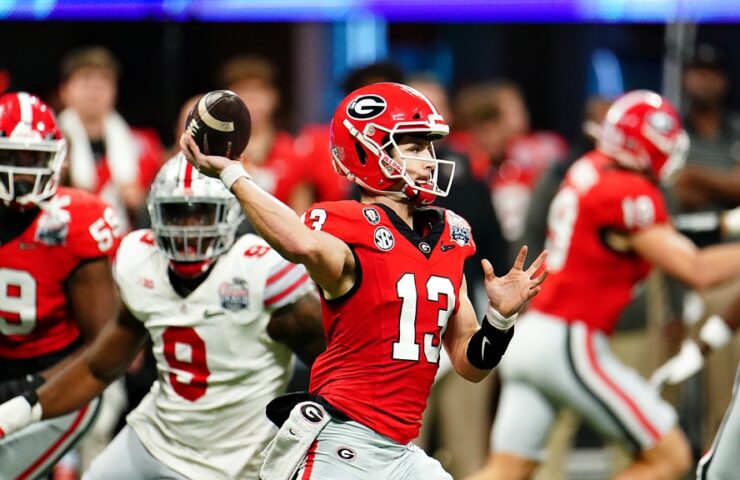 Georgia Wins Peach Bowl Over Ohio State: Reaction, Analysis, 5
Georgia beat Ohio State 42-41 to win the Peach Bowl. Five thoughts and analysis of the game, and what it all means.
Georgia beat Ohio State 42-41: Peach Bowl 5 Things That Matter
Peach Bowl College Football Playoff 5 Thoughts 
5. Ohio State had it, but …
4. Stetson Bennett's big final drive
3. CJ Stroud's great performance
2. This one was special
1. Georgia possibly making history
– Contact/Follow @ColFootballNews & @PeteFiutak
5. Ohio State had it, but …
Yeah, of course, it's the brutal reality in football. Kick goes one way, it's a disastrous collapse after being up 14 going into fourth. Kick goes another way, and the Buckeyes pull off the huge win and probably go win the national title.
Ask Scott Norwood and the 1990s Buffalo Bills what one dumb kick means.
The ugly sports side of social media is all over Ohio State kicker Noah Ruggles for badly missing the game-winning field goal attempt – it would've been a career long – but 1) there were plenty of chances to put this away, 2) Ohio State didn't do it and left the door open for 3) the best team in college football over the last two years to pull this off.
The play calling at the very end wasn't exactly stellar. Ruggles has good range, but that was a 50-yard try in the most pressure-packed of circumstances. The Buckeyes had the ball at the 31 with 19 seconds to play and the time outs to try a few runs to do something to get it closer.
One run lost yards, two incomplete passes, 50-yard try. However, Ruggles nailed a 48-yarder on the team's previous drive. That was a problem, too.
Ohio State went up six and not ten, partially because of an ill-timed sack on 2nd-and-5 to screw it all up.
The defense didn't exactly help, either, allowing 18 points in the fourth quarter as Stetson Bennett and company marched at will.
But that's all nitpicking the finer portions of the game that had a gajillion things go both ways.
The kid missed the kick. That's the sport.
Peach Bowl College Football Playoff 5 Thoughts 
5. Ohio State had it, but …
4. Stetson Bennett's big final drive
3. CJ Stroud's great performance
2. This one was special
1. Georgia possibly making history
NEXT: Stetson Bennett's amazing final drive