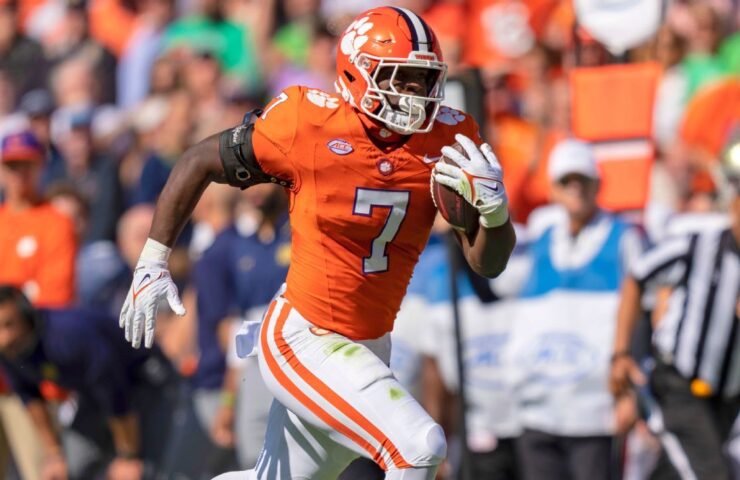 Take that, Tyler: Clemson, Swinney upset Irish
Andrea Adelson, ESPN Senior WriterNov 4, 2023, 04:09 PM ET

Close

ACC reporter.
Joined ESPN.com in 2010.
Graduate of the University of Florida.
Tyler from Spartanburg and the fiery response from Clemson coach Dabo Swinney dominated the headlines going into the Tigers' game against No. 15 Notre Dame on Saturday.
So after Clemson upset the Irish 31-23 for its best win this season, it was only natural to ask whether that phone call into Swinney's radio show earlier in the week served fired up the Tigers to defend their longtime head coach with their performance.
Swinney said no, but his players said otherwise. Phil Mafah, who had a career-high 186 rushing yards on 36 carries and two rushing touchdowns starting in place of the injured Will Shipley, said there was "a big chip on everyone's shoulder."
Editor's Picks
2 Related
"There's no one that loves us more than he does, so I take it personal," Mafah said. "I know a lot of guys on the team do, so we had to bring our all today, fight for him especially."
The radio show clip went viral Monday night after the caller — who identified himself as Tyler from Spartanburg — questioned Swinney and the direction of the program following a 4-4 start, the worst at Clemson since 2010. Swinney delivered an impassioned defense of himself, his players and their accomplishments during his tenure, including two national championships and 12 straight 10-win seasons.
He has insisted throughout this season that the Tigers are only a few plays away from being undefeated, pointing specifically to the turnovers that have cost them in their four losses. Against Notre Dame, Clemson won the turnover margin for the first time since September, and did not have a penalty — the first time that has happened since 1951.
Swinney also won his 166th career game at Clemson, passing Frank Howard as the winningest coach in school history.
"We definitely did have a chip on our shoulder knowing this was a game he needed for his 166th win and I really wanted that for him and I know all the guys did," Mafah said. "We just had to get it done, find a way."
Of breaking Howard's mark, Swinney said, "I'm glad it happened here. And for it to come against a team like Notre Dame. I think Coach Howard wanted to remind everybody it ain't easy to win. That record's been there 54 years for a couple reasons: one, it's hard to win; two, it's hard to stay somewhere long enough and win consistently enough where you can stay. That's never been a goal, it's just here we are."
Clemson played without eight starters, including several on the offensive line. Yet Mafah finished with more rushing yards than Notre Dame running back Audric Estime (87 yards, 1 touchdown), who came into the game as an All-America candidate.
The defense harassed Notre Dame quarterback Sam Hartman, forcing him into two interceptions — including a pick-six.
"We never lost faith, and the identity that's in this team, we had chapel last night and the guy who spoke to us he spoke on keeping our faith," Clemson quarterback Cade Klubnik said. "Some things will try to steal that from you, but one thing we haven't done once is lose our faith in this team."
Swinney said he told his players all week that this was an opportunity to show that "even when people count you out, we don't quit. We keep battling, keep fighting. It's a really cool thing to watch."
Was it Tyler from Spartanburg whom Swinney was referring to when saying people count the Tigers out? Despite the performance and the way Clemson responded, Swinney said the narrative this week had nothing to do with the outcome.
"It has nothing to do with it," Swinney said. "I'm sure that guy's a great guy. We all do things that sometimes we regret or say things that we probably shouldn't say in the moment. We've all done that, but I don't think that had anything to do with our team at all."