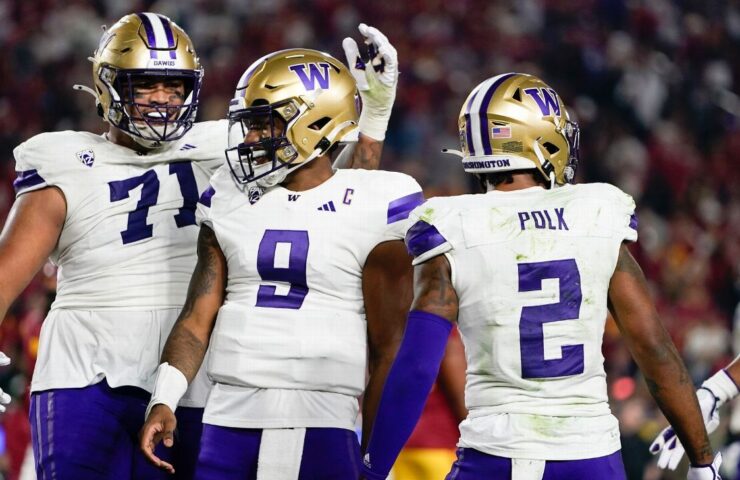 A QB masterclass and an epic close to Bedlam, Week
David Hale, ESPN Staff WriterNov 5, 2023, 01:01 AM ET

Close

ACC reporter.
Joined ESPN in 2012.
Graduate of the University of Delaware.
Two games featuring four top-20 teams kicked off at roughly the same time Saturday night, and for the better part of the next three-and-a-half hours, the four quarterbacks involved put on a master class of how the game should be played.
In Tuscaloosa, Jayden Daniels was a magician, but it was Jalen Milroe who delivered the most astonishing trick, completing his transformation from benchwarmer in Week 3 to utterly dominant in Week 10.
In Los Angeles, last year's Heisman winner worked his own magic, but it was this year's favorite to take home that hardware who delivered the win.
play
0:39
USC's flea-flicker pays off for a 41-yard TD
Caleb Williams snags the pitch from Zachariah Branch and launches a beauty to Tahj Washington for a Trojans touchdown.
Never mind that Daniels' day was cut short by a brutal hit from Dallas Turner. Never mind that Washington's explosiveness came at the expense of USC's abysmal defense. Never mind that the Tide and Huskies ultimately pulled away enough to erase any chance for late drama.
Like all great magic tricks, Saturday's performances weren't worth dissecting to figure out how they're done. The enjoyment comes from simply sitting back and being amazed.
Milroe's progress has been nothing short of astounding. He lost to Texas, was benched against USF, and for most of September, Alabama's title hopes seemed all but extinguished thanks to an offense without an answer at QB. And on Saturday, Milroe tallied 374 yards of offense and four touchdowns in a 42-28 win over rival LSU. How was this the same player?
Years from now, psychologists will study Nick Saban's decision to bench Milroe after that early loss. It was an act of sheer brilliance, a move that allowed Milroe to both see he need not worry about looking over his shoulder while also forcing him to embrace his role as leader, pushing his team from the bench and earning the respect of every player on the field in the process. What other coach in the country would've had the guts to make that move? Saban is playing chess. Everyone else is playing Connect Four.
Michael Penix Jr. wasn't even the centerpiece of Washington's offensive attack Saturday against USC. He threw for 256 yards and accounted for three touchdowns, but the mere threat of Penix's arm made life a breeze for tailback Dillon Johnson, who rushed for 256 yards and four touchdowns in the 52-42 win.
play
1:40
Dillon Johnson cooks USC for 256 yards and 4 TDs
Dillon Johnson runs circles around USC's defense and scores four touchdowns to lead the Huskies to a 52-42 win.
How easy was it for Johnson? According to ESPN Stats & Information, he ran for 199 yards before first contact. We'd say it would be hard for a back to do that against 11 traffic cones, but that comparison might be giving USC's defense too much credit.
In his loss, Daniels showed he belongs in the Heisman discussion — and perhaps should be at the forefront of it — but his late injury hurts the cause, and LSU's third loss makes the case a long shot.
In his loss, Caleb Williams saw yet another brilliant performance undercut by Alex Grinch's defense. Grinch has become Bizzaro Brian Ferentz, and it's hard to envision a scenario in which he escapes a similar fate. (Though we'd give anything to see the movable force of USC's D take on the stoppable object of Iowa's offense before the two ride off into the sunset.)
In all, Milroe, Penix, Williams and Daniels combined to complete 70% of their throws, tallied more than 1,300 yards and accounted for 14 touchdowns. It was like watching Michelangelo, DaVinci, Picasso and the woman who made that Tom Brady courtroom sketch all take to the canvas together.
It's certainly possible the 2023 season will deliver another game or two that inspire such awe, but the odds are slim. Saturday's fireworks were something special, something some fans (cough, cough … we're looking at you, Big Ten) go decades without experiencing.
There were clear playoff implications involved here, and there were genuine questions raised about whether Alabama or Washington could weather the storm that remains on their schedules. But all of that is conversation for another day.
On Saturday, there was only the sheer exhilaration of four men doing their job just about as well as it can be done.
An epic close to Bedlam
A Heisman contender put on a show. A man named Stoops was everywhere. Both QBs threw for more than 300 yards. Mike Gundy slicked back his hair and donned a pair of sunglasses to look like a grizzled old fighter pilot called out of retirement for one last mission.
This was Bedlam: Endgame.
play
1:20
Oklahoma State storms the field after upsetting Oklahoma
Oklahoma State fans storm the field after upsetting Oklahoma 27-24.
There have been better, bigger showdowns in the rivalry, of course, but none that came with quite the stakes of Saturday's final installment. Yes, both teams were ranked in the top 25 and both had conference title aspirations. And on both sides, there were genuine star turns. But what really mattered, more than the records or the rankings or the championship repercussions was this: The winner stays the winner — now, next year and for the foreseeable future.
On Saturday, Oklahoma State — long cast as the little brother — sent big brother off with a swift kick in the rear.
So of course Cowboys fans charged the field as Drake Stoops was wrangled short of the line to gain on fourth down. It was his 12th catch of the game, and it wasn't enough. "Happy Trails to You" echoed over the sound system, and Oklahoma slinked off into a future in the SEC with a loss to the Pokes etched eternally on their souls.
And of course Alan Bowman hugged every offensive lineman he could find when Oklahoma State's 27-24 win was secured. He was part of a QB carousel that included Garret Rangel, Gunnar Gundy and possibly a few guys Mike Gundy found asleep outside Eskimo Joe's, but he emerged as the clear starter after an embarrassing loss to South Alabama and helped turn the Pokes' season around.
And without question, the Heisman conversation must now include Ollie Gordon, who carried the ball 33 times for 137 yards, scoring twice. Gordon got three carries in that loss to South Alabama. Since then, he has had 120 yards or more in every game. Saturday was actually a step back for him, as he battled an injury and a ferocious Oklahoma front but willed himself down the field, carry after carry. It wasn't pretty. It was just emphatic.
Earlier this week, Gundy lamented a time when the Bedlam rivalry was ugly and brutal on the field, when he and Brian Bosworth took turns spitting in each other's faces — which, in fairness, was considered a formal greeting throughout much of the mid-1980s in Oklahoma.
Mike Gundy said Bedlam used to be more a rivalry, back before social media.

"It was a rivalry then. Bosworth spit in my face and I spit in his." pic.twitter.com/aQh7VUZkQz

— The REF (@KREFsports) October 30, 2023
This time around, the trash talk was done in the media, with former Oklahoma State D-lineman Trace Ford, who transferred to Oklahoma, trashing Gundy, the Cowboys, and Oklahoma State fans, whom he said were "bandwagoners for sure."
Well, the bandwagon is bursting at the seams now, while Oklahoma's seems to have broken down somewhere on the side of I-40.
In Norman, they'll talk about the frustrating penalties — including a 15-yarder on Brent Venables, who might have invented several new epithets to call the officials on what proved to be the winning touchdown drive for Oklahoma State. They'll talk, too, about the non-call on what looked like a textbook pass interference against Stoops in the end zone on a drive that ended with a field goal. They'll talk about the final throw, that Stoops corralled well short of a first down. They'll talk about what might've been if Oklahoma hadn't melted down in each of the past two weeks to watch championship aspirations disappear into the ether.
And then they'll never speak of this again.
Mike Gundy said he goes home after games and drinks a Diet Coke and watches other teams with a Big Chief notebook and a crayon. When asked what his favorite flavor of Diet Coke was, he said, "Well, I love whiskey."

— Dave Wilson (@dwil) November 5, 2023
In Stillwater, however, Saturday's Bedlam finale is destined to become legend, a story passed from generation to generation until, at least, another installment comes to fruition. Because it doesn't matter that Oklahoma won 91 of the 117 previous meetings. The Cowboys won this one, the last one, the one that will remain as sweet as an Ollie Gordon jump cut until the college football gods — or Oklahoma's AD — breathes life into the rivalry once more.
Texas, Ohio State tested
Oh, what chaos might've been in Saturday's early slate. Ohio State spent much of Saturday afternoon flummoxed by Rutgers' defense and unable to corral Kyle Monangai. Texas jumped out to a big lead, then handed Kansas State one chance after another after another.
The No. 1 team was on the ropes.
The No. 7 team saw its playoff hopes flickering.
And in the end, the favorites clung to victory like so many loose opossums.
thinking about the legend pic.twitter.com/UwIswipWJj

— no context college football (@nocontextcfb) November 3, 2023
The committee rewarded the Buckeyes by placing them atop the first playoff rankings last week, in spite of their repeated offensive hiccups. The obvious counterargument was that Ohio State had played quality opponents and still won. On Saturday, however, Kyle McCord looked lost for long stretches, relying almost exclusively on Marvin Harrison Jr. in the red zone, and the Buckeyes finished with fewer than 400 yards of offense for the fifth time this season — something they'd done just four times total in the previous four seasons.
The committee considered Texas the second-best of the one-loss teams, providing the Longhorns with a pretty clear path to the playoff if they won out. And they had Saturday's game against Kansas State well in hand, leading 27-7 in the final seconds of the third quarter. But Will Howard responded with three second-half TD passes, and Chris Tennant drilled a 45-yard field goal with 1 second left to send the game to overtime.
And yet, both survived, almost in spite of themselves.
Ohio State scored on a pick-six off a tipped ball and got 208 of its 328 yards from TreVeyon Henderson, including a 65-yard catch-and-run that was the dagger for Rutgers.
Texas overcame two Maalik Murphy interceptions largely because Kansas State botched two late kicks — one a PAT that would've given the Wildcats the lead and the other a short field goal.
And yet both remain contenders for a playoff berth because a win is a win.
Editor's Picks
2 Related
Still, it's hard not to have watched both games unfold, almost simultaneously, like college football's version of a Jardiance commercial — confounding plot lines, sudden shifts in perspective, weirdly captivating. Was this good football? High drama? An important data point in an otherwise still mystifying season?
This is perhaps the real beauty of this season thus far. The flaws all seem so evident in the nation's top teams — from QB concerns to marginal run games to ex-military operatives who may or may not have been wearing night vision goggles outside Ryan Day's house earlier this year. But those flaws all seem to evaporate when the game is on the line, and chalk prevails.
The hope for Ohio State and Texas is that those battle wounds heal over, and the scars serve only as a reminder of how narrow the margins can be; that the tough wins make them stronger because every grueling, ugly victory is better than a loss.
Or perhaps the 2023 season is just saving its biggest moments for the very end, a twist buried deep into the final chapters when it's revealed this whole song-and-dance was actually just a commercial shoot and the wardrobe people step in and — man, that Jardiance commercial is catchy.
Dabo Swinney spent 18 months selling commercial real estate before landing on Tommy Bowden's staff at Clemson 20 years ago. He took time last week to reminisce about that time in his life, noting in the wake of Clemson's 4-4 start and a revolt by fans — or, at least one of them in Spartanburg — that sometimes the lowest moments set the table for the greatest victories.
After Saturday's 31-23 win over No. 15 Notre Dame, Swinney wasn't talking about his old career. He was headlong into his new one as a financial adviser.
"If Clemson's a stock," Swinney shouted after the game, "you better buy all you freakin' can buy!"
"If Clemson's a stock, you better buy all you freakin' can buy right now!"

Dabo was FIRED UP after taking down No. 15 Notre Dame pic.twitter.com/chfM7Oo66V

— SportsCenter (@SportsCenter) November 4, 2023
It was a mammoth win after a brutal two months to start the 2023 season.
The past week felt like either a turning point or an ending point for Swinney after he first ripped a caller into his radio show with "an Old Testament answer" then doubled down during his weekly media session saying he wouldn't allow critics to "steal my joy." Indeed, this was essentially Swinney's "Eras Tour," as he took fans through more than a decade of his greatest hits, from confounding analogies ("even healthy trees need pruning") to vague threats ("you can apply for the job, and good luck to you") to lamentations of the downfall of American culture ("our society today…"), and even sprinkled in a few grievance deep cuts along the way ("I worked my ass off every single day.") Heck, he might have quoted "Shake It Off" a few times, too.
More than anything, however, Swinney referred back to his latest banger: It's all about the turnovers. And Saturday proved he was right.
Clemson recovered a muffed punt and turned that into a touchdown, then saw Jeremiah Trotter Jr. return a pick-six that buried Notre Dame. With a half-dozen starters out for the game, Phil Mafah carried 36 times for 186 yards and two touchdowns, and Swinney won for the 166th time as Clemson's head coach, moving him past Frank Howard for the most victories in program history.
For Notre Dame QB Sam Hartman, it was another brutal afternoon against his archnemesis. Hartman completed just 13 of 30 passes with two interceptions, finishing his college career with an 0-5 record against the Tigers. He'll carry that burden the rest of his life, with only his NIL money, his Wake Forest degree, his awesome rib necklace, his amazing head of hair and his numerous ACC records to provide solace. He has our deepest sympathies.
But if the game was a brutal ending for Hartman against Clemson, it felt like a new beginning for the Tigers. Eight years ago, Clemson beat Notre Dame at home and it was the spark in a season that ended with Swinney throwing a pizza party for the entire fan base. Saturday's win was a big one, too, and it could end with Swinney ordering a dozen pizzas to be delivered to Tyler in Spartanburg's house at 3 a.m.
Top teams keep rolling
A quick recap of Michigan's week:
Jim Harbaugh insulted house plants because he was once offended by a fern wearing an Ohio State hat.
Connor Stalions resigned his post as director of covert oper– ah, graduate assistant. Yeah, that's it.
Big Ten athletic directors pressured commissioner Tony Petitti to deliver some righteous fury as punishment for the thing for which Michigan has yet to be formally convicted.
A Michigan fan site suggested the spying allegations are all a result of a top-secret investigation by Ryan Day's brother, who might also just have been Ryan Day wearing a top hat and sunglasses.
Michigan's president sent a letter to Petitti asking how many Ts are supposed to be in his name and also not to jump to any conclusions about the spying.
From inside his lair hidden deep inside Mt. Rushmore, Harbaugh inched ever closer to acquiring yet another Infinity Stone.
And the Wolverines beat Purdue 41-13 because the Boilermakers are awful and definitely not because Hudson Card is actually a deep-state plant who has actually been working for the Wolverines for the past nine years.
Anyway, we hope Mr. Stalions enjoyed the New Mexico game Saturday.
Lmao New Mexico pic.twitter.com/1wi6Uwjk56

— RedditCFB (@RedditCFB) November 5, 2023
Jordan Travis' 360 yards passing and two touchdowns helped secure a 24-7 Florida State win over Pitt that secured an ACC championship game berth for the Seminoles — their first since 2014. The win did come with a bit of controversy as Pitt tight end Gavin Bartholomew was flagged for unsportsmanlike conduct while on the sideline as the Panthers were driving deep into FSU territory in the third quarter, trailing by just 3. What Bartholomew said to warrant the flag remained a mystery, but we're assuming he told the refs that putting French fries on a turkey club was a completely normal thing to do. Regardless, FSU did snap a 14-game streak of scoring at least 30 points, which, given that the committee seems to find the Seminoles interesting only if they win by 100, seems like a real red flag.
Big man Nazir Stackhouse showed off his speed on a game-clinching interception, and the tandem of Carson Beck and Ladd McConkey helped fend off a strong effort from Missouri to keep Georgia undefeated with a 30-21 win. Then the law firm of Beck and McConkey helped several people with a structured settlement get cash immediately.
play
0:36
Big man intercepts Mizzou late in the 4th to give Georgia the ball back
Nazir Stackhouse intercepts Brady Cook and returns it inside Georgia territory short of a touchdown.
Oregon demolished Cal 63-19 behind a six-touchdown performance from Bo Nix. Of course, there's no way the Ducks QB can keep up this pace moving forward … and, no, sorry we're being told he plays USC's defense next week. He might hang 100 on it.
Louisville took a big step toward an appearance in the ACC title game with a dominant 34-3 win over Virginia Tech. The Cardinals' D was tremendous, holding the Hokies to just 140 total yards — 2.7 yards per play — and 2-of-12 on third- and fourth-down tries. Meanwhile, Wisconsin transfer Isaac Guerendo rushed 11 times for 146 yards and three touchdowns in the win. Louisville is now 5-1 in ACC play, putting it a game up on six different teams with two league losses. It owns head-to-head wins over five of them. Louisville can clinch next week with a win over Virginia and a North Carolina loss to Duke.
Heisman Five
Trying to sort out the Heisman race before November has usually been a fool's errand, but we've reached November and this year's race remains arguably as chaotic as any in recent memory. There are at least seven or eight players with genuine cases, and Saturday's games only bolstered those cases across the board. So, who do we have? Please burn these after reading. We don't want to be accountable for this when we change our mind later.
1. Ohio State WR Marvin Harrison Jr.
Saturday's game wasn't Harrison's most prolific. He had just 25 yards receiving against an impressive Rutgers secondary. But two of his catches went for touchdowns, which were absolutely critical for a Buckeyes offense that looked flummoxed at times.
2. Oklahoma State RB Ollie Gordon II
After three straight games topping 250 yards of offense, Bedlam was bound to be a step back for Gordon, who ran for only 137 yards and two touchdowns. We're choosing to overlook this embarrassing performance because he has bragging rights in the state for the rest of his life.
3. Florida State QB Jordan Travis
Travis racked up 360 yards through the air and accounted for two touchdowns against Pitt, despite FSU missing both of its top two receivers, Johnny Wilson and Keon Coleman. Instead, Travis found 5-foot-9 Ja'Khi Douglas, who had just 36 yards on the season entering play, six times for 115 yards. It was more offense than the city of Pittsburgh had seen all fall.
4. Washington QB Michael Penix Jr.
Since his win over Oregon, Penix's passing numbers have been a tad pedestrian: 64% completions, six TDs, four interceptions. And yet, he has made plays when he needed to, helping keep the Huskies undefeated, and defenses have clearly adjusted, opening holes for a Washington ground game that has rushed for nearly 600 yards and nine touchdowns in that span.
5. LSU QB Jayden Daniels
Here's hoping he's healthy enough to get back on the field next week against Florida, in part because we want to see his Heisman case live on and in part because we want to see what happens if Florida has to beat Florida State in Week 13 to get bowl eligible.
Aggies' road woes continue
For much of Saturday, Texas A&M seemed destined to pull off a shocker against No. 10 Ole Miss.
The Rebels were on the precipice of a 17-0 lead midway through the second quarter when Jacoby Mathews returned a blocked field goal try 75 yards for a touchdown. Ole Miss still was up 14 midway through the third quarter when the Aggies went on a run behind Max Johnson, who threw one TD pass to brother Jake and ran for another. But Quinshon Judkins' 1-yard run with 1:40 to go proved the difference, and the Rebels won 38-35.
The loss adds more fuel under Jimbo Fisher's increasingly hot seat. Setting aside the COVID-impacted 2020 season, he's now 22-23 against Power 5 foes since taking over at A&M in 2018, including a disastrous 3-15 mark on the road.
So, if you're in the College Station area and looking to save on a Christmas tree, now would be the time to start doing a few laps past Fisher's house.
Battling for bowls
With Rob Gronkowski on the sideline directing the band, posing for selfies and flexing for the camera, Arizona outlasted UCLA 27-10 to become bowl eligible for the first time since 2017. Jedd Fisch often looks like a frazzled scientist whose family is being held captive by a criminal mastermind until he completes construction of a space laser, but he's also a heck of a program builder. He inherited a team that had lost 12 straight and was utterly bereft of talent. Now he has Arizona at 6-3, with back-to-back wins over ranked opponents and a real chance to win out.
South Carolina finished 4-of-16 on third and fourth down, committed 10 penalties (for 100 yards), and managed just 89 yards on 38 rushes Saturday, trailing Jacksonville State by seven late in the third quarter, but finished the game on a 17-0 run — the last 10 of which came after Jacksonville State turnovers — to win the battle of the Gamecocks 38-28.
Spencer Rattler's 399 passing yards and four takeaways by the defense proved the difference in a win that narrowly keeps South Carolina's bowl hopes alive and kept coach Shane Beamer from either injuring another foot kicking a Gatorade cooler or perhaps busting through the locker room wall like the Kool-Aid man.
The win snaps a four-game losing streak for the Gamecocks, and South Carolina now has home games against Vanderbilt, Kentucky and Clemson — and needs to win out to get bowl eligible.
Meanwhile, Nebraska had a chance to secure win No. 6 against woeful Michigan State on Saturday, but the Huskers couldn't get any offense going in a 20-17 loss to the Spartans.
Florida, too, whiffed on a chance to get bowl eligible. The Gators fell behind Arkansas 14-0, fought back to tie at the end of the first quarter, then traded scores for the rest of the way — swinging from all-out surrender gator to Trevor Etienne's brilliance. Ultimately, Arkansas booted a 49-yard field goal to send the game to overtime, and KJ Jefferson's TD pass then clinched the 39-36 Hogs win.
Surrender Gator. pic.twitter.com/aJaSQuQmbX

— 🅰️️🆔 (@ADavidHaleJoint) November 4, 2023
And somewhere, Dan Enos is firing up his burner account to send some incredibly pointed emails to new Arkansas playcaller Kenny Guiton.
In Week Zero, New Mexico State lost at home by 11 to UMass. In some countries, that is punishable by up to three years in prison. But credit to the Aggies, who have rebounded beautifully to win seven of their next eight games, including Saturday's 13-7 victory over Middle Tennessee. New Mexico State's D has held seven straight opponents to 24 points or fewer, and the Aggies' ground game has been terrific, racking up 182 yards against the Blue Raiders. They've now topped 170 yards rushing in 13 straight games, the longest active streak in the country. More importantly, because the Aggies will play 13 regular-season games this season, they needed Saturday's seventh victory to assure bowl eligibility.
West Virginia was picked to finish last in the Big 12, which riled up the locals about as much as anything since the Whiskey Rebellion of 1791 and, we should add, also seems like a serious overestimation of how good Cincinnati would be. Regardless, CJ Donaldson and Jahiem White both topped 100 yards on the ground as West Virginia ran for 336 in a 37-7 route of BYU that ensures a far better finish than last place in conference play and a bowl bid.
Iowa wins, paint dries
Iowa announced offensive coordinator Brian Ferentz would depart at year's end, which means we have only a few more weeks left to enjoy — is that the right word? — a performance like the Hawkeyes gave us Saturday against Northwestern.
The over/under for the game was 32.5, and there was never a chance the game would hit that total. The biggest drama was wondering just how low the score would be. In fact, here are Iowa officials digging through rock bottom looking for the Hawkeyes' passing game.
pic.twitter.com/Y13hLlFk5Y

— no context college football (@nocontextcfb) November 4, 2023
Iowa held the ball for nearly 20 minutes in the first half, and it still had just 89 yards. NASA scientists are still trying to figure out how that's possible.
Northwestern, meanwhile, largely played offense like a newborn deer taking its first steps.
Neither team averaged better than 5 yards per pass. Neither threw for more than 100 yards. Neither topped 170 yards of total offense. Both required wellness checks after the third quarter to make sure everyone was still conscious.
Northwestern's first eight drives ended with punts before a huge breakthrough midway through the fourth quarter when the Wildcats turned the ball over on downs. It was thrilling. Then things got really interesting. After an Iowa punt — usually an optimal play call for the Hawkeyes — Northwestern drove a whopping 22 yards for a touchdown, tying the game at 7 with just 1:50 to play.
Fans around the world were terrified that the game would go to overtime, where the two teams would then play indefinitely until either someone scored again or the sun burned itself out and the world ended. Apocalypse was +240 in the Las Vegas live odds.
But miraculously, Deacon Hill completed two passes — a new Iowa record for a single drive — and the Hawkeyes drilled a 52-yard field goal with 14 seconds remaining to win 10-7.
Iowa is now 7-2 and poised to make the Big Ten title game despite warnings from the FDA that consuming Hawkeyes offense can cause delusions, nausea and night terrors.
An ugly loss, a wild win
The last winless team in the FBS finally got a W.
One of the final remaining undefeated teams took a loss in horrifying fashion.
It was as if Sam Houston and Air Force swapped personnel in some sort of "Freaky Friday" situation in Week 10, with one team getting its first taste of victory and the other fumbling away a rivalry game and a shot at a New Year's Six bowl.
In what might be the most embarrassing Air Force effort since "Iron Eagle 3," the Falcons lost 23-3 to Army in a game in which the Falcons couldn't get out of their own way. Air Force had 12 possessions in the game. Two ended with interceptions, four in fumbles, two in failed fourth-down tries, two in punts and one in a missed field goal. After the game, they also left the keys to an F-15 Eagle at the Dippin' Dots concession stand.
For Sam Houston, however, Saturday offered a small bit of bliss after an utterly demoralizing season. The Bearkats — the "K" is for "kan't win" — came in 0-8, having lost four of their past five games by a TD or less. In fact, they lost three weeks ago after an FIU field goal with 5 seconds left sent the game to overtime, and last week on a field goal by UTEP with 1 second to play.
So what happened Saturday?
Sam Houston fell behind FCS Kennesaw State 21-7 at the half but fought its way back to tie with 3:49 to play. Three plays later, Da'Marcus Crosby picked off a pass, setting up a nine-play drive that…