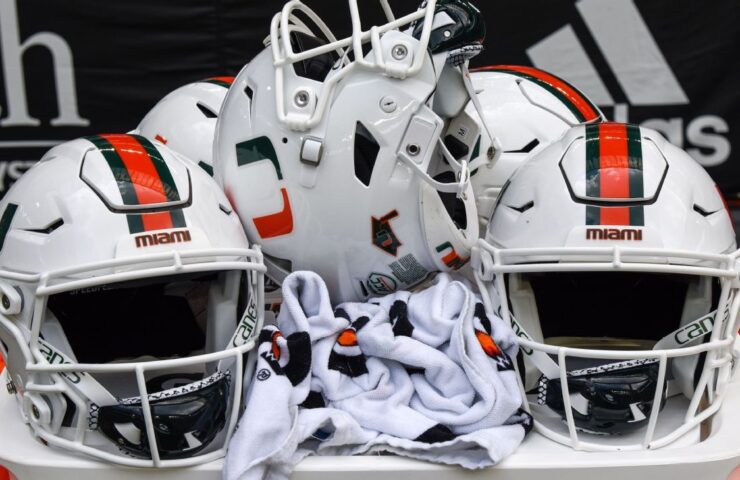 Hurricanes land in-state, 4-star safety Patterson
Blake Baumgartner, ESPN Staff WriterAug 26, 2023, 01:46 PM ET
Mario Cristobal knows full well that keeping in-state players home will be key to bringing Miami back to the national prominence it enjoyed in the 1980s, early '90s and early 2000s.
Cristobal's Hurricanes scored a significant in-state recruiting victory Saturday courtesy of four-star safety Zaquan Patterson.
"Just it being home and everything that Cristobal's trying to do with the program," Patterson told ESPN. "Knowing his background, him [being a part of] a national championship team at Miami — he understands what it takes to bring us back to that point. It's definitely a big thing for me. Everybody, you know, being from Miami, we support our team, support this team. We support it like nothing else."
Patterson (No. 76 overall in the 2024 ESPN 300), who plays for Florida high school powerhouse Chaminade-Madonna Prep, becomes the fifth ESPN 300 prospect from Florida to pledge to be part of the Hurricanes' 2024 class.
"It's more than that to us in Miami," he said. "It's just wanting to better the program, wanting to change it around."
Patterson also considered Michigan, Ohio State, Florida State and Auburn.
He will join prep teammate wide receiver Joshisa Trader (No. 11 overall in 2024) in Coral Gables and is the highest-ranked defensive recruit in Miami's class, which jumped to 15th in ESPN's latest team rankings.
"Yeah, absolutely [Trader] has been in my ear," Patterson said. "Everybody wants me to play with them in college. I mean, we all played with each other growing up. Now this is the only time that we have to separate. So it is kind of like everybody, 'Oh, you come with me, come with me.' But I'm doing what's best for me."
Patterson is the eighth ESPN 300 member to commit to Miami for this cycle as Cristobal looks to maintain the momentum on the trail gleaned from last season's class, which finished fifth in ESPN's final 2023 rankings.
The Hurricanes' pass defense finished 10th in the ACC (233.6 YPG) last season but was opportunistic in creating chaos, evidenced by 14 interceptions (third in ACC).
In 11 games as a junior in 2022, Patterson recorded 69 tackles and two interceptions for a Chaminade-Madonna Prep team that went 13-1 and won the Florida Class 1M state title.
"Cornerback or safety? No, I personally don't have a preference," he said. "I feel like more action is at corner. But whatever I best can fit in at college is what I'm up for.
"I think I'll be able to come in and make a big change early, with the type of energy I come with. I feel like Coach [Lance] Guidry came [from Marshall] with that energy as well — the new defensive coordinator. And I can't wait to see what he's going to do with some of those younger guys on the back end."