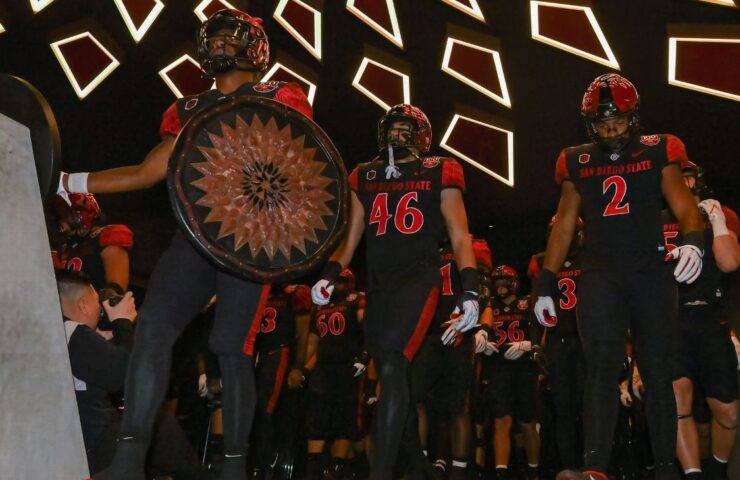 Adjustment roundtable: Next actions, Notre Dame and impractical relegation dreams
8:00 AM ET ESPN staff We're getting closer and closer to seeing major changes in college football
. Houston, Cincinnati, UCF and BYU are all set to go into the Big 12 on July 1. And in the summertime of 2024, we'll see Oklahoma and Texas join the SEC and UCLA and USC will head to the Huge Ten.With those moves set in stone, and definitely more to come soon, our press reporters discuss what the future of
adjustment may look like in college football and offer their wildest want the sport.
What's the next domino to fall?Bill Connelly: The next sensible relocation will come when the Pac-12 finds out the appraisals for its next set of media contracts. If it's competitive enough to what the Big 12 has set up to draw in, then one assumes the Pac-12 will add two programs– with San Diego State and SMU being the rumored front-runners( and UNLV, Boise State and others still expecting a shot)– and whatever will possibly support for a bit. If the Pac-12's quotes end up far short of expectation, then I guess we'll learn exactly how severe the Huge 12 has to do with potentially adding the Colorado-Utah-Arizona-Arizona State quartet of programs. Towering above all of this, naturally, is whether the Big 10 chooses to broaden previous 16 programs and include whatever mix of Oregon, Washington, Cal and Stanford is most appealing. However given that the Big Ten doesn't even have a commissioner or a full set of college presidents at the minute, we'll hold back on wondering about that.Editor's Picks 2 Related Adam Rittenberg: I concur with Bill in a sense, as the most immediate move could come
from the Pac-12
once its media contract– with the existing 10 members– is lastly set. But the next significant relocation likely lies with the Big 10. Although Commissioner Kevin Warren ultimately could not get the league's presidents on board with additional West Coast expansion beyond USC and UCLA, I'm told there was some support in the room. With Warren taking control of as Chicago Bears president on April 17, could a new commissioner with perhaps a stronger presentation persuade the Big 10 presidents and chancellors that including Washington and Oregon makes sense? It's possible. If it happens, there would be more seismic modification around the sport. I do not see anything occurring right now provided the significance of getting a commissioner in location and the basic flux among the Huge 10 president/chancellor group, which existed throughout Warren's period. Once management is in location, the Big 10 might be the place to view again.Heather Dinich: One lesson discovered after about 20 years covering college football is that adjustment is never over, but it wouldn't be unexpected if the next relocation wasn't asseismic as the speculation might indicate. The Pac-12 could include San Diego State and SMU following its next tv offer and that might be the extent of the"next round of realignment. "These choices are made by the university presidents and chancellors, and unless there is a fantastic disparity in profits, they aren't going to move their scholastic institutions, duration. The concern is, what's the gap in revenue that would prompt Pac-12 presidents to seriously think about the Big 12? 10 million? Twenty? More? In the Big Ten, are there enough university presidents who would be willing to share the profits with 18 schools? The Pac-12's tv offer holds the crux of these answers.Will Notre Dame ever join the ACC or another conference? Mark Goldman/Icon Sportswire David Hale: On good nights, I think ACC commissioner Jim Phillips dreams of a call from Notre Dame athletic director Jack Swarbrick announcing
,"This is the day!"Amidst an extremely unsure future for the ACC, this would belong to winning the lottery game. All those huge profits problems would be resolved, the future would look intense and all would be ideal with the world. The little issue here is that it isn't going to take place. Notre Dame's contract with the ACC provides the Irish all it requires for its non-football sports and creates no reward for them to sign up with the ACC in football. With a new broadened playoff, the chances are even lower. And while the agreement tethers the Irish, a minimum of to a degree, to the ACC, purchasing their way out of that deal would not be impossible should the Big 10 make an especially financially rewarding offer. Simply put, Strategy A for Notre Dame is independence. That's also Fallbacks, C and D. And if a time comes where those alternatives are off the table, the ACC is still unlikely to be Strategy E.Rittenberg: Notre Dame will only join a conference once the mythical very league is lastly formed, and there's a clear delineation in between the programs contending at the highest level of the sport. I still think that's another cycle or two away, but Notre Dame eventually wants to compete for championship games. Till the school's access to the champion phase is stripped away, it will remain independent in football. Independence means excessive to Notre Dame's identity. But if the sport patterns towards some type of breakaway with 30-40 programs, Notre Dame will have to consent to alter its status.Dinich: Swarbrick told me last summer season there are three prospective reasons the university would consider relinquishing its independent status: the loss of a dedicated broadcast partner; the loss of a fair path into the postseason;"or such a negative monetary repercussion that you had to reassess."Any of those 3 aspects seems highly unlikely anytime quickly, and Notre Dame's self-reliance runs deeper than its football program. It's a university-wide sense of identity and history, so deeply rooted that not even the news of the pending 16-team SEC and Big 10 was enough to rattle the Irish into modification. The 12-team playoff will only assist Notre Dame, and Swarbrick was one of the coauthors of the original proposal. If Notre Dame joins a conference, it probably won't be during this leadership's tenure.Are we approaching a future of just 2 very leagues? Scott Wachter-USA TODAY Sports Hale: The supreme tipping point may come if and when the courts identify a serious shake-up of the college sports design is needed.
If professional athletes are deemed as staff members, and schools that can spend the most on the very best players have a built-in advantage, there essentially becomes no path forward for anybody playing outside the SEC and Big 10. No matter the legal repercussions, groups like Florida State, Clemson, Oregon or Washington, which intend to win national championships, would be in a move-or-die circumstance. Meanwhile, other schools less comfortable with the concept of college football as a semi-pro league may willingly opt to leave the mega conferences for something more akin to an Ivy League design.(Or, perhaps, be pushed out down the road. No one ever discusses contraction as a choice, however financially, it makes a ton of sense.)As bad as the revenue disparities are forming up to be right now, there's just so many new football operations structures and nutrition centers a school can construct for recruiting functions. However if schools are required (or enabled )to pay professional athletes directly, then the connection in between cash and wins will get far stronger, and the race to super conferences will be on.Connelly: I still believe the most likely situation is more of a"power 2 and light heavyweight three" situation, not unlike what we see in European soccer. Even if the Big 10 and SEC expand beyond 16 schools– which, at this moment, feels almost inevitable– there will still be a great deal of schools willing and periodically able to take on lower spending plans. Football is a quite addictive pursuit, after all, and honestly, a 12-team playoff with areas for six conference champs may turn out to be a saving grace of sorts. Even if the SEC and Big 10 gobble up a bulk of at-large bids in a given year, guaranteeing at least 5 areas for groups beyond those conferences will ensure that the rest of FBS, nevertheless it searches in the future, will have something to play for.Dinich: It depends on what you think about"very leagues. "I 'd argue the SEC and Big 10 will currently receive that in 2024. There are too many other decent FBS programs to try and arrange that out, and for a lot of these university presidents, there is a scholastic bar that needs to be satisfied if they are going to agree to bring other universities into their club. NIL will continue to drive a wedge in between the most affluent programs and everybody else, even within their own conferences (see Maryland and Ohio State), no matter how big they become. Prior to presidents and conference commissioners think of superconferences, they should prepare to pay players.What Group of 5 groups can make the jump to Power 5? David Rosenblum/Icon Sportswire Rittenberg: San Diego State is placed well to join the Pac-12 or Big 12 in the near future. There's no other available FBS-playing school in Southern California after USC and UCLA's departures to the Big Ten. San Diego State has actually had success in both football and males's basketball, and its brand-new arena shows its investment in football and wanting to raise its profile. SMU is more of a projection prospect due to the fact that of the cash around
the school. Can SMU follow a TCU-like course to prominence as aPower 5 member? That's the gamble witha smaller independent school, despite an enticing Dallas place. The Huge 12 plainly wants to relocate to the West, so I question if Boise State has enough appeal. The long-term football success there certainly helps. Memphis has a lot of components to be in a Power 5 and seems to be getting left behind. The area doesn't actually assist, however Memphis has bought its leading 2 programs. We'll see if similar investments at South Florida better positions the school for the next round of realignment, after truly getting left behind this time around.Kyle Bonagura: I concur with Adam that San Diego State is the apparent choice. With a brand-new stadium, the still somewhat-recent departure of the Los Angeles Chargers, the size of the marketplace and sustained athletic success, SDSU is a no-brainer. However, they aren't the only team in California that can make the dive. Fresno State can, too. It's located in a region of the state with a big population base that does not have excellent access to any expert groups and currently has impressive fan support. With the added resources that would include being at the Power 5 level, there would be a clear course for FSU to be able to complete routinely with mid-tier Power 5 programs. Particularly when thought about the Bulldogs are often able to contend as things stand.Hale:"The jump"is really a two-part question. There are definitely programs that might sign up with the Big 12 or ACC or Pac-12 and, within a couple years, field competitive groups. However exists a program out there that would also have a possibility to become a severe brand– something that moves the needle financially? The additions for the Huge 12(BYU, Cincinnati, Houston and UCF )had to do with adding the next-best things, not developing true value for a league that simply lost 2 authentic brand names. The Pac-12's flirtations with San Diego State or SMU use some upside with two programs more than efficient in winning, but will they end up being must-see TV for Oregon or Washington fans when their teams face off? There's constantly long-lasting growth capacity with locations like USF or North Texas– however that refers years, not years. And there are recognized fan bases for schools like Memphis or Navy, but they're far from crown jewels that would bring a hefty TV deal. The truth is, the whole concept of the Power 5 might be unimportant quickly, and the teams that really move the needle in the huge image do so because of decades of success and fan investment. It's nearly impossible to develop that now at locations where it does not already exist.Connelly: Let's begin with this: Not consisting of one-year FBS member James Madison, there are 10 programs that have actually averaged a favorable SP+ranking– meaning, they're much better than the typical FBS team– over the past decade without being a power conference team(or Notre Dame): Boise State, Memphis, UCF, Appalachian State, Houston, BYU, Cincinnati, San Diego State, Air Force and Marshall. Four of those programs simply got gobbled up by the Big 12, and SDSU stays the leading candidate to join a broadened Pac-12 if or when the Pac-12 has the ability to expand. Location suggests Memphis would be the top candidate if the Huge 12 were to choose to broaden further, and geography likewise suggests Boise State
may continue to get the short end of the realignment stick. However with the 4 making the Huge 12 jump this year, the list of obvious, high-potential prospects shrank considerably.What's the wildest move you would want to see?
Christopher Hanewinckel-USA TODAY Sports Hale: Let's just remove the blackboard and go back to square one. Many of college football's ills are driven by the paradoxical influences of contemporary income generation and old-school custom. Television cash will pay Vanderbilt and Illinois more than Florida State or Clemson since of contractual ties from decades (or centuries )earlier. The sport is continuously attempting to fit square pegs into round holes. So let's blow it up! If we're moving toward extremely leagues, let's shed the shackles of conference tie-ins from a time when teams taken a trip by train and build out a league that allows
all programs who want to complete a possibility to really doso; that preserves long-standing competitions that put actual
butts in real seats for the games; that gives players a reasonable piece of the pie. Oh, and have we pointed out promo and transfer? Just how much time to do we have here?Connelly: Oh, we're absolutely going to talk about promotion and transfer, time be damned. I've invested far too many hours of my life thinking about it not to bring it up at every possible chance. We might remodel the entire NCAA ladder, from Division I to Division III, based upon a relegation model, and we would not need to redraft conferences or anything. We set up conference associations across the board– the SEC with the Sun Belt, the Big 12 with Conference USA, the ACC with the AAC, the Pac-12 with the Mountain West, the Big 10 with the MAC (and then, the MAC with the Missouri Valley, etc )– and off we go. The last-place team in the SEC (Vanderbilt )plays the first-place team in the Sun Belt(Troy)for a spot in next year's SEC! Additional drama! A level of real merit in power conference
membership! Everyone wins with transfer! Other than Vanderbilt! Acknowledging that won't happen, however, what about relegation WITHIN a conference? What about a full-scale Pac-12 and Mountain West merger, where the bottom four groups from one tier trade places with the leading four groups from the lower tier each year? Imagine a Pac-12 that trades last year's depressing Cal, Arizona State, Stanford and Colorado groups for Boise State, Fresno State, SDSU and San Jose State? That's a better conference! I can't imagine the cash would make sense here, but hey, that's for money people to find out! I'm just a careless concepts guy!Bonagura: Just sitting over here nodding in approval at the promotion-relegation principle. As adjustment has actually shown, there are very few untouchable competition games in college football. Life goes on and people proceed to whatever is brand-new. So the idea that we require to protect history for history's sake is an out-of-date way to approach the sport. I think it's finest to think about college football's structure resembles this: If we were to start from scratch, what would it appear like? Well, obviously, there would be no championship game. Having mostly worthless exhibition games at the end of the season doesn't exist in any other sport. Why? Because it does not make any sense. Let's eliminate them. Yes, individuals still enjoy, but that's due to the fact that it's football on television and individuals like enjoying football on television. It's quite easy. What would make the sport much better is to produce higher-stakes games at the end of the year– for everybody. Not simply the groups at the top. And if a group is threatened with relegation to a lesser-tier conference, those end-of-the-season games carry genuine stakes. There is much more that would need to be straightened out, obviously, however there is so much potential to produce a much more interesting, appropriate competitive structure.