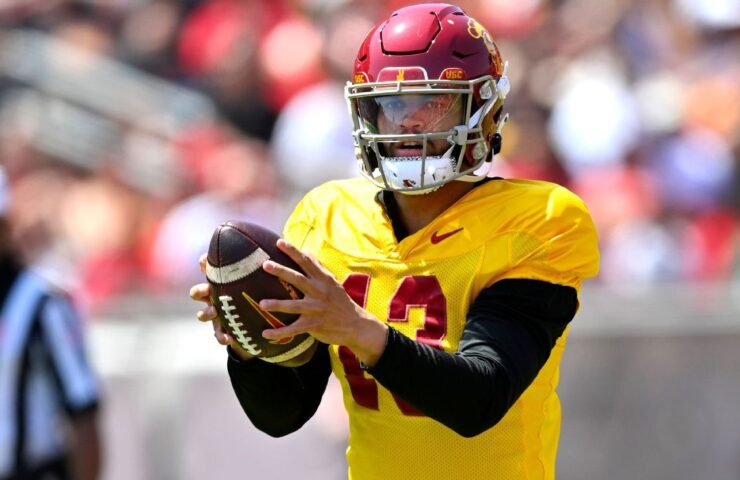 Williams plays just 1 series in USC spring game
6:00 PM ET Paolo UggettiESPN USC quarterback Caleb Williams spent more time on the Los Angeles Coliseum field for
his halftime Heisman Trophy ceremony than he did wearing a helmet and taking snaps throughout USC's spring game Saturday.In his sole drive of the day, Williams got right where he left off last season. He began the game under center for USC and only required 3 plays to take the Trojans'offense downfield for a score.The first play was a 45-yard pass to pass receiver Brendan Rice to start the game. After handing the ball off to running back Austin Jones for
the second play of the game, Williams discovered wideout Mario Williams in the corner of the end zone for a 10-yard goal pass that capped off the three-play, 75-yard drive that took only 1 minute, 10 seconds.As he came off the field after the scoring drive, Williams remained on the sideline for the rest of the game while backup Miller Moss and real
freshman five-star Malachi Nelson took the staying snaps."Those snaps are way more valuable to those guys,"head coach Lincoln Riley said of giving the 2 backups the majority of the playing time Saturday. When asked what Williams specifically
can surpass after a Heisman-winning season, Riley stated "situation proficiency. "Editor's Picks
1 Related"There's learning the position, there's learning the offense, there's discovering the routes, there's finding out how to perform," Riley said. "And then you take it and the game scenario can change a great deal of that and you need to be able to process that so rapidly. We've really worked hard on that. It was excellent in 2015, it needs to be fantastic this year."
There wasn't too much else to eliminate from USC's spring game beyond the comparable strokes that defined last season: Under Williams, the USC offense is almost unstoppable, and they made the USC defense look more or less defenseless. Get in anyone else under center and the story modifications. While Moss and Nelson had a few bright areas, they also permitted the USC defense to continue its technique of bailing itself out with turnovers. The Trojans' defense had three interceptions and a forced fumble.Defense has actually been
the name of the game for USC this spring after ending last year's launching project for Riley with a terrible loss to Utah in the Pac-12 title game and a loss to Tulane in the Cotton Bowl. The additions of transfers, such as defensive lineman Anthony Lucas from Texas A&M and Kyon Barrs from Arizona, need to offer USC some more strength in advance.
"The difference in the front 7 is noticeable," Riley stated. "All of us knew we had holes in 2015. We have a variety of returners who are playing much better ball this spring then they did at any point last year."
Riley, for his part, was motivated by the competitive element of the game, which came down the last drive– Jacobe Covington chose off Nelson to seal the 42-34 win in favor of the defense, which started the game up 24-0 and received points for stops and turnovers in the customized format. Even if Williams remains the continuous that will drive USC's success this season, there is much in Riley's second season that is already different.
"There is less set up, less mentor from day one," Riley said. "We've done so much situational work, it'll show up in the big games and huge minutes showing up."