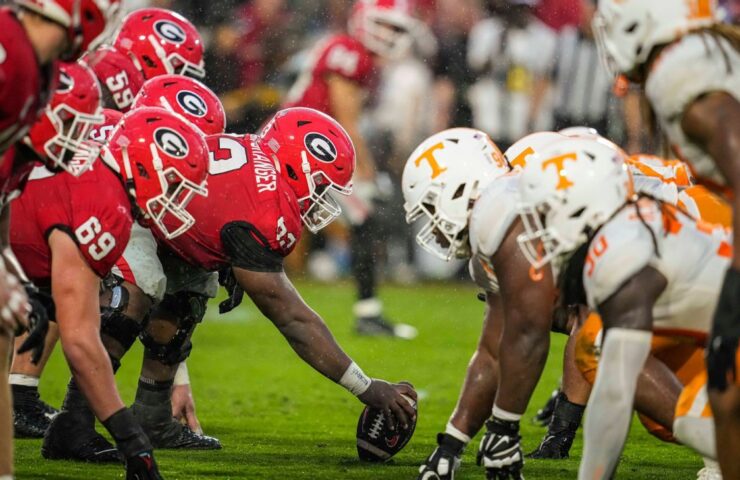 What's the season-defining game for each Top 25 team next
8:00 AM ET
From the opening week matchups of blue bloods to the November conference battles defining the college football landscape, a season-defining game can come at any point.
Last season, fans were treated to Ohio State outlasting Notre Dame, Georgia announcing its intention of winning back-to-back titles with a 49-3 rout of Oregon, and Florida State reasserting its place in the top 25 all within the first week of action. Of course these were followed up with Tennessee's defeat of Alabama, Georgia's rout of Tennessee and Michigan's second straight statement against Ohio State on the way to the College Football Playoff.
A season-defining game can be previously circled on the calendar for months or come out of nowhere in college football but these are the ones our writers have their eyes on for each Way-Too-Early Top 25 team this upcoming fall.
It's not that difficult to choose a season-defining game for two-time defending national champion Georgia, because it doesn't play many difficult ones in 2023. With Oklahoma being dropped from the schedule because the Sooners are joining the SEC in 2024, Georgia's nonconference schedule includes home games against FCS program UT-Martin, Ball State (which replaced OU) and UAB and a road contest at Georgia Tech in the Nov. 25 regular-season finale. An early home game against South Carolina and road trip to Auburn at the end of September might be tricky for the Bulldogs, but their Nov. 18 contest at Tennessee will probably be the most difficult. UT figures to be out for blood after the Bulldogs knocked off the then-No. 1 Volunteers 27-13 at Sanford Stadium last season. The game wasn't that close. Georgia led 21-3 early in the second quarter and by three touchdowns at the end of the third. Georgia has won 11 of its past 13 games against Tennessee and has lost only once at Neyland Stadium since 2010. The game, which was traditionally played early in the season, used to go a long way in determining which team would contend for an SEC East title. This season, Georgia's SEC finale might decide which one wins the division. — Mark Schlabach
There's only one answer here in most seasons, and certainly after the past two. Ohio State cannot afford to lose to Michigan again Nov. 25 in Ann Arbor. Consecutive losses in The Game have blighted an otherwise successful and significant tenure for Ohio State coach Ryan Day, who has taken the quarterback position to never-before-seen levels in Columbus. Day faced significant backlash after last year's home loss, Ohio State's first to Michigan since 2000. An impressive performance against Georgia in the CFP semifinal restored some goodwill, but Day and the Buckeyes will ultimately be judged by the Michigan game. Ohio State hasn't dropped three straight to its archrival since 1995-97. The difference this year is the Buckeyes might not be the clear favorite entering The Game. Ohio State is replacing its starting quarterback, with questions throughout the defense and also at spots like running back. Michigan, meanwhile, returns one of the nation's best offensive backfields. Although the Buckeyes showed last year that beating Michigan isn't required to make the four-team CFP, they can't rely on a likely at-large spot again. — Adam Rittenberg
The Game between Michigan and Ohio State has carried even more wait recently as both teams vie for Big Ten championships and College Football Playoff berths. Frank Jansky/Icon Sportswire
The same game applies to Michigan and Ohio State, even though coach Jim Harbaugh and his team have turned the tide in what had been a painfully one-sided series. It's hard to see Michigan winning a third consecutive Big Ten title — and making a third consecutive CFP appearance — without taking down Ohio State at the Big House. Unlike the past two seasons, Michigan should enter the fall as the team to beat in the Big Ten. The Wolverines return quarterback J.J. McCarthy, running backs Blake Corum and Donovan Edwards, wide receiver Cornelius Johnson and several players from an award-winning offensive line. They once again lack a notable nonleague matchup (East Carolina, UNLV, Bowling Green). The road schedule isn't easy: Penn State, Michigan State, Maryland, Minnesota, Nebraska. Michigan might be able to drop an away game as long as it sweeps the home slate, where it has played very well under Harbaugh. A third straight win over Ohio State would leave no doubt about which team is the boss of the Big Ten. — Rittenberg
It is always hard to choose the opener as a season-defining game because in the College Football Playoff era, teams have overcome early losses to end up making it into the top four. But the LSU game in Orlando seems like the easy choice here, and we can point to last season for the reason why. There were plenty of questions about the Seminoles headed into the season, and none of them were centered around whether they could win 10 games. But beating LSU in New Orleans showed this would be a different type of Florida State team and a different season. A loss there, and who knows what happens. Now, this matchup to open 2023 could be even bigger as both teams have high expectations. The hype is there for Florida State and a win would only serve to continue the hype train. — Andrea Adelson
A lot can change between now and the fall, but it looks like most of Alabama's toughest games in 2023 will come at home. Out of conference, Texas visits Bryant-Denny Stadium the second week of the season. And in SEC play, Ole Miss comes to Tuscaloosa on Sept. 23 as does Tennessee on Oct. 21 and LSU on Nov. 4. The Crimson Tide feel like they owe something to the Vols and the Tigers after losses to both of those teams on the last play of the game a year ago, which ultimately kept the Crimson Tide out of the College Football Playoff for only the second time since the CFP's inception during the 2014 season. The Tennessee game, in particular, looms large for Alabama. Beating the Vols would give the Tide an extra week with the bye to complete the sweep over Tennessee and LSU. Plus, nobody in crimson has forgotten the wild, field-storming scene at Neyland Stadium last season after Tennessee's winning field goal snapped Alabama's 15-game winning streak in the series. — Chris Low
​​The Nittany Lions had two losses last season, one to Michigan and one to Ohio State. The Buckeyes are on the schedule at Penn State on Oct. 21. If the Nittany Lions are going to make it to the Big Ten championship game or the playoff, they're going to have to get through Ohio State and eventually Michigan. A loss in that game makes it difficult to reach their goals and likely brings more questions about the ceiling of the program. Penn State hasn't beaten Ohio State since the 2016 season, when they won 24-21. With new faces at quarterback, receiver and some other key positions, this game against Ohio State is going to be a measuring stick for where the team is and how far they can go. — Tom VanHaaren
The game Lincoln Riley's team may have circled on the schedule this season is the Oct. 21 matchup against Utah in Los Angeles — the only team (besides Tulane in the bowl game) that beat them last season. But revenge matchups aside, if USC once again finds itself on the fringe of a College Football Playoff appearance, the game that will likely decide its fate and color their season is the Nov. 11 trip to Eugene to play an Oregon team that has the exact same expectations heading into 2023. The Trojans got a favorable draw last season and avoided playing the Ducks, but this year the schedule is a loaded one that includes a four-week stretch that begins with the Utes, includes Oregon and Washington (at home) and ends with UCLA. — Paolo Uggetti
Life in the SEC West means you don't tend to have just one season-defining game. That's doubly true for an LSU team that starts the season in maybe the biggest game of Week 1 against Florida State. But while we can make the case for FSU being huge, or the SEC opener at Mississippi State, or maybe the regular-season finale against Texas A&M, there's still really only one choice if you're an aspiring SEC West contender: Bama. Brian Kelly's first trip to Tuscaloosa on Nov. 4 will likely be a make-or-break game when it comes to attempting a West division repeat, and even if the Crimson Tide are facing a few more challenges and changes than normal, they're still Bama, and they're still going to be looking for revenge. — Bill Connelly
It was a loss to Washington at home in 2022 that ended Oregon's eight-game winning streak and gave the Ducks their first loss in conference play. It ended up as one of just two losses in the Pac-12, which proved crucial in keeping the Ducks out of the conference title game and sent them on a course to a disappointing Holiday Bowl berth. This year, in coach Dan Lanning's second season, there are higher expectations and with this game coming earlier on the schedule it represents an important mile marker on the season. With a manageable schedule before this one, the Ducks should have a chance to move to 6-0 here with four of six games at home the rest of the way (including against USC). That would probably be good enough for a top-five ranking and all that. — Kyle Bonagura
What a second season it was under Josh Heupel at Tennessee. All the Vols did was win 11 games for the first time since 2001 and beat both Alabama and Florida, then defeat Clemson in the Capital One Orange Bowl. It's now Joe Milton III's time at quarterback with Hendon Hooker leaving for the NFL, and Milton's first SEC test will come on the road against Florida. That's the game to circle for the Vols, who haven't won two in a row over the Gators since 2003 and 2004. The SEC schedule gets a bit tougher for Tennessee this season with both the Alabama and Florida games coming on the road. But for that Alabama trip on Oct. 21 and Georgia home date on Nov. 18 to really mean something on a national level, the Vols need to beat the Gators in Gainesville and get to the month of October unbeaten. — Low
Washington's Michael Penix Jr. and Oregon's Bo Nix will square off again after last year's battle in a game that will define each team's season. Troy Wayrynen-USA TODAY Sports
See: Oregon. The Huskies will hope their game against Oregon at Husky Stadium on Oct. 14 isn't season-defining because of how early it is (game No. 6), but it's set up as a game that could set the trajectory for how good the year can be. This is a team — considering all it has coming back on offense after the success in 2022 — with valid offseason playoff aspirations, and a loss here would more or less take that off the table. And even if the playoff fades from the picture, this is a key early-season Pac-12 game that will likely be pivotal in the standings. — Bonagura
The Horned Frogs will get plenty of national eyes in Week 1, with Deion Sanders bringing the Coach Prime experience with Colorado to Fort Worth. TCU will provide plenty of curiosity itself, coming off a remarkable run to the national title game, but are losing a huge amount of star power from that squad, including their triplets on offense: QB Max Duggan, WR Quentin Johnston and RB Kendre Miller. But Week 1 won't make or break this team. A much more telling game will be Sept. 16, when TCU travels to Houston to face the Cougars. Sonny Dykes and Houston coach Dana Holgorsen are old pals from their days at Texas Tech assistants and also matched up in the AAC when Dykes was at SMU. There's familiarity among fans between the two old Southwest Conference rivals, too, so a return to a rivalry will be welcomed now that Houston has joined the Big 12. The road trip will be the Frogs' first of the year, and matching up against a team making a step up in leagues will provide an indicator of what's in store the rest of the season for the new-look Frogs. — Dave Wilson
As they try for their third Pac-12 title in a row, the Utes' schedule won't make it easy on them. Road games in Baylor, USC, Oregon State and Washington will likely be the toughest matchups for a team that has been exponentially better at home than it has been away from Salt Lake City. And so the likelihood of them returning to the title game (and potentially having a chance to make it to the CFP) will likely come down to one of those games. Let's focus on that matchup at USC, in large part because the Utes have had the Trojans' number. Last season, they outlasted them in Utah before trouncing them in the conference title game. This time, Kyle Whittingham's team will have to beat USC in Los Angeles, which may be the game USC wants to win the most this season and could determine whether the team makes it to that title game again. — Uggetti
The debate here is between two huge home games: Ohio State (Sept. 23) or USC (Oct. 14). Notre Dame coach Marcus Freeman lost to both teams in his first season at the helm, and certainly could use another signature home win after last year's surprise shellacking of Clemson — a team that Notre Dame visits Nov. 4. Ultimately, the USC game should shape Notre Dame's season a bit more because it's more winnable than Ohio State and against the school's top rival. USC is clearly vulnerable on defense and will offer an opportunity for quarterback Sam Hartman and the Notre Dame offense, under the direction of new playcaller Gerad Parker, to flex a bit. Freeman's defense also gets a tremendous test against Heisman Trophy winner Caleb Williams and the USC offense. The Irish haven't lost to the Trojans at home since 2011, and it's important for Freeman to show he can win in this series, especially with USC on the rise again. — Rittenberg
Editor's Picks
2 Related
For the first time in five years, the Florida State game naturally fits into the season-defining category. But we are going to go in a different direction and choose the season finale against South Carolina. The Tigers lost last season in this rivalry game for the first time since 2014 and it still does not sit well, considering both the way Clemson blew a nine-point second-half lead at home and the fact the loss more than likely kept Clemson out of the College Football Playoff. While the Florida State game looms large because the Seminoles have appeared to turn a corner, a second straight loss to South Carolina will present some unsettling questions considering the way Clemson has recently dominated the series. — Adelson
Last year, nobody expected a nonconference matchup, even with Alabama, to make or break Texas' season. There was too much work to do after a 5-7 season. But this year is different. Steve Sarkisian has recruited enough talent to make a push to return Texas to the national conversation, and taking on his old boss in Tuscaloosa on Sept. 9 will be a quick way to rip the Band-Aid off and find out if the Horns are for real. Quinn Ewers and Texas had Bama on their heels last season in Austin until Ewers departed with an injury at the end of the first quarter after completing 9 of 12 passes for 134 yards. That'll give him confidence going into a hostile environment, one Texas will see on a more frequent basis with the move to the SEC next year. Last year, Texas jumped from unranked to No. 21 after the loss to Alabama, because Texas put a legitimate scare into the Tide. That's how much this matchup impacts national perception. — Wilson
After a brilliant 2022 season, the Beavers are a bit of a wild card. Can they build off the 10-win season or is some regression to be expected? There are logical cases for both directions, which is why we have to look early in the season here for Oregon State. Utah at home on Sept. 29 should provide the answer about how good this team is. A win against Utah — which has developed into the most consistent team in the conference — would announce the Beavs' arrival as real contenders, while a loss would mean they're still outside the top tier. — Bonagura
Kansas State's Big 12 title defense will feature huge matchups with TCU at home (Oct. 21) and Texas in Austin (Nov. 4), but the biggest game of all might come a little earlier. Chris Klieman's Wildcats face a nonconference slate with a couple of potholes (Troy in Week 2, at Missouri in Week 3), but they proved last season that they could survive an early stumble and thrive, losing to Tulane but beginning Big 12 play with tight road wins over Oklahoma and Iowa State. Early conference road wins will be just as vital in 2023. They start the Big 12 season by welcoming newcomer UCF to Manhattan but then travel to Stillwater and Lubbock in back-to-back weeks. They've only won at Oklahoma State once this century, and it's safe to say that their title hopes will take a huge hit with a loss to Mike Gundy's talented but remodeled Cowboys. Before big swings against TCU and Texas, you have to survive OSU. — Connelly
Tulane is coming off its first 12-win season and conference title since 1998. Its Goodyear Cotton Bowl Classic upset of USC was the program's first major bowl game appearance since the Sugar Bowl in 1939. It'd be asking a lot for Willie Fritz's Green Wave to repeat some of that. But if his team is to make a return trip to the New Year's Six, the home game against Ole Miss on Sept. 9 could give an early glimpse of what it's capable of. The departures of both Cincinnati and UCF to the Big 12 likely make the Green Wave the preseason favorites in the AAC as the program looks for consecutive conference titles for the first time since claiming three straight Southern Conference titles from 1929 to '31. But a victory over the Rebels at Yulman Stadium is a statement that would resonate across New Orleans and the rest of college football. — Blake Baumgartner
Lane Kiffin and the Ole Miss Rebels were undefeated last season before a trip to LSU. Can they get past the Tigers and compete for the SEC West this fall? Matt Bush-USA TODAY Sports
Ole Miss raced out to a 7-0 start last season and feasted on a schedule that was pretty soft up until that point. The Rebels won't have that luxury in 2023. They close the month of September with back-to-back games against Alabama and LSU. And as big as that Sept. 23 game is against Alabama in Tuscaloosa, it's the game the next week against LSU that really has a chance to set the tone for the Rebels' season. It's the start of a stretch that will see Lane Kiffin's club play four of five SEC games at home. Four of those five opponents are Western Division foes, too, so building momentum with a home win over the team that won the West title last season would be a terrific way to enter the month of October. Ole Miss lost 45-20 last season at LSU, which was the Rebels' first loss of the season. Ole Miss has also lost six of the past seven games in the series. — Low
There are plenty of possibilities to choose from for North Carolina, which plays South Carolina, Appalachian State, Miami, Minnesota and Clemson this season. But the choice here is the regular-season finale against in-state rival NC State on Nov. 25, a team that has won two straight games to hold bragging rights in the series. NC State has won five of the past seven meetings, and considering the difficulty of the conference schedule has increased with the addition of Clemson in the regular season, this one could be a "must win" for ACC championship game hopes. Losing a rivalry game to end the season is never ideal. It should also be noted UNC ends with its rivals (Duke on Nov. 11) in two of the last three games with Clemson sandwiched in between. That three-game stretch could end up being the season-defining one for the Tar Heels. — Adelson
The UAB game on Oct. 14 isn't the biggest game on UTSA's schedule, but it's an important barometer for the two programs' first seasons in the AAC. UTSA will have already faced Houston, Army and Tennessee in a tough nonconference schedule and played its first conference game against Temple in Philadelphia, while the Owls have fallen on hard times, winning seven games over the past three seasons. But UAB and UTSA seem to match up well against each other, with three one-score games in the past three seasons, including a 44-38 double-overtime win for UTSA last season. — Wilson
Defending Big 12 champion Kansas State comes to Lubbock on Oct. 14, and the Red Raiders are hoping they can become this year's version of the Wildcats. The Red Raiders are coming off an 8-5 season in which they beat both Texas and Oklahoma and delivered the Big 12's only bowl win aside from TCU's Fiesta Bowl victory and return 10 starters on offense. As part of the new league schedule with the additions of BYU, UCF, Cincinnati and Houston, Tech plays all the newcomers except for Cincy, won't play Oklahoma or Oklahoma State, gets K-State and TCU at home and has no extended road trips, with no back-to-back away games all year. The Red Raiders will have a big-ticket nonconference matchup against Oregon, then kick off the league slate with a home date against Houston followed by a trip to Baylor. But Kansas State will show how Joey McGuire's building project stacks up against a team that broke through last season. — Wilson
We don't know for sure whether JMU will be eligible to compete for the Sun Belt title or a bowl this season, but we'll know whether they're capable of it pretty quickly in 2023. After starting the season with Bucknell and a trip to Virginia, Curt Cignetti's squad will travel to Alabama for a Week 3 battle against defending conference champion Troy, whom the Dukes would have played in last year's Sun Belt championship had they been eligible. Jon Sumrall's Trojans lost defensive coordinator Shiel Wood to Tulane but return most of the key personnel from Wood's dynamite defense, and Sumrall hit the transfer portal to bring in reinforcements for an inconsistent offense. There are plenty of other aspiring Sun Belt contenders this coming season — South Alabama, Coastal Carolina, Appalachian State — but Troy and JMU were likely the conference's best teams last year, and we'll see who's atop the conference after Week 3. — Connelly
Iowa benefits immensely from the fact neither Ohio State nor Michigan is on its 2023 slate. It's where you start when looking at Iowa's potential for this fall. Full stop. That's why — provided offensive coordinator Brian Ferentz can get the offense headed in the right direction — the Hawkeyes could see themselves competing for the Big Ten West crown and could possibly be a sleeper for the College Football Playoff. Its trip to State College to begin Big Ten play on Sept. 23 against what could be a preseason top-10 Penn State team is by far its stiffest test of the season — on paper. Should they find a way to get out of one of the most hostile environments in the Big Ten with a victory, then potential dreams of more than just a second Big Ten West title in three seasons could commence in Iowa City. — Baumgartner