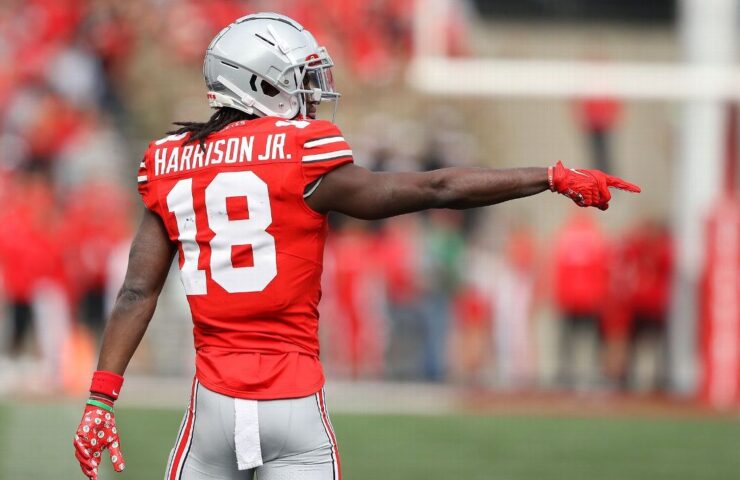 Week 8 showed us winning is always so much sweeter
David Hale, ESPN Staff WriterOct 22, 2023, 02:07 AM ET

Close

ACC reporter.
Joined ESPN in 2012.
Graduate of the University of Delaware.
There's a perception among many college football fans that great teams always look — well, great. They win, they win big, and they make it all look pretty easy.
That's rarely how it works.
Most years, a trip to the College Football Playoff is as much about sustaining and surviving as it is dominating, and even for the best of teams, there's a game or two along the way that's just one long, brutal slog.
Saturday had its share of slogs for playoff hopefuls. Ohio State took every punch it saw from Penn State, but it refused to stay down. Florida State withstood Duke's defense just long enough to break open the dam. Alabama and Tennessee traded blows. Texas coughed up a big lead but held on late. Oregon fell behind early, but made a statement down the stretch. Washington nursed its hangover from last week's win over Oregon well into the second half against Arizona State, but rallied late — or, at least, waited long enough to see the Sun Devils implode — and remained undefeated.
None came easy, but do you know what they call the guy who graduates last in his class from medical school? They call him doctor. And an ugly win is still a win.
On the other side, USC's defense stood tall, then fell short. Penn State's best hopes fizzled at the mercy of a superstar receiver. And Virginia, a team that's endured more than any other program in the country, outlasted undefeated North Carolina for one of the most stunning upsets of the season.
play
0:29
Sione Vaki snatches ankles on way to Utah TD
Sione Vaki snatches ankles on way to Utah TD
Winning is always so much sweeter than a near miss.
So those victory cigars in Tuscaloosa, Alabama, must've tasted like some Dreamland ribs. Joe Milton's TD pass before the half gave the Volunteers a seemingly momentous 20-7 lead, but Jalen Milroe and the Tide dominated the second half, capped by a 24-yard scoop-and-score TD to put the game away in a 34-20 win.
pic.twitter.com/hZyGHFjC4H

— no context college football (@nocontextcfb) October 21, 2023
There have been so many points in which we were perilously close to writing off Alabama's season and, perhaps, the Nick Saban dynasty. The loss to Texas, the ugliness against USF, the fight to the end against Arkansas, and then Saturday's battle against the Vols — this is but a shadow of the teams that won games by simply getting off the bus. And yet there's something entirely rewarding about seeing Alabama scratch and claw and still come out on top. Saban somehow gets to be the elephant in the room and the scrappy underdog all at once. It might be his greatest trick.
The asterisks Duke fans might want to put on the loss to FSU must've looked like fireworks to the Seminoles. They trailed into the fourth quarter, but after Duke QB Riley Leonard left following a flare-up of his ankle injury, it was all Seminoles. FSU posted the game's final 21 points, as Jordan Travis kept the Noles' undefeated season alive. To watch a Florida State game this year is to endure so many plays that feel like they should've been something more, and yet to look back at this 7-0 start, each game has ended with 30 points or more, and each with a victory. It's a team that feels like it's yet to hit its potential, and still always finds another gear when it matters most.
Nothing came easily for Oklahoma against UCF. The Sooners missed two early field goal attempts and fell behind 23-17 entering the fourth quarter. Dillon Gabriel rode to the rescue, but UCF still had a chance to tie when it ran a trick play on a two-point try that was blown up in the backfield. The lackluster outing might've been enough to dampen some spirits in Norman, but then again, the Sooners are 7-0 and Lincoln Riley has two losses. Life is good.
The Huskies coughed up much of the goodwill they earned last week against the Ducks, looking entirely lost against woeful Arizona State. Washington turned the ball over four times, but ASU managed only seven points off the takeaways. Michael Penix Jr. played like he was still at Indiana, air mailing one throw after another and looking entirely lost, but he was bailed out by a 90-yard pick six from Mishael Powell. The Huskies ultimately prevailed 15-7, their first win without an offensive touchdown in 22 years. If they're lucky, anyone who stayed up to watch will wake up Sunday assuming they dreamed the whole thing.
Utah went into its battle with USC using its safety at tailback and, possibly, three kids standing on each other's shoulders and wearing a trench coat at QB, and it didn't matter. That safety — Sione Vaki — rushed for 68 yards and caught five passes for 149 yards and two scores, and even after the Trojans battled back from down 14 to take a late lead, the Utes kept fighting. Bryson Barnes' 26-yard scramble set up the winning field goal. The win keeps Utah's playoff hopes alive, despite playing the entire season without Cam Rising, who coach Kyle Whittingham announced would not return for 2023, while reigning Heisman winner Caleb Williams and USC are all but finished.
Kyle Whittingham with an all-time quote: "They've got a Heisman Trophy winner at quarterback, so they're gonna make some things, and that's just the way it is. But we've got ourselves a pig farmer at quarterback, so we're proud of that guy, too."

— Josh Furlong (@JFurKSL) October 22, 2023
And if Saturday was all about survival, it was an awful setting for North Carolina. The Tar Heels have now played six games as a top-10 team in the past quarter-century, and they've lost five of them.
UNC was a 24.5-point favorite over 1-5 Virginia, fresh off its most impressive win of the season. Drake Maye threw for 347 yards. Tez Walker was a superstar once again. Omarion Hampton ran for 112 yards. It all added up to another devastating loss for UNC, which has consistently earned its reputation as a paper tiger.
Instead, it was Virginia that stood tall Saturday. The Cavaliers hadn't won an ACC game in nearly a year, and the program had never felled a top-10 team on the road in its long history. Instead, Mike Hollins, who was shot 343 days ago in an act of violence that took the lives of three of his teammates, scored three touchdowns in the 31-27 win. It was a remarkable testament to the willingness to keep fighting, to persevere against all odds, and to deliver something that transcends the standings.
It was fitting that Virginia earned the day's sweetest win, because nothing about the Cavaliers' long road toward normalcy has been easy.
That's one of the great lessons of a college football Saturday like this one. Get hit, get back up, keep fighting, and in the end, no one will remember the missteps along the way. They'll just celebrate the moment it all felt right.
Sometimes all you need is a Marvin Harrison Jr.
Saturday's showdown between No. 3 Ohio State and No. 7 Penn State was supposed to unveil the blueprints for how the rest of 2023 might unfold at the highest levels of college football power, to deliver a verdict on the Big Ten's power structure, to assert proof that at least one of these teams can win it all, to affirm a narrative for Ryan Day or James Franklin … to be, in short, as meaningful a game as will be played during the regular season.
Instead, what we can take from Saturday is something we already knew: Wide receiver Marvin Harrison Jr. might be the best player in the country.
Ohio State took the win Saturday, 20-12 over Penn State in a game that was at turns frustrating and physical, ugly and sublime. The Buckeyes are 7-0 with two wins over elite competition. The defense, which marred so much of the Buckeyes' recent history, was an immovable force. Day has his team poised, once more, to contend for the biggest of prizes, if only it can also escape its biggest of rivals six weeks from now.
And yet, this was hardly a ringing endorsement of Ohio State's potential. Quarterback Kyle McCord was wildly inconsistent. The ground game was all but invisible. With WR Emeka Egbuka sidelined, there was a limited supply of real weapons for the Buckeyes. But there was Harrison, who, according to ESPN Stats & Information, had more receiving yards than the rest of the team combined and more yards after the catch than Ohio State's ground game managed with the ball in its hands.
Editor's Picks
2 Related
Franklin took the L against another blue blood. He's 0-10 on the road against top-10 opponents now, which somehow is still not as bad as Penn State was on third down Saturday. But it was hardly a game that illustrated some weakness of coaching or talent or scheme — though there were certainly questions in each area for Penn State. The difference was that Ohio State had Harrison; the Nittany Lions did not.
It was the type of game that Lou Holtz didn't think Ohio State could win a month ago, and now seems like it might be the only kind of game Ohio State wins.
It was a game with offenses that looked so similar to Michigan State's misery that the Michigan Wolverines immediately sent in a team of retired Navy SEALs to infiltrate next week's practices.
It was the type of game during which Penn State fans had to be wildly screaming for the offense to take a shot, any shot, downfield only to ultimately sink back into their couches, clutching an 8-by-10 photo of Sean Clifford and wondering where things went so wrong.
It was a bulldozer driving into a brick wall, over and over, except for the 11 times the ball found its way into Harrison's hands. Eleven touches, despite every man, woman and child in the stadium knowing he was the only player on the field who could turn this game. Eleven touches despite Penn State's defense checking him, pressing him, bumping him, holding him, pushing him down and taking his lunch money. Eleven touches, all of them immensely important, and yet it was a potential 12th that changed the entire tenor of the game, when Penn State was flagged for holding Harrison on a play that might have — should have, if you ask a Penn State fan — been a scoop-and-score for the lead.
If Ohio State's game plan was as simple as getting the ball to Harrison, Penn State's was an abject mess — as if Jackson Pollock designed the offensive philosophy.
Witness the Lions' first-quarter drive, when Nick Singleton ran directly into an overaggressive Ohio State pass rush on back-to-back plays, picking up 16 and 20 yards. What happens next? Drew Allar takes a straight dropback, that aggressive Ohio State pass rush is immediately in the backfield, and the drive stalls.
Witness the Lions' second-quarter drive, when Allar found something approaching success in the passing game, connecting on consecutive throws to tight ends for gains of 11 and 34. What happens next? A double reverse that the Buckeyes sniffed out like the Wolverines had faxed them Penn State's playbook before the game.
Witness the Lions … ah, no, there were no more Penn State offensive drives worth mentioning. In the end, Penn State was held without a touchdown for the first time in nearly a decade.
Ohio State, meanwhile, turned to Harrison, who is a superstar. For the second straight year, it turned to JT Tuimoloau down the stretch, and the defensive lineman utterly demoralized what little was left of Penn State's offense. And the Buckeyes won.
So now the season comes down to the Michigan game once more. Of course it does. It always does.
And so for all the answers this game was supposed to offer, it left in question the one that looms largest in Columbus. Is this Ohio State team capable of beating the Wolverines?
The good news is, this team has Marvin Harrison Jr.
Games of inches
Fans in Houston and Pittsburgh will be spending the next week huddled around footage of their teams' final drives, dissecting each frame like it's the Zapruder film after officials robbed both of a chance to win by calling seemingly obvious first downs short of the line to gain.
In Houston, the Cougars came up inches short after Stacy Sneed's forward progress seemed to easily pick up a first down at the Texas 9 with 1:57 to play, but the run was ruled short nevertheless. Donovan Smith's pass on fourth-and-1 fell incomplete, and Houston's upset bid fell short 31-24.
Was this play by Houston a first down? #Houston #Texas #Rigged #CollegeFootball pic.twitter.com/bBRfvcv1dX

— Bad CFB Officiating (@BadCallsCFB) October 21, 2023
It might be a good time to check social media for all the Texas Longhorns fans who were absolutely certain Big 12 refs would be out to get them in their final year in the conference. Instead, the call was a blow to Dana Holgorsen, who was already heartbroken to find out Quinn Ewers had cut his mullet.
Pitt looked to have secured a 17-14 win at Wake Forest when QB Christian Veilleux scrambled to convert a third-and-9 — only the official didn't see it that way. Instead, Veilleux was ruled down a yard-and-a-half shy of the first, which is where the official said he began his slide.
Where you start a slide is something of an "eye of the beholder" thing. But you can argue he's shifted his body into slide position here, clearly short of the line. On the other hand, why call it that way when it clearly goes against the intent of the rule? pic.twitter.com/HRxRbITaHO

— 🅰️️🆔 (@ADavidHaleJoint) October 21, 2023
The great irony here is the slide rule is in place because former Pitt QB Kenny Pickett faked a slide against — you guessed it! — Wake Forest in the 2021 ACC championship game.
Without the first down, Pitt punted, Wake got the ball with a short field, and third-string QB Santino Marucci engineered a six-play TD drive that took just 33 seconds to give the Deacons a 21-17 win.
Pitt fans will now join Miami — which lost two weeks ago after a questionable ruling of a fumble when it could've simply run out the clock — at the weekly ACC officiating support group meetings. Coffee's free, but it's Pat Narduzzi's turn to bring doughnuts.
Bad, worse and whatever Arkansas is doing
Wake Forest and Virginia Tech played last week, but it was Week 8 that offered the best opportunities to break out the Frank Beamer meme. Even beyond Ohio State and Penn State's top-10 rock fight that … um, highlighted? … the day, it was an ugly afternoon for offenses.
It's common fodder for service academy showdowns to include painfully little offense, but Air Force offered the promise of a surprisingly new narrative when Dane Kinamon broke free for a 94-yard touchdown catch just 12 seconds into the second quarter.
play
0:42
Dane Kinamon breaks free for 94-yard Air Force TD grab
Dane Kinamon gets behind Navy's defense and goes the distance for a 94-yard Air Force touchdown.
Unfortunately, that's the last offense anyone chose to play. Navy finished with 122 total yards. The two teams were 4-of-30 on third down. Several wide receivers fell asleep at midfield. Air Force won 17-6 thanks to a late pick-six. To recap, a game that came with the second-lowest Vegas point total on record for a Commander-in-Chief's Trophy contest included a 94-yard TD and a pick-six and still went under.
In Arkansas, offensive coordinator Dan Enos has been walking around for weeks humming the opening stanza to "Sound of Silence" and dreaming up new ways to turn KJ Jefferson into George Jefferson.
Jefferson fumbled twice and threw a pick in Arkansas' 7-3 loss to Mississippi State on Saturday. Impressively, he managed to complete 19 passes for just 97 yards. Kindergarten games of hot potato involve more downfield throwing than that. Mississippi State at least had the excuse of missing starting QB Will Rogers, who technically missed the game due to injury but would've been well within his rights to simply take Saturday off to go see the new Scorsese movie instead.
At ECU, the Pirates' offense is ridden with scurvy. ECU threw 32 passes and managed just 88 yards through the air in Saturday's 10-7 loss to a nearly-as-inept Charlotte team. We genuinely wonder if 49ers coach Biff Poggi cuts the arms off his sweatshirts or if he gets mad while watching film of his offense and then shreds his clothes like the Incredible Hulk.
In Iowa, all of that is considered the second-best appetizer for a Hawkeyes game (after the preferred pregame meal of an 86-ounce steak and a quarter keg of whole milk).
And those Hawkeyes didn't disappoint. Which is to say, they were incredibly disappointing.
The game total closed at 30.5, which is also the number of beers you'd need to consume to enjoy the offense in this one, which Minnesota won 12-10. The two QBs combined to complete 20 of 48 throws. The lone touchdown came on a 1-yard run that completed a 46-yard drive. There were 18 punts, and Hawkeyes offensive coordinator Brian Ferentz's only regret was that there weren't more. Iowa chose to punt on fourth-and-10 at its own 41 with 2:06 to play, which made sense because each snap on offense for Iowa represented Minnesota's best chance to score. The Hawkeyes got a stop and forced another punt — and might have scored on a return, if not for Cooper DeJean waving for a fair catch (or perhaps he was just signaling to AD Beth Goetz not to count these points toward Ferentz's total). And then Iowa quickly threw a game-ending interception because, of course it did.
play
1:07
Iowa's go-ahead TD wiped off after fair catch call
Cooper DeJean returns punt for a 54-yard Iowa touchdown to grab the lead, but it is taken off the board after DeJean appeared to motion for a fair catch.
The final numbers: Iowa had 127 yards of total offense. It averaged 0.4 yards per rush, which translated into inches is a little more than 14 per carry. A toddler could have fallen over 28 times and performed better. For the season, Iowa has 2,656 punt yards and 1,859 yards of offense.
And somewhere in Des Moines, a clandestine group of Iowa power brokers, clad in robes and huddled around a sprawling oak table beneath a portrait of Hayden Fry, solemnly announces in unison: This is the way.
Coach Dabo Swinney turned some heads this week when he suggested his fan base might be weighed down a bit by folks who didn't appreciate what it took to win, and he suggested perhaps a loss or two might thin the herd.
Well, he got his wish Saturday, and now the Clemson bandwagon might be just Swinney at the driver's seat, pounding Mike and Ikes and listening to the "Shrek 2" soundtrack on cassette, because everyone else sees a bus slowly lurching toward a cliff.
Clemson lost to Miami 28-20 in double overtime. Miami played without starting QB Tyler Van Dyke, and it won despite a 10-point fourth-quarter deficit. The Canes' QB, Emory Williams, had just 15 career attempts to his name, and still Clemson allowed Miami to rush for 211 yards — a total just three other teams had managed against the Tigers since 2017. The turnover woes that Swinney has largely chalked up to bad luck again doomed the Tigers, who coughed up two fumbles and an INT. The new offensive coordinator, Garrett Riley, was supposed to offer salvation for a Clemson attack that had gotten stale in recent years, but for the second time this season, a goal-line playcall left QB Cade Klubnik without an answer when it mattered most.
Clemson is now 4-3, effectively finished in the hunt for the ACC, and will need to win out to keep a streak of 12 straight 10-win seasons alive. After each of the three losses — one a fluky defeat to Duke and two in overtime — Swinney found myriad reasonable explanations. Just as it was in 2022, this Clemson team is but a few plays shy of playoff contention. And yet, the Tigers seem further away now than ever, and the most frustrating part — for those still on the bandwagon and those who've kindly evacuated — is there doesn't seem to be any clear path back onto the freeway.
Week 8 checkdowns
Oklahoma State got 282 yards and four touchdowns on the ground from Ollie Gordon to beat West Virginia 48-34. The Pokes are now 5-2 on the season despite no one actually witnessing them hold a lead in any game this season. Gordon has now run for at least 121 yards in four straight games, the longest streak in the Big 12 since Deuce Vaughn had seven straight from Week 10 of 2021 through Week 2 of 2022.
Wisconsin scored 18 in the fourth quarter to erase a two-TD deficit and beat Illinois 25-21. The Badgers won with backup QB Braedyn Locke, who tossed two touchdowns. Braelon Allen had 145 yards and a score, too. Braedyn. Braelon. Uma. Oprah. (Note: If you're old enough to get that joke, it's time to take your cholesterol medicine.)
USF erased a 21-10 fourth-quarter deficit on the strength of 260 rushing yards to knock off UConn 24-21. The good news for UConn fans, however, is the NCAA was going to keep the Huskies out of the playoff anyway. You just can't fight the system.
Would like to see the @CFBPlayoff provide no path for an independent like @UConnFootball but one for @NDFootball. We have no representation on the committee and therefore would seem like people are colluding against some independents but not others? Seems indefensible? https://t.co/ls4zy15jdC

— David Benedict (@UConnHuskyAD) October 21, 2023
Missouri moved to 7-1 behind Cody Schrader's 159 rushing yards and two touchdowns, dumping South Carolina 34-12. Afterward, Shane Beamer punched the mascot, set his office on fire and interrupted a local magic show to saw a woman in half.
Memphis used a dominant second half and two TD passes from Seth Henigan to thwart the UAB Blazers 45-21 and retain the Battle of the Bones Trophy.
The Bones Are HOⓂ️E#ALLIN | #GoTigersGo pic.twitter.com/vWfgZsBWK0

— Memphis Football (@MemphisFB) October 22, 2023
Afterward, the Tigers returned to Memphis, slathered the trophy in a nice dry rub, then left it to simmer on the smoker for the next 10 to 12 hours.
New Mexico beat Hawai'i 42-21 on Saturday for its first Mountain West win in nearly two calendar years. The Lobos' last conference victory came Oct. 23, 2021, against Wyoming. Saturday was just the program's sixth Mountain West win in the past seven seasons.
Heisman Five
The QBs have largely dominated the Heisman talk so far this year, but Week 8 marks the point the race opened up to everyone else.
1. Ohio State WR Marvin Harrison Jr.
At this point, Harrison has proved so impactful despite a lack of consistent production around him that we're fairly certain he could team up with the brass section from Ohio State's band, a handful of sixth graders and three guys he found sleeping at the bus station and still win the Big Ten West.
2. Oklahoma QB Dillon Gabriel
Gabriel took on his former team, UCF, on Saturday and had to sweat out a 31-29 win. Hard to blame Gabriel for the Sooners' struggles, though. Gabriel threw for three touchdowns, including on each of Oklahoma's final two competitive drives. Even better, he still flubbed just enough plays to ensure Brent Venables can yell at everyone on Sunday. Best of both worlds.
3. Florida State QB Jordan Travis
Duke's defense makes nothing easy for opposing QBs, and Travis' usual contingent of downfield targets simply wasn't open often Saturday. Still, he completed 27 of 36 throws and tossed two touchdowns, to go with another 62 yards and a score on the ground. Travis has now had multiple TDs in 14 straight games — the longest active streak in the country and the third-longest of the playoff era in the ACC. The two players with longer streaks — Trevor Lawrence (17) and Kenny Pickett (16) — both were Heisman finalists.
4. Washington QB Michael Penix Jr.
It's entirely possible that Penix had tickets to a show Saturday night, and so he sent a lookalike to play for him assuming anyone could beat Arizona State. That is a more likely explanation for Penix's performance than suggesting he just stunk. Still, two picks, a lost fumble, and a ridiculous amount of awful throws weren't enough to sink Washington, and it's not quite enough to knock him out of our rankings.
5. Oklahoma State RB Ollie Gordon II
There are not a lot of successful Ollies out there. The guy who invented the "ollie" in skateboarding. Oliver North for a few months there in the '80s. Something about liberated oxen. So it's fair to say that Gordon may already be the most famous Ollie in history, which isn't enough to warrant Heisman consideration on its own, but paired with his 7 yards-per-carry average and 996 scrimmage yards, it certainly puts him in the conversation.
Wild Stalions
The biggest story leading into Week 8 was the allegation that Michigan was surreptitiously stealing signs and has been since at least 2021. But for all the attention the story got, it's worth recapping the key details: A low-level staffer with a military background has emerged as a person of interest in the NCAA investigation into Michigan's alleged sign-stealing operation, sources told ESPN on Thursday.
His name is Connor Stalions.
Let that sink in. If Jim Harbaugh had hired a ninja named Brock Espionage as the team's director of [REDACTED], it wouldn't have been any funnier.
The operation, which was described by a source as "elaborate," has given Michigan all the insider info it's needed to beat teams like Bowling Green, Rutgers, Nebraska and Indiana. Those wins can't just be luck.
Still, we have to assume that at some point last week, Stalions was marched into Harbaugh's office, where the furious Michigan coach was hunched over his desk, eyes bulging, face red.
Harbaugh: "Dammit Stalions, give me one good reason I shouldn't have your employee badge and khakis right now!"
Stalions, coolly: "Because, sir … I get results."
And he's right! Without Stalions' alleged advance scouting, surely Michigan wouldn't have escaped rival Michigan State 49-0. It would've been more like 49-3. And instead of throwing four touchdown passes, J.J. McCarthy might've thrown for three and rushed for one. And certainly there's no chance the Spartans would've been held to just 190 yards of offense. We have every confidence that, in an honestly played contest, Michigan State gets to at least 200 on a garbage-time scramble on fourth-and-26.
Meanwhile, in a bunker buried deep beneath the Big House, Harbaugh and his staff gather around a table surrounded by monitors showing the all-22 from Buckeyes games. A cacophony of frustration erupts among coaches.
Suddenly, a shadowy figure who looks strangely like James Franklin enters and hands Harbaugh a sealed envelope. Harbaugh opens the letter and slides out a single sheet of paper. It reads: "Marvin Harrison Jr. is really good."
Under-the-radar game of the week
Like everyone in Las Vegas, UNLV likes to live dangerously.
The Rebels moved to 6-1 on the season (and 3-0 in the Mountain West) thanks to a 25-23 win over Colorado State that saw four lead changes in the second half of the fourth quarter alone.
Colorado State led 13-3 at the half. UNLV stormed back to take a 19-13 lead with 7:36 left in the fourth. Then the fireworks began.
Colorado State scored on a 20-yard TD to take a 20-19 lead.
UNLV booted a 46-yard field goal to go back up 22-20.
Colorado State drove into Rebels territory and kicked a field goal, taking a 23-22 lead with 44 seconds to play.
UNLV took over at its own 34 with 40 seconds to play and no timeouts, but QB Jayden Maiava completed balls for 5, 4, 21 and 20 yards to get within field goal range, and Jose Pizano drilled a 28-yarder with 3 seconds to play to secure the win.
Colorado State has now blown an eight-point lead and lost in double-OT to Colorado, erased a 30-10 fourth-quarter deficit against Boise State to win 31-30, and traded leads with UNLV throughout the fourth quarter Saturday.
Usually in Las Vegas, that kind of heart-skipping drama comes with a few free drinks.
Under-the-radar play(s) of the week
Boston College and Georgia Tech defensive backs named A(h)mari took turns one-upping each other for sheer athleticism in Atlanta on Saturday.
First, BC's Amari Jackson grabbed a one-handed pick like he was nabbing a fly out of the air with chopsticks, then returned it 30 yards for a touchdown.
play
0:57
BC CB makes jaw-dropping, one-handed pick-six
Boston College's Amari Jackson picks off Haynes King and returns it for a touchdown.
Not to be outdone, Georgia Tech's Ahmari Harvey elevated like Michael Jordan, hung in midair like he was in "The Matrix" and pulled down an interception in the end zone, too. Three plays later, Yellow…