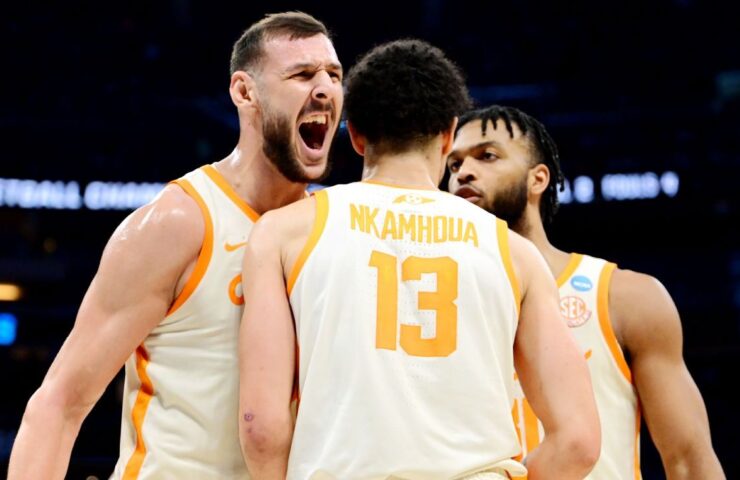 Vols bring Duke 'into the mud,' transfer to Sweet 16
ORLANDO, Fla.– Tennessee is headed to the Sweet 16 because it enjoys playing in "the mud."
That's the Vols' term for the tough, physical and in some cases ugly design of basketball they play. They do not apologize or make excuses for it. It's who they are.
"That's what we do," forward Olivier Nkamhoua said. "We're a difficult, hard-nosed team. That's how we play everyone."
Duke coach Jon Scheyer discussed that on Friday heading into Saturday's second-round NCAA competition match at Amway Center. However knowing it was coming didn't make it any simpler, and the Vols battered heaven Devils throughout their 65-52 success.
"Knowing that they had a great deal of freshmen, we knew that if we come in and use more pressure and be tough and physical, then they would need to deal with it," Nkamhoua said. "What we were stating prior to the game the entire time is we were going to bring them into the mud with us and make them play a hard, hard-nosed game and see if they were prepared for it."
They weren't.
The box score doesn't accurately portray just how physical things were. Duke forward Kyle Filipowski had to leave the game for a few minutes in the first half after taking an elbow in the face from Tennessee forward Jonas Aidoo that left a mark on his left cheek that was still visible after the game.Editor's Picks
1 Related
Tennessee held Duke to simply 21 first-half points, the fewest first-half points the Blue Devils have scored in an NCAA competition game, and its defense held heaven Devils scoreless for a stretch at the end of the very first half and into the second that lasted 6 minutes, 58 seconds.
"They did a fantastic job with making passes tough," Scheyer said. "They contested, they changed a lot. It was tough to run our offense. … You have to truly work for whatever in a game like this. You need to work to get open. You need to deal with your drives, which's what it truly boils down to.
"… I believed we ran out of gas down the stretch."
Tennessee's tactical plan was to exploit its opponent's age and size. The Vols begin four elders, while Duke starts four freshmen (Mark Mitchell, another freshman, didn't play because of a knee injury). Duke freshmen Filipowski and Dereck Lively II are 7-footers, but both weigh 230 pounds and got pushed around a bit by Tennessee seniors Uros Plavsic (7-1, 265) and Aidoo (6-11, 241).
By the end of the game, the fatigue the Duke players were experiencing from all the pounding and the additional work to get open was simple to see. Heaven Devils managed simply four points in the game's last 6:04. The 52 points were a season low and the least the program has scored in an NCAA tournament loss.
"You wish to get individuals playing at your pace," stated Nkamhoua, who connected his career high with 27 points, consisting of 23 in the second half. "It simply guarantees us that we're going to remain in our component.
"So when we get guys stuck and we begin making players do things that they're not utilized to doing, we wear them down and we simply keep wearing them down. I feel like I stated this previously in the year where I said that individuals got to be ready for us where it's not going to be just one hit; it's going to be continued hits. And after that the method you stay up to date with us is if you can just keep taking those hits and keep playing that tough game for 40 minutes and we're going to bring them down to the mud for 40 minutes. It is difficult, and some men can hang and some guys can't."
Duke plainly could not on Saturday.
"Aside from Purdue, I 'd most likely state that Tennessee was the next, if not the most, physical group that we have actually played all year," Filipowski stated. "That's no hit on any of the teams we've played. That was simply stating how physical Tennessee was today."