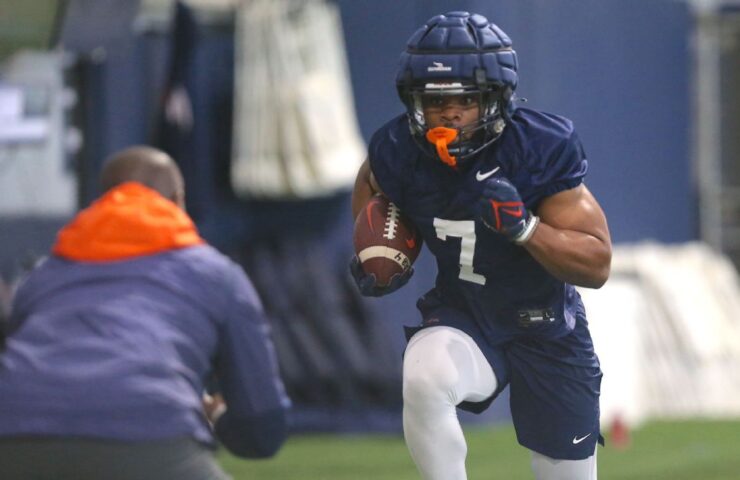 UVA's Hollins: Recovery from gunshot a 'miracle'
Virginia running back Mike Hollins described his recovery a gunshot wound after being shot four months ago as a "miracle" on Tuesday, saying his return to the football field has allowed him to push past the pain and anguish he has felt since the tragedy that took the lives of three of his teammates.
In his first comments since returning to practice last week, Hollins told reporters on a Zoom call that the physical recovery has been the easy part for him — even though he suffered internal injuries that required surgery and had a weeklong hospital stay. He described practice as "freedom."
"It's freeing for me," he said. "I don't have to think, I just play."
Hollins said the mental part, dealing with the deaths of Lavel Davis Jr., Devin Chandler and D'Sean Perry, has by far been the most difficult.
"I expected to recover physically," Hollins said. "So it really wasn't on my mind. It was more, 'Man, How am I gonna even make it to practice without calling D'Sean?' It was more mental.
"I always expected to be able to squat what I used to squat, or power clean what I used to power clean, or run as fast as I used to, but it's the things that I couldn't change that bothered me the most."
Editor's Picks
1 Related
The four players were shot in November on a charter bus after returning to Charlottesville following a field trip to Washington, D.C. Another student, Marlee Morgan, was also shot but survived.
Christopher Darnell Jones Jr., a UVA student and former member of the football team who was on the trip, has been charged with three counts of second-degree murder and the use of a firearm in the commission of a felony. Prosecutors have also charged him with two counts of malicious wounding and additional gun-related charges related to shooting Hollins and Morgan.
Hollins said he has no answers about why the shooting happened. "And I won't get an answer."
Hollins said he considered transferring for a fresh start, but decided to stay because he needed the support of his teammates and coaches, who are uniquely positioned to understand the trauma of what he survived.
"Of course I thought about leaving. But I also thought, 'What better place to refind who I am?'" Hollins said.
"I could have left, I could have transferred, but I think of that as sweeping things under the rug and not handling the situation as best as I could. The best place for me to move forward, not move on but move forward, is in Charlottesville with the people who shared that experience with me. No one across the country feels the way we feel here in the facility. No one in the country knows how I feel about the situation besides the people here in this facility, and I got an uneasy feeling when I thought about leaving. I'm glad I stayed because the support is what I need right now to get through."
Hollins said he has not seen a drop-off on the field now that he has returned to practice, though Virginia is taking his return slow — and Hollins is involved in his recovery, rehab and practice plan. Running backs coach Keith Gaither said Tuesday that Hollins currently sits atop the depth chart.
"It may just be because I'm pushing extra hard now," Hollins said. "I have a lot more to play for. So if there is a drop-off, I'll make up for it. It's literally a miracle that I'm here today and just living that out.
"My mom tells me be a blessing to others. Make someone smile. Make someone's day every day and just spread my blessings, so that's what I try to do."
Hollins said Davis, Perry and Chandler are never far from his mind, and they serve as a motivating factor as he pushes forward without them.
"It's a constant motivation, and constant drive, a constant effort to keep their flame lit and keep their legacy going," Hollins said. "I can't lay one finger on what's pushing me these days — it's God, it's my family, it's the support, it's the families. It's the community who are looking up to me as an inspiration for unwanted circumstances, but I'm put in this position for a reason, and I'm just trying to trust that God will guide my journey."