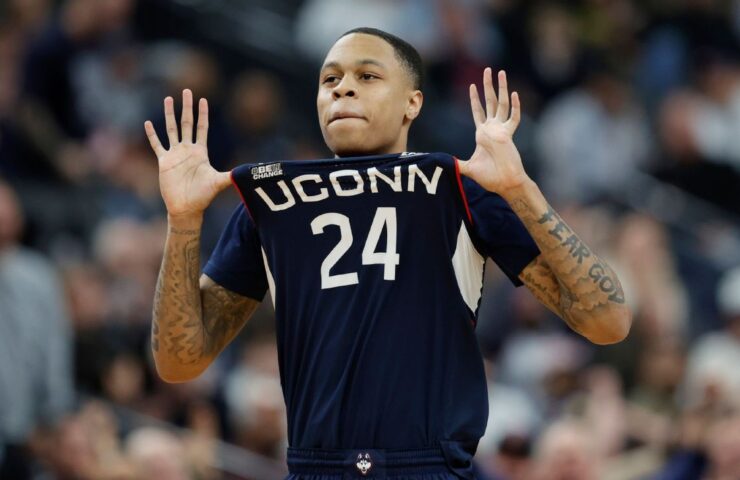 UConn's Hawkins (illness) misses open practice
4:03 PM ET
HOUSTON — UConn guard Jordan Hawkins, the best NBA prospect in the Final Four, missed the Huskies' open practice Friday with an illness that teammates and staff are calling a stomach bug.
Hawkins stayed at the team's hotel Friday to rest, and there is a belief throughout the program that he will play for the No. 4 Huskies against No. 5 Miami on Saturday night.
Still, Hawkins' absence Friday sent a bolt of surprise through the media availability at NRG Stadium.
Editor's Picks
2 Related
"Hopefully, Jordan's good to go or at least give us something," coach Dan Hurley said.
If Hawkins does play, his health will be closely monitored. Hurley said UConn has three doctors on the trip and that they are working hard to get Hawkins back to 100%. The illness is not related to COVID-19, according to school officials.
"We obviously isolated him," Hurley said. "Started to not feel well last night. For him to miss today, obviously, tells you he's not in a great way.
"But, obviously, you hope that we contained it in time. We moved him out, moved his roommate out and obviously kept him away from the team. Hopefully, it just doesn't continue to spread."
Hawkins is UConn's second-leading scorer at 16.3 points per game and is projected to go No. 23 overall in ESPN draft analyst Jonathan Givony's latest mock draft. Hawkins is a sophomore from the storied DeMatha Catholic program outside Washington D.C. and arrived in the class of 2021 as ESPN's No. 59 overall recruit.
He has played some of his best basketball in the NCAA tournament, averaging 17.2 points per game. He has peaked at the right time, scoring 24 points against Arkansas in the Sweet 16 and 20 against Gonzaga in the Elite Eight. He hit 6 of 10 3-pointers against the Zags, which tied for his most in a game this season.
Freshman center Donovan Clingan said he didn't realize Hawkins wasn't coming to practice until he got on the team bus and saw that Hawkins' seat was empty.
"No matter what, whether he's 100% or 75% or whatever, I know Jordan is one of the toughest dudes that I've ever played with," Clingan said. "He'll be out there, ready to go tomorrow. Even if he wasn't, this team has so much depth and talent, we'd still be ready to go. It doesn't change our mindset, and it doesn't make us think of anything different."
Senior guard Joey Calcaterra said he would be surprised if Hawkins didn't play Saturday.
"I always feel good about whoever we put on the court," Calcaterra said. "But we have a great training staff, and they will be with him all day and get him ready to go. He's not going to miss out on an opportunity like this."