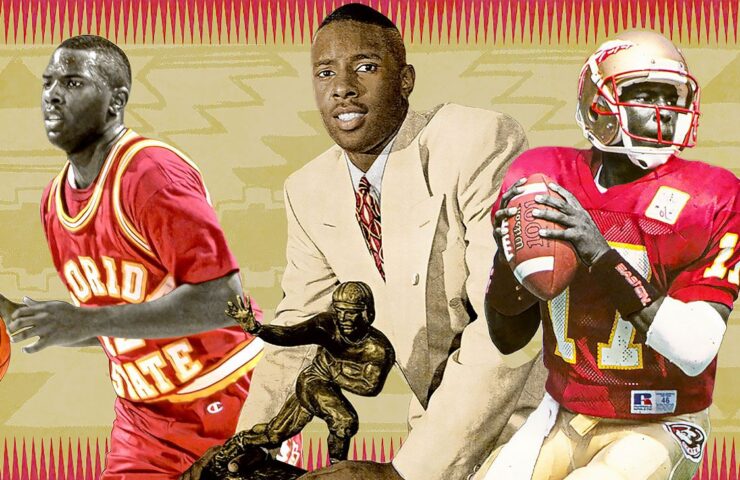 The story of two-sport star Charlie Ward's incredible Heisman season,
Harry Lyles Jr., ESPN Staff WriterSep 22, 2023, 06:40 AM ET
WALKING INTO THE Thomas County Public Library in Thomasville, Georgia, visitors see what they'd expect to see in any small-town library.
A flat-screen in the entranceway spells out the rules: no food, drinks, smoking or cellphones. Through a set of double doors is the circulation desk, with three banners above promoting the summer reading challenge.
To the left is the children's section, with kid-sized tables and chairs and floor tiles with images of water, bubbles and a large goldfish. There's a check-out desk to the right, an alphabet quilt to the left, butterfly mobiles hanging from the ceiling and shelf after shelf of colorful books.
Along the back wall, next to a window with a "Speak Quietly Please" sign, is a small glass case. On it sits a piece of paper in a plastic cover, propped against a small statue, with a quote that reads, "One way to get a quality education is to read what you don't want and do what you'd rather not." The quote is from Charlie Ward Jr., the former Florida State football star and pro basketball player who grew up less than 2 miles from the library.
Next to the quote sits a list of Ward's accomplishments during the 1993 FSU national championship season in a black picture frame.
Inside the case is Ward's No. 17 Seminoles jersey, a basketball card from his time with the New York Knicks, a framed photo of Ward and one more item of note. Right there — between a mostly empty magazine rack adorned with toadstools and a mini puppet theater — as presented by the Downtown Athletic Club of New York City to Ward 30 years ago, is the 45-pound Heisman Trophy.
An unsuspecting visitor would be taken aback. But for those who know Charlie Ward, the Thomas County Public Library children's room is the perfect place for his Heisman Trophy.
WILLARD AND CHARLIE Ward Sr. are surrounded by trophies at their Thomasville home in what they call the "awards room." The room is filled with an assortment of athletic trophies, awards and memorabilia from the whole family. Charlie Jr.'s Davey O'Brien Trophy, a Charlie Ward Jr. Boulevard sign (many have been stolen over the years in Thomasville), a 1993 ACC Offensive Player of the Year trophy and many more. In the middle of the room is a plate commemorating the 2008 election of President Barack Obama.
Among the many receipts of Charlie Jr.'s success at all levels of athletics, the Wards recall the exact moment they knew their son was gifted enough to fill such a room.
ESPN
When Junior — as his family calls him — was 2 years old, a friend saw him out on a shuffleboard court bouncing a ball.
"She said, 'Look at that boy!'" Willard says. "She saw the skills he had for a child that age. I hadn't paid any attention to it." Charlie Sr. adds: "He had cat reflexes."
Athleticism is ingrained in the Ward family DNA. It's evident from the way Charlie Sr. (who prefers to be called "Coach") goes between different motions during a conversation — one moment he's shooting an imaginary basketball, another he pantomimes swinging a baseball bat or settles in for a dribbling motion. If push came to shove, even at 84, the elder Ward — who played for Florida A&M and legendary coach Jake Gaither in Tallahassee — would be willing to compete.
Junior's athletic career was molded in the Thomasville neighborhood, where he grew up playing every sport imaginable.
"We were playing in the streets," Charlie Jr. says. "Street ball, whatever the ball was, we made it happen. We had quite a few guys in the neighborhood. Then we would take our neighborhood and go play another neighborhood. That's the way we got down in the streets. And those were our rivalries and how we handled our business. It was all about bragging rights."
The basketball hoop Junior grew up shooting on was 12 feet high, not the regulation 10 feet, as set by his father so nobody could tear the basket down. That didn't matter to Junior.
"I mean, you shoot the ball and make it go in," he says. "Whether it's 12 feet, 10 feet, you just have to make adjustments."
Willard feels a key event that shaped her son was a knee injury he had early in high school. A bone issue that required surgery left his doctors unsure of his athletic future.
"When that was taken away, I was, of course, frustrated," Junior says. "But I was able to learn that I needed to make sure I took my schooling seriously because it can be easily taken away, the thing that I enjoyed most."
As Charlie Jr. became a better student, something he said he previously hadn't taken pride in, he also recovered physically and had a very successful high school athletic career. He wouldn't have been Charlie Ward if he didn't.
"Junior's the kind of person — and his dad's the same way — I said, 'Only way he didn't play or something, he wouldn't have an arm, a leg, a head or something. But as long as he had one of those things, he was going to get out there,'" Willard says. "And that was that determination. 'You won't tell me I can't do it.'"
CHARLIE WARD DID not immediately jump from high school to Florida State.
Despite his good grades coming out of high school, Ward's ACT score didn't meet the NCAA standard. He didn't want to lose a year of eligibility, as the Proposition 48 rules at the time would have dictated, so he spent a year taking classes at Tallahassee Community College, less than 40 miles from his hometown of Thomasville.
When Ward finally arrived at Florida State in 1989, the future Heisman Trophy winner and first-round NBA draft pick saw the field immediately — as the team's punter.
Editor's Picks
2 Related
Because of an injury to Florida State's starting punter, Ward took on the job and didn't redshirt as planned. Even in that role, he did things people rarely saw. In a game against Tulane, Ward had a run, pass and punt in one drive.
But it was in practice — specifically, the team's final preseason scrimmage — that Ward's legend began to take hold.
"They always play the first and second team versus the rest," former Florida State offensive coordinator and quarterbacks coach Mark Richt recalled. "Charlie was on the rest, and almost single-handedly won the game against the varsity. … And usually you spot the [rest] some points because you're trying to make it competitive, but [the varsity] just about lost to the team Charlie was quarterbacking."
And this wasn't just any defense Ward went up against. It included the likes of LeRoy Butler, Terrell Buckley, Kirk Carruthers and Odell Haggins, all of whom played in the NFL.
Fullback William Floyd said, "Coach had to come over like, 'Hey, man, you got to tell Ward, you got to call different plays, whatever, he's making us look crazy over here.' And he's going against the starting defense.
"It was like, 'Man, this is our starting defense, man! We can mess up their confidence if this keeps happening.'"
IN SPRING 1990, Bobby Bowden wanted Ward to compete for the starting quarterback job. But Ward knew he wasn't going to win the role, given the team's success the previous season and the experienced QBs — Casey Weldon and Brad Johnson — in front of him.
He also wanted to play basketball, which was a key factor in his choosing Florida State over Georgia coming out of high school, and as a freshman, he had met the academic requirements set by FSU.
"Coach Bowden had allowed Brad Johnson to play basketball and football," Ward said, "and that's what I wanted to do. … And my mom's going to hold his feet to the fire if things change."
When Ward approached Bowden about playing basketball during his redshirt season, Bowden told him he should think about it some more, which Ward didn't like, and Ward's mother let Bowden know.
"I said, 'Coach Bowden, this is Charlie Ward's mama,'" Willard recalled. "'Junior called me real upset because he had asked you about playing basketball and you said to him to think about it. And he said he wasn't going to go back and ask you again.'"
So, after playing scout team quarterback through the middle of October, Ward switched gears and joined the basketball team, immediately adding a unique personality to the group.
play
3:29
The start of Charlie Ward's legendary Seminole basketball career
Take a look at Charlie Ward's Seminole career, from his early days as FSU's punter to his prowess on the hardcourt as the basketball team's point guard.
"We used to call 'em 'The Saint and the Sinners,'" former Seminoles basketball coach Pat Kennedy said with a laugh.
"Charlie was a saint, and the rest of the guys on the team were the sinners. If [Charlie] gave you a look, they all got very, very scared. It was almost as if there was an angel looking at you."
Ward didn't like cursing and still doesn't to this day. It created a moment early on between him and Kennedy that changed the way Kennedy coached forever.
"The old New York in me, I used to get pretty fiery with some of my pregame and halftime talks," Kennedy said. "And I gave a pregame talk before a Florida game, and it was a little salty. And so the guys went out on the floor. And Charlie was — I could tell he wasn't comfortable with something.
"So I said, 'Charlie, what's up?' He said, 'Coach, you know, Coach Bowden doesn't use that kind of language, and he gets us to play awfully hard as well.' So from that point on I really — and then my whole coaching staff, because I had a few New York guys with me — we all cut back on the salty language."
Ward said, "I was a big stickler for just being respectful. I wasn't a curser. So I would share my displeasure with coaches, players, and they knew it."
Sam Cassell, a member of the basketball team, still can't talk about it without laughing. "You don't curse him now. You curse around him too much and he just looks at you like, 'Come on.' He just shook his head like, 'Wow, you can't express it some other way?'" Cassell said with a cackle.
"We laughed at it. He was Charlie Ward. He was just Charlie Ward around us. You respect it because that's who he was."
For all of the ways Ward was orchestrating better behavior off the court, he was putting in just as much work on it. He added a different dynamic to the team as a distributor and defensive stopper, allowing scorers such as Cassell and Bob Sura to thrive.
"My job was to get those other guys the ball," Ward said. "I shot, but I was a football guy. So me coming out there just jacking up shots wasn't going to help us be productive."
But when Ward did focus on scoring, he made it count. One of the biggest shots of his basketball career at FSU came in the Metro Conference championship against Louisville in 1991 — a 3-pointer to send Florida State to the NCAA tournament. The Seminoles would reach the second round before losing to second-seeded Indiana.
As Ward continued to improve as a basketball player, the stakes got higher. Florida State started playing in the ACC in the 1991-92 season, and its first conference game was at North Carolina. Ward scored 18 points, upsetting the Tar Heels 86-74 in front of what Cassell infamously called a "wine and cheese" crowd.
"After the game, Dean Smith grabbed him and said, 'Son, you need to give up football,'" Kennedy said. Florida State would end up making the Sweet 16 that season, losing again to Indiana, which ended up in the Final Four.
Ward's ability as a distributor and defender helped FSU make three straight NCAA tournament appearances. Phil Sears/Allsport
The following season, as Ward emerged as a legitimate two-sport standout, his star continued to grow.
Kennedy recalled, "We're starting one of our early home basketball games and my sports information director says, 'Coach, somebody's asking for two tickets for tonight, and they said it was Spike Lee.' And we got the phone number, we call back and it was, in fact, Spike Lee."
Lee attended a handful of games during that 1992-93 season, wearing a No. 17 Florida State football jersey. In a game against Georgia Tech in Atlanta, during which Ward and Yellow Jackets star Travis Best went back and forth, Ward hit a layup to win the game 83-82.
"Spike was sitting under the basket in the first row," Kennedy said. "Spike gets up, runs out onto the court with his 17 jersey and picks Charlie up, and he's carrying Charlie around."
The Seminoles finished that season having made the Elite Eight as a No. 3 seed, losing to No. 1 seed Kentucky.
With Ward as point guard, Florida State made three straight NCAA appearances, helping the Seminoles develop a reputation beyond football.
"He just grew and grew on us to where he became a pro, and not everyone thought he was a professional basketball player, obviously, when he first came in," Kennedy said. "That's the greatness of the story, you know?"
"I mean, no one ever, ever thought Charlie was going to be a professional basketball player."
CHARLIE WARD'S TURN as Florida State's starting quarterback arrived in 1992, when he made history as the school's first Black player at the position.
His recruitment was pushed by Wayne McDuffie, Bowden's offensive coordinator from 1983 to 1990.
"There had to be some politicking because Coach Bowden wasn't sold on me," Ward said, "Because he hadn't played a Black quarterback, one. And two, he thought that his system didn't fit me because he felt like I was a runner, and he wanted someone that was going to drop back and pass the football. But that's all he knew, and he didn't know anything different because that's all he had. … [McDuffie] was very demonstrative in his approach to give me enough courage and they took a chance on me as a dual-threat quarterback."
He was no finished product during the early portion of his time as QB1, and his lack of experience was evident. And as FSU's first Black quarterback, he said, "I'm glad we didn't have social media."
"If you don't have [experience], you got to go through the struggles of it. The struggles to get there," he said. When he finally became the starter, in his fourth year at the school, "I had no meaningful quarterback snaps like what I was getting ready to go into."
In his first start, the 1992 season opener, Ward threw four interceptions in a 48-21 win over Duke. In his second, he threw another three picks in a 24-20 win at Clemson. He was getting benched for an occasional series (or more) for Danny Kanell, a freshman, before going back in and finishing games.
"He was matching those [interceptions] with touchdowns and with great runs, and so we kind of felt like we had something really good there," co-offensive coordinator Brad Scott said. "But there is a price to pay for experience and Charlie had to kind of go through that."
"Coach Bowden had a meeting with our offensive staff," Richt said. "He says, 'Charlie's throwing a lot of interceptions. Is that your fault?' and he's looking at Brad Scott. And he looked at me, he goes, 'Is it your fault?' And he goes, 'Or is it my fault?' And we're like, 'It's our fault. We'll get it fixed.'"
Ward's time as Florida State's starting quarterback got off to a rocky start. Damian Strohmeyer/Sports Illustrated via Getty Images
Richt had a conversation with Ward, telling him the school record for interceptions was 17. He told Ward, "Charlie, when you hit No. 16, you're not going to break the school record because you're not going to play anymore," Richt recalled with a laugh.
Everything changed when FSU played Georgia Tech at Bobby Dodd Stadium in Atlanta. In a nationally televised game, Ward was again benched for Kanell after throwing three interceptions.
"The only option was me," Kanell said. "And I wasn't ready. But he was playing that poorly where they had to get him off the field. … I was like, barely just making sure I could hand the ball off. The offense was pared down, we couldn't do any of the things that we could do with Charlie. And so I would go in for a series or two, and Charlie would come back in and he was like a different person."
When Ward reentered these games, Florida State essentially went into its two-minute offense — with Ward in the shotgun, no-huddle, four wideouts and one running back — instead of its typical I-formation, toss-sweep, play-action attack.
Georgia Tech led 21-7 with 14:27 remaining in the game. Ward engineered the comeback, as Florida State once again went up-tempo. He completed 14 of his final 19 passes for 137 yards. The realization that a permanent change was needed was undeniable.
Richt said, "Of course of all people, my wife goes, 'Charlie seems to do better out of the shotgun. You might think about starting a game that way.'"
Florida State did just that two weeks later against Maryland and won 69-21. The week after that brought a 70-7 win over Tulane. Then a 45-24 win over Florida, followed by a 27-14 Orange Bowl win over Nebraska.
"That's kind of the birth of the fast-break offense," Richt said. "The offseason between '92 and '93, we designed the entire offense around the no-huddle."
"That's when you knew that Charlie had figured something out," Floyd said.
THE OVERWHELMING CHOICE as No. 1 in the preseason polls, Florida State was an unstoppable force during the first five weeks of the 1993 season. In wins against Kansas, Duke, No. 21 Clemson, No. 13 North Carolina and Georgia Tech, the Seminoles outscored their opponents 228-14.
Ward's recollection of that stretch was not about what they did offensively, but rather the heroics of their defense. In their first game against Kansas, Florida State's defense had a 12-play goal-line stand that team members and fans still talk about. (The Seminoles' offense would follow with a 99-yard drive for a score.)
In Week 6, FSU got over the hump against No. 3 Miami after losses the previous three seasons, including Wide Right I in 1991 and Wide Right II in 1992.
Allstate Playoff Predictor
How will Saturday's top games affect the College Football Playoff chase? What are the current odds for the top four? The Allstate Playoff Predictor has the answers. Check back every week as the odds are updated following that week's games.
After wins over No. 15 Virginia, Wake Forest and Maryland, the 9-0 Seminoles traveled to South Bend to take on No. 2 Notre Dame in a "Game of the Century" on NBC, with ESPN's "College GameDay" in town for the first time in the show's history. Ward had missed the previous week because of a bruised clavicle and was excited for the opportunity.
But it wasn't the Seminoles' night. Offensively, they weren't as explosive as they had been in previous weeks, and their defense played out of character in the second quarter, allowing the Irish to build a 21-7 cushion.
Despite this, Ward and FSU had a chance at the end. Down 31-24, Ward marched the offense toward Notre Dame's Touchdown Jesus, down to the Irish 14-yard line for one more shot. Ward's pass was batted down in the end zone, and the Irish held on.
While it felt like Florida State's national title hopes died in South Bend that night, it got a second wind the following Saturday.
As the Seminoles were in Burt Reynolds Hall preparing to play NC State in a matter of hours, everything changed.
"Right before it was time for us to walk down," Ward said, "they started yelling that Boston College is lining up to kick the game-winning field goal [against Notre Dame]."
That prompted everyone to crowd around a TV wherever they could.
"[The kick] goes through, and that is when the whole dorm erupted," Ward said.
Richt recalled chaos on Tennessee Street, which is essentially the north border of the Florida State campus. "Everybody started jumping out of their cars and dancing around the place because we had a chance to play for the national championship again," he said.
The players were late getting to the locker room, but it didn't matter. A team that was already primed to channel its energy had extra juice after the Irish were upset.
"That helped refocus us a little bit more," Ward said. "A reason why we didn't lose very many games was our mentality switch after a loss. We just wanted to make sure somebody paid the next week if we lost a game. Unfortunately it was North Carolina State that was on the back end of it."
The Wolfpack got trounced 62-7.
At that point, the only thing standing between Florida State, Charlie Ward and Bobby Bowden and a shot at their first national championship was No. 7 Florida. The Gators hadn't lost a home game since 1989, when Florida State knocked them off 24-17 during Ward's freshman season.
The Seminoles came out strong, and took a 27-7 lead into the fourth quarter, but the Gators pulled within 27-21 with just under six minutes to go. "And now it's as loud as I don't know what in that stadium," Floyd said.
Despite both the game and national championship hopes potentially slipping from the Seminoles' grasp, Floyd was comforted amid the chaos.
"What I love is that you can look in [Ward's] eyes and tell that you always had a chance to win," he said. "He didn't have to say a word, you can just look at his eyes."
play
2:58
The game that secured the Heisman for Charlie Ward
In a must-win road test, Charlie Ward and the Seminoles fight off the Gators and boast his status for the Heisman Trophy.
Facing a third-and-10 from the Seminoles' 21-yard line, Ward flicked the ball to his checkdown option as his protection broke down. Running back Warrick Dunn caught it just beyond the 30. Wideout Tamarick Vanover threw the last-needed block on Florida cornerback Anthone Lott, and Dunn galloped into the end zone to put the game away 33-21.
"It went from the loudest to the quietest in five seconds," Ward said.
In what is still one of the biggest moments in Florida State football history, Ward connected with his roommate, Dunn, whom he had been helping get through the most difficult time of his life.
Dunn's mother, Betty Smothers, was a police officer in Baton Rouge, Louisiana, and had been killed in the line of duty Jan. 7, 1993, when Dunn was just 18.
Former Washington Commanders quarterback Doug Williams was a family friend of Smothers, and wanted to make sure Dunn was being looked after. So he contacted Ward, who wore the No. 17 because of Williams.
"I didn't have a roommate at the time," Ward said. "And so there was no big issue for me to room with a freshman that was coming in, and also someone — one of my heroes — asked me to take care of him.
"He had a lot of stuff going on, a lot of stuff he had to process. And so, just being there for him was what he needed. We were made to be roommates in a lot of ways."
Dunn was grateful to have Ward as a friend.
"We had deep conversations. And he was there to listen to me," Dunn said. "Those are moments that I can never take back. Always be thankful for. He will always be my big brother.
"I just think us having a connection every day together, being roommates and so forth that, on that play, he believed in me. And I think that just signifies the impact our relationship had during that whole [year]."
As the ABC broadcast showed Ward running down the field to celebrate with Dunn, analyst Bob Griese said, "Give it to Charlie, go ahead," referring to the Heisman Trophy. Legendary play-by-play man Keith Jackson responded, "You can call off your party and just mail it to him."
Fifteen days later, in New York, Ward was announced as the 59th winner of the award, with a margin of victory of 1,622 points — second at the time only to O.J. Simpson's 1,750-point win in 1968, when more ballots were distributed.
The attention of winning the Heisman made the 2½-week lead-up to the national championship game against Nebraska more difficult for Ward.
"I remember the line at his dorm room was like 20 or 30 players deep with memorabilia, with balls, Florida State gear, to have him sign because he's the Heisman Trophy winner," Kanell said. "That stuff normally didn't happen, and we had first-round draft picks. We had guys who were going to play in the NFL."
Dunn recalled other people coming to their door with requests. "'Can I get his autograph? Can I get this?' Charlie's not here. Charlie's not here. Charlie's not here." Eventually, Dunn put a sign on the door that read, "CHARLIE AIN'T HERE."
Florida State had a celebration for Ward in Doak Campbell Stadium, where his No. 17 jersey was retired.
"That might have been the one time I saw him uncomfortable and truly not at peace with any situation," Kanell said.
"I was always uncomfortable with the spotlight," Ward said. "The night of the celebration, where they retired my jersey, grateful. But one thing I started to learn and understand was, you know, I was a man of faith, God was putting me in certain positions for a reason."
When the national title game against the Cornhuskers finally arrived, the Seminoles were off the majority of the night.
"They played good defense," Ward said. "And they knew everything we were doing or trying to do. They disrupted our routes … and they had a game plan.
"Their game plan was to hit. And so whether it was during a play or after the play, it didn't matter. They actually took penalties because they were trying to send a message.
"But, you know, it didn't deter me from being whoever because I wouldn't get out of character in any form or fashion."
After Nebraska's Byron Bennett knocked through a 27-yard field goal to give the Huskers a 16-15 lead in the fourth quarter, Ward was given an opportunity with 1:16 remaining.
"There's a TV cut where Nebraska goes down and scores," Floyd said. "And [Ward's] on the sideline, warming up, you know, that cool and calm Charlie demeanor. And he's looking out on the field like, 'Oh, they scored?' Then he just starts throwing the ball again, warming up. So that's TV seeing it. But me seeing it live, I'm looking at Charlie, and I'm looking in his eyes and I know we got a chance to win this thing.
"Man, we got Charlie Ward."
Florida State's offense took over on its 35-yard line after the Huskers' kickoff went out of bounds. On one big play, Ward found Dunn for a 21-yard catch, then 15 yards were tacked on for a Nebraska late hit.
Ward led FSU to the Nebraska 3-yard line, where the Huskers' defense held, but Scott Bentley hit the field goal to give Florida State an 18-16 lead with 21 seconds left. After a few more tense moments, including a premature Gatorade bath for Bowden, a last-ditch field goal try by Nebraska went wide left and the Seminoles had their championship.
Ward celebrates after Florida State's national championship win over Nebraska. AP Photo/Doug Mills
"It was kind of surreal in the sense that the thing that we set out to do, we were able to accomplish," Ward said. "And there's no better feeling than when you prepare for a test, and you go in and ace the test."
After the conclusion of the 1993 football and 1993-94 basketball seasons, it was time for Ward to take his athletic career to the next level. He wouldn't say whether he wanted to go pro in football or basketball, wanting to keep his options open.
During the NFL draft that April, Ward was at the home he grew up in. After not hearing his name called in the first or second rounds, Willard recalls him getting up.
"He went outside, got that basketball, and started shooting," she said.
Charlie Sr. added, "He said, 'I better go work on my basketball skills.'"
The Kansas City Chiefs called Ward during the fifth round the next day. Ward said they wanted him to be Joe Montana's backup, then take the reins once Montana retired.
"I told them I couldn't guarantee that I would come to camp if I got drafted in the fifth round. Because if I got drafted in the first round in the NBA, I'm going there," he said. "I was just being honest with them, so they didn't draft me."
In a telephone interview on ESPN2 midway through the seventh round, Ward said, "Basketball and the Canadian [Football] League are now a big option. A lot of teams in the NBA are telling me I have to concentrate on one sport. Maybe I will. Some [NFL] teams might have been interested, but they weren't willing to take a chance. Maybe I'll be the first Heisman winner that plays in the NBA."
Ward wasn't selected in the NFL draft, and that June was taken by the New York Knicks with the 26th pick of the NBA draft. He had a 12-year pro career, the first Heisman winner to play in the NBA.
PEOPLE VISITING THE Thomas County Public Library want to know if Charlie Ward's Heisman Trophy is the real thing.
They're often wearing some sort of Florida State apparel, trying to look as natural and casual as possible, just to get a peek at a piece of history. But the legend of Charlie Ward, and the hard evidence of one of his greatest two-way college stars of the past 50 years, is well known by everybody in Thomasville.
If you're visiting the library to see the Heisman, everybody working inside can tell from the…