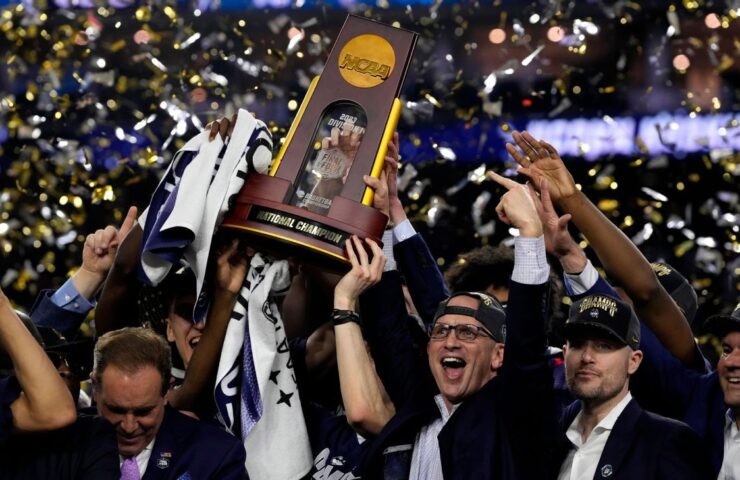 The evolution of the Big East sets up a basketball
1:17 AM ET
HOUSTON — The echoes of the past accompanied UConn's fifth men's basketball national title on Monday night, as it improved to 5-0 in NCAA championship games and further validated the school's move back into the Big East three years ago.
As UConn brought back a wave of nostalgia, it also came at an opportune time for a league attempting to channel its rich history to help secure the long-term future.
The Huskies' national title comes amid a confluence of events for the Big East that has the league surging toward the trappings of another era of prominence. UConn's title win delivers the Big East three of the past seven national titles in men's basketball.
Editor's Picks
2 Related
Along with UConn officially taking over for Villanova as the league's alpha, there's the splashy entrance of coach Rick Pitino at St. John's and Ed Cooley ditching Providence for Georgetown. Both will be called on to revive wheezing brands in fertile markets.
"We hope this is a perfect storm for us," Big East commissioner Val Ackerman told ESPN. "All of these factors are combining to put us in the best possible position."
All this momentum comes at a compelling financial inflection point for the league. There are two full seasons remaining on its television deal with Fox, a 12-year deal reported to be worth at least $500 million upon its inception. The 11 schools are believed to get an annual cut of a distribution that is believed to be in the mid-to-high $40 million range.
In a television environment where football carries the vast majority of major conference TV deals, the Big East will become a modern test case for the television worth of high-end basketball that isn't attached to football.
"I do think that we have the notion that this could help elevate the relative value of basketball to football and other sports," Ackerman said. "That's a real prospect for us. To test that worth."
We should know the answer of that value in nearly a year. Fox has the first rights to negotiate, which officially start on Feb. 1, 2024, but could begin earlier. If the 60-day exclusive period ends without a deal, the Big East could be a free agent and test the league's television market value around the 2024 men's Final Four in Phoenix.
AP Photo/David J. Phillip
The momentum UConn created for the league began with the school's defection from the American Athletic Conference three seasons ago. It came as the rare move in modern college athletics with basketball as the North Star of decision-making. In UConn's case, it was both powerhouses — men's and women's — that were wisely considered. "It had to happen," UConn women's coach Geno Auriemma told ESPN.
It also came with a potential television pay cut, as AAC schools are expected to average nearly $7 million per school in media-only money over the course of the current television deal, which runs through 2032. (The current AAC payout is in the neighborhood of $5 million and will escalate, and the Big East schools are currently in the $4 million range for media payout.)
UConn is the only team in the Big East that plays FBS football, and it's also the only public school in the Big East. But as the outpouring in Houston and on campus Monday night showed, the school's soul remains in basketball. And that reconnection has been priceless. "UConn found itself not really having an identity for a while, and the Big East gave us that identity back," Huskies athletic director David Benedict told ESPN.
Will it pay off in the new television deal? While there has been a precipitous spike in basketball revenue from gates and giant savings in not traveling to Tulsa and Tulane for league games, there's still a crucial financial component to the upcoming TV deal.
"It's critical to us," Benedict said. "Obviously, media deals are critical to conferences, and the Big East is unique because it isn't engaged with football."
Benedict wasn't in the league — nor was UConn — at the start of the television deal. But he pointed out that the current Fox deal was regarded as a boon for the Big East, as Fox needed tonnage of content at the time in order to help FS1's launch in 2013.
The deal was viewed as league-friendly then, and it's no certainty that the Big East is in line for a significant — or any — increase. There are headwinds from the current economy, a glut of basketball content that networks have tied to football deals and the generally sluggish ratings in the regular season. The league is hot, but the market isn't.
And that's what makes the moment so interesting. The perfect storm of on-court momentum collides with market realities. Will championship success, reenergized markets up and down Interstate 95 and an even more rollicking tournament in Madison Square Garden mean a significant income bump? It's trending well but still uncertain.
The good news for the Big East is that it has earned 15 units in the current NCAA tournament, which means in the six seasons from 2023-24 to 2028-29, the league will receive nearly $30 million in NCAA tournament payouts. That's quite a haul for the league's members to split, especially considering they had budgeted for seven units and just $14 million. (That's nearly $1.5 million extra per school.)
The UConn Huskies are NATIONAL CHAMPIONS! pic.twitter.com/L31VoK3K1m

— BIG EAST MBB (@BIGEASTMBB) April 4, 2023
And there's an interesting notion of perhaps more value coming from regular-season women's basketball. UConn's juggernaut women's program now is aired on SNY, a deal Benedict said delivers consistent ratings in the New York market ahead of some pro teams. He suggested "the need to uncouple men's and women's basketball" to maximize the regular-season value, as he said much of the women's inventory is often "thrown in" to deals.
There have been historic postseason ratings for the women's game, as LSU's national title victory over Iowa smashed records, with the Nielsen "fast national numbers" coming back with 9.9 million viewers on ABC and ESPN2. That follows blockbuster regular-season games like South Carolina-UConn on Fox (1.087 million) and LSU-South Carolina on ESPN (1.45 million).
Will spikes like that end up translating to television deals? It's a question Ackerman has plenty of experience navigating, as she was the founding president of the WNBA back in 1996. "Societal currents are changing for the betterment of women's sports," she said.
She pointed out that one of the advantages of women's basketball during this explosion of interest has been the "synergy" between college and the WNBA, as fans follow players for a few years in college and beyond. Ackerman said that is more difficult in the men's game with one-and-done and alternate paths to the NBA. "That's helping lift the sport," she said of the women's game.
Will it lift the Big East as the league positions itself for the next TV deal? We'll know a lot more in a year.
"This is going to be critically important," Benedict said, "because we're trying to again compete with [athletic] programs that have $50 [million] or $100 million more than some in our conference operate with. So the media rights component for the Big East is essential."