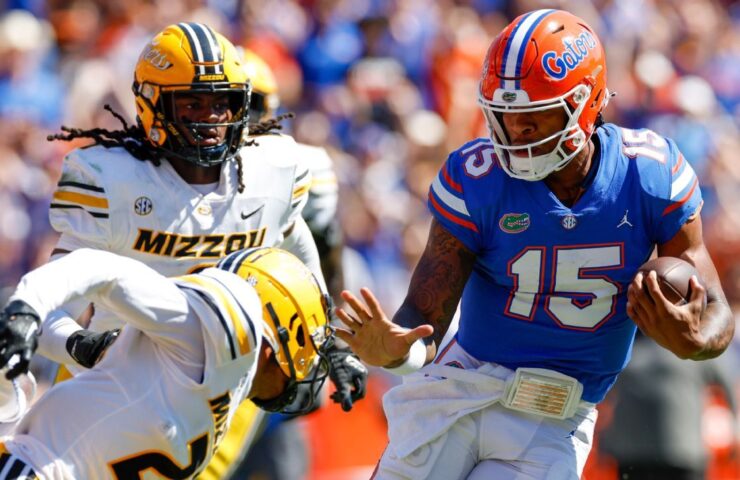 The Anthony Richardson quandary: 'Superhuman' talent, underwhelming accuracy
GAINESVILLE, Fla. — They still talk about the "Odell Beckham catch" all these years later, not only because Anthony Richardson appeared to be levitating midair as he reached behind for the football, but because Anthony Richardson is no wide receiver.
Richardson has always been a quarterback, but his team had a need, and he wanted to get on the field. So in the very first game of his high school career in 2016, in his very first game playing receiver, Richardson did the incredible.
Quarterback Carter Kutchko launched a towering pass for Richardson that appeared as if it would land in the arms of the defensive back 2 yards behind him.
But Richardson leaped into the air, his right arm fully extended behind him. He grabbed the ball with one hand and hauled it in, to the stunned delight of his teammates on the sideline.
"He was literally in the middle of the air like he's laying in bed, stretched out," teammate and close friend Sheldon Hardy said. "Then he curled up and brought the ball in. You could see everybody going crazy on the sideline."
This catch alone explains why Richardson's friends and coaches call him "superhuman" and "a human highlight machine."
"A lot of people say I'm a different breed. I always tell people I'm not from Earth," Richardson says with a laugh. "I'm gifted, I'm talented. I feel like God made me different, and I just try to use that in my daily life."
As Richardson explains, he points to a new tattoo on his left quad. It says, "1 of 1."
There are anecdotes and videos that prove it, beyond the Beckham catch.
Editor's Picks
2 Related
Friends and family tell stories about the time, at age 3, he nearly broke his great-grandmother's window with a football, or the time he dunked from the free throw line in high school. He is also a backflip enthusiast, doing them during pregame warmups at Florida, at the NFL combine and, yes, to punctuate his pro day workout in Gainesville.
There is no denying his talent, as Richardson has landed among the top five quarterback prospects headed into the NFL draft April 27 (8 p.m. ET on ESPN, ABC and ESPN App). But his rise has also made him the most polarizing prospect in this class. The reason? Richardson has 13 career college starts, which would be tied with Mitch Trubisky for the fewest by a quarterback drafted in the first round since 2002. In his only season as a full-time starter, he completed 53.8% of his passes, with 17 touchdowns to nine interceptions. Over the past 20 years, three quarterbacks have been drafted in the first round after throwing fewer than 20 touchdowns in their final college season.
The highlight reel shows the upside for the team that drafts him, but the stats show the risk.
Richardson knows all of this, and has not shied away from the conversation about improving his accuracy. "I know 50% completion percentage is not great so of course I'm working to get better," he said.
There have been big quarterbacks, and fast quarterbacks, running quarterbacks and quarterbacks with remarkable arm strength. But Richardson is a rare prospect: an imposing figure at 6-foot-4, 244 pounds who runs like a receiver and can make a 60-yard deep ball look as effortless as a 10-yard out.
Many have compared him to Cam Newton, the former No. 1 overall pick, Heisman Trophy winner and NFL MVP. In 2010 with Auburn, Newton had one of the greatest single seasons in college football history, completing 66% of his passes with 30 touchdowns (and another 20 rushing) to seven interceptions. Richardson tried to pattern his game after Newton and even wore No. 2 in high school.
Another comparison for Richardson might be Josh Allen, a big-bodied quarterback who can run but completed 56% of his passes during his final two seasons at Wyoming. Allen is now a two-time All-Pro with the Buffalo Bills.
But neither Newton nor Allen ran a 4.43 in the 40-yard dash the way Richardson did at the combine in February. In fact, no quarterback over 225 pounds had ever clocked a time that fast in Indianapolis.
"If we're being honest, when you say quarterback, your image is not typically Anthony because his ability skill-set-wise he can do pretty much anything you ask him to do," said Ole Miss strength and conditioning coach Nick Savage, who worked with Richardson at Florida. "That's where Anthony blows the top off relative to his position group. There's not a lot of people that have done it or will do it that are as genetically gifted as Anthony."
"I just like flipping and jumping," Anthony Richardson said. "It brings joy to me." Matthew Hinton/AP Photo
THERE ARE GENERALLY two reactions when people see Richardson throw a football for the first time:
Did he just do that?
Or:
How did he just do that?
Richardson knew at an early age he was different because he could throw a ball 30 to 40 yards by the time he was 8, twice as far as his friends. He remembers the first time anybody saw him throw when he moved to Gainesville in sixth grade.
Richardson was at the park when a football rolled toward him. He saw a group of younger kids training clear across the way.
"Throw it back!" they yelled.
So Richardson did. They were so shocked they yelled once more.
"Do it again!"
They sent the ball back to Richardson, and again, he threw it to them with ease. It just so happened the coach of the youth football team was walking his dogs in the park at the same time. The kids called the coach over and told him, "We found your quarterback!"
Richardson did more than play football in the park. He would spend hours with friends doing backflips, a skill he taught himself after watching his younger brother, Corey, do them during toddler gymnastics. Watching Corey flip around looked like fun. Richardson tried it, and he was hooked.
As time went on, he wanted to do more than just backflips. He looked up YouTube videos of parkour — moves designed to get from one point to another by jumping, flipping, running or vaulting. He and his friends would run up walls and flip. At the park, they would flip over fences, jump between picnic tables, even use a small playground suspension bridge that was about 10-15 feet in the air.
"Me and my friend used to get on top of the part where people hold onto the bridge, and we would flip off it," Richardson said. "It was never to impress anybody. I just like flipping and jumping. It brings joy to me."
So does basketball. Christian Jones played basketball with Richardson and watched him dunk for the first time… in middle school. Richardson preferred to do a 360-degree windmill and reverse dunks, but wanted to add something else to his repertoire. As a junior at Eastside High in Gainesville, Richardson dunked for the first time from the free throw line.
He did it on his second try. Richardson did it again a few years later — at the Florida basketball facility.
play
0:19
Anthony Richardson shows off ridiculous hops with dunk from FT line
Anthony Richardson demonstrates his leaping ability on the basketball court by taking off from the free throw line to dunk.
"There's only a select amount of people on the planet who can do that," Jones said. "Any time he does something crazy, he'll have somebody record it, and he'll hit the group chat with the video — 'Hey boys, I just dunked from the free throw line.' It's like, 'What? Why is this normal to you?'
"Nothing he does is normal. It's an Anthony thing. He made it his thing to make sure you're paying attention to everything he does so you can watch his next move."
Still, when Richardson arrived at Eastside High, he had to wait his turn to play quarterback. Eastside already had a veteran transfer who came in to start, but nobody wanted Richardson to stand on the sideline, either, given his talent. Late in fall camp, coach Cedderick Daniels asked whether Richardson would be willing to play receiver.
Richardson said yes. A few plays after he made the Odell Beckham catch, Richardson caught a slant for a touchdown. "I just remember posing for the crowd," Richardson said. "That was my first high school game and I was like, 'I'm actually doing it.'"
Richardson played quarterback in the second half, and that's the way it went as a receiver/quarterback until he became the full-time starting quarterback midway through his freshman year after Kutchko got hurt. To celebrate wins, he and Hardy would do backflips — shoulder pads and all.
Coach Daniels saw the raw talent and potential in Richardson and created a plan for him. First, Richardson needed to gain 20 pounds. He played that year at 190. Next, they went to programs around the country and asked for evaluations on what he needed to do better. The feedback from quarterback coaches and offensive coordinators: work on his throwing mechanics, underneath routes and reading defenses.
Richardson began working with private quarterbacks coach Denny Thompson in Jacksonville. Daniels and Richardson would spend hours watching tape and breaking down defenses. Daniels also revamped his offense to help Richardson stand out more, running a scheme similar to what Newton ran at Auburn.
By his senior year, Richardson was an ESPN 300 prospect and one of the top high school quarterbacks in the country.
Staying in Gainesville and playing at Florida seemed like the natural fit. But the funny thing is, Richardson never grew up dreaming about playing for the Gators. When he first got to Gainesville, he had no idea the University of Florida was there because the campus was on the other side of town.
"You see this kid with this freakish ability but watching him deal with his little brother, that alone made him special to me." LaShawnda Cleare
What was most important was staying close to home, and to his mother and brother. Corey is seven years younger, and Richardson took it upon himself to help raise him while their mother worked. Everybody who grew up with Anthony in Gainesville saw the two of them either on his mountain bike — Anthony pedaling, Corey riding on the handlebars — or out at football practice.
Vernell Brown Jr., who also grew up in Gainesville and played at Florida, vividly remembers Anthony walking into a middle school football practice with his little brother beside him. Brown eventually took a job as senior director of student-athlete development/alumni relations with the football program and became a mentor to Richardson.
"He's always had a different aura about him," Brown said. "You see this kid with this freakish ability but watching him deal with his little brother, that alone made him special to me."
Richardson enrolled early at Florida, participating during bowl practices to close the 2019 season. As soon as he arrived, heads turned. "That first bowl practice it was pretty obvious from the word 'go' this kid is different," Brown said. "I knew that already, but it became obvious to the coaches, the team. Everybody."
Until it wasn't.
RICHARDSON HAD AN idea he would have to wait his turn to start at Florida, but it still hurt when reality hit. He opened the 2020 season No. 3 on the depth chart, behind starter Kyle Trask and backup Emory Jones.
On the bus headed to Ole Miss for the opener, Richardson looked out the window and started crying. He took out his phone and texted Daniels.
"I remember telling him, 'This is different, I'm used to being the guy,'" Richardson recalled. "He was like, 'Your time will come.' From that moment forward, I didn't want that feeling anymore, so I took more steps to be a better player and better person."
Richardson became the backup after Jones got hurt in the opener. That shifted his mindset. Richardson said, "I started going harder and trying to prepare like Kyle was, as if I was going to be the starter because you never know what was going to happen."
On The Clock
On The Clock follows the journey of four top quarterback prospects throughout their final college football season and into the offseason as they prepare for the NFL Draft. Sign up now to stream "On The Clock" on ESPN+
But not playing that first season made him also miss basketball. For the first time since he was in middle school, Richardson was not playing both sports.
He briefly thought about walking on to the Gators basketball team "just to be a part of the team, go to practice, dunk in practice and if I got in a game, see if I could dunk in a game. I wanted to play, but it was more so getting back in that routine of playing basketball and football."
He knew that was only a fleeting dream. He would be in line to compete with Jones for the starting quarterback job headed into the 2021 season. Then-coach Dan Mullen went with Jones as the starter, telling reporters he had a firmer grasp of the offense.
What unfolded was a quarterback situation that felt untenable for most of the year. Jones would start, but then Richardson would come on and dazzle. In the 2021 opener against FAU, Richardson had a 73-yard touchdown run. The next week against USF, he had an 80-yard touchdown featuring broken tackles and a stiff-arm. He threw a 75-yard touchdown pass in the game, too. As Florida prepared to play Alabama the following week, Mullen grew weary of the constant questions about the quarterback situation, reminding reporters once again that Jones gave Florida the best chance to win.
During his weekly news conference, Mullen used one play in the FAU game to show why he believed Richardson was not ready to start. "He drops back," Mullen told reporters. "He misses a protection check. Then misses the hot throw. Then misses the primary read. And then scrambles around and runs, and everyone thinks, 'What a spectacular play.'"
Richardson tweaked a hamstring against USF and missed the next two games. As Jones continued to struggle as the starter, Mullen opted to start Richardson against No. 1 Georgia. Richardson had three turnovers and sustained a concussion in the 34-7 loss. He played in only one more game that season.
Richardson does not blame Mullen for the way the 2021 season went. He finished with 529 yards passing, 6 touchdowns, 5 interceptions and a completion percentage of 59.4, with 401 yards and another three scores rushing.
But to others, it appeared Mullen put Richardson in a no-win situation to quiet the chorus of critics who wondered why Jones was starting.
"You would have some people who would say Anthony probably should have been the starter from the word 'go,'" Brown said. "It caused a little bit of friction among the team. Guys were frustrated because they felt Anthony gave us the best chance to win. I think you had some of that within the coaching staff, but for whatever reason it didn't happen."
Mullen told ESPN injuries that season played a role. In addition to the hamstring injury and concussion, Richardson missed the bowl game after undergoing knee surgery and played in seven games.
"Every time we tried to start him he got hurt, and I think that slowed down some of the development he would have had," Mullen said.
"I'm glad he threw me in that [Georgia] game because it taught me a lot about myself and showed me what I needed to improve on," Richardson said. "I felt like I was ready to be the starter, but throwing me in that game early let me know I wasn't necessarily ready at the moment. I had a lot to work on and perfect."
Mullen was fired before the 2021 season ended, and Billy Napier replaced him. The 2022 season would be a make-or-break year for Richardson. In their first spring practice together, Richardson was coming off knee surgery but still made an impression.
"I remember calling my brother on the way home that night saying, 'This kid's pretty special,'" Napier said. "He made several [throws] that day. I've been on the field with a lot of really good players and it was pretty apparent after the first practice that this kid was really gifted."
Anthony Richardson completed just 14 of 35 passes for 143 yards with no touchdowns and two interceptions against Kentucky. "I just wet the bed." Kim Klement/USA TODAY Sports
RICHARDSON'S ACCURACY WAS the obvious area where he needed to improve heading into the 2022 season. Arm strength is one thing but completing passes, especially in critical situations — that's the way quarterbacks are ultimately judged.
In the season opener against No. 7 Utah, Richardson led a comeback upset victory with one big play after another, from a 2-point conversion featuring a pump fake, midair pirouette, to the game-winning score. He had three touchdown runs and 274 total yards, completely resetting expectations after just one game.
The following week against Kentucky felt even bigger, in a game hyped as Richardson versus another NFL draft hopeful, Will Levis. But Richardson struggled against the Wildcats, completing 14 of 35 passes for 143 yards with no touchdowns and two interceptions. He had only six carries for 4 yards. What hurt worse was an inability to hit short passes. Richardson was 9-of-22 for 44 yards with two interceptions on passes thrown 10 or fewer yards downfield.
Great against Utah, bad against Kentucky. That one-week span was a microcosm of Richardson himself — physically talented, but still learning how to be a starting quarterback. Nobody took that Kentucky performance harder than Richardson. He apologized to his teammates, blaming himself. The day after the game, he and Brown sat and talked for hours, evaluating what happened.
Get your favorite live sports, stories and originals with ESPN+, Disney+ and Hulu. Upgrade to a Disney Bundle plan and start streaming something for everyone today!
The Utah game had people talking about the Heisman Trophy and had Richardson's NFL draft stock skyrocketing. The Kentucky game made him feel as if he had ruined not only the season but his future, too.
"I just felt like it was over from there," Richardson said. "I just wet the bed. This is not how it's supposed to be."
Richardson admitted the hype got to him, and he was playing what he calls "hero ball" against Kentucky. The more he pressed, the worse it got. Brown calmed Richardson down, telling him he had to ignore what people said about him and focus on getting better week to week.
"He said do what I feel is right for me, and that definitely helped me focus and get back on track," Richardson said.
Napier points to Week 4 at Tennessee as a turning point. Though Florida lost, Richardson threw for 453 yards, ran for 62 and totaled four touchdowns.
"I saw him grow up a little bit as a competitor," Napier said. "He wasn't worried about what anybody thought, he was trying to take his group and beat the other team. He played that game as a competitor the way that you would want the quarterback to play."
When the season ended, Richardson had a decision to make. He was given draft evaluations as a first-to-second-round prospect. Though his completion percentage for the season (53.8) and touchdowns-to-interceptions ratio (17-to-9) were not ideal, it was hard to pass up the opportunity.
So he went to work on his footwork, mechanics and accuracy. He and his coaches identified reasons why passes were inaccurate — especially while he was on the run — and the sequencing of throws became an emphasis.
"If you are off balance, as long as you have the right sequence — using your hips, having the right arm path and knowing how to get that same feeling as if your feet were planted in the ground, that's really all that matters," Richardson said.
Richardson estimates he has done sequencing drills "maybe a million times."
He has also worked on forgetting bad plays. Richardson describes himself as a perfectionist who is hard on himself when things don't go right. Couple that with pressing to make the impossible happen on every play and you get a frustrated quarterback.
As for the criticism about his accuracy, Richardson offers this: "My footwork was a little sloppy at times. So I'm definitely working to get better at that. I don't listen to the criticism as much as I used to. Before I would listen to it, but that's living to other people's expectations. I don't need to do that to be a great player. I've just got to be the best version of myself for my team, and that's what I'm going to do."
As Mullen watched Richardson this past season in his role as an analyst at ESPN, he noted: "I think everybody saw in Week 1, and at times the previous year, he's a human highlight machine. When he gets rolling, when he lets it go, he's pretty special. He's still a really young player that's got to grow into putting up the consistency needed to play quarterback, and letting it match his natural pure talent. When those two come together, he'll be special."
play
0:43
Anthony Richardson hits the ceiling on purpose to 'up Will Levis'
Florida QB Anthony Richardson hits the ceiling on one of his throws during Florida pro day and confirms he did it on purpose in response to Kentucky QB Will Levis.
RICHARDSON LAUGHS NOW about hitting the roof with a throw at the Florida indoor practice facility during his pro day workout. For all the "how did he do that?" looks in the building, the truth is he had done it before in practice with Hail Mary throws, just never with a national audience watching.
The questions about his accuracy are still there, but so are the highlights from the combine and pro day, reminding both NFL decision-makers and fans of what makes him unique. During his meetings with teams, Richardson said he received largely positive feedback. He made it a point during his interviews to make sure teams got to know him, not as a player but as a person.
"A lot of people think I'm this big angry guy, but that's not the case," Richardson said. "I love helping people out. That's one thing I want them to know, how much I care about my family, and how much they mean to me. That's my motivation. That helps me be a better player and better person."
Richardson is especially proud of being a role model for the kids in East Gainesville, showing them anything is possible. He still plays with the kids in the park, signing every autograph, rarely turning down an opportunity to help.
In fact, about a month ago, Richardson and his friend Sheldon Hardy went to a trampoline park in Gainesville to, you know, do some flips. As the two started jumping around, the little kids in the park couldn't help themselves. "Anthony Richardson!" they shouted.
Richardson and Hardy played with them, including trampoline basketball.
"We still play like little kids," Hardy said with a laugh.
There is big business on the horizon, of course, but Richardson will bring "home" with him wherever he ends up. His mother, stepdad and brother plan on moving with him. They will be there with him in Kansas City, too, ready to jump for joy when his name is called.
"My friends send me mock drafts but I tell them, 'Don't send that to me,'" Richardson said. "It doesn't matter until April 27. That'll be the day that solidifies everything."