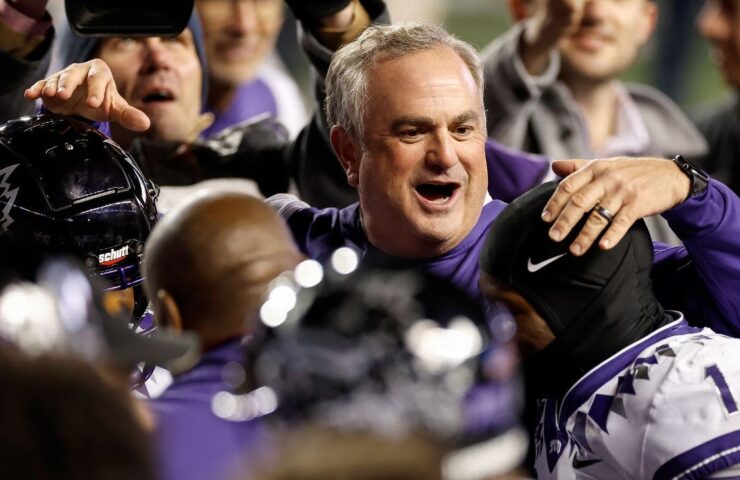 TCU stays unbeaten, A&M finds a new low and UConn
The College Football Playoff committee likes things to be simple. In a perfect world, the top teams win big, there's no need to split hairs, and in the end, it's impossible to mistake the top four teams.
The problem is: Winning is hard, and it's rarely pretty.
Just ask TCU. The Horned Frogs have made a business out of winning ugly — of erasing second-half deficits and engineering miracles and, on Saturday, in playing absolutely nasty defense and doing just enough to edge rival Texas 17-10.
Or ask Oregon. The Ducks had their ninth win of the season within their grasp — again and again — and came away empty. A fumble at the Washington 1-yard line, a missed field goal at the end of the first half, a 20-play drive that earned them just three points, a botched fourth down by the backup QB and an illegal touching penalty decided by millimeters all added up to a 37-34 UW win, ending Oregon's hopes for a playoff berth.
play
0:54
Oregon comes up short on fourth down, and Washington capitalizes with a go-ahead field goal in the final minute.
TCU had 283 yards of offense, and more than one-third of that came on two touchdown plays. The Horned Frogs won.
Oregon had just shy of 600 yards of offense, converted three fourth-down tries and ran for more than 312 yards. The Ducks lost.
Despite its undefeated record and No. 4 ranking, TCU was a touchdown underdog against Texas on Saturday, but the Horned Frogs were unfazed.
Coach Steve Sarkisian arrived decked out in a suit paying tribute either to the mid-1970s San Diego Padres or Tom Herman's fabled hydration chart, and things only got uglier for Texas from there.
TCU took a 3-0 lead to the half, then broke the game open with a 75-yard touchdown run by Kendre Miller late in the third quarter. Texas didn't find the end zone until there was just 4:25 left in the game. The Horned Frogs' much-maligned defense dominated. Texas was held to just 199 yards of offense, its lowest output since the opener against Notre Dame in 2015. Quinn Ewers completed just 17 of 39 throws, and he can now return to his full-time job as the bass player for Coverboy, Austin's No. 1 Loverboy cover band. TCU has now won eight of 11 matchups against Texas since joining the Big 12, a feat so devastating you can almost hear the Longhorns boosters throwing their giant belt buckles down in disgust.
If the showdown in Texas was all about defense, Saturday's Pac-12 fireworks were all about offense. Both Oregon and Washington surpassed 500 yards of offense. While Bo Nix did nothing to diminish his Heisman Trophy campaign, it might be time to start considering Michael Penix Jr. among the contenders, too. He threw for 408 yards and two scores in the win, including a 62-yard TD to Taj Davis to tie the game at 34 with just 3:07 to play.
But if Washington made the plays it had to when it mattered most, Oregon's day was defined by "what ifs." The Ducks had a walk-in TD play at the 1 early in the second quarter, but Nix fumbled. Washington returned the favor in the fourth with a Penix interception at the Oregon 1, and the Ducks ran 20 plays and ate up nearly 11 minutes of clock, but they settled for a field goal and a 34-27 lead that would last just 47 seconds. With 1:26 to play in the game, Oregon went for it on fourth-and-1 from its own 34, but it did so without Nix, who was on the sideline, yelling at coaches, hoping to get into the game after leaving with an injury. The play failed, Washington got the ball with prime field position and kicked the game-winning field goal. Nix nearly drove Oregon into field goal range one last time, but what appeared to be a catch with 1 second left on the clock was ruled a penalty after officials said the receiver stepped out of bounds first. Replay offered no recourse.
Through the first 10 weeks of the season, TCU was knocked for too many close calls, never putting up enough style points for the voters' or committee's liking. Saturday wasn't pretty either, but it was an emphatic win.
hornsdown.mp4 #GoFrogs #DFWBig12Team pic.twitter.com/e8bVQs52Vj

— TCU Football (@TCUFootball) November 13, 2022
Through the first 10 weeks of the season, Oregon was knocked for a blowout loss but found redemption in a series of big wins in Pac-12 play. The Ducks nearly found redemption again Saturday, but one too many chances slipped through their fingers.
TCU won, and the dream of a spot in the playoff remains within reach. Oregon lost, and no matter how many times fate seemed to intervene on Washington's behalf, that loss is all that ultimately matters.
There are vanishingly few true playoff contenders remaining. It might end up that the wins are all the committee needs to decide who's in.
Pour one out for U-Can't, UConn's going bowling
On July 20, 1969, Neil Armstrong took one giant leap for mankind and became the first man to step foot on the moon, and in doing so, he personified the will of the human spirit, offering proof that, indeed, anything is possible.
For the next 53 years, nothing much happened. The Soviet Union, the Berlin Wall and the Big East all collapsed, but hope was often in short supply. There was much suffering.
Then, in 2022, a hero emerged. His name was Jim Mora Jr. Like all mythical figures, he had endured the hero's journey — the slings and arrows and three years with the Atlanta Falcons. But like a phoenix from the ashes, he emerged on a field in New England and offered the world hope.
On Saturday, we saw the fruits of his labor. UConn beat Liberty 36-33. It was the Huskies' sixth win of the season, making America's worst college football team bowl eligible.
Today, the flags at Bottom 10 headquarters fly at half-staff. Pour one out for U-Can't.
It would be nearly impossible to truly express the futility of the UConn Huskies. After earning the distinction of the worst team to ever play in a BCS bowl game at the end of an 8-5 season in 2010, misery ensued.
There was the Bob Diaco era, which has been edited out of all Connecticut public high school textbooks due to graphic content.
There was Randy Edsall Part II, which was only slightly worse than "Weekend at Bernie's Part II." And by mentioning Randy Edsall in a college football story, UConn now owes him a check for $4.85. That was one heck of a contract.
There was the time UConn tried to make a rivalry trophy happen with UCF, but the Knights just left it to rust in Scott Frost's shed. There was the 2020 season that the school just scrapped altogether. There was the decision to leave the American Athletic Conference because the administration wanted to focus on more important things than football — like basketball and its stamp collection.
From 2016 through 2021, UConn went 10-50, and half of those wins came against FCS competition.
But on Saturday, Mora exorcised those demons in perfect UConn style. The Huskies weren't actually good. Liberty outgained UConn by 156 yards and had nearly twice as many first downs. The Huskies threw for just 110 yards in the game, but Zion Turner's 30-yard pass to Kevens Clercius for a touchdown with 5:43 left to play gave the Huskies a lead, and the defense made two huge fourth-down stops in the fourth quarter to secure the win.
And now UConn is going bowling.
play
0:58
UConn clinches its first bowl appearance since 2015 and the fans storm the field in celebration.
It is, perhaps, fitting that UConn's redemption arc reached its climax on the same day Vanderbilt toppled Kentucky for its first SEC win since 2019 — and first road SEC win since October 2018. The Commodores ran for 264 yards — the most in an SEC road game, according to ESPN Stats & Information research, since at least 2004 — and held Will Levis to just 109 yards passing.
All of this comes in the same season in which Kansas rewrote its own miserable narrative, and Syracuse, Duke and Illinois all secured bowl bids, too. The 2022 season has been the most inspiring installment of "Revenge of the Nerds" since "Revenge of the Nerds III" and, depending on the bowl destination for UConn, could certainly be a fitting re-creation of "Revenge of the Nerds II: Nerds in Paradise."
So, congratulations, UConn. America has stopped laughing and started cheering. It's been a long ride, but now you can cancel your plans to spend December hanging out in the parking lot of the Mohegan Sun and telling strangers that you know Geno Auriemma, and pack your bags for a bowl game.
Now, go make some crank calls to people at UMass. You've earned it.
Tide, Tigers rebound
The epitaphs on Clemson's and Alabama's seasons might have been written a tick too early.
Yes, the Crimson Tide are likely out of the playoff, but Saturday's 30-24 win over No. 11 Ole Miss was everything that seemed to be missing from the Crimson Tide's performance in last week's loss to LSU. Bryce Young threw three touchdowns. Byron Young and the defense were stout, battering Jaxson Dart in the fourth quarter. And when Ole Miss had a drive going to win it late, Alabama was up to the task.
Watching the Tide this season has been a bit like seeing an aging rock band play. You're forced to sit through a bunch of the new stuff that sounds like a cheap knockoff of the band's early work. The lead guitarist left for a solo career, and now Bill O'Brien is trying to hit the same notes. But then those first few notes of "Thunder Road" or "Paint It Black" somehow erase the years, and suddenly, it's like old times again. Alabama can still play the hits.
Meanwhile, Clemson looked utterly lost a week ago against Notre Dame. DJ Uiagalelei was benched in back-to-back games, and the notion of a College Football Playoff without the Tide or Tigers seemed a very real possibility.
On Saturday, Clemson flexed some muscle again.
It wasn't as if the offense figured it all out in the 31-16 win over Louisville, but Uiagalelei had a rushing and passing TD, Antonio Williams caught 10 balls, and the Tigers ran for 248 yards and three scores. It was a complete — if not completely impressive — performance.
Will Shipley was the highlight, as he scored from 25 yards out after hurdling one Louisville defender then splitting two more.
play
0:23
Will Shipley jumps over the Louisville defender for a Clemson touchdown.
Shipley wasn't exceptional Saturday — he fumbled twice, losing one — but given enough touches, he's always good for something special. He's like the kid in high school whom every mom likes, but he also has a weirdly large supply of fireworks in his trunk — a wiry energy that's both infectious and a little dangerous.
Alabama was officially eliminated from the SEC West title race thanks to LSU's win Saturday. Clemson had already locked up its spot in the ACC championship game. What success looks like for either team outside of a playoff berth is a valid question, but Saturday's efforts showed neither is ready to cash in its chips.
Down goes UCLA
Following Arizona this season is a bit like setting your house on fire and seeing if you can finish every episode of "Dahmer" on Netflix before evacuating. It's a wild ride.
The chaos arrived in Pasadena on Saturday, and the end result was brutal for UCLA and the Pac-12.
Arizona's Jayden de Laura threw for 315 yards and two touchdowns and scored a third on the ground, while Chip Kelly looked as uncomfortable as a person can while wearing a windbreaker. The Wildcats won 34-28, effectively ending the Bruins' playoff hopes and narrowing the conference's possible playoff teams to one.
UCLA had its chances. Zach Charbonnet had 219 yards of offense but couldn't corral a critical third-down pass on UCLA's penultimate drive. Dorian Thompson-Robinson had four shots at the end zone on UCLA's final drive, and he even had Jake Bobo open across the back of the end zone on the last play but couldn't connect.
That one last hope for the league is USC, but the Trojans' biggest problem is a particularly soft schedule. USC lost to Utah, and its best win thus far was an ugly 17-14 decision over Oregon State. The Trojans will have a chance to burnish that résumé to end the season with games against UCLA and Notre Dame — but with the Bruins' loss, even that gets tricky.
Rock bottom at A&M?
Texas A&M opened the season ranked sixth in the country. On Saturday, the Aggies lost 13-10 to Auburn and ensured they would not go to a bowl game.
If this wasn't rock bottom, it's only because, at this point, it's impossible to say how low A&M can go.
The Aggies finished the game with 215 yards of offense, but 80 of those came on their final drive, when Auburn had the game all but won. Texas A&M was just 5-of-16 on third down. At one point, QB Conner Weigman missed on 13 straight throws. The Aggies' first seven drives of the second half netted them a grand total of five yards.
The image of Jimbo Fisher holding up a disheveled pile of papers, his glasses slid down his nose as he tries to find an answer somewhere in the mess, might soon be replaced by Fisher, glasses slid down, perusing the "help wanted" section of the newspaper. (We assume Fisher still reads the hard copy of the paper with his morning Sanka.)
A&M has now gone 12 straight games vs. FBS competition without scoring 30 points, according to ESPN Stats & Information research. UMass is on the schedule next. If the Aggies can't break that streak then, it might never happen.
Battle for the New Year's Six
UCF might not be on the verge of a parade through Orlando this year, but the Knights look well positioned for a return to the New Year's Six for the first time since 2018.
John Rhys Plumlee accounted for 308 yards and three touchdowns as UCF beat Tulane 38-31 in a battle between the only two Group of 5 teams ranked by the committee. The highest-ranked Group of 5 team at season's end earns a New Year's Six bid.
UCF still has Navy and South Florida remaining, plus a date in the AAC championship game, which could be either a rematch with Tulane or a date with Cincinnati.
Should UCF stumble between now and bowl selections, the door remains slightly open for UTSA (8-2), which routed Louisiana Tech 51-7 on Saturday, or Coastal Carolina, which managed to fend off Southern Miss 26-23 despite playing without star QB Grayson McCall.
Gophers break the curse
Minnesota thumped Northwestern 31-3 on Saturday, which might not seem like a big deal, but the Gophers' win actually ended a horrifying curse.
A quick history lesson:
Back in Week 0, Northwestern upset Nebraska. A week later, the Wildcats lost to Duke. They haven't won since.
In Week 2, it was Georgia Southern that pulled the stunner over Nebraska. And a week later, the Eagles lost to UAB.
In Week 3, Oklahoma beat Nebraska, then lost in Week 4. In Week 7, Purdue beat the Cornhuskers, then lost in Week 8. In Week 8, Illinois moved to 7-1 with a win over Nebraska. In Week 9? Down go the Illini.
In other words, the first five teams to beat Nebraska this year all lost the following week. This is actually the plot of "The Ring," but what's the point in suing Nebraska for copyright infringement? The Huskers have enough problems.
In any case, Minnesota finally broke the curse by finally experiencing true love's kiss or, perhaps, just playing a very bad Northwestern team.
Of course, since Northwestern was already part of the curse, it's also possible this isn't a curse breaker but rather some type of "Inception" situation, and Saturday's win actually creates a rip in the space-time continuum. It stands to reason that, when the universe finally collapses in upon itself, Nebraska will be at fault.
Regardless, Minnesota survives and still has a shot at the Big Ten title game. That's a far better fate than most. In all, teams that beat Nebraska are a combined 7-23 afterward.
Rough week for the Dabo dynasty
Clemson's Dabo Swinney has spent the past decade as one of the sport's best coaches. His network of former assistants, however, hasn't exactly forged a particularly impressive résumé, and in Week 11 was essentially the Harvey Updyke of Swinney's coaching tree.
The week began with USF parting ways with Jeff Scott. Scott was just 4-26 in parts of three seasons with the Bulls, who were just 1-8 at the time of the coaching change.
Things got much worse Saturday.
2 Related
At Virginia, Tony Elliott's Cavaliers have struggled through a frustrating season with three losses by three points or less, as the offense has failed to find any success under a new scheme. But Saturday's showdown with Pitt was a new low.
QB Brennan Armstrong threw two pick-sixes on his first two throws (perhaps a nice tribute to Nate Peterman for all those Pittsburgh fans), leaving UVa trailing 14-0 just 16 seconds into the game. The Panthers added ample salt to the wounds, with Israel Abanikanda rushing for 121 yards in Pitt's 37-7 win.
Meanwhile in Norman, Brent Venables' first season at Oklahoma continues to go south as West Virginia booted a walk-off 25-yard field goal for a 23-20 win. The Sooners are now 5-5 on the season and 2-5 in Big 12 play. It's the first time Oklahoma has lost five games since 2014 and the first time it's dropped five in conference play since 1998.
Somewhere, Chad Morris watched all this unfold and whimpered the saddest "Woo Pig Sooie" that's ever been wooed.
Style-point Saturday
Week 11 set up what figured to be some easy wins for a few playoff contenders, which made the games less about who would win and more about how good the favorites would look in the process.
Tennessee 66, Missouri 24
One week after the Vols' offense was suffocated by Georgia, Hendon Hooker & Co. lit all the fireworks at once just to see what would happen vs. Missouri. Hooker finished with three TD passes, Jalin Hyatt had 146 yards receiving, and in all, the Vols racked up 724 yards of offense. And how's this for a little college football transitive property intrigue: Georgia nearly lost to Missouri. Georgia dominated Tennessee. Tennessee stuffed Missouri in a locker and stole its lunch money.
Committee reaction: "S-E-C! S-E-C!"
Ohio State 56, Indiana 14
A week after C.J. Stroud failed to throw a touchdown against Northwestern, he returned with five of them against Indiana. Marvin Harrison Jr. had seven catches for 135 yards and a TD, and both Miyan Williams and Dallan Hayden ran for more than 100 yards. Remember when Indiana was good in 2020? That was a weird year. Like how there was that two-month span when everyone pretended to like sea shanties. That's Indiana. The sea shanty of college football.
Committee reaction: "Do we really have to keep watching Ohio State play Big Ten football? Can't we just fast-forward to the Michigan game?"
LSU 13, Arkansas 10
KJ Jefferson was sidelined, and as a result, Arkansas abandoned the forward pass in favor of a strategy of just waiting to see if LSU would screw up really bad. It nearly worked, but LSU had a secret weapon in freshman linebacker Harold Perkins Jr., who finished with eight tackles (six solo), four sacks (costing Arkansas 33 yards), a PBU and two forced fumbles, including what amounted to the game-sealing takeaway in the final moments of the game.
Committee reaction: "There's always room for more SEC teams. Someone send Michigan to a farm upstate."
Michigan 34, Nebraska 3
Blake Corum remains perhaps the one non-QB with a real shot at the Heisman Trophy still, and he added to his résumé with 162 yards in the win over the Huskers on Saturday. Michigan is now 10-0 and none of its games have been particularly close, save a late comeback attempt by Maryland in Week 4. On the other hand, the Big Ten's social media posted a video this week asking each coach what he'd be doing if not coaching, and Jim Harbaugh said he'd be "a lawnsman."
Our @B1GFootball coaches are all 𝙁𝙤𝙤𝙩𝙗𝙖𝙡𝙡 𝙂𝙪𝙮𝙨. But if the whole head coaching thing didn't work out? 🤔

We asked 𝙬𝙝𝙞𝙘𝙝 𝙥𝙧𝙤𝙛𝙚𝙨𝙨𝙞𝙤𝙣 they might have pursued instead: pic.twitter.com/a03uOPPD3J

— Big Ten Network (@BigTenNetwork) November 11, 2022
What does that mean, exactly? Would he be really good at mowing lawns? Own his own landscaping company? Just sit on a plastic chair and yell at neighborhood kids to get off his lawn? We have so many follow-up questions.
Committee reaction: "How do we get that cool checkerboard design in our grass?"
Georgia 45, Mississippi State 19
Two Georgia turnovers gave Mississippi State more life that it might've otherwise had, but it was still largely a laugher in Starkville. Stetson Bennett accounted for four touchdowns, Ladd McConkey had 141 total yards and Darnell Washington demolished a small village before returning to his undersea lair to await his next enemy.
Committee's reaction: "Guys, you're already in. Stop trying so hard. We actually went to see 'Black Panther: Wakanda Forever' instead of watching this one."
Heisman Five
Only two weeks remain in the regular season, and the Heisman seems entirely up for grabs. Bo Nix, Bryce Young, Max Duggan, Dorian Thompson-Robinson, Blake Corum and others all have an outside shot, but for this week, these are our top five.
1. Ohio State QB C.J. Stroud
Stroud has an absolutely embarrassing wealth of talent around him, so it's tough to separate his success from Ohio State's talented offense. He tossed five touchdown passes in Saturday's win over Indiana, including one to Kamryn Babb, just so he'd be a part of the feel-good story of the day, too. Stroud's Heisman hopes, like Ohio State's playoff hopes, basically all come down to the Michigan game in two weeks.
2. North Carolina QB Drake Maye
Maye led North Carolina to its fifth second-half comeback win of the season Saturday, throwing for 448 yards, running for 71 more and racking up four touchdowns in a 36-34 win over Wake Forest. What seemed like a long-shot case just a few weeks ago now looks entirely serious, and if he can finish out the season with wins over NC State and Clemson, there's a real shot he can win it.
3. Tennessee QB Hendon Hooker
A week after getting punished by Georgia, Hooker rebounded nicely in a win over Missouri with 405 yards and five touchdowns. Perhaps we can pretend the Georgia game was all just a bad dream, like that one season of "Dallas."
4. USC QB Caleb Williams
The Trojans played Colorado on Friday, and technically stats against the Buffaloes still count, so add another five touchdowns to Williams' collection. Still, nothing he has done thus far will matter as much as how he ends the season against UCLA and Notre Dame.
5. Kansas State RB Deuce Vaughn
We got this message from reader Anna M.: "Can we give Deuce Vaughn an honorary Heisman for being the most fascinating player to watch? And does he get extra points for being 25% smaller than his opponents?"
Honestly, we firmly agree there should be Heismans by weight class — something akin to boxing. After Vaughn racked up 156 yards and a touchdown in the Wildcats' impressive 31-3 drubbing of Baylor on Saturday, he's our clear choice in the welterweight division. Finding the right O-lineman to win the heavyweight Heisman and a punter for the featherweight award will be the real tough choices.
Under-the-radar game of the week
We wanted to take a moment here to offer our highest of praise to Iowa, which, after Saturday's 24-10 victory over Wisconsin, has now won three straight games after suffering through a genuinely legendary amount of jokes about its inept offense.
Did the Hawkeyes prove us all wrong by changing things up, switching QBs or playcallers or just deciding that forward progress was helpful? Oh, no. If anything, Iowa has become even more Iowa.
After back-to-back weeks in which the Hawkeyes were dangerously close to 400 yards of offense, Saturday was a return to the sheer paint-drying perfection they strive for. For the game, Iowa had 146 yards of offense. The Hawkeyes averaged 1.2 yards per rush and threw for just 94 yards. And they won by two touchdowns!
According to research by ESPN Stats & Information, Iowa's 146 yards were the fewest by a team in a winning effort this season. Who'd Iowa beat out for that honor? Why, Iowa, of course! (The Hawkeyes had 166 in the 7-3 win over FCS South Dakota State.)
Iowa's nine punts Saturday were just one shy of its season high (10 against South Dakota State). Tory Taylor was a mere nine yards shy of cracking 400 punt yards on the day — something he has done twice, while Iowa's offense has yet to hit that total.
Iowa's 24 points were also the most a team has scored while tallying fewer than 150 yards of offense since 2014, when Missouri beat Florida 42-13 with just 119 yards of offense (thanks to four non-offensive touchdowns).
The Hawkeyes are now bowl eligible despite having fewer offensive yards as a team than Stetson Bennett has by himself.
Under-the-radar play of the week
Notre Dame's Braden Lenzy made what might well be the catch of the year in the Irish's 35-32 win over Navy on Saturday, using the defender's back to haul in a 38-yard touchdown.
play
0:24
Drew Pyne airs it out 38 yards to find Braden Lenzy in the end zone for a spectacular catch behind the defender's back.
So few touchdown catches involve hugging the defender, but we applaud Lenzy's willingness to show love to the armed forces.
There weren't many acrobatics for Notre Dame's offense in the second half of this game, however. The Irish were held without a point in the final two frames, as Navy scored the final 19 points of the game and had a chance for an onside kick in the end.
Notre Dame is among the most confounding teams in the country. Lose to Marshall, beat North Carolina. Lose to Stanford, beat Clemson. Score 35 in the first half, disappear in the second. The Irish are going to either beat USC by 30 in two weeks or get lost trying to find their luggage at LAX.
The most college football thing to happen Saturday
Most Saturdays we use this space to highlight the ridiculous in this sport. Today, we're celebrating the genuine beauty of it.
Ohio State was wrapping up a blowout win over Indiana midway through the fourth quarter on Saturday. Stroud threw an 8-yard touchdown pass to fifth-year senior Kamryn Babb. That brought Babb's college box score to this: four ACL surgeries, one touchdown.
An emotional Babb collapsed to his knees at the back of the end zone and the entire Ohio State team poured onto the field to celebrate with him.
Best thing you'll see today, we guarantee it. @kamm_o x @OhioStateFB pic.twitter.com/ZBVq7pUNGE

— Ohio State on BTN (@OhioStateOnBTN) November 12, 2022
It's the type of moment they make movies about, and while Rudy might have been offside, this one was absolutely perfect.
Big bets and bad beats
LSU narrowly squeaked by Arkansas on Saturday, which isn't new for the Tigers in the week after playing Alabama. LSU closed as a 3.5-point favorite, despite Arkansas missing its starting QB, and won 13-10. The Bayou Bengals are now 0-4-1 against the spread in their past five games the week after playing the Tide.
After Saturday's outright win over Liberty, UConn is now 9-2 against the spread on the season. It's the most covers in a Huskies season since 2010, and no other team in the country has more covers this season.
Michigan closed as a 30.5-point favorite against Nebraska, and when the Wolverines got the ball with 5:41 to play, they were winning easily, 31-3. But good teams win. Great ones cover. Michigan drove 43 yards on nine plays and drained all but 1:17 off the clock before Jake Moody booted an otherwise meaningless 43-yard field goal. Final score: Michigan 34, Nebraska 3, and a half-point cover for the Wolverines.