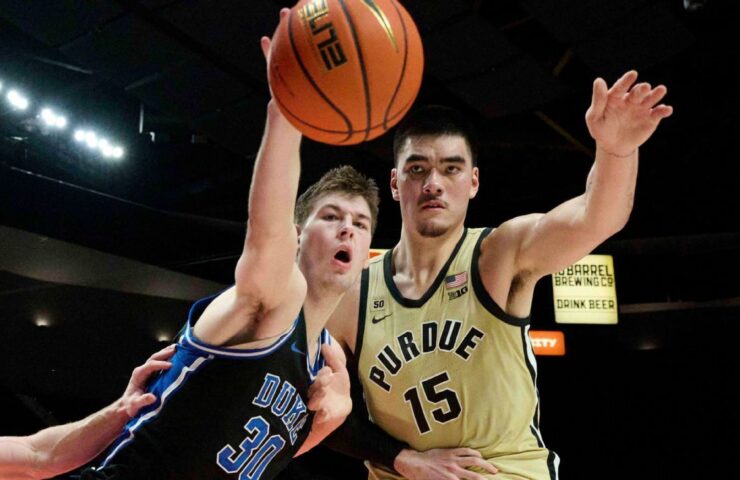 Preseason fantasy draft: Edey, Filipowski and 22 more of the
With the 2023-24 men's basketball season practically here, it's time for our annual fantasy draft choosing the best players in the sport.
If you've been following along with us here for a while you may know how this works. Each member of ESPN's panel of experts — Jeff Borzello, John Gasaway, Myron Medcalf — builds the best fantasy roster he can with eight player picks and one coach. This year, there's an added advantage: they all got to see some exhibition contests before they made their picks.
A reminder of the rules: Our would-be GMs chose a draft method (snake) and an order (this time, determined alphabetically by high school sports team name, which means Borzello goes first). As always, each roster can have no more than one player from any one team. Additionally, each roster is required to have at least one player from a mid-major program. Gonzaga does not count as a true mid-major.
Eight suspenseful rounds and one head coach pick later, here is how the top 24 players for 2023-24 shake out, according to our experts.
Which team looks best heading into the new season? Jump to the full rosters here.
play
1:52
Zach Edey's best plays from his award-winning season
Check out the some of Zach Edey's top highlights at Purdue last season.
Round 1
No. 1 Pick (Jeff Borzello): Zach Edey, C, Purdue Boilermakers
The reigning Wooden Award winner is the best player returning to college basketball — and perhaps the only pick in this draft that leaves no debate. Sure, I'll have to cater my team to Edey's strengths, but a top-10 scorer and rebounder in the country who blocks shots and shoots 60% from the field? That's worth building around.
play
1:45
Roach, Filipowski lead Duke past Virginia to win ACC tourney
Jeremy Roach and Kyle Filipowski combine for 43 points in Duke's win.
No. 2 Pick (Myron Medcalf): Kyle Filipowski, C, Duke Blue Devils
Entering last season, Filipowski knew he needed surgery on his hips but decided to play through the pain as a freshman at Duke. He averaged 15.1 PPG and 8.9 RPG, while securing ACC Rookie of the Year. Now that he's fixed the hip issue via offseason surgery, Filipowski should be even better in his sophomore season. I think I just picked the best player in college basketball not named Zach Edey.
No. 3 Pick (John Gasaway): Hunter Dickinson, C, Kansas Jayhawks
Dickinson really needs to trademark "the greatest transfer of the portal era." Those words have been directed his way so frequently since he jumped from Michigan to Kansas that he now owns the phrase. Bill Self knows a thing or two about getting paint production — plus Dickinson, unlike every other big named pre- or postseason All-American these last two seasons, will step out and hit a 3.
Editor's Picks
2 Related
Round 2
No. 1 Pick (Gasaway): Max Abmas, G, Texas Longhorns
Voila, with one skillful selection my team has arguably the finest high-volume 3-point shooter in Division I. Abmas drained 420 treys in four seasons at Oral Roberts and ranks second for career 3s among active players. Best of all, he connected 39% of the time while launching all those attempts.
No. 2 Pick (Medcalf): Tyler Kolek, G, Marquette Golden Eagles
Kolek earned preseason first team All-American honors after averaging 12.9 PPG and 7.5 APG. He also connected on 40% of his 3-point attempts as he led Marquette to the Big East title a year ago. Listen, the best point guard in America is running my team.
No. 3 Pick (Borzello): Justin Moore, G, Villanova Wildcats
With this and the next pick, I wanted to get two guards who can score, create and make shots from the perimeter — and the first, Moore, fits that mold. He's recovered from the Achilles injury he suffered in the 2022 NCAA tournament, and the last time we saw him fully healthy, he averaged nearly 15 points and shot 36% from 3.
play
0:59
Taylor IV's Aggies teammates explain his wow factor
Texas A&M players describe Wade Taylor IV's dominance on the court and what makes him the "best point guard in the conference."
Round 3
No. 1 Pick (Borzello): Wade Taylor IV, G, Texas A&M Aggies
Taylor fully cemented himself as one of the elite point guards in the country in the second half of last season, averaging nearly 20 points and four assists in his final 12 games, shooting better than 38% from 3 in that span — which was enough to earn SEC Preseason Player of the Year. I'm comfortable with him running the show.
No. 2 Pick (Medcalf): Terrence Shannon Jr., G, Illinois Fighting Illini
The one knock against Shannon, a 6-foot-6 wing who will give my team size at a critical position, has been his 3-point shooting. He made just 32% of his attempts last season. But his 28-point effort in Illinois' 82-75 charity exhibition victory over Kansas on Sunday included a 5-for-9 clip from beyond the arc. We got better with this pick too.
No. 3 Pick (Gasaway): Zakai Zeigler, G, Tennessee Volunteers
Assuming Zeigler returns full-speed from the torn ACL he suffered in February, the wisdom of this pick will be evident with every expertly-run fast break, every deftly delivered assist and every converted 3 from the sophomore. Zeigler shoots 83% at the line and is due for an improvement in his success rate beyond the arc.
Kansas

+1100

Purdue

+1200

Duke

+1200

Michigan State

+1200

UConn

+1600

Kentucky

+1800
Odds by ESPN BET.
For complete odds, click here
Round 4
No. 1 Pick (Gasaway): Isaiah Collier, G, USC Trojans
Collier is projected as a 2024 lottery pick and it's possible he could pick up (the last ever?) Pac-12 Player of the Year award first. Nominally a pass-first point guard at 6-3, Collier is nevertheless comfortable enough with scoring that he put up 25 and won co-MVP honors at the McDonald's All-American game.
No. 2 Pick (Medcalf): Justin Edwards, G, Kentucky Wildcats
A projected lottery pick in the 2024 NBA draft, this 6-8 freshman is known for his versatility. He averaged 17.9 PPG and 7.5 RPG as a high school senior. Yes, he's young but he's a high-ceiling player with a bright NBA future. He has enough veterans around him on my team to take a lot of pressure off his shoulders.
No. 3 Pick (Borzello): Donovan Clingan, C, UConn Huskies
Clingan is ready for an Edey-esque improvement from a statistical perspective with Adama Sanogo gone from UConn's frontcourt. The 7-2 Bristol, Connecticut, native had ridiculous per-40 numbers last season (21.1 PPG, 17.2 RPG, 5.5 BPG). Can I play Edey and Clingan together? Maybe. Maybe not. But both pose incredible problems from the opposition from a sheer size perspective and will form a dominant two-headed monster on the interior.
Round 5
No. 1 Pick (Borzello): Tyrese Proctor, G, Duke Blue Devils
I originally had Collier earmarked for this pick, but Gasaway landed him first. Proctor is a heck of a consolation prize though. It took him some time to get fully comfortable as a freshman, but the projected lottery pick took a major step forward down the stretch last season. He can play on or off the ball and brings size at 6-5.
No. 2 Pick (Medcalf): Armando Bacot, F, North Carolina Tar Heels
Top stories of the week from
Get exclusive access to thousands of premium articles a year from top writers.
• Grading the James Harden trade »
• NFL trade grades: Which teams won? »
• What Duke is getting in Cooper Flagg »
More ESPN+ content »
A fifth-year star who earned third-team Associated Press All-America honors last year? Yep. Bacot is also our third 2023-24 preseason first team All-American. You know what you get with Bacot. He's a double-double machine (15.9 PPG, 10.4 RPG). And with Filipowski next to him, he's part of the best frontcourt on this list. Not surprisingly, I love this pick too. Jeff and John are calling my team old school. I just see winners.
No. 3 Pick (Gasaway): Graham Ike, F, Gonzaga Bulldogs
Wyoming transfer Ike was last year's preseason Mountain West POY until an injury got in his way. Now he's in Spokane, where he should fit in perfectly alongside Anton Watson. At 6-9, Ike is a volume 2-point scorer who's relentless on the boards. He also projects to draw fouls at a near-Timme-level rate.
play
0:23
Dillon Jones makes a great defensive play for the steal
Dillon Jones makes a great defensive play for the steal
Round 6
No. 1 Pick (Gasaway): Dillon Jones, F, Weber State Wildcats
Jones would be the pick here even if we weren't required to select a mid-major standout. Depending on how my coach (see below) doles out minutes and responsibilities, the 6-6 junior could emerge as this rotation's leader in rebounds or assists or both. Jones is just an all-around player at the highest level.
No. 2 Pick (Medcalf): LJ Cryer, G, Houston Cougars
OK, I need shooters. And Cryer fits that role. He averaged 15.0 PPG and connected on 42% of his 3-pointers last season. The all-Big 12 preseason first-teamer is a big pickup for Houston. And he's a big pickup for me too. We're moving in the right direction.
play
0:16
Aidan Mahaney knocks down tough jumper
Aidan Mahaney uses the screen to create space, then rises up to knock down a 3-pointer.
No. 3 Pick (Borzello): Aidan Mahaney, G, Saint Mary's Gaels
Debate Saint Mary's as a mid-major all you like, but Mahaney is my mid-major pick for this draft. I wanted an elite 3-point shooter here, which is why I had Cryer and Trey Alexander on my board as well — but Mahaney ticking the mid-major box was the tiebreaker (and Myron took Cryer). Mahaney lost some steam late in the season, but still shot 40% from 3 and showed he can take, and make, big shots when it mattered. And now he has another season under his belt. The perfect sixth man for Team Borzello.
play
2:03
The best of Kevin McCullar as he returns to Kansas
Check out some of Kevin McCullar Jr.'s top moments with Kansas from last season.
Round 7
No. 1 Pick (Borzello): Kevin McCullar Jr., G, Kansas Jayhawks
McCullar is the perfect glue guy for my team at this point in the draft. He's one of the truly elite defenders in college basketball, a versatile frontcourt piece who can distribute, guard multiple positions, make an occasional 3 and still average double figures in scoring. Plus he's a veteran with winning experience. The perfect connector who won't need too many shots to be happy.
play
0:20
Jamal Mashburn Jr. gets the lay-in to fall vs. San Diego State Aztecs
Jamal Mashburn Jr. gets the lay-in to fall vs. San Diego State Aztecs
No. 2 Pick (Medcalf): Jamal Mashburn Jr., G, New Mexico Lobos
My mid-major guy is the son of a legend. Jamal Mashburn Jr. is what we call in the sports world a bucket-getter. The 6-2 guard averaged 19.1 PPG and connected on 38% of his 3-pointers for Richard Pitino's New Mexico squad last season.
No. 3 Pick (Gasaway): Nijel Pack, G, Miami Hurricanes
Give me more 3s, always. Pack's a 42% career shooter from beyond the arc, and he's poised to put up some nice numbers for the Hurricanes now that both Isaiah Wong and Jordan Miller have moved on to bigger and better things. My only regret is the "no two players from the same team" thing means my next pick can't be Norchad Omier.
Round 8
No. 1 Pick (Gasaway): Stephon Castle, G, UConn Huskies
Who knows, with Castle and Collier (or Collier and Castle) my team might have back-to-back 2024 lottery picks. These guys will be hanging in the green room for a heartbeat and talking about the brilliant ESPN.com evaluator who put them together on his fantasy team.
play
0:16
Daron Holmes buries 3-pointer against VCU Rams
Daron Holmes buries 3-pointer against VCU Rams
No. 2 Pick (Medcalf): DaRon Holmes II, F, Dayton Flyers
He's a 6-10 star who can score around the rim and excel when things speed up. He's great in transition and gives this team more size in the paint. Off the bench, Holmes (18.8 PPG last season) will enter the game with a lot of energy that will give my team a boost. I mean, I'll have the lead on Borzello's and Gasaway's teams so that won't be necessary, but I love the way he plays.
No. 3 Pick (Borzello): Bryce Hopkins, F, Providence Friars
I had a few guys still on my board here: Alexander, Ryan Nembhard, D.J. Wagner, Ryan Kalkbrenner. But I had plenty of scorers and playmakers on the perimeter and more than enough size down low. I was missing a 3/4-type with some versatility and scoring ability. And that's where Hopkins, who had a breakout campaign last season, comes in. He can score at all three levels and gives me physicality at the forward spot.
Coaches' round
No. 1 pick (Borzello): Bill Self, Kansas Jayhawks
After taking Rick Pitino in this exercise last season, the thought around the league was that he would be my pick again — despite the loss to Pace over the weekend. But Bill Self edges Pitino, Kelvin Sampson and Dan Hurley as the coach for this team. If there's a coach who can make Edey and Clingan work together, it might be Self, and he's also shown recently he can have success playing a more small-ball lineup, which my team can do too. And his on-court record is unimpeachable at this point.
No. 2 pick (Medcalf): Kelvin Sampson, Houston Cougars
I have a bunch of guys who are playing together for the first time. We need discipline and we need defensive focus. That's why I like Sampson as our head coach. His Houston teams have finished top-15 in adjusted defensive efficiency on KenPom in five of the last six seasons. You combine that with our offensive capabilities and I think we'll be tough to beat. This team has a veteran presence and Sampson will appreciate that. Let me know when it's time for the parade, fellas.
No. 3 pick (Gasaway): Shaka Smart, Marquette Golden Eagles
Took a long look at a certain reigning national championship coach for this pick before going with the last guy to beat him. Marquette edged UConn in the Big East semifinals, won the auto bid, then lost by nine in the round of 32 to Michigan State. It was the first game in four months where Marquette committed more turnovers than its opponent. Smart gets it done with shot volume, plus he's the youngest coach picked here by about a million years. He will relate to this young team. Tournament success and the inevitable reprise of VCU 2011 will follow.
Full rosters
| Round | Jeff Borzello | Myron Medcalf | John Gasaway |
| --- | --- | --- | --- |
| 1 | Zach Edey (C) | Kyle Filipowski (C) | Hunter Dickinson (C) |
| 2 | Justin Moore (G) | Tyler Kolek (G) | Max Abmas (G) |
| 3 | Wade Taylor IV (G) | Terrence Shannon Jr. (G) | Zakai Zeigler (G) |
| 4 | Donovan Clingan (C) | Justin Edwards (G) | Isaiah Collier (G) |
| 5 | Tyrese Proctor (G) | Armando Bacot (F) | Graham Ike (F) |
| 6 | Aidan Mahaney (G) | LJ Cryer (G) | Dillon Jones (F) |
| 7 | Kevin McCullar Jr. (G) | Jamal Mashburn Jr. (G) | Nijel Pack (G) |
| 8 | Bryce Hopkins (F) | DaRon Holmes II (F) | Stephon Castle (G) |
| Coach | Bill Self | Kelvin Sampson | Shaka Smart |
Final thoughts
Borzello: As usual, my team has the fewest weaknesses and the most lineup versatility in the group. In an increasingly positionless sport, six of my eight players can make shots from the perimeter and five of them can initiate offense and create for others. I have lottery picks in Proctor and Clingan, veteran winners in Moore and McCullar, breakout stars in Taylor, Mahaney and Hopkins — oh, and the best player in the sport in Zach Edey. And at the helm, I have a coach who has won playing two bigs and won starting five guys 6-8 or shorter. We've got it all.
Medcalf: I think we're a balanced, athletic, disciplined team with the highest ceiling in this draft. I have three first-team AP preseason All-Americans on my squad. My colleagues don't have that. I think I also have a coach who will demand consistent defense. But we won't sacrifice talent. We have legit NBA prospects and real shooters. Holmes off the bench is a great addition, too. I only have one question: To whom will I send my address when it's time to give us our trophy?
Gasaway: For as long as we've been doing these fantasy drafts I've been absolutely dominating my well-meaning but hopelessly overmatched colleagues. (Well, except for that time where the coach I picked went 10-21 over the ensuing season. Ancient history!) My 2023-24 fantasy team is merely the latest towering example in this immaculate run. With Dickinson I have this draft's only dominant paint scorer who can also score outside the arc. My 3-point shooters are unmatched. The rebounding will be dominant, the assists will fly and this time my coach will do better in real life than 10-21. I am pleased.