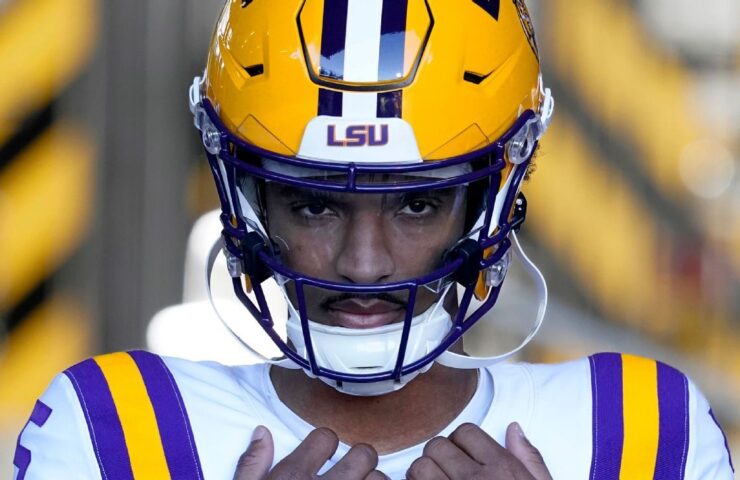 'Phenomenal': LSU's Jayden Daniels plays the game with reckless abandon
Alex Scarborough, ESPN Staff WriterNov 1, 2023, 06:40 AM ET

Close

Covers the SEC.
Joined ESPN in 2012.
Graduate of Auburn University.
BATON ROUGE, La. — In a scene that's become all too familiar this season, LSU quarterback Jayden Daniels deftly escaped the pocket only to take off and run with reckless abandon, absorbing the type of body blows that make coaches and fans alike wince.
No, this wasn't that cringeworthy hit against Florida State or that breathtaking hit against Ole Miss or that freight train of a hit against Mississippi State. This was the shot Daniels took on the road at Missouri, the one that finally knocked him out of the game. After corralling an errant snap, splitting two defenders and cutting upfield, he crossed the goal line for an apparent touchdown. But just as he relaxed and dropped his shoulders into a defenseless posture, linebacker Chuck Hicks came out of nowhere and drilled him squarely in the back and tackled him to the ground.
As tight end Mason Taylor pleaded with officials for a personal foul, Daniels popped up quickly and tried to play it off. But he felt a sharp pain in his ribs growing more acute by the second. Unsteady on his feet, he tapped his helmet to signal he needed a substitution. He fell to a knee about 10 yards short of the sideline, where a pair of trainers huddled around him.
"It's a TV timeout," the trainers advised him. "You've got time."
"Nah," Daniels said. "I've got to get off this field."
If he was going to get looked at, it wasn't going to be in full view of everyone in the opposing stadium. Best not to let them see him vulnerable.
As he was helped to the privacy of the medical tent, coach Brian Kelly checked on his star QB.
"You good?" Kelly asked. "Can you finish the game?"
"Give me a minute," Daniels said. "I just need a minute."
Inside the tent, while his ribs were being examined, Daniels noticed his left hand was swollen. That was new, he thought. "I think it got hit by a helmet," he said, unsure of when the injury occurred. The trainers asked if he was OK, and he didn't hesitate. "Yeah," he told them, "I need to go back out there."
Editor's Picks
2 Related
Backup quarterback Garrett Nussmeier had finished out the series, which continued because of a false start penalty that negated Daniels' touchdown and ended with a missed field goal. After Missouri went three-and-out, Daniels went back in the game. Four plays later, he threw a strike to Malik Nabers for a 35-yard reception. Every little movement stung, though he tried not to let it show. Throwing the football, he said, "hurt a lot."
But on third-and-3, Daniels took one step backward, planted his back leg on the Missouri 40-yard line and took off. Bruised ribs and aching hand be damned, he knifed through the front seven, past a hapless linebacker, past a sprinting safety and ran untouched until he was tackled while falling into the end zone to give LSU its first lead of the game.
"I could feel the pain in the moment," Daniels recalled, "but I had to help my team win."
LSU did win as Daniels completed 15 of 21 passes for 259 yards, three touchdowns and no interceptions. He also ran for 130 yards and a score. Missouri coach Eli Drinkwitz found Daniels on the field after the game, gave him a hug and tapped his helmet in a sign of respect. When he met with reporters later, Drinkwitz said Daniels is "as good as any quarterback I've ever gone against."
Kelly handed Daniels the game ball in the locker room and called him a "warrior" a year after wondering if Daniels, at a slender 190 pounds, could handle the job.
The challenge ahead is twofold, beginning with a trip to Alabama on Saturday (7:45 p.m. ET, CBS). The outcome will likely determine LSU's future as a playoff contender and Daniels' status as a Heisman Trophy front-runner.
To reach those tandem goals, Daniels will have to keep posting show-stopping numbers and keep getting up after show-stopping hits.
"They're the No. 1 offensive team in the country and it starts with the quarterback, Jayden Daniels," Alabama coach Nick Saban said Monday. "I mean, this guy is a phenomenal player."
LSU coach Brian Kelly said he is happy to have been proved wrong when it comes to Jayden Daniels' toughness. Ed Zurga/Getty Images
KELLY INITIALLY HAD his doubts about Daniels, whether it was his durability or his decision-making. Kelly said they brought Daniels in from Arizona State and weren't exactly sold that "he's our guy."
They weren't sure he'd beat out Nussmeier for the starting job. When Daniels injured his foot shortly after arriving on campus, Kelly groaned, "Oh, he's from the West Coast. He's not very tough."
Kelly smiled thinking back on that moment. He has never been so happy to be proved wrong.
Kelly said last year's game between LSU and Alabama provided a sample of what Daniels was capable of.
Daniels remembers standing on the sideline inside Tiger Stadium and watching what seemed impossible as Alabama quarterback Bryce Young followed the five D's of dodgeball: dodge, duck, dip, dive and dodge. The reigning Heisman Trophy winner at the time looked like Houdini as he escaped the LSU pass rush and found a wide-open Ja'Corey Brooks for the go-ahead score with less than five minutes left in the fourth quarter.
Then, Daniels said, Young turned toward the LSU sideline and smirked.
A year later, Daniels remembers it clear as day. The defining moment of the game and that season wasn't the touchdown and 2-point conversion later in overtime, he said, it was the drive LSU put together in response to Young's heroics: a methodical seven-play, 75-yard march in less than three minutes, featuring a 31-yard run by Daniels to extend the drive on third down and a 7-yard touchdown pass to retake the lead.
Daniels relished the chance to be a part of what he'd only dreamed of as a kid — Alabama-LSU, at night, in prime time. "Those are the big moments," he said.
After the game, Daniels and Young spoke. The Southern California natives have known one another since they were in elementary school, competing in youth games and camps. "You know," Daniels said of last spring's No. 1 overall pick in the NFL draft, "he's never beaten me."
LSU's 1-point victory over Alabama catapulted the Tigers to the SEC championship game. No one — especially not Kelly — is saying that Daniels was anything other than good during his first season at LSU. He threw for just shy of 3,000 yards, 17 touchdowns and only 3 interceptions. And he ran for a team-high 885 yards. He threw the most catchable ball in the country (83% catchable pass rate).
But he rarely took shots downfield, ranking 103rd in rate of pass attempts 20-plus yards downfield (10.6%).
Allstate Playoff Predictor
How will Saturday's top games affect the College Football Playoff chase? What are the current odds for the top four? The Allstate Playoff Predictor has the answers. Check back every week as the odds are updated following that week's games.
The lack of explosive plays was a drag on the offense.
During a practice before this season, Kelly said, he pulled Daniels aside.
"This drill," he told his quarterback, "is set up for you to be aggressive and to make those tough throws. Don't be afraid to put it into tight coverage. Don't be afraid to make that throw that is being contested."
Kelly wanted Daniels to trust his eyes, his arm and his receivers.
"For some reason, everything had to be wide open or it wasn't open at all," Kelly said.
Nabers admitted he got frustrated with Daniels' careful nature as well. The team's No. 1 receiver recalled another practice this summer when he couldn't get Daniels to look his way.
"Bro," Nabers told Daniels, "just throw it up."
Daniels told Nabers he wasn't open, and he wasn't technically wrong. Nabers was garnering a lot of double coverage.
"I don't care. Just throw it up," Nabers told him. "They look like they're beside me, but I'm getting past them."
Nabers said they watched film together that evening and Nabers pointed out how he was, in fact, pulling away from the defensive backs as the play developed. Nabers said Daniels relented, "All right, I'm going to give you some chances."
The defense still double-covered Nabers during the next day's practice, but this time Daniels gave him a chance.
"And he was launching them and I was jumping over people and just making plays," Nabers recalled, smiling. "I was like, 'Bro, I told you.'"
Nabers sat in the corner of LSU's indoor facility last week, looked out on the practice field and reminisced. Because Daniels joined the team so late last year — the day before spring practice — and he wasn't named the starting quarterback until September, Nabers said they didn't have the time they needed to get on the same page. But this offseason was different.
They spent so many early mornings out here, Nabers said, running through the entire route tree. Countless reps. Countless conversations. Daniels and his receivers learned about one another over the course of months — on the field and off it. And the result was a combination of chemistry and trust that's paying off today.
But there was another piece that went into Daniels' transformation this season. Rarely does a quarterback go from being timid to decisive.
Preparation, Daniels said, has been the key.
Jayden Daniels relishes the chances to play in big games like Saturday night's matchup with Alabama. Ed Zurga/Getty Images
IT COULDN'T HAVE been later than 6 a.m., Kelly recalled, noting that the sun hadn't risen by the time he pulled up to the football facility the morning after the Week 6 Missouri game. As he parked his matte black Tesla, Kelly looked around the mostly empty lot and noticed Daniels' car.
Checking to make sure Daniels hadn't left it there the night before, Kelly walked to the quarterback room, where he found Daniels in his own world, watching film.
Daniels not only skipped sleeping off his injuries, he beat almost the entire coaching staff to the office.
"OK," Kelly said he thought, "this is a little different."
Kelly said it's the first time he has ever been surprised like that. And, he added, it's a credit to the habits Daniels developed this season. It's like clockwork. Daniels comes in early every morning, watches film on his own and then spends a few hours in the training room before most of his teammates have even started their day. From there, it's on to practice and then back home.
"He is a pro," Kelly said. "Everything he does, a pro would do it the same way."
True to his routine, Daniels was back in the quarterback room on a Wednesday morning during the bye week. A graphic of a pointing Joe Burrow looming large over his right shoulder, Daniels sat down, shut the lights off and began scribbling notes as a recording of the Alabama-Tennessee game played on the projector. It took half the season to fill up his notebook, he said, so he switched to an iPad for more storage.
He put his pen down and gripped a football with both hands as he spoke to a reporter. The light from the projector illuminated the embossed words on the worn leather: "National Football League."
Yes, Daniels said, he thought long and hard about turning pro after last season. He spent about a week and a half deliberating the pros and cons. Five years of college had seemed like more than enough. But he knew the quarterback class was going to be crowded. Young and Ohio State's C.J. Stroud would be the first two quarterbacks off the board — "and rightfully so," he said. While he believed he was just as talented as them, Daniels acknowledged that not everyone felt the same way.
"It wasn't my time yet," he said. "It was best for me to come back as one of the few returning starters in the SEC. So it was like, 'OK, I'm going to come back and not live with any regrets.'"
Kelly didn't take the decision for granted.
"I thought we had to show him the plan," he said. "I thought if we didn't recruit him, if we didn't show him why we felt it was important for him to be here, if we didn't open up avenues for NIL, if we didn't do those things, I think it could have made it easier for him to go."
Kelly paused for a moment when asked whether Daniels is making more money now than he would have as a rookie in the NFL.
"Yes," he said.
Daniels acknowledged that NIL made his choice to come back easier, but that it wasn't the end-all, be-all. He knew he had room to improve if he was going to leave no doubt that he was worthy of a high draft pick. "I wanted to take my game to the next level," he said.
So he changed his practice habits, getting in early each day. He also incorporated virtual reality training, donning a headset three times a week to get a better feel for the defenses that he'll face and the look and feel of opposing stadiums.
He did some serious self-scouting as well, he said. And what he found was that while he could recognize the coverage and spot the open receiver, he was too hesitant.
"It's a mental battle," he said. "My preparation, that's what made me confident. Last year, I was thinking a lot while I was playing. This year, I just wanted to go out there, play football, just play fast and have fun."
Daniels has made a Burrow-esque Year 2 leap. He's tied for the FBS lead in touchdown passes (25) — despite throwing only three interceptions — and ranks second in Total QBR (91.8). His rate of passes thrown 20 or more yards downfield per game has gone up from 10.6 to 14.9; no one has more completions of 20-plus yards this season (49).
If he'd turned pro and spent the year as a backup, he might never have gotten the reps needed to develop a more well-rounded game. In conversations with scouts, Kelly said he has told them, "You won't have to worry about who's first in, who's last to leave, the tone in your locker room. You already have a pro."
Jayden Daniels isn't shy about running with the ball despite a slender frame. He led the Tigers in rushing yards last season and is second on the team this year. Julio Aguilar/Getty Images
DANIELS BROKE INTO the open field against Auburn and decided, now's the time.
He was going to show Nussmeier and the rest of the quarterbacks they were wrong about his inability to slide. But to quote the immortal Woody in "Toy Story," what happened next wasn't exactly a textbook slide. It was more like Daniels was "falling with style."
"I turn to the sideline and everybody's cheering," Daniels recalled.
But they were laughing, too.
"It was awful," Kelly said.
He asked Daniels whether he'd played baseball before. Daniels shook his head no.
"It looks like it," Kelly told him.
So maybe he slides differently than most people, Daniels said, "but it's effective."
"It still worked out the same way," he added. "I still pop right back up."
True. But Kelly and the rest of the coaches are glad he's at least making an effort to get down and protect himself from those big hits. They marvel how, given his slight frame, he keeps popping back up. A staff member compared him to Gumby — you can't break bones that aren't there.
Strength and conditioning staffers have told Kelly that although Daniels — standing 6-foot-4 — weighs only about 190 pounds, his body density is close to 170.
"He just needs to take what's available and then be smart," Kelly said. "I think he's more aware of it now, and hopefully he'll continue to make a better choice than getting cut in half."
Daniels knows it's a long season and he needs to protect himself.
"If we want to accomplish what we need to accomplish," he said, "I need to be healthy."
Get your favorite live sports, stories and originals with ESPN+, Disney+ and Hulu. Upgrade to a Disney Bundle plan and start streaming something for everyone today!
But just as he has to be unafraid in the passing game, he can't be timid tucking the ball and running. He can't help that he's hardwired to fight for extra yards. It's a product, he said, of playing defense growing up.
"I've always been a fearless runner," he said. "Even though I'm a quarterback now, I was never afraid of contact."
As a kid, he played in the streets of San Bernardino, California, where he said the rule was if it's not broken, "shake it off." After you get over the initial shock of a big hit, he added, the pain is usually manageable.
"He's a tough kid," Kelly said. "Tougher than I ever thought he was."
The team, in turn, feeds off that toughness.
"I don't know what he's been throughout his life, but when you come to Louisiana, we're different," Nabers said. "When we play football, we don't care. We don't care if we got a bump or bruise. We don't care if we got a hurt ankle, we're going to get back up and we still keep going. So I think that he found his Louisiana way. That's him showing that, 'I'm from Cali, but I'm in The Boot now.'"
No one appreciates it more than Nabers when Daniels hangs in the pocket and throws passes deep downfield. But he's no different from the rest of us when Daniels flees the pocket. He becomes a fan. He said he'll catch himself thinking, "Oh, he's breaking out, he's juking, he just broke a tackle."
"He'll be flying," Nabers said, forgetting that he needs to transition into a blocker.
And then Daniels runs into traffic, and Nabers is a fan all over again — this time a concerned one. He'll find himself shouting, "Dude, go down, go down."
"Damn," he said, thinking back to one of those midair collisions, "that's got to hurt.
"He said it doesn't hurt. But I'm like, 'Yeah, but one of them will.'"