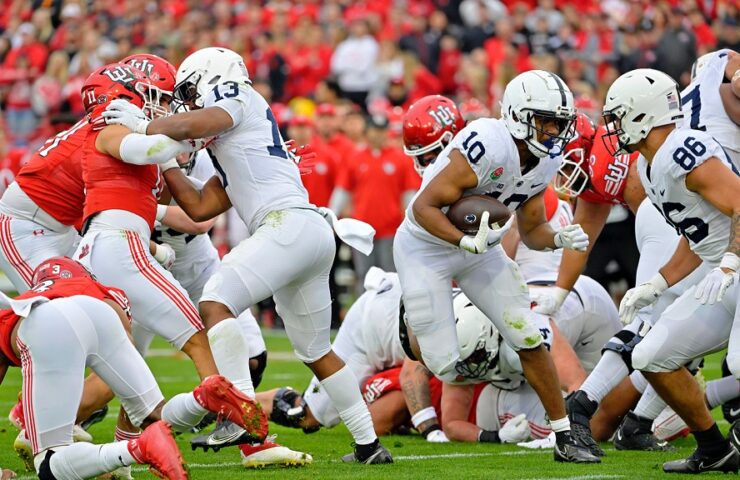 Penn State 35, Utah 21 Rose Bowl What Happened, What
Penn State beat Utah to win the Rose Bowl. What happened, who was the player of the game, and what does it all mean?
Penn State 35, Utah 21 Rose Bowl What Happened, Player of the Game, What It All Means
– Contact/Follow @ColFootballNews & @PeteFiutak
Rose Bowl What Happened
– 14-14 at halftime, the game broke wide open with two huge plays. Nick Singleton took a handoff 87 yards for a score in the third, KeAndre Lambert-Smith took a pass 88 yards for a touchdown in the fourth, and Utah didn't wasn't able to get back on the board until the final seconds.
– Utah kept up in the first half with a short touchdown catch from Thomas Yassmin and Ja'Quinden Jackson ran for a 19-yard score, but the offense stalled and the game turned when QB Cam Rising was knocked out for the game. Penn State scored 21 straight points before Utah backup Bryson Barnes found Jaylen Dixon for a five-yard touchdown.
– The Penn State defense took over with six sacks – two from Curtis Jacobs – and force two turnovers. Utah moved the ball with a slew of methodical drives, but the points were there in the second half without Rising.
100 Best Bowl Players | Ranking How Good the Bowls Were
Rose Bowl Player of the Game
Sean Clifford, QB Penn State
He completed 16-of-21 passes for 279 yards and two scores.
Rose Bowl Fun Stats
– Before getting hurt, Utah QB Cam Rising completed 8-of-21 passes for 95 yards and a touchdown with a pick, and he ran for 56 yards.
– Average Yards Per Throw: Penn State 12.7 – Utah 5.2
– Time of Possession: Utah 35:13 – Penn State 24:47
Rose Bowl What It All Means
Penn State got its Rose Bowl under James Franklin. The team closed with five straight wins after the tough loss to Ohio State. After opening the season with a fight of a win over Purdue, the other 11 victories were by double-digits. The only two losses were to two College Football Playoff programs.
4-4 now in bowls under Franklin, Penn State lost the Outback to Arkansas last year and went on a roll ever since.
Utah had yet another amazing season under Kyle Whittingham. With a Pac-12 Championship and a second straight trip to the Rose Bowl, the amazing run continues as the conference's current power program.
Cam Rising going out of the game played a huge role, but he didn't play defense. Penn State was just that explosive and just that good. With the defeat, this is Utah's fourth straight bowl loss since winning five in a row since 2011.
– 2022-2023 Bowl Schedule, Predictions