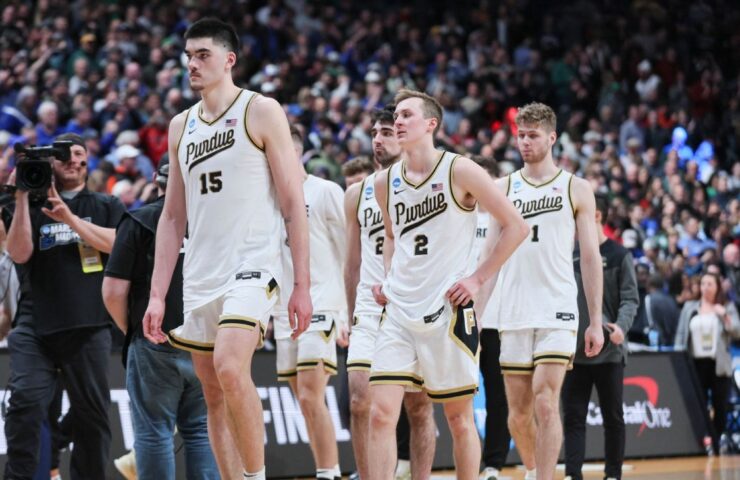 Notable Bets: Why a Las Vegas pro bet a lot
Steve Fezzik, a longtime Las Vegas pro bettor, admits it: He bet a lot — potentially upwards of $100,000 — for a chance to win just a couple thousand dollars on heavily favored Purdue to beat Fairleigh Dickinson on Friday in the opening round of the NCAA tournament.
To Fezzik, it was "simple logic." The top-seeded, fully motivated Boilermakers were 23.5-point favorites against an undersized 16-seed in Fairleigh Dickinson. Fezzik believed Purdue had greater than a 99% chance of winning the game, while the moneyline odds being offered on the Boilermakers reflected a slightly lesser chance, somewhere around 98.1%. So even though he was betting a lot to win a little, he believed he had an edge.
He announced his intentions Friday morning on Twitter: "Trying to decide how much I should invest in Purdue -4500 moneyline. 99% plus bet. Good value," he tweeted ahead of the game.
His next tweet would be a mea culpa, after Fairleigh Dickinson stunned the Boilermakers on Friday to become the second 16-seed ever to beat a No. 1 seed. It was the biggest upset in the tournament since the field expanded to 64 teams in 1985, and Fezzik lost two big bets on it.
"Apologies all. I personally bet Purdue Moneyline and that was certainly a tough one," he posted Friday night after the FDU upset. "I apologize for sharing that, and for anyone that followed my tweet after I called it out as a very good bet."
In a direct message exchange Sunday on Twitter, Fezzik said he bet $40,000 on the Boilermakers on the money-line at -5,200 odds with Las Vegas sportsbook Circa, a wager that would've paid around a net of $800. He added that he bet even more on the Purdue moneyline at another location at -4,500 odds.
A $60,000 bet at -4,500 odds would've won just over $1,300. Fezzik didn't offer specifics on the amount of his second big bet on the Boilermakers, but at the guesstimated amounts above, it appears he lost $100,000 trying to win $2,100.
An experienced bettor, Fezzik is the only person to win the prestigious NFL handicapping contest, the SuperContest, in consecutive years. With curly brown hair and glasses, he's been running around Las Vegas for decades trying to beat the books, and he claims to have compiled more than $1 million in winnings from handicapping contests. He's also a polarizing figure in the betting community, mostly because of his work as a tout, selling picks.
Fezzik says he didn't give out Purdue moneyline to his clients and seemed to feel worse about not including a disclaimer when he posted his plans to lay the hefty price on the Boilermakers than he did about the actual losses.
"I was pretty irresponsible, when … I tweeted it, to not warn people to not bet a big percent of their bankroll, since obviously bets like this are never 100% locks," Fezzik said. "No one should have their tournament ruined by such a bet."
He also called himself lazy and lamented not shopping around the betting market more to find the best money-line price on the Boilermakers being offered at sportsbooks.
Fezzik said he watched the game closely and placed several live wagers on Fairleigh Dickinson to help mitigate his losses. "Still took a bath on my preflop bets, but mitigated the damage actively managing it," he said.
After it was all over, Fezzik says he lost "about 20K on the game" but is undeterred and plans to bet a lot to win a little against another long shot in the coming weeks.
"I will continue to bet the 20-plus point favorites in the tournament, going forward, but will be much more active to get the best price," he said. "Further, I plan to bet Tiger [Woods] will lose the Masters, -6,000-ish. No way he wins 1% of the time.
"So, when that loses, they can put me the Sports Betting Hall of Shame."
Notable bets from March Madness
Editor's Picks
2 Related
• Favorites went 24-23-1 against the spread in the first two rounds of the tournament, with 32 of 48 games going under the total.
There have been 16 outright upsets so far, tied for the seventh most in an NCAA tournament since the field expanded to 64 teams in 1985, according to ESPN Stats & Information.
The mix of favorites and underdogs covering the spread, the plethora of big upsets and the slew of games that stayed under the total produced overall positive results for some sportsbooks.
"I'd call it a solid weekend," John Murray, executive director of the SuperBook, said Sunday night as the final games were winding down. "We are going to come out of the four-day period a solid winner across the board, but just how much of a winner will depend a lot on the Gonzaga game tonight versus TCU. We have a lot of parlays going to the Bulldogs on the money line. If TCU springs the upset, Saturday and Sunday could only be classified as great days."
TCU didn't knock off the favored Bulldogs, but the Horned Frogs did give bettors something to remember.
TCU ran the cover play here https://t.co/ktpKW2Bavd

– Todd Fuhrman (@ToddFuhrman) March 20, 2023
Gonzaga, which closed as 4.5-point favorites, hit two free throws to take a six-point lead with 0.7 seconds to go. TCU inbounded the ball and let it bounce over half court before touching it to preserve time. TCU's Damion Baugh picked up the ball and launched a 3-pointer that swished as time expired, making the final score 84-81, with the underdog Horned Frogs covering the spread.
• Not everyone, to use Fezzik's words, took a bath on Fairleigh Dickinson's historic upset. DraftKings confirmed that a customer who has chosen to remain anonymous placed a $33,000 in-game bet on Fairleigh Dickinson when the Knights' odds were 15-1, and won $528,000.
FDU's upset produced the biggest loss of any game in the first two rounds for Caesars Sportsbook.
"When you're talking about 20-to-1 odds, it doesn't take a lot of money to build up a lot of liability, and that's what happened," said Adam Pullen, assistant director of trading for Caesars Sportsbook. "It was a bad game for Caesars Sportsbook, but it was a great game for college basketball."
• The worst game of the opening two rounds for the SuperBook was San Diego State covering the 5-point spread against College of Charleston on Thursday. Trailing by four, Charleston was called for a foul with one second remaining. A video review showed there was time left on the clock when the foul was committed, and SDSU sank both free throws to cover the spread.
"That was painful," Murray said. "It was a tough scene in the risk room, watching them add time to the clock and march down to the other end of the floor for those two free throws to cover the spread. Your readers would have been sobbing if they could have seen our faces as we ran all the different final scenarios during that fiasco. Painful."
• Saturday hurt the betting public the most, particularly outright losses by favorites Duke and Kansas. Tennessee took down Duke in what Murray called the best game of the tournament so far for the SuperBook.
"We were loaded with Duke money line and Duke minus the points and scooped the pot," Murray said. "Bookmakers look really smart when Duke and Kansas lose on the same day during the opening weekend of the NCAA tournament."
• Sweet 16 opening lines via Caesars Sportsbook:
Florida Atlantic Owls vs. Tennessee Volunteers (-5.5, 131)
Michigan State Spartans (pick 'em, 138.5) vs. Kansas State Wildcats
Arkansas Razorbacks vs. UConn Huskies (-3.5, 139)
Gonzaga Bulldogs vs. UCLA Bruins (-1, 145.5)
Miami Hurricanes vs. Houston Cougars (-7, 138.5)
Xavier Musketeers vs. Texas Longhorns (-4, 148.5)
San Diego State Aztecs vs. Alabama Crimson Tide (-6.5, 138)
Princeton Tigers vs. Creighton Bluejays (-9.5, 140)