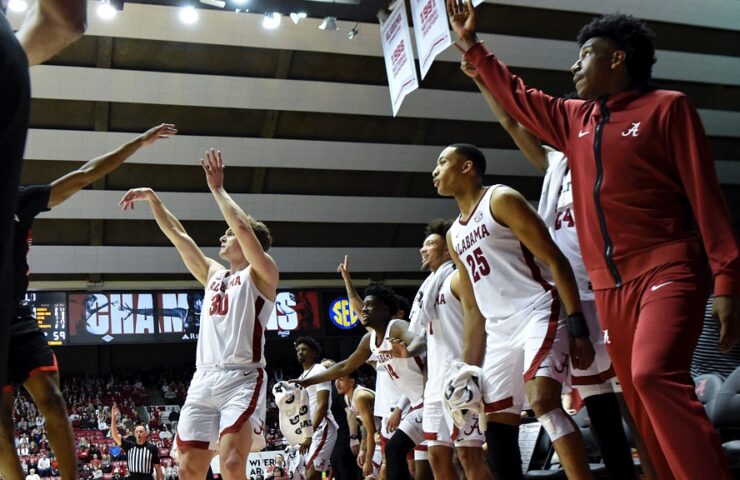 NCAA Tournament Bracket Projections, 68 Team Predictions, Bubble Teams February
NCAA Tournament bracket projections and predictions for where the 68 teams will be. Who's likely to be in, and who's on the bubble?
NCAA Tournament Bracket Projections
– Contact/Follow @ColFootballNews & @PeteFiutak
– CFN 1-68 Rankings, February 20
We'll change this up if something insane happens in Sunday's games, but looking ahead – and knowing that some of these teams will be knocked out by some random mediocre team that wins a major conference tournament championship – here's our best guess what the NCAA Tournament seeds will be.
NCAA Tournament Bubble: Projected First Four Out
North Carolina (ACC)
Oregon (Pac-12)
Utah State (Mountain West)
Wisconsin (Big Ten)
Previous Version
New Mexico (Mountain West)
Oregon (Pac-12)
USC (Pac-12)
Wisconsin (Big Ten)
NCAA Tournament Bubble: Projected Last Four In
aka, these four will probably be knocked out once the conference tournament weirdness kicks in
Boise State (Mountain West)
Clemson (ACC)
Nevada (Mountain West)
USC (Pac-12)
Previous Version
Boise State (Mountain West)
Mississippi State (SEC)
Nevada (Mountain West)
West Virginia (Big 12)
On the flip side …
NCAA Tournament Bubble: Four That Will Probably Screw Everyone Up
aka, these four are projected out teams that might end up getting in after going on a splashy run in the respective conference tournaments
North Texas (Conference USA)
Utah State (Mountain West)
Wake Forest (ACC)
Wisconsin (Big Ten)
Previous Version
North Texas (Conference USA)
Utah State (Mountain West)
Wake Forest (ACC)
Wisconsin (Big Ten)
NCAA Tournament Projected 16 Seeds
Texas A&M-Corpus Christi (Southland)
UNC Asheville (Big South)
Teams in Play-In Games
Grambling (SWAC)
Howard (MEAC)
Merrimack (Northeast)
Morehead State (Ohio Valley)
Previous Version
Northwestern State (Southland)
UNC Asheville (Big South)
Teams in Play-In Games
Fairleigh Dickinson (Northeast)
Grambling (SWAC)
Morehead State (Ohio Valley)
Norfolk State (MEAC)
NCAA Tournament Projected 15 Seeds
Colgate (Patriot)
Eastern Washington (Big Sky)
Vermont (America East)
Youngstown State (Horizon)
Previous Version
Colgate (Patriot)
Montana State (Big Sky)
Vermont (America East)
Youngstown State (Horizon)
NCAA Tournament Projected 14 Seeds
Iona (Metro Atlantic Athletic)
Samford (Southern)
UC Santa Barbara (Big West)
Yale (Ivy)
Previous Version
Furman (Southern)
Iona (Metro Atlantic Athletic)
UC Santa Barbara (Big West)
Yale (Ivy)
NCAA Tournament Projected 13 Seeds
Dayton (Atlantic 10)
Drake (Missouri Valley)
Kent State (MAC)
Utah Valley (WAC)
Previous Version
Dayton (Atlantic 10)
Drake (Missouri Valley)
Kent State (MAC)
Sam Houston (WAC)
NCAA Tournament Projected 12 Seeds
Boise State (Mountain West)
Charleston (Colonial)
Liberty (Atlantic Sun)
Oral Roberts (Summit)
Previous Version
Boise State (Mountain West)
Charleston (Colonial)
Liberty (Atlantic Sun)
Nevada (Mountain West)
NCAA Tournament Projected 11 Seeds
Mississippi State (SEC)
USC (Pac-12)
Teams in Play-In Games
Clemson (ACC)
Memphis (American Athletic)
New Mexico (Mountain West)
West Virginia (Big 12)
Previous Version
Clemson (ACC)
Southern Miss (Sun Belt)
Teams in Play-In Games
Memphis (American Athletic)
Mississippi State (SEC)
North Carolina (ACC)
West Virginia (Big 12)
NCAA Tournament Projected 10 Seeds
Arkansas (SEC)
Florida Atlantic (Conference USA)
Kentucky (SEC)
Nevada (Mountain West)
Previous Version
Kentucky (SEC)
Oral Roberts (Summit)
Pitt (ACC)
Texas A&M (SEC)
NCAA Tournament Projected 9 Seeds
Auburn (SEC)
Michigan State (Big Ten)
Missouri (SEC)
Pitt (ACC)
Previous Version
Duke (ACC)
Florida Atlantic (Conference USA)
Maryland (Big Ten)
Missouri (SEC)
NCAA Tournament Projected 8 Seeds
Illinois (Big Ten)
Oklahoma State (Big 12)
Rutgers (Big Ten)
Texas A&M (SEC)
Previous Version
Auburn (SEC)
Michigan State (Big Ten)
NC State (ACC)
Rutgers (Big Ten)
NCAA Tournament Projected 7 Seeds
Duke (ACC)
Maryland (Big Ten)
NC State (ACC)
Providence (Big East)
Previous Version
Arkansas (SEC)
Iowa (Big Ten)
Oklahoma State (Big 12)
Providence (Big East)
NCAA Tournament Projected 6 Seeds
Iowa (Big Ten)
Northwestern (Big Ten)
San Diego State (Mountain West)
TCU (Big 12)
Previous Version
Creighton (Big East)
Illinois (Big Ten)
Northwestern (Big Ten)
TCU (Big 12)
NCAA Tournament Projected 5 Seeds
Creighton (Big East)
Miami (ACC)
Saint Mary's (West Coast)
UConn (Big East)
Previous Version
Indiana (Big Ten)
Miami (ACC)
Saint Mary's (West Coast)
San Diego State (Mountain West
NCAA Tournament Projected 4 Seeds
Gonzaga (West Coast)
Indiana (Big Ten)
Tennessee (SEC)
Xavier (Big East)
Previous Version
Iowa State (Big 12)
Kansas State (Big 12)
UConn (Big East)
Xavier (Big East)
NCAA Tournament Projected 3 Seeds
Iowa State (Big 12)
Kansas State (Big 12)
Marquette (Big East)
Virginia (ACC)
Previous Version
Gonzaga (West Coast)
Texas (Big 12)
Marquette (Big East)
Virginia (ACC)
NCAA Tournament Projected 2 Seeds
Arizona (Pac-12)
Baylor (Big 12)
Texas (Big 12)
UCLA (Pac-12)
Previous Version
Baylor (Big 12)
Kansas (Big 12)
UCLA (Pac-12)
Virginia (ACC)
NCAA Tournament Projected 1 Seeds
Alabama (SEC)
Houston (AAC)
Kansas (Big 12)
Purdue (Big Ten)
Previous Version
Alabama (SEC)
Arizona (Pac-12)
Houston (AAC)
Purdue (Big Ten)
– CFN 1-68 Rankings, February 20
Coaches Poll, All-Time College Basketball Rankings
1950s | 1960s | 1970s | 1980s | 1990s | 2000s | 2010s | 2020s
AP Poll, All-Time College Basketball Rankings
1950s | 1960s | 1970s | 1980s | 1990s | 2000s | 2010s | 2020s
College Football All-Time Rankings Coaches Poll | AP Poll