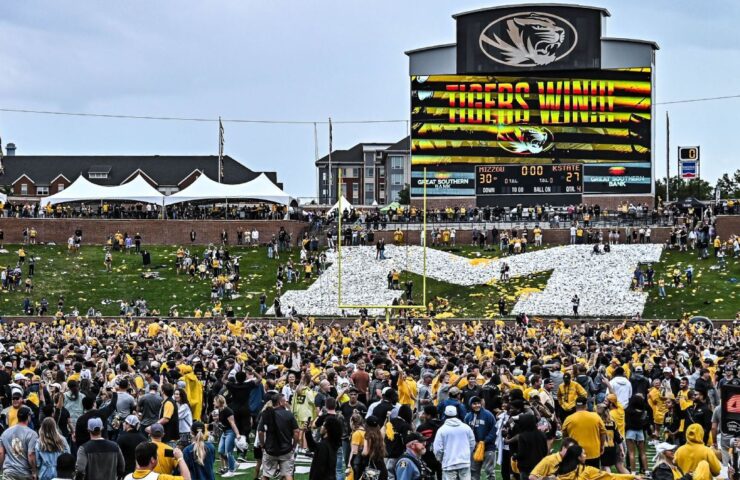 Mizzou fined $100K for field rush under new policy
Alex Scarborough, ESPN

Personnel WriterSep 17, 2023, 06:34 PM ET Close Covers the SEC.Joined ESPN
in 2012.
Graduate of Auburn University.Missouri became the first school to be fined under the SEC's revised policy after fans hurried the field in Columbia following Saturday's 30-27 walk-off win over Kansas State.Because it was Missouri's first offense, the school will pay$100,000.

The cash will go to the SEC Post-Graduate Scholarship Fund.Editor's Picks The conference, during its yearly spring meetings, voted to increase fines for breaching the field gain access to policy. A school's 2nd offense will lead to a$250,000 fine. A$500,000 fine will be handed out for 3rd and subsequent offenses.According to the policy, "organizations shall limit access to competitors areas to getting involved student-athletes, coaches, officials, assistance workers and properly credentialed

or authorized people at all times. For the security of individuals and spectators alike, at no time prior to, throughout or after a contest might viewers get in the competitors area."Missouri beat then-No. 15 Kansas State on Harrison Mevis '61-yard basket that divided the uprights without any time left.Mevis' kick set the record for the longest basket in SEC history. The previous record was 60 lawns, done three times, most recently in 1984 by Georgia's Kevin Butler and Florida's Chris Perkins.The Tigers, who improved to 3-0, will host Memphis on Saturday.