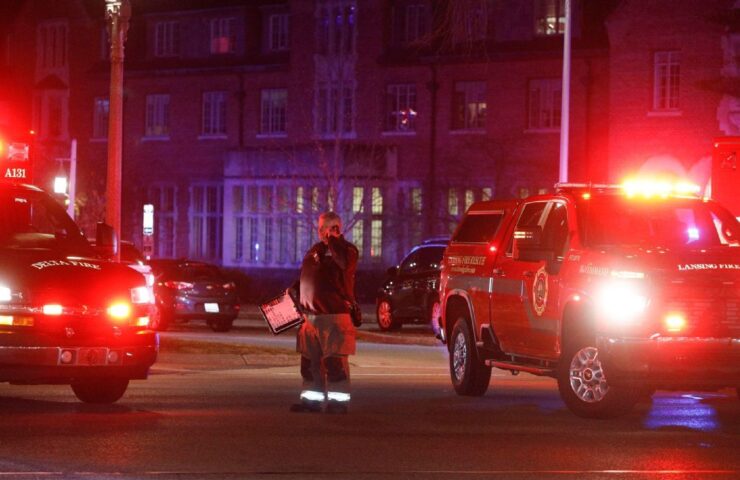 Mich. St. cancels athletic events after shooting
Police at Michigan State announced that all activities on campus, including athletics, have been canceled for the next 48 hours in the wake of a fatal shooting there Monday night.
Three people were killed and at least five others were wounded after the shooter opened fire shortly before 8:30 p.m. ET, according to university police. Interim Deputy Chief Chris Rozman said several victims suffered life-threatening injuries and that the five were in critical condition at Sparrow Hospital.
"This truly has been a nightmare we're living tonight," Rozman said.
The suspect — a 43-year-old man whose name was not immediately released but who was not affiliated with the university — was located outside of Michigan State's campus and died of an apparent self-inflicted gunshot wound, Rozman said in news conferences early Tuesday morning. He added that there was no longer an active threat on campus, leading to the shelter in place to be removed.
"We have no idea why he came to campus to do this tonight. That is part of our ongoing investigation," Rozman said.
Police had released photographs of the suspect after the shooting, describing him as a shorter Black male wearing red shoes, a jean jacket and a navy baseball cap with a light-colored brim. He remained at large for several hours.
The first shots were fired at Berkey Hall, a classroom building on the north side of campus. Shots were also fired at the MSU Union, a popular hub to eat or study, according to police. Students were ordered to shelter in place beginning at 8:30 p.m.
The Spartans men's and women's basketball teams were off Monday night, but the men's team was scheduled to host Minnesota on Wednesday at 7 p.m. ET. The Michigan State men's tennis team was scheduled to host Drake on Wednesday at 5 p.m. ET in the only other scheduled home athletic event through the next 48 hours.
The Spartans women's basketball team is scheduled to play at Purdue on Wednesday night, but it wasn't immediately known how that game might be impacted.
Rozman did say that the 48-hour window of cancellations is "subject to change."
Michigan State has about 50,000 students. Names of the victims weren't immediately released by police, nor was it known if they were Michigan State students.
Information from The Associated Press was used in this report.