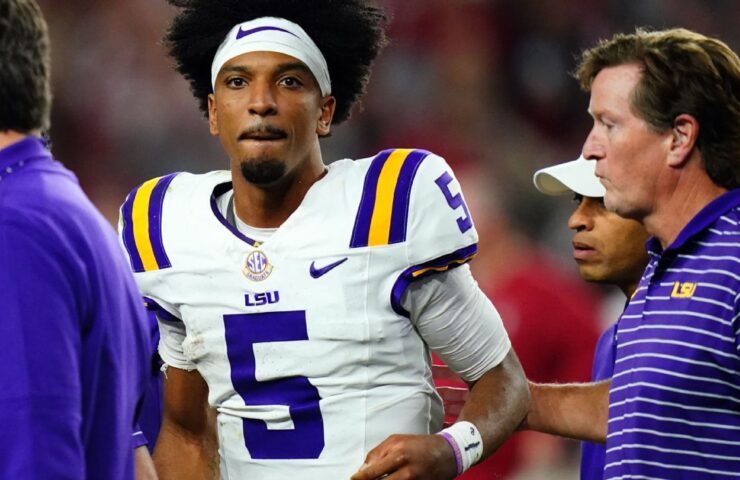 LSU QB Daniels in concussion protocol after loss
TUSCALOOSA, Ala. — LSU quarterback Jayden Daniels left the Tigers' 42-28 loss to Alabama in the second half, following a hit from Crimson Tide linebacker Dallas Turner on Saturday night.
Daniels, who tried to stay in the game, was later placed into concussion protocol after a stellar effort that saw him throw for 219 yards and run for 163 more in the loss.
"He had a head injury, was not able to come back," LSU coach Brian Kelly said after the loss. "We'll obviously have to put him through more testing before I can accurately say that was concussion, non-concussion, things of that nature."
Editor's Picks
2 Related
Later in his postgame news conference, Kelly was asked about any potential review of the Turner hit for targeting. The play did draw a roughing-the-passer flag, but nothing else.
"We asked them," he said. "They said the booth was reviewing it for targeting. Obviously, I don't have the ability to see that. But anytime there is contact to the head or neck area, you're thinking that there must be some form of targeting."
Daniels lay face down before walking off the field. His mother came down to the medical tent to check on him.
"They reviewed it," Kelly added. "They didn't feel it was (targeting). So, we moved on."
Garrett Nussmeier finished the game for LSU. He completed 5-of-10 passes for 53 yards in a game where Alabama scored the final 14 points and pulled away.
"We're playing a Top 10 on the road. You can't play good," Kelly said. "We played good, (but) good's not good enough. You have to play elite when you go on the road and play a Top 10 team."
The Associated Press contributed to this report.