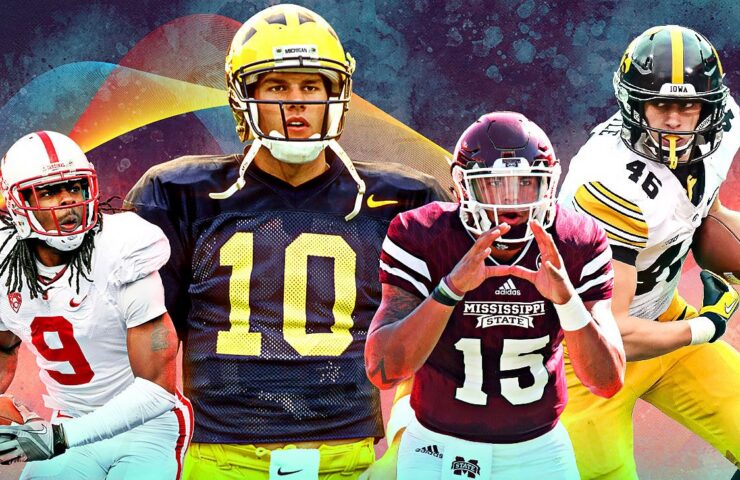 Late-round NFL draft finds for every Power 5 team, from
While much of the considerable attention paid to the NFL draft focuses on the first round and the top prospects, there is plenty of talent available in the later rounds. It's just a matter of finding it.
A team's draft class can be made by landing a diamond in the rough, a player who, for one reason or another, slips through the cracks for the first few rounds but ends up being a major contributor in the NFL. Sometimes it's the result of shrewd scouting, sometimes it's taking a chance on a player coming off an injury, sometimes it's dumb luck. Hitting it big with a top-10 pick is all well and good, but who doesn't love a bargain?
We're here to salute the best late-round NFL draft finds from every Power 5 school. Our parameters are players who were chosen in Rounds 4-7 (Day 3 of the current draft format) since 1994, when the draft went to seven rounds. We asked our college football reporters to pick the best player, based on their NFL career, who fits that criteria from each Power 5 school. Here's who they came up with.
Jump to a conference:
ACC | Big 12 | Big Ten
Pac-12 | SEC
ACC
Boston College
Matt Hasselbeck, QB (1998, sixth round, 187th overall, Green Bay)
At 6-foot-4 with a strong arm, it's easy to see how Hasselbeck might have been considered a serious prospect, but his relatively lackluster numbers at BC — 22 career TD passes, 26 interceptions — didn't exactly scream superstar. So he landed with Green Bay, where he backed up Brett Favre before following coach Mike Holmgren to Seattle. He spent a decade as the Seahawks' starter, made three Pro Bowls, and led the team to a 13-3 record and a Super Bowl appearance in 2005. He retired in 2015 with 212 career TD passes. — David Hale
Clemson
Grady Jarrett, DT (2015, fifth round, 137th overall, Atlanta)
Grady Jarrett went from sliding to the fifth round out of Clemson to becoming a top defensive tackle in the NFL. Tyler Smith/Getty Images
Jarrett was overlooked coming out of high school. He was a two-star prospect who was supposedly undersized for an interior lineman, but nobody worked harder. Jarrett became a star at Clemson, but he was usually overshadowed by teammate Vic Beasley, who would be selected in the first round in 2015. Jarrett slid to the fifth round, and both players ended up with the Falcons. Beasley had some solid years in Atlanta, but it was Jarrett who became a Pro Bowler and one of the top defensive tackles in the NFL, with 112 career starts, 32.5 sacks and 420 tackles to date. — Hale
Duke
Patrick Mannelly, long snapper (1998, sixth round, 189th overall, Chicago)
This honor will almost certainly belong to Michael Carter II soon. The former Duke safety was a fifth-round pick by the Jets in 2021, and he has already started 13 games with two picks and two fumble recoveries. But Carter is still at the outset of his career, and it's impossible to overlook the 16 years Mannelly spent in the NFL after being taken by the Bears in the sixth round in 1998. Hey, long snappers don't get much attention until they mess up, but there's no substitute for a good one, and Mannelly stayed in the league longer than any other Duke alum except Sonny Jorgensen. — Hale
Florida State
Vince Williams, LB (2013, sixth round, 206th overall, Pittsburgh)
There aren't many former Seminoles who truly fell below the radar when it came to NFL scouts, but Williams certainly wasn't a hot name in the 2013 draft. He had been a leader and critical figure during the difficult transition from the Bobby Bowden era to the Jimbo Fisher era, and his work in the middle of the defense helped set the stage for 2013's national title. Vince's younger brother, Karlos, actually seemed to be the more prominent prospect. But Vince Williams landed in the perfect spot. Drafted by the Steelers, he started 11 games as a rookie and remains one of Pittsburgh's defensive mainstays. — Hale
Georgia Tech
Dawan Landry, DB (2006, fifth round, 146th overall, Baltimore)
Georgia Tech actually has a lot of strong contenders for the honor of best late-round pick, from Dorsey Levens (fifth round in 1995) to Vance Walker (seventh round in 2006) to Darren Waller (sixth round in 2014) to Harrison Butker (seventh round in 2017). But Landry was the best of the bunch, spending nine years as a starter for the Ravens, Jaguars and Jets. He earned All-Pro honors as a rookie in 2006, when he picked off five passes, and finished his NFL career in 2014 with 13 career interceptions and three touchdowns. — Hale
Louisville
William Gay, CB (2007, fifth round, 170th overall, Pittsburgh)
Gay was a pivotal player for the 2006 Orange Bowl champion Louisville Cardinals, but despite running a strong 4.48 40 in the combine, he fell to the fifth round of the 2007 draft, landing with the Steelers, who have a knack for finding late-round talent. Gay went on to play 10 seasons with Pittsburgh (plus one year with Arizona in between), finishing with 13 career interceptions and helping the Steelers win Super Bowl XLIII. — Hale
Miami
Chris Myers, OL (2005, sixth round, 200th overall, Denver)
No one goes to Miami to fly beneath the radar — at least, not in the early 2000s — so there aren't many former Hurricanes who can claim the honor of being massively overlooked in the draft. Still, Myers didn't draw much attention entering the 2005 draft after playing tackle as a senior. The Broncos drafted him and moved him to guard, but it wasn't until he shifted to center and joined the Houston Texans that Myers found his niche. He started every game from 2007 through 2014, making two Pro Bowls, before retiring following his 10th NFL season. — Hale
NC State
J.R. Sweezy, OL (2012, seventh round, 225th pick, Seattle)
At NC State, Sweezy played on the defensive line and was considered a minor prospect. But Seahawks offensive line coach Tom Cable saw something in him and set up a private workout to test his footwork and strength to see if Sweezy might be able to make the change. It was a brilliant gamble. Seattle took Sweezy in the seventh round, but by the end of his rookie season, he was in the Seahawks' starting lineup at guard. He was a full-time starter the next two seasons in Seattle, when the Seahawks went to the Super Bowl both years. He played four more seasons after that with Tampa Bay, Arizona and the Seahawks, starting 70 games before retiring in 2022. — Hale
North Carolina
Gerald Sensabaugh, DB (2005, fifth round, 157th overall, Jacksonville)
Sensabaugh's college career began at East Tennessee State, where he was a three-year starter before transferring to North Carolina. As a senior with the Tar Heels, he racked up 78 tackles and three sacks. The Jaguars selected him in the fifth round, and he spent his first three seasons in Jacksonville as a part-time starter before blossoming in 2008 with 70 tackles and four interceptions. That landed him a free-agent deal with Dallas, where he spent the next four seasons as a regular contributor. He finished his career with 14 picks. — Hale
Pittsburgh
Damar Hamlin, S (2021, sixth round, 212th pick, Buffalo)
A four-year starter at Pitt, Hamlin was regularly among the ACC's top defensive backs, but he largely flew beneath the radar among NFL scouts. The Bills selected him in the sixth round, and he largely served as a backup during his rookie season in 2021. By 2022, however, Hamlin had emerged as a burgeoning star, starting 13 games with six tackles for loss and 93 total tackles. Hamlin drew national attention when he collapsed on the field in December after a hit and nearly died. His inspirational story galvanized fans across the world, and he said Tuesday that he has been fully cleared to return to playing football. — Hale
Syracuse
Zaire Franklin, LB (2018, seventh round, 235th pick, Indianapolis)
Franklin never wowed the scouts in college. He was perhaps a step too slow, an inch too short. But based on what he did on the field, there was no doubt the guy could play. He topped 80 tackles in 2015, 2016 and 2017, and he finished his college career with 31.5 TFLs. Indianapolis saw him as a worthy project, and while his first three seasons in the NFL amounted to just four starts, the bet paid off big in 2021 when Franklin racked up 40 tackles in 11 starts. Last season, he was the full-time starter and finished fourth in the league with 167 total tackles. — Hale
Virginia
Jason Snelling, RB (2007, seventh round, 244th pick, Atlanta)
OK, so Virginia doesn't exactly have a rich history of draft-day steals, but Snelling did carve out a solid NFL career despite being among the last players selected in 2007. Despite the fullback position waning in value at the time, Snelling was an impactful runner at Virginia before being drafted by Atlanta, where he would spend his entire seven-year NFL career. Snelling was a versatile back whose best season came in 2009, when he ran for 613 yards and caught 30 passes for 259 yards, scoring five touchdowns. He finished his career with 1,420 rushing yards and 1,249 receiving yards. — Hale
Virginia Tech
Kam Chancellor, S (2010, fifth round, 133rd pick, Seattle)
At Virginia Tech, Chancellor flirted with playing both quarterback and corner before finding a home at rover, where he excelled in Bud Foster's aggressive scheme. Still, it wasn't enough to earn much love from draft experts. Chancellor fell to the fifth round, but he found the perfect fit in Seattle, which had also just drafted safety Earl Thomas. The duo would help establish the Legion of Boom, one of the best defenses in the NFL. Chancellor played 109 regular-season games and 14 more in the playoffs, picking off 15 passes, scoring twice and racking up more than 700 career tackles. — Hale
Wake Forest
Desmond Clark, TE (1999, sixth round, 179th pick, Denver)
Clark was 6-3 and 230 pounds in college, but he was still primarily used at wideout, where, not surprisingly, he excelled in the red zone, catching eight TDs out of 59 grabs his senior year. Still, his size made him difficult to peg as a pro, and he slipped to the sixth round before Denver rolled the dice. In the NFL, he found a home at tight end, and — again, not surprisingly — he blossomed as a red zone target. He caught six touchdowns in 2001 — his final year in Denver — went to Miami for a year, then spent the final eight years of his 12-year career with the Bears. In all, he had 323 catches for 3,591 yards and 27 touchdowns. — Hale
Big 12
Baylor
Andrew Billings, DT (2016, fourth round, 122nd overall, Cincinnati)
Billings shared the 2015 Big 12 Defensive Player of the Year award with end Emmanuel Ogbah and was named the league's defensive lineman of the year. He was projected as a first-round pick after a strong combine performance but inexplicably fell to the fourth, where he was selected by the Bengals, with coach Marvin Lewis saying some teams were concerned about his height (6-1, at 311 pounds). He missed his rookie year with a knee injury and opted out of the 2020 season, but he has started 51 games over his other five NFL seasons. A valued run-stopper, Billings signed with the Chicago Bears in March. — Dave Wilson
BYU
Brett Keisel, DE (2002, seventh round, 242nd overall, Pittsburgh)
Keisel wasn't even the most sought-after BYU defensive end in his draft — those honors went to Ryan Denney — but his size and stats were decent enough for the Steelers to take a flier on him. After a few years as a special teamer, he found his way into the lineup by 2006, and he was in the Pro Bowl by 2010. — Bill Connelly
Cincinnati
Jason Kelce, C (2011, sixth round, 191st overall, Philadelphia)
A former walk-on running back, Kelce weighed in at just 280 pounds at the combine — far from NFL size — but he ran a 4.89 in the 40, and the Eagles took a chance on him. Five first-team All-Pro seasons and a Super Bowl later, it seems to have worked out pretty well for everyone involved. — Connelly
Houston
Elandon Roberts, LB (2016, sixth round, 214th overall, New England)
What to know for the 2023 NFL draft
Ranks: Kiper | McShay | Positional
Mocks: Kiper | McShay | Miller | Reid
• Biggest needs » | Riddick's favorites »
• QB Hot Board » | First-round grades »
• Scouting reports » | Order » | More »
Case Keenum has had a long NFL career, but he was undrafted, so we can't use him. Roberts, a 5-11, 234-pound inside linebacker, started his career at Morgan State, transferred to Houston and led the country in solo tackles in 2015 with 88 (of his 142 total tackles). He was a late draft find by the Patriots, starting five games his rookie season, then starting 28 more over the next three seasons in New England at multiple linebacker positions. He even filled in at fullback in 2019, catching a 38-yard touchdown pass from Tom Brady against Miami. He then signed with the Dolphins and was a starter the past three seasons at linebacker. He signed a two-year contract with the Pittsburgh Steelers last month. — Wilson
Iowa State
Ahtyba Rubin, NT (2008, sixth round, 190th overall, Cleveland)
At 6-2, 315 pounds, Rubin played offensive line his sophomore year in junior college, then flipped to defensive line at Iowa State. He emerged as an NFL prospect, arrived in Cleveland as a sixth-round pick and broke through as a starter after Shaun Rogers got injured. He ended up starting 107 games in 11 years in the NFL, mostly with the Browns, until starting for two seasons in 2015 and '16 with Seattle, finishing with 428 tackles and 15 sacks. — Wilson
Kansas
Justin Hartwig, C (2002, sixth round, 187th overall, Tennessee)
Hartwig was the prototypical "standout on a bad offense" for much of his time at KU, earning all-conference votes for teams that never topped 70th in scoring offense. He was a starter for six of his eight NFL seasons, starting out with Tennessee and eventually winning a Super Bowl with Pittsburgh. — Connelly
Kansas State
Darren Sproles, RB (2005, fourth round, 130th overall, San Diego)
Sproles rushed for 4,769 yards and 44 touchdowns during three standout seasons in Manhattan. He was an absolute star. What was the holdup? Size, of course: He measured 5-foot-6, 187 pounds. Just too small for the pros, right? Wrong. He produced 8,392 yards from scrimmage with nine career return touchdowns over a 15-year career. — Connelly
Oklahoma
Kelly Gregg, NT (1999, sixth round, 173rd overall, Cincinnati)
At 6-foot, 320-pounds, Gregg was a force at Oklahoma in his senior year with 117 tackles and 23 tackles for loss, still an OU record. But the NFL wasn't impressed with his measurables. He was drafted by Cincinnati but waived, then spent time on the Bengals' practice squad, signed with Philly and was waived, signed to Baltimore's practice squad and played in NFL Europe. He became the Ravens' starting nose tackle after Tony Siragusa left and ended up starting for eight years for Baltimore and one with Kansas City, retiring in 2011. Pro Football Focus named him to its All-Pro second team in 2009. — Wilson
Oklahoma State
Antonio Smith, DE (2004, fifth round, 135th overall, Arizona)
A junior college transfer who battled injuries throughout his college career, Smith didn't enjoy massive college production and wasn't at full speed during the draft workout process. His health mostly held up in the pros, though: He recorded 47.5 sacks over 13 seasons and made a Pro Bowl appearance in 2011 with the Texans. — Connelly
TCU
Marcus Cannon, OT (2011, fifth round, 138th overall, New England)
Cannon was a highly regarded tackle prospect who started three years at TCU and didn't give up a sack his senior season at left tackle blocking for Andy Dalton. The 6-5, 358-pounder was shocked to test positive for non-Hodgkin lymphoma in a physical before the 2011 combine. New England drafted him in the fifth round and placed him on the injured list while he went through chemotherapy. Cannon has started 73 games and appeared in 120 total, winning three Super Bowls with the great Patriots teams from 2011 to 2019 and being named second-team All-Pro in 2016. He did not play in 2020 during the pandemic, started four games for the Texans in 2021, then started two games at right tackle last year after returning to New England. — Wilson
Texas
Brian Robison, DE (2007, fourth round, 102nd overall, Minnesota)
Robison started 37 games at Texas, including on the Longhorns' national title team in 2005, and was also a star in the shot put, winning a Big 12 title. At 6-3, 260, he ran a 4.74 at the combine and was drafted to back up Jared Allen. But he ended up starting five games his rookie year and made the NFL's all-rookie team. Robison became a fan favorite in Minnesota, starting 103 games and playing in 170. He racked up 60 sacks, including 25.5 in his first three years as a full-time starter, over 11 years with the Vikings. — Wilson
Texas Tech
Zach Thomas, LB (1996, fifth round, 154th overall, Miami)
Thomas, the Red Raiders' best pro before Patrick Mahomes, was the steal of the 1996 draft. Despite a stellar career at Texas Tech, where he was a first-team All-American his senior year, NFL scouts weren't in on Thomas, with the consensus being he was too small (5-11, 233 pounds), too slow and not athletic enough (he had a 4.85 40 and 28.5-inch vertical jump at the combine). But he quickly shot up the Dolphins depth chart and started as a rookie from Week 1. He had at least 100 tackles each of the first 11 years of his NFL career, finishing with 1,734, and was a five-time first-team All-Pro. — Wilson
UCF
Brandon Marshall, WR (2006, fourth round, 119th overall, Denver)
Marshall was a better athlete than receiver for much of his college career, but after accumulating 38 catches in three seasons, he erupted for 1,195 yards as a senior. Combined with his 6-4, 229-pound measurements and 4.53 speed, he landed a spot on the Broncos. From 2007 to '15, he ripped off a run of eight 1,000-yard seasons in nine years. — Connelly
West Virginia
Marc Bulger, QB (2000, sixth round, 168th overall, New Orleans)
Bulger threw for 6,072 yards and 45 touchdowns during two standout years at West Virginia, but he battled injuries during his senior season, then measured in at only 6-1, 208 pounds at the combine. The Saints drafted him, but his first start came with the Rams, his third team, in 2002. He ended up throwing for 22,814 yards over eight NFL seasons. — Connelly
Big Ten
Illinois
David Diehl, OL (2003, fifth round, 160th overall, New York Giants)
Diehl was a second-team All-Big Ten selection as a senior in 2002. A year before, he was part of an Illinois team that won the Big Ten. After the Giants took him in the fifth round, he quickly became a stalwart on an offensive line that helped Eli Manning, Tom Coughlin & Co. win a pair of Super Bowls. Diehl, a second-team All-Pro selection in 2008, started 156 of the 160 games he played in. — Blake Baumgartner
Indiana
Chris Liwienski, OL (1998, seventh round, 207th overall, Detroit)
Liwienski was a durable offensive tackle for the Hoosiers throughout his career. He was taken by the Lions in the 1998 draft and eventually played for the Vikings, Cardinals, Dolphins and Jaguars in a 10-year career. — Tom VanHaaren
Iowa
George Kittle, TE (2017, fifth round, 146th overall, San Francisco)
George Kittle had to battle for playing time while at Iowa, but he has emerged as one of the NFL's best tight ends with the 49ers. AP Photo/Darron Cummings
Kittle battled for extended playing time throughout his tenure in Iowa City, thanks to a deep tight end room. In his final two seasons as a Hawkeye (2015 and '16), he tallied 42 catches for 604 yards and 10 touchdowns. The 49ers were fortunate enough to jump on him in the fifth round of the 2017 draft, and he has rewarded them handsomely. A four-time Pro Bowler and an All-Pro selection in 2019, Kittle has 395 receptions for 5,254 yards and 31 touchdowns in his career. — Baumgartner
Maryland
Stefon Diggs, WR (2015, fifth round, 146th overall, Minnesota)
In three seasons playing for the Terrapins, Diggs accumulated 2,277 yards and 14 touchdowns. He was a second-team All-Big Ten selection for the 2014 season after leading the team in receptions and receiving touchdowns. Since being drafted by the Vikings in 2015, Diggs has been an All-Pro twice, a three-time Pro Bowler and a big part of the Buffalo Bills offense. — VanHaaren
Michigan State
Kirk Cousins, QB (2012, fourth round, 102nd overall, Washington)
Cousins led the Spartans to a share of the Big Ten title in 2010 and an appearance in the inaugural Big Ten championship game in 2011, and left East Lansing as one of the better quarterbacks in program history (9,131 passing yards, 66 TDs). The second quarterback taken by Washington in 2012 behind Robert Griffin III in the first round, Cousins — a four-time Pro Bowler — established himself as a top-level NFL quarterback with both Washington (2012-17) and the Vikings (2018-present), with 37,140 passing yards and 252 touchdown passes in his career. — Baumgartner
Michigan
Tom Brady, QB (2000, sixth round, 199th overall, New England)
The patron saint of late-round draft finds. After splitting playing time with Drew Henson, Brady eventually won out and started during the 1998 and 1999 seasons, leading the Wolverines to a Big Ten title in 1998. In those two seasons, he combined for 30 touchdowns and 16 interceptions. After a famously unimpressive combine, Brady certainly impressed with the Patriots and Buccaneers, retiring with seven Super Bowl rings and a rewritten NFL record book. — Baumgartner
Minnesota
Marion Barber, RB (2005, fourth round, 109th overall, Dallas)
Barber ranks No. 10 all time at Minnesota for single-season rushing yards, No. 2 for rushing touchdowns in a season, No. 5 in career rushing yards and No. 2 in career rushing touchdowns. He was taken in the fourth round by the Cowboys and earned the nickname Marion the Barbarian for his physical running style. He had more than 50 rushing touchdowns in his six-year career with the Cowboys and Bears. — VanHaaren
Nebraska
Rex Burkhead, RB (2013, sixth round, 190th overall, Cincinnati)
Burkhead was one of six freshmen to see playing time during the 2009 season at Nebraska. He had 346 yards and three touchdowns in his first season and followed that up with 951 yards and seven touchdowns as a sophomore. He was selected by Cincinnati in the 2013 draft and eventually played for the Patriots and Texans as well. He won a Super Bowl with the Patriots and finished his career with 1,908 yards and 17 touchdowns. — VanHaaren
Northwestern
Zach Strief, OL (2006, seventh round, 210th overall, New Orleans)
Strief was a right tackle at Northwestern and was a two-time All-Big Ten player for the Wildcats. He was selected by the Saints in the seventh round and went on to win a Super Bowl and be named a first-team All-Pro player in 2013 over 12 seasons in New Orleans. — VanHaaren
Ohio State
Corey Linsley, OL (2014, fifth round, 161st overall, Green Bay)
Linsley started as the Buckeyes' center during his final two seasons (2012 and '13) after making the move over from right guard. The Packers tabbed him with a fifth-round selection, and his time both in Green Bay and with the Chargers, whom he signed with as a free agent in 2021, has been fruitful. In his last year in Green Bay, Linsley was a first-team All-Pro before being named a second-team All-Pro during his first year in Los Angeles in 2021. — Baumgartner
Penn State
Adrian Amos, S (2015, fifth round, 142nd overall, Chicago)
Amos was a three-year starter during his time in Happy Valley, finishing with a career-high three interceptions as a senior in 2014. He recorded at least 42 tackles in each of his final three seasons at Penn State. The Bears selected him in the fifth round in 2015, and he has carved out a nice career (636 total tackles, 6 sacks, 48 passes defended and 10 interceptions) through eight seasons with the Bears (2015-18) and Packers (2019-22). — Baumgartner
Purdue
Rob Ninkovich, LB/DE (2006, fifth round, 135th overall, New Orleans)
Ninkovich won a national championship at Joliet Junior College before transferring to Purdue. He had 8 sacks, 2 interceptions and 2 forced fumbles his senior season and was taken by the Saints in the 2006 draft. He would play for three teams in the NFL and won two Super Bowls with the New England Patriots. — VanHaaren
Rutgers
Isiah Pacheco, RB (2022, seventh round, 251st overall, Kansas City)
Pacheco started 12 games in his final season at Rutgers and accumulated 2,442 yards and 18 touchdowns in his four-year career. He was selected by the Chiefs in the seventh round and became an impact player on Kansas City's Super Bowl-winning offense. Pacheco ran for 830 yards and five touchdowns during the regular season and had 197 yards and one touchdown during the playoffs. — VanHaaren
Wisconsin
Owen Daniels, TE (2006, fourth round, 98th pick, Houston)
Daniels transitioned from quarterback to tight end after a pair of ACL tears — one as a senior in high school and one during his redshirt sophomore year at Wisconsin. He ended up becoming a productive player, hauling in 62 passes for 852 yards and eight touchdowns over his final three years in Madison. Drafted by Houston in 2006, he recorded 479 catches for 5,661 receiving yards and 36 touchdowns during a 10-year career that saw him play for the Texans, Ravens and Broncos, ending his career with a victory in Super Bowl 50. — Baumgartner
Pac-12
Arizona State
Lawrence Guy, DT (2011, seventh round, 233rd overall, Green Bay)
Guy has bounced around the league a bit since coming into it in 2011, but over the course of his career, he's started 110 games, accounting for 255 solo tackles, 17 sacks and 38 tackles for loss. Since 2017, Guy has been a fixture of the Patriots' defensive line and helped New England on its way to its Super Bowl win in 2018. Not bad for a seventh-round pick. — Paolo Uggetti
Arizona
Nick Folk, K (2007, sixth round, 178th overall, Dallas)
Folk, who made 63% of his field goal attempts at Arizona, was a sixth-round gem for not just the team that drafted him (the Cowboys, for whom he was selected to the Pro Bowl in his rookie year) but also the Jets (he's the team's all-time leading scorer) and, most recently, the Patriots, for whom he had a streak of 64 straight field goals from inside 50 yards. In 2021, Folk was the NFL's leading scorer as well. — Uggetti
California
Marvin Jones, WR (2012, fifth round, 166th overall, Cincinnati)
After a solid, if unspectacular, four-year career in Berkeley, Jones' modest production (156 catches in four seasons) was the likely reason he wasn't drafted earlier. Since entering the NFL, he has been one of the league's most consistent receivers with more than 500 yards receiving in each of the past eight seasons. — Kyle Bonagura
Colorado
David Bakhtiari, OT (2013, fourth round, 109th overall, Green Bay)
After a stout three-year career at struggling Colorado, Bakhtiari went on to find the perfect NFL home in Green Bay. The California native immediately became a staple of the Packers' offensive line on his way to three Pro Bowl selections and two first-team All-Pro selections. Bakhtiari started every game at left tackle during his rookie season, becoming the first rookie to do so in Green Bay since 1978 and the only NFL rookie to start every game that season at left tackle. — Uggetti
Oregon
Terrance Mitchell, CB (2014, seventh round, 254th overall, Dallas)
Before declaring for the draft, Mitchell received an unfavorable evaluation from the NFL, so he knew that being an early pick after starting 38 games at Oregon was unlikely. Still, he bet on himself, and nearly 10 years later, he's still collecting…