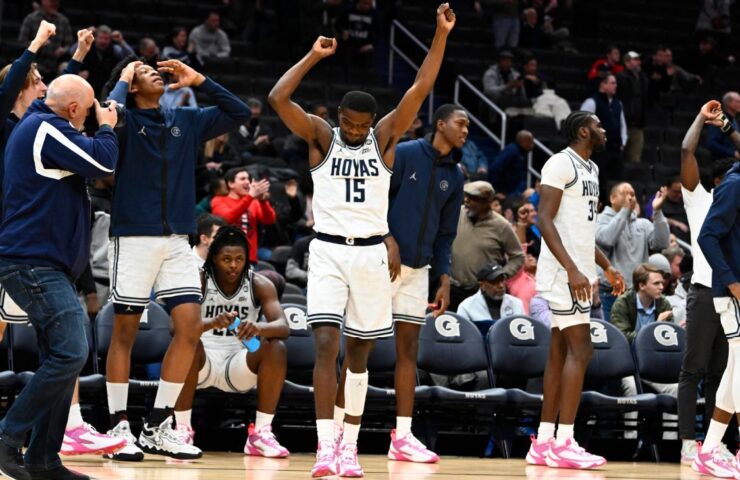 Hoyas beat Big East foe in first since March 2021
WASHINGTON — Georgetown snapped a 29-game losing streak against Big East opponents with an 81-76 victory over DePaul on Tuesday night.
The Hoyas (6-15, 1-9) won their first Big East game since March 13, 2021 — the conference tournament final against Creighton — ending the longest skid in the history of the conference. Their last regular-season Big East win was March 2, 2021, against Xavier.
With the victory Tuesday, Georgetown also ended a 10-game losing streak this season.
Editor's Picks
2 Related
Primo Spears scored 21 points and also contributed six assists for the Hoyas. Akok Akok scored 12 points and added six rebounds and four blocks and Brandon Murray recorded 12 points.
"Coach [Patrick] Ewing kept emphasizing the message just stay in the fight, keep believing. Some of the points that he's made are pride and having pride in wearing the Georgetown jersey," Akok said. "That's just a couple things that are important within our program, so just sticking in the fight and keep believing in our teammates and our coaches. I think that's what led us to a win tonight."
Spears scored nine points in the first half and Georgetown went into the break trailing 37-36. Georgetown used a 10-0 run in the second half to build a 12-point lead at 75-63 with 1:39 remaining.
The Hoyas lost all 19 of their regular-season Big East games last season while going 6-25 overall, including a 21-game losing streak. They also lost their final regular-season Big East game in 2020-21, before going on a surprising four-game run at Madison Square Garden in New York to claim the conference tournament title. That allowed the team to make its lone NCAA tournament appearance during embattled Ewing's tenure.
Georgetown defeated DePaul on Tuesday night for its first Big East win since March 13, 2021, ending the longest skid in the history of the conference. Brad Mills/USA TODAY Sports
DePaul closed as a 1.5-point road favorite, just the third time in the last 15 seasons that it has been a road favorite in Big East play (last instance: last season at Georgetown).
"We have a great group of guys in the locker room that don't give up. From the end of the bench to the front of it with our leader to the right of me," Spears said. "I think that with the group of guys that we have in the locker room it's easier than what it looks like to you guys because our locker room is so solid."
Georgetown next plays Sunday against St. John's.
ESPN Stats & Information and The Associated Press contributed to this report.