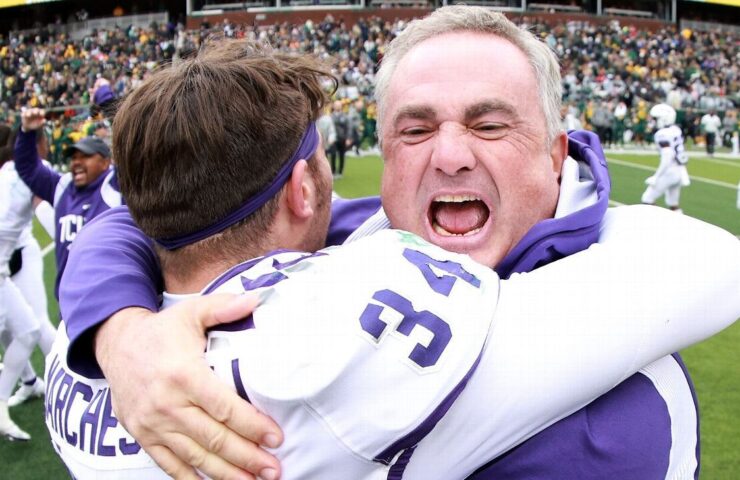 How to have the most fun this college football season
Bill Connelly, ESPN Staff WriterAug 18, 2023, 06:28 AM ET

Close

Bill Connelly is a staff writer for ESPN.com.
Off the field, college football is almost always threatened by storm clouds. On the field, it remains unbeaten.
The 2022 college offseason was defined by coaches yelling about stressful and exhausting recruiting calendars and the hand-wringing associated with players making loads of money from NIL deals and collectives. (We also had our annual late-summer conference realignment lightning bolt in USC and UCLA leaving for the Big Ten.) Everything was changing! Players were making money! Would things change on the field?
Nope. The 2022 season was an absolute delight.
Editor's Picks
1 Related
This summer, we've again been inundated by talks of existential threats amid congressional hearings, and NIL seems to be playing an even larger role in recruiting and transfers whether it's supposed to or not. While that certainly alarms some more than others, almost no one seems particularly jazzed about the latest round of late-summer realignment moves, in which a lot of schools declared that they didn't want to leave the Pac-12 but had to and all but assured either the death of the Pac-12 as we know it … or just the outright death of the Pac-12, period. The future appears foreboding in many ways, but once again, here comes the actual season to save the day for a little while.
Each year, as a season approaches, I write a paean to the glory of eating the whole cow, of delighting in all of college football's on-field ridiculousness, from the national title race to the small-school glory and everywhere in between. (Here's 2022's piece, and here's 2021's.) Against decent odds, the on-field chaos and buzz somehow always make college football worth the off-field frustration, and while the latter is definitely growing, 2023 could offer a particularly impressive bounty of the former too. So let's talk about how to get the maximum possible enjoyment from this coming fall.
The big showdowns
Utah, which lost a close game last year in the Swamp, hosts Florida to open the season. Kim Klement-USA TODAY Sports
We might boast of eating the whole cow in these parts, but make no mistake: The biggest games are still amazing events. The nonconference portion of the 2023 season offers plenty of exciting and telling matchups, and the home stretch is absolutely loaded.
Based on preseason projections, here are the two biggest games of each week when it comes to combined SP+ ratings. (Games between two projected top-10 teams are in bold.)
Aug. 31: Florida at Utah
Sept. 3: Florida State vs. LSU
Sept. 9: Texas at Alabama, Oregon at Texas Tech
Sept. 16: South Carolina at Georgia, Tennessee at Florida
Sept. 23: Ohio State at Notre Dame, Ole Miss at Alabama
Sept. 30: Georgia at Auburn, LSU at Ole Miss
Oct. 7: Alabama at Texas A&M, Kentucky at Georgia
Oct. 14: Texas A&M at Tennessee, USC at Notre Dame
Oct. 21: Penn State at Ohio State, Tennessee at Alabama
Oct. 28: Ohio State at Wisconsin, Florida vs. Georgia
Nov. 4: LSU at Alabama, Notre Dame at Clemson
Nov. 11: Michigan at Penn State, Ole Miss at Georgia
Nov. 18: Georgia at Tennessee, Minnesota at Ohio State
Nov. 25: Ohio State at Michigan, Texas A&M at LSU
That's six top-eight vs. top-eight (per SP+) matchups in the last six weeks of the season. Hell yes.
The Pepto-Bismol All-Stars
TCU's last-second win at Baylor was one of several wild finishes in the Big 12 last season. Photo by Tom Pennington/Getty Images
We're getting a trade-off of sorts with the new clock rules that will go into effect this fall. On one hand, the overall number of plays will go down a bit (my estimate is by about 5%), which means fewer points and yards. Points and yards are fun, so boo to that. But on the other hand, (A) games were indeed too long, and (B) in theory, fewer points, yards and, most importantly, possessions means that teams don't have as many opportunities to pull away from each other. That could mean closer games and, in theory, more upsets.
Certain teams will be playing in an inordinate number of close games. According to my final preseason SP+ projections, there are a whopping 20 teams with at least seven games projected to finish within one score (~7.5 points), including three teams with nine such games. You will want to be watching at least the fourth quarter of many of their games this year.
9 tight games: New Mexico State, Northern Illinois, UTEP

8 tight games: Cincinnati, Oklahoma State, Texas Tech, UNLV

7 tight games: Ball State, Hawaii, Liberty, Louisiana Tech, Marshall, Navy, Nevada, Ohio, Pittsburgh, Texas Tech, UAB, UCF, Virginia Tech
There are 10 more teams that (A) are projected in the SP+ top 40 and (B) have at least six such tight games: Arkansas, Baylor, Florida, Kansas State, Kentucky, Missouri, Ole Miss, TCU, Texas A&M, Utah.
After the fire hose of Week 1, every week of the season features at least two games that involve the teams above and have a projected margin of three or fewer points. Be prepared to watch quite a bit of these games. (And since eight of the teams above are in the Big 12 — over half the conference! — be prepared to watch so very much of that wonderfully chaotic league.) Here's a selection:
Aug. 26: UTEP at Jacksonville State
Sept. 9: UCF at Boise State, Marshall at East Carolina, UAB at Georgia Southern
Sept. 16: Kansas State at Missouri, Virginia Tech at Rutgers, NMSU at New Mexico
Sept. 23: North Carolina at Pitt, Oklahoma State at Iowa State, Virginia Tech at Marshall, UNLV at UTEP, Nevada at Texas State
Sept. 30: Florida at Kentucky, Cincinnati at BYU (Sept. 29), Baylor at UCF, Louisiana Tech at UTEP (Sept. 29), Ball State at WMU
Oct. 7: Kansas State at Oklahoma State (Oct. 6), Texas Tech at Baylor, North Texas at Navy, NIU at Akron, Ball State at EMU
Oct. 14: Kansas State at Texas Tech, Florida at South Carolina, Iowa State at Cincinnati, Ohio at NIU, Sam Houston at NMSU (Oct. 11)
Oct. 21: TCU at Kansas State, Ole Miss at Auburn, Mississippi State at Arkansas, JMU at Marshall (Oct. 19), South Carolina at Missouri, Pitt at Wake Forest, Hawaii at New Mexico
Oct. 28: Oregon at Utah, UTEP at Sam Houston (Oct. 25)
Nov. 4: TCU at Texas Tech (Nov. 2), Texas A&M at Ole Miss, Kentucky at Mississippi State, UCF at Cincinnati, Marshall at Appalachian State, Navy at Temple
Nov. 11: Utah at Washington, Auburn at Arkansas, Cincinnati at Houston, Oklahoma State at UCF, Virginia Tech at Boston College, UAB at Navy, Ohio at Buffalo (Nov. 7), Ball State at NIU (Nov. 7)
Nov. 18: Florida at Missouri, Kentucky at South Carolina, Cincinnati at WVU, WMU at NIU (Nov. 14), ECU at Navy, Nevada at Colorado State
Nov. 25: Ole Miss at Mississippi State (Nov. 23), Florida State at Florida, Virginia Tech at Virginia, Kentucky at Louisville, Pitt at Duke, Colorado State at Hawaii
Dec. 9: Army vs. Navy
Weeks 8 and 11 (in bold) could be absolutely incredible, especially considering Week 8 also includes Penn State-Ohio State and Tennessee-Alabama and Week 11 also includes Michigan-Penn State and one of Georgia's better upset opportunities (against Ole Miss).
Best. Midweek slate. Ever.
We got used to weeknights being part of our college football experience years ago. Back in the day, we had a number of Thursday night classics, and handing over Tuesday and Wednesday nights to the MAC in November is an absolute tradition at this point.
A lot of other conferences have jumped onto the weeknights bandwagon, however, from the Big Ten and Big 12 to this weird, new version of Conference USA. We can debate whether that's good for the athletes (or the fans in attendance), but there's no question that it could be really good for our eyeballs in 2023. This year's Monday-through-Friday slate is quite tasty. Here are some of my favorites:
Week 1: Florida at Utah (Aug. 31), Nebraska at Minnesota (Aug. 31), Louisville vs. Georgia Tech (Sept. 1), Stanford at Hawaii (Sept. 1), Clemson at Duke (Sept. 4)
Week 2: Illinois at Kansas (Sept. 8)
Week 3: Army at UTSA (Sept. 15), Virginia at Maryland (Sept. 15)
Top stories of the week from
Get exclusive access to thousands of premium articles a year from top writers.
• Top 50 MLB prospects at midseason »
• NFL draft prospects who could rise »
• Flaws for every Super Bowl contender »
More ESPN+ content »
Week 4: Georgia State at Coastal Carolina (Sept. 21), Wisconsin at Purdue (Sept. 22), Boise State at San Diego State (Sept. 22)
Week 5: Jacksonville State at Sam Houston (Sept. 28), Utah at Oregon State (Sept. 29), Cincinnati at BYU (Sept. 29)
Week 6: WKU at Louisiana Tech (Oct. 5), Kansas State at Oklahoma State (Oct. 6)
Week 7: Louisiana Tech at MTSU (Oct. 10), UTEP at FIU (Oct. 11), West Virginia at Houston (Oct. 12), Tulane at Memphis (Oct. 13)
Week 8: Southern Miss at South Alabama (Oct. 17), NMSU at UTEP (Oct. 18), JMU at Marshall (Oct. 19)
Week 9: Syracuse at Virginia Tech (Oct. 26), Georgia State at Georgia Southern (Oct. 26)
Week 10: Buffalo at Toledo (Oct. 31), NIU at CMU (Oct. 31), Ball State at Bowling Green (Nov. 1), TCU at Texas Tech (Nov. 2), South Alabama at Troy (Nov. 2)
Week 11: Ball State at NIU (Nov. 7), Ohio at Buffalo (Nov. 7), Virginia at Louisville (Nov. 9), North Texas at SMU (Nov. 10)
Week 12: WMU at NIU (Nov. 14), Boston College at Pitt (Nov. 16), Colorado at Washington State (Nov. 17)
Week 13: Ole Miss at Mississippi State (Nov. 23), Oregon State at Oregon (Nov. 24), Texas Tech at Texas (Nov. 24), TCU at Oklahoma (Nov. 24), Missouri at Arkansas (Nov. 24), Penn State at Michigan State (Nov. 24)
Weeks 4-5 are nice table-setters, but honestly Week 10 might have the best set of weeknight games we've ever seen. We open MACtion with a particularly even set of contests, and then we get not only TCU-Texas Tech — maybe the single most "chaos potential!" game on the Big 12 docket — but also South Alabama-Troy, one of the biggest Sun Belt games of the year. That is spectacular.
Root for Oregon State and Washington State
Oregon State will have star power at QB as the Beavers and others face the end of the Pac-12. Ali Gradischer/Getty Images
In the 1990s, when the Southwest Conference dissolved and only half of it was absorbed into the new Big 12, the Houston Cougars, Rice Owls, SMU Mustangs and TCU Horned Frogs went from members of a power conference to mid-major status virtually overnight. TCU and Houston slowly worked their way back into the power-conference picture, but SMU is still trying and Rice appears pretty far back in the distance. (In fairness, Rice was pretty far back in the SWC, too.)
In the early-2010s, when the Big East lost key members and lost power-conference status while becoming the AAC, the Cincinnati Bearcats, Louisville Cardinals, Rutgers Scarlet Knights, UConn Huskies and USF Bulls were left behind. Louisville (ACC) and Rutgers (Big Ten) found quick bailout options, and Cincinnati's long run of success — it has never really been a mid-major football program, even when it technically was one — earned the school a long-deserved Big 12 invitation last year. But UConn is now an FBS independent, stuck without obvious geographic options up north, and USF has now been left behind again, remaining in the AAC while rival UCF also made its way to the Big 12.
The sport's power structure continues to funnel toward a smaller and smaller number of schools and conferences, and any time there's a realignment-related lurch, some end up screwed because of it. We don't know for sure what will happen with the four remaining Pac-12 teams that didn't land spots in the Big Ten or Big 12 — the Cal Bears, Stanford Cardinal, Oregon State Beavers and Washington State Cougars — but while Cal and Stanford might still score an ACC bailout, OSU and Wazzu appear almost destined to end up in either a rebuilt and dramatically diminished Pac-12 (which features a number of current mid-major programs) or the Mountain West. They're pretty much guaranteed a step down in status despite the fact that Oregon State and Washington State have been more well-run recently than three of the four programs that are leaving for the Big 12. Geography and market size are hurting them, and strong 2023 campaigns for either or both programs won't help much in the long term, but … damned if it wouldn't feel pretty good in the short term, huh?
Oregon State, in particular, is coming off one of its best seasons in 16 years, and while the top half of the Pac-12 is loaded this fall, it would be awfully fun to watch Jonathan Smith's Beavers snare some wins over the departing teams … or maybe just win the conference outright.
No matter what, though, these teams' home games against the departing schools should be awfully raucous, must-watch experiences. Here are those notable weekends:
Sept. 29: Utah at Oregon State
Oct. 14: UCLA at Oregon State, Arizona at Washington State
Nov. 18: Washington at Oregon State, Colorado at Washington State (Nov. 17)
It stinks that neither OSU nor Wazzu is hosting their big in-state rivalry game this year. But there should still be some fun and hostile games in there.
Iowa points watch
Iowa averaged 17.7 per game in 2022 under offensive coordinator Brian Ferentz. Photo by Keith Gillett/Icon Sportswire
The Drive to 325 is on. Justifiably maligned Iowa Hawkeyes offensive coordinator Brian Ferentz, son of head coach Kirk Ferentz, has overseen one of the most appalling offenses in the country of late. The Hawkeyes averaged just 23.4 points per game in 2021 and, despite a nation's-best six defensive touchdowns, only 17.7 per game in 2022. Ferentz kept his job and a robust salary, but his amended and incentives-heavy contract will require Iowa to score 25 points per game and win at least seven games to reach full compensation.
That average would have ranked 85th in FBS last season. It also includes defensive and special teams scores. In other words, the bar is incredibly low here. However, this should create a morbidly curious air around Hawkeye games this fall. I plan on soaking this in.
Wisconsin pass watch
I've cracked myself up all offseason imagining the Wisconsin Badgers coming out for their first snap of the season (against Buffalo on Sept. 2) in a five-wide formation and picturing the crowd reacting like the old fans in "Varsity Blues" when Johnny Moxon introduces the oopty-oop formation. [counting receivers on fingers] "One … two … three … four … five??"
It probably won't be that much of a shock to Wisconsin fans when new coordinator Phil Longo unleashes his tempo- and often pass-heavy system — among other things, Longo offenses lean mostly on three-receiver sets and still produce 1,000-yard rushers. But head coach Luke Fickell's hiring of Longo was one of the most jarring and intriguing hires of the offseason. Can Longo and a bevy of quarterback and receiver transfers create a cohesive system out of the gate? And can a land of big running backs and huge offensive linemen produce a consistent and threatening passing game, even deep into a blustery November?
The Deion Sanders experience
Connelly's CFB previews
Bill Connelly breaks down every division in college football as only he can, with projections and burning questions for every team as well as his favorite players.
Connelly's CFB previews
You could make the case that the Colorado Buffaloes scored a Big 12 bid a few weeks ago based solely on Deion Sanders' charisma. The Buffaloes have been among the worst power-conference programs in the country for most of 20 years now, but they grabbed constant offseason headlines because of Sanders, their first-year head coach, and his complete detonation of the roster. Almost no one from last season's dreadful team remains on the roster, and Sanders has signed well over 50 transfers.
How will this work out? It's almost impossible to say because there's no precedent. But the Buffaloes' schedule is loaded with headline games — at TCU in Week 1, Nebraska in Week 2, at Oregon in Week 4, USC in Week 5 — and they'll be a must-watch team for much of the season, at least until iffy depth catches up to them.
Ride the Joe Milton wave
play
2:49
Look out for these potential SEC upsets in 2023
SEC Now analyst Matt Stinchcomb breaks down four scenarios this season where an underdog team could walk away with a stunning upset win.
He has maybe the strongest arm in college football, and both his and the Tennessee Volunteers' upside make him the most important player of the season. He could also be benched for freshman, and former four-star recruit, Nicholaus Iamaleava within a few weeks. Heisman … anonymity … everything's on the table for Milton in 2023.
Watch the mid-major standouts
Transfer portal departures and the recent run of conference realignment — which relocated the AAC's Cincinnati, Houston and UCF (plus BYU) to the Big 12 — has seemingly drained the talent pool at the Group of Five level. But it didn't drain us of high-level quarterbacks.
There were four G5 QBs on ESPN's top 100 players list for 2023 — UTSA's Frank Harris (No. 32), Coastal Carolina's Grayson McCall (No. 53), Western Kentucky's Austin Reed (No. 84) and Tulane's Michael Pratt (No. 99) — and you could have made a solid case for others such as Ohio's Kurtis Rourke, SJSU's Chevan Cordeiro, Toledo's Dequan Finn and maybe even Boise State's Taylen Green as well. And in addition, JT Daniels, the injury-plagued former five-star recruit and former starter at USC, Georgia and West Virginia, will take his big arm to Houston to finish his career at Rice.
Nonconference play will give almost all of these quarterbacks opportunities to shine against big-name opponents. We'll get some head-to-head matchups, too:
Aug. 26: Ohio at San Diego State (Rourke), SJSU at USC (Cordeiro)
Sept. 2: Coastal Carolina at UCLA (McCall), Oregon State at SJSU (Cordeiro), Boise State at Washington (Green), Toledo at Illinois (Finn), Rice at Texas (Daniels)
Sept. 9: Tulane at Ole Miss (Pratt)
Sept. 16: WKU at Ohio State (Reed), SJSU at Toledo (Cordeiro vs. Finn)
Sept. 23: UTSA at Tennessee (Harris)
Oct. 7: SJSU at Boise State (Cordeiro vs. Green)
Oct. 14: Coastal Carolina at Appalachian State (McCall) (Oct. 10)
Oct. 28: Marshall at Coastal Carolina (McCall), Tulane at Rice (Pratt vs. Daniels)
Nov. 25: UTSA at Tulane (Harris vs. Pratt)
There are plenty of G5 stars outside of the quarterback position — Southern Miss RB Frank Gore Jr., Marshall RB Rasheen Ali, Colorado State WR Tory Horton, UTEP WR Tyrin Smith, Toledo CB Quinyon Mitchell, South Alabama nickel Yam Banks — and you should check them out, too. But the signal-callers are a must.
Watch as much smaller-school football as you can
South Dakota State will again be one of FCS's best teams. AP Photo/LM Otero
It's one of my annual messages: The more small-school ball you watch, the healthier you become. In my Friday preview columns during the season, I always try to identify at least one smaller-school game to keep an eye on, but here are two games per week that, either because of rivalry, competitiveness or high preseason poll rankings, are all but guaranteed to rock.
Note: The rankings below come from different sources. I used preseason coaches polls for FCS, Division II and Division III, and in their absence, I used last year's final poll for NAIA.
Sept. 2: No. 5 Trinity (Texas) at No. 6 St. John's (D-III), No. 2 Grand Valley State at No. 11 Colorado Mines (Aug. 31). The GVSU-Mines battle pits one of D-II's most established brands against one of its best up-and-comers. (It also pits two great mascots you should Google: Blaster the Burro vs. Louie the Laker.)
Sept. 9: No. 3 Montana State at No. 1 South Dakota State (FCS), No. 3 Mary Hardin-Baylor at No. 5 Trinity (Texas) (D-III). A couple of big-time matchups here. In the former, you've got the defending FCS champion against the 2021 runner-up. In the latter, it's an established annual title contender (UMHB) against what is frequently its stiffest local competition.
Sept. 16: No. 1 Ferris State (D-II) at No. 14 Montana (FCS), No. 7 West Florida at Florida A&M (D-II/FCS). Crossover week! Two of D-II's best take on FCS name brands.
Sept. 23: No. 10 Sacramento State at No. 8 Idaho (FCS), No. 22 West Georgia at No. 7 West Florida (D-II). The Big Sky should again be loaded with potential top-15 teams, and Sac State-Idaho pits two of last year's more pleasant surprises against each other.
Sept. 30: No. 1 North Central at No. 17 Wheaton (D-III), No. 3 Grand Valley State at Saginaw Valley State (D-III). Saginaw Valley is typically good for an upset scare against either GVSU or Ferris State in a given year and should honestly be at least a top-20 team in the polls.
Oct. 7: No. 15 Southeastern Louisiana at No. 7 Incarnate Word (FCS), Saginaw Valley State at No. 1 Ferris State (D-II). The last three SELA-UIW games have averaged 95 combined points and 1,218 yards. Last year's game featured only 76 and 972, respectively, and it felt like a massive letdown.
Oct. 14: No. 1 Ferris State at No. 3 Grand Valley State (D2), No. 6 Furman at No. 9 Samford (FCS). Furman and Samford have been quietly building sturdy FCS programs, but the headliner here is the Anchor-Bone Classic. Since 2017, FSU and GVSU have played seven times (including playoff games), and six have been decided by one score, including last season's two meetings. The biggest game of the D-II regular season.
Oct. 21: No. 3 Montana State at No. 10 Sacramento State (FCS), No. 4 Pittsburg State at No. 6 Northwest Missouri (D-II). Another huge Big Sky battle and the biggest D-II game in the Midwest.
Oct. 28: No. 1 Morningside (Iowa) at No. 3 Northwestern (Iowa) (NAIA), No. 3 Mary Hardin-Baylor at No. 12 Hardin-Simmons (D-III). And here's the biggest game of the NAIA regular season. Northwestern won the national title last season, thanks in part to Morningside's upset loss in the quarterfinals.
Nov. 4: No. 2 North Dakota State at No. 1 South Dakota State (FCS), No. 2 Mount Union at John Carroll (D-III). NDSU-SDSU, a game so big that it's attracted "College GameDay." There's no reason to think the Dakota Marker will be any less huge this season.
Nov. 11: No. 8 Lindsey Wilson at No. 4 Bethel (Tenn.) (NAIA), No. 8 Idaho at No. 13 Weber State (FCS). By mid-November, the playoffs are looming quickly on the horizon, especially for D-II and D-III. But LWC-Bethel is still a huge annual occurrence, and the Big Sky never stops cranking out big matchups.
Nov. 18: No. 3 Montana State at No. 14 Montana (FCS), No. 18 Richmond at No. 4 William & Mary (FCS). Montana is not picked quite as high as normal this season, but Brawl of the Wild — another former "College GameDay" matchup — is never anything but huge.