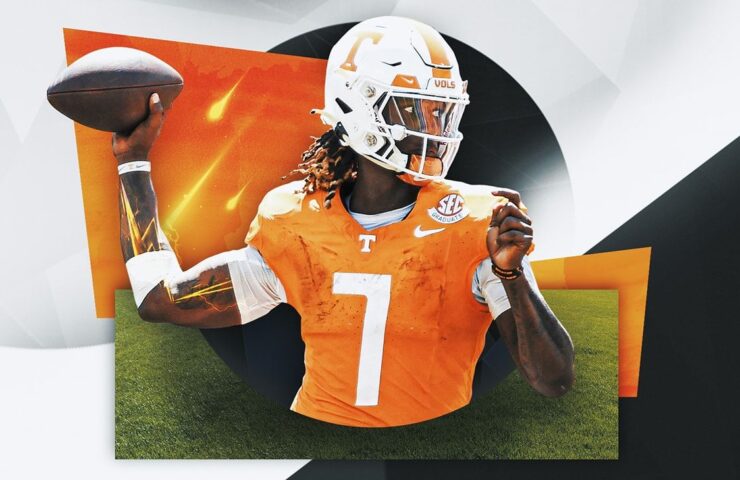 'He's going to throw it 105 yards!': The legend of
Alex Scarborough, ESPN Staff WriterSep 13, 2023, 07:00 AM ET

Close

Covers the SEC.
Joined ESPN in 2012.
Graduate of Auburn University.
GROWING UP, JOE Milton couldn't help himself when he saw smoke on the horizon. It didn't matter how many times his mom warned him about the tractor blades that could chew him up, or how the fumes could aggravate his asthma and cause him to hyperventilate. If the sugar cane fields were being cut and burned, that meant rabbits were running for cover, and that meant game on for Milton.
Chasing rabbits is a Pahokee, Florida, tradition in the fall when farmers clear their land for next year's harvest. Former NFL cornerback Janoris Jenkins so identified with his hometown and its unique pastime that he preferred to be called Jackrabbit.
Long-limbed and quick, Milton was good at chasing rabbits. And with his mom's voice in his ear, he really did try to be safe. But when you're young and full of adrenaline and sprinting after something that doesn't want to be caught, how careful can you be? If it was a competition, he was going to find a way to win.
Milton recalled a particularly stubborn rabbit who raced toward a canal once. Usually they'd hide in the tall grass near the edge of the water, he said, but this rabbit was acting as if it was going to jump across. Never mind the danger that might be lurking in the water below. "You know what?" Milton decided. "I'm going to follow through with it."
The rabbit did leap, and a split second later, an alligator rose up and snatched it out of the air with its teeth.
Milton slammed on the brakes. "I'm good," he thought as he watched the gator devour its dinner.
Editor's Picks
2 Related
It was the last time he ran toward the smoke. Ever since, he's been chasing something more elusive than a scared little rabbit: his potential as one of the most irresistible quarterback prospects the state has produced.
Big, strong and a threat to run the football, he checks every box. But it's his right arm — the one that gator could have easily mangled — that has become the stuff of legend. College coaches came from all over the country to see the towering passes it sent soaring down the sideline and the way it looked so effortless with just a flick of the wrist.
Teammates laugh at the absurdity of it all, the stories that sound too impossible to be true, like the time Milton threw a baseball 95 miles per hour without warming up. For the longest time, Milton was oblivious to his gift. But if he had to pinpoint the moment he knew he was different, it was his senior year at Olympia High School in Orlando when, on a lark, he got down on a knee and tested how far he could throw a football. It traveled 70 yards.
Only now, after five long years in college, is that talent coming into focus. And not a moment too soon as he takes center stage as the starting quarterback at No. 11 for Tennessee — his second school after transferring from Michigan, and his last chance. On Saturday, on the road at Florida (7 p.m. ET, ESPN), all eyes will be on Milton. How his story ends is anyone's guess. Bust or first-round pick? Underachiever or national champion?
He's traveled thousands of miles to get here, from Pahokee to Ann Arbor to Knoxville and points in between. All he has to do now is make the leap from can't-miss prospect to star — and not get pulled down into the danger below.
"MY NAME'S JOE. I play quarterback at Tennessee."
Truth be told, Milton didn't need to introduce himself to the adolescent campers at the Manning Passing Academy in Thibodaux, Louisiana. None of the 40 or so college counselors on hand this past June — not Heisman Trophy contenders Drake Maye, Michael Penix or Jayden Daniels — could match Milton's 6-foot-5, 240-pound frame. Not to pick on Garrett Greene, who was Academic All-Big 12 Conference at West Virginia last season, but he looked like a child walking beside Milton, barely coming up to his chin.
Milton is larger than life in other ways, too. These kids live on social media, so chances are they've seen his jaw-dropping throws like this one or this one. And who among us hasn't replayed the clip of him throwing an orange 100-plus yards? It has 1.4 million hits and counting on X.
How far can Joe throw an orange @OrangeBowl @Qbjayy7 #GBO pic.twitter.com/lEP9aUTEJm

— Tennessee Football (@Vol_Football) December 22, 2022
The buzz at the Manning academy on the Nicholls State campus surrounded Milton, and the question seemingly on everyone's mind: How far would he throw during the passing competition?
During a 15-minute recess, after Milton broke the huddle by doing a standing backflip with the ease of someone stepping over a puddle, one camper asked Milton whether he would set a throwing record, although no formal records are kept. Milton shrugged and laughed if off. But then Greene fanned the flames, telling campers, "He's going to throw it 105 yards!" Greene might as well have told them Milton would throw it over the moon, their eyes went so wide in disbelief.
Nearby, Peyton Manning, who has seen it all in his Hall of Fame career, also wondered about Milton's limits — whether he had any. Peyton's father, Archie, has been putting on the passing academy for 27 years, and Peyton Manning couldn't recall a time when there was more anticipation for a quarterback. "We usually start to throw on the 30-yard line going toward the other end zone," he said. "You figure you got 80 yards and that's safe where you're not going to run a [receiver] into the goalpost. I'm not sure the 30 is safe with Joe."
There was a twinkle in Manning's eye, but he wasn't being hyperbolic. A Tennessee alumnus, he's witnessed firsthand what Milton is capable of. While having that big arm is great, Manning said, "I know how much he studies. He's an accurate quarterback, and he's a great kid.
"I'm proud of him the way he came in last year after [Hendon Hooker's] injury and what a great teammate he was pulling for Hendon," Manning said. "And I think that bowl win against Clemson can just do wonders for a new quarterback's confidence. Joe's a senior, but that was a new role for him and he just played so well. We had a good visit last night talking about the work they're doing this offseason. I'm excited for him."
Milton said that one-on-one conversation with Manning was surreal. And it wasn't small talk, either. Milton said Manning hit him with a flurry of questions: How can you be in the present and not worry about last year? How are you leading the guys? How are you taking on your role every day? Milton assured him he was handling his business.
"Life is good," he said. "I wake up, I'm happy. I'm not in a headspace where I'm stressing about anything. I'm just having fun."
For one sweltering day this summer, Milton seemed unburdened — by the past, by expectations, by the pressure of having one season of eligibility left to prove he can be what he's always dreamed of. The eldest of seven children, he fell back into the joy of tossing the ball around the backyard. It was a lesson in patience, he said, and a not-so-subtle reminder of those early days in Pahokee when anything was possible.
So he didn't flinch when the first camper to cycle through his station was wearing a navy blue bucket hat with an unmistakable yellow block M across the front. He didn't seem to notice the irony at all. A few moments later, a camper in a bright orange Tennessee shirt sailed a pass way off target, and Milton stepped in and encouraged him, "C'mon, man, I already know you can throw it." He said to pay attention to his shoulder placement.
"You have no room for error," he said, speaking from experience.
On this run against Pitt, Tennessee quarterback Joe Milton suffered multiple ligament tears that would derail his 2021 season. "Soon as I stood up," Milton said, "it felt like my ankle was loose." Kevin Langley/Icon Sportswire
THE PLAYCALL WAS perfect. Milton, in his second game starting for Tennessee in 2021, took the snap on second-and-long and dropped back as if to pass when Pitt's defense bit hard. The weakside linebacker rushed upfield while the defensive tackle in front of him ran a stunt, vacating the A-gap and creating a runway for Milton to take off. Defensive back Javon McIntyre then learned a lesson about angles and Joe Milton: Better safe than sorry. McIntyre, who is 45 pounds lighter than Milton, tried to cut him off before the first-down marker and didn't even lay a hand on him. A footrace, Milton crossed midfield and sprinted all the way inside the 5-yard line before he was tripped up.
Milton lay on the ground and celebrated by crossing his arms on his chest. Neyland Stadium erupted. Was this the moment they were waiting for? Was this the Cam Newton clone they were promised when he transferred from Michigan in the spring? The arm, the legs, the whole package. "He's the most athletic, biggest human being I've ever seen," said Milton's personal QB coach Donovan Dooley. "He looks like an action figure."
"Soon as I stood up," Milton said, "it felt like my ankle was loose."
He played through the discomfort for one more series, but he knew what an MRI would later confirm: multiple ligament tears that would derail his season. And how's this for irony? The defender who tackled him, Brandon Hill, was a friend Milton knew from Florida.
"I had a life flash," Milton said. Maybe the universe was trying to tell him something. "My confidence level, I thought I wasn't good enough to play football."
It wasn't just the one play and the injury that had him rattled. It was the whole damned thing: two years riding the bench at Michigan before finally getting his shot, only to then lose the starting job to Cade McNamara, prompting his decision to transfer to Tennessee. What went unreported at the time was that Milton broke his thumb in the second game of the 2020 season against Michigan State — a thought that haunted him going into Week 2 against Pitt a year later.
At Michigan, Milton said he thought he was better than he really was. Sure, he had that big arm — capable of firing passes so hard they'd rip apart the seams of receivers' gloves — but he was complacent and immature. Dooley put it another way: Milton was playing quarterback rather than living the position by putting in extra hours studying the film and understanding the bigger picture. "He wishes he could have handled some things differently," Dooley said.
Tennessee was supposed to offer a fresh start, but Milton found more of the same disappointment with the injury. Hooker would step in as his replacement and quickly establish himself as one of the top quarterbacks in the country.
But rather than transfer a second time, Milton made the decision to stay and support the team as best he could. He and Hooker became inseparable. No one cheered on Hooker's Heisman Trophy run last year more than Milton.
Milton said he looked in the mirror after the injury and told himself, "God ain't make you this big for no reason. God didn't make you this smart for no reason."
He asked God for one more opportunity, and asked himself, "What are you going to do when you get it?"
play
3:02
It's time for Milton III to put talent on full display
SEC Nation's Jordan Rodgers and Tim Tebow break down No. 12 Tennessee's Joe Milton III's talent and explain why he's gifted in many different ways.
IT WAS A process, letting go of the residual weight of those injuries and the disappointment of not realizing his potential sooner. But Milton has made peace with it.
Now, he said, he's changed.
Now, he said, "I want more."
"As you get older, you see how life works and you see how things can come and go," he explained. "So I treat it differently. It's more meaning now, not because it's my last year but because guys want it more. I see it in their eyes, they're dedicated. So why not give it my all?"
Don't just take his word for it. Dooley traveled to Knoxville this summer for a few days of one-on-one work with Milton. It was early in the morning when he arrived at Tennessee's indoor facility to set up, and Milton was already there. And not just that, he had eight or nine receivers with him. And not just that, he had two other quarterbacks as well.
When Dooley talks about living the position of quarterback, that's what he means. Not being threatened by competition and leading the entire team. Getting to know the receivers inside and out so they're in sync when the pressure is on and 90,000 fans are screaming so loud they can't communicate verbally.
"It's a total 180," Dooley said. "Joe's a different Joe. He's a man now."
Again, don't take just one person's word for it.
Ask defensive lineman Omari Thomas.
"I've seen Joe just be able to be himself," he said. "I feel like that's what helps Joe thrive in different situations is him being able to be himself, being able to be happy, be uplifting, and just be the person he is."
Ask tight end Jacob Warren.
"I've noticed a shift in just how he carries himself and how he handles interactions with everybody — people around the building, whether it's the janitor or people down in our dining hall," he said. "He knows he's Joe Milton. Everyone knows he's Joe Milton."
Get your favorite live sports, stories and originals with ESPN+, Disney+ and Hulu. Upgrade to a Disney Bundle plan and start streaming something for everyone today!
Coach Josh Heupel said it's important to remember college athletes are still young and learning. When Hooker suffered a season-ending knee injury last year, Milton took over and was 2-0 as the starter.
"For Joe and his journey — the ups and downs that he's had from growing up, to Michigan, to Tennessee — it's all a product of who he is today and has helped make him as strong as he is," he said.
Hooker showed what's possible in Heupel's up-tempo offense, scoring 32 touchdowns and winning SEC Offensive Player of the Year last season. A more mature, well-rounded Joe Milton has people buzzing about beating Alabama two years in a row and making a sneaky run for the Heisman Trophy.
Thomas is no longer surprised by anything Milton does, especially with a football in his hands. Thomas will be in practice and marvel at the speed and accuracy of Milton's passes.
"He might be joking around and somebody will throw him a ball from the 50 and he'll hit the goal post," Thomas said. "I just don't feel like it's normal."
It's not.
Missouri cornerback Kris Abrams saw it firsthand last season when Milton came on in relief of Hooker and was a perfect 3-for-3. "He threw a bomb!" Abrams said, dumbfounded months later by Milton's 58-yard pass in the fourth quarter. The only comparison he could come up with for Miltons' arm was former LSU great JaMarcus Russell. But, Abrams added, "He can run it, too."
Heupel had another comp: Brett Favre.
It's not just that Milton can fit the ball into tight windows, Warren said, it's that he can pick any window on the field he wants — whether it's smack-dab between two defenders or a spot 70-plus yards downfield.
No one else in the country can make those throws, Warren said.
"No doubt that guy can."
Joe Milton's mythic arm Illustration by ESPN
WHEN THE MOMENT finally arrived, Milton dressed for the occasion. He put on a fresh Manning Passing Academy cap for the night's throwing competition, turning it backward, and black socks with "I'm Expensive" written in white lettering. And, despite the sun setting an hour earlier, he wore sunglasses for good measure.
"He's got a hose!" Cooper Manning, the emcee, warned the crowd before one of Milton's early throws. He told the volunteers to clear out of the bushes behind the end zone just in case they got pegged.
Cooper laughed into the microphone after one of Milton's 50-yard-plus bombs. He said he'd never seen anything like it.
"Can you get arrested for having a big arm?" he asked incredulously.
Then Milton really went for it, taking a breezy crow hop and letting it fly on a post route.
"Holy cow!" Cooper said before the towering pass had even reached its zenith.
It traveled at least 80 yards to the back-left corner of the end zone. Texas quarterback coach Brian Thiebaud said it was "the craziest throw I've ever seen."
Finally came the main event: the Long Shot challenge. Three golf carts were set up on the field, dressed in oversized bull's-eye targets. One cart ran the equivalent of a short drag route. Another cart ran an intermediate post. And the final cart ran a go-route straight down the sideline, punching the gas.
The college quarterbacks went in alphabetical order. Some hit the first target, some hit the second. But none hit the third target until Milton stepped up and made it look easy.
His final pass came down hard on the golf cart in the end zone, and Guidry Stadium erupted in applause.
Milton did a backflip as an exclamation point.
Mississippi State quarterback Will Rogers was waiting his turn and couldn't believe what he'd seen. Milton, he said, has the "strongest arm in the world."
"I saw Anthony Richardson last year," Rogers said. "I think it's flying over his ball."
Allstate Playoff Predictor
How will Saturday's top games affect the College Football Playoff chase? What are the current odds for the top four? The Allstate Playoff Predictor has the answers. Check back every week as the odds are updated following that week's games.
Jim Nagy, a former scout who runs the Senior Bowl, flashed back to Richardson, too. The former Florida quarterback punctuated his Long Shot performance with a backflip as well. Viewed as an unproven passer with untapped potential, Richardson wound up getting selected with the No. 4 overall pick by the Indianapolis Colts.
Sound familiar? The knock on Milton has always been that he struggles with the short-to-intermediate passes. Sometimes he throws it too hard, sailing it over or through his receivers' hands. Dooley said against Clemson, "He was proving to himself that he could get this s— done." But the questions about Milton's touch persist. "We've done every goddamn drill I can think of," Dooley said. "Right now, either we can do it or we can't. It's as simple as that."
"In terms of any quarterback in his class, he's maybe the guy I'm most excited to see what it looks like," Nagy said. "Because the physical tools are undeniable. I mean, the arm strength and the athleticism."
Milton might not be in the same conversation as top-five prospects like Caleb Williams or Maye right now, but don't be surprised if he's a quick riser. While accuracy and processing ability are the two most important traits NFL general managers and scouts are looking for, Nagy said, "It's hard not to become enamored with arm strength when you're an evaluator."
Richardson isn't the only example. Josh Allen completed a pedestrian 56.2% of passes and 21 interceptions in 27 games at Wyoming, and he's blossomed into a star for the Buffalo Bills.
But we're probably getting ahead of ourselves. Milton has to get through this season first. Up next is a game on the road against the Florida Gators on Saturday.
Rest assured that Milton is confident he and Tennessee will come out on top. As he told reporters at the Manning Passing Academy, "I don't lose in Florida."
But that wasn't the only interesting thing he said before leaving Thibodaux. Before he stepped into the main interview room, he told ESPN the exact answer to the question so many had been asking: What's the farthest he's thrown a football?
He'd given only ballparks before — 80-plus, 90-something, far enough. But he went into specifics this time.
"Ninety-seven yards," he said.
He wasn't joking.
If he made 80-plus look easy, imagine if he reared back and really put his whole body into it?
With Joe Milton, anything feels possible.