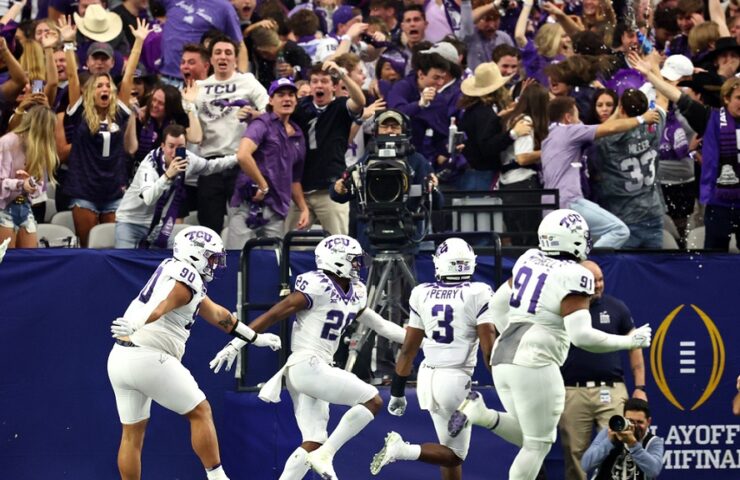 Georgia vs TCU College Football Playoff National Championship Prediction Game
Georgia vs TCU prediction, game preview, odds, how to watch. College Football Playoff National Championship, Monday, January 9, 2023
Georgia vs TCU College Football Playoff National Championship Prediction Game Preview
– Contact/Follow @ColFootballNews & @PeteFiutak
Georgia vs TCU How To Watch
Date: Monday, January 9, 2023
Game Time: 7:30 ET
Venue: SoFi Stadium, Inglewood, CA
How To Watch: ESPN
Record: Georgia (14-0), TCU (13-1)
– Sign up and live stream college football on ESPN+
Georgia vs TCU College Football Playoff National Championship 5 Things To Know
– Why Georgia & TCU will win
– CFP  National Championship Prediction, What's Going To Happen, History
– How do you possibly top the College Football Playoff semifinals? TCU's win over Michigan was as wild and crazy as any massive college football game ever, only to be topped by one of the greatest games in the history of the game with Georgia's gut-check comeback win over Ohio State.
And now TCU is here. In the College Football Playoff National Championship with a shot that Michigan has never had. Oklahoma hasn't been in this position. Notre Dame hasn't, either.
Only six schools – Alabama, Clemson, Georgia, LSU, Ohio State, and Oregon – have played for a CFP national title, and now TCU is added to the list as it tries to become the second No. 3 seed to beat a No. 1. Georgia did that last year with its win over Alabama.
– TCU knows how to do bowl games. With the shocker over the Wolverines, it's now 5-1 in its last six post-season games, 7-2 in the last nine, and 12-3 in the last 15 going back to 2001.
How amazing is the program in bowls? Those three losses since getting rocked by Texas A&M in the 2001 Galleryfurniture.com were all by seven points or fewer. The team was great under Gary Patterson, and now Sonny Dykes showed he could take things one step further.
1938 was the school's lone universally acknowledged national championship. The 2022 season's version has the starting 22 with the speed, playmakers, and ability to pull this off. It was the No. 1 offensive team in the Big 12, it doesn't make a slew of big mistakes, and no one this season does a better job of figuring out how to land the plane in the final moments of a tight situation.
CFN Final 2022 Rankings 1-131
– Counting College Football Playoff games as bowls, Georgia has been next-level amazing in these things.
Under former head coach Mark Richt, Georgia lost the Gator to Nebraska 24-19 to end the 2013 season, and dropped the 2011 season's Outback in overtime against Michigan State. When was the last time the program lost a bowl/playoff game by more than a touchdown?
Pitt closed out the 1976 season with a 27-3 win over the late Vince Dooley's Dawgs in the Sugar.
Since then, Georgia has gone 27-13-2 with all 13 losses by seven points or fewer. Under Kirby Smart, it has won five straight, and the program has gone 7-2 with one defeat coming on Tua-to-DeVonta in overtime of the 2017 season's CFP national title, and the year after in the Sugar Bowl to Texas.
CFN Experts Picks Georgia vs TCU, NDSU vs SDSU
– Yeah, the 2021 Georgia Bulldogs broke through. It was the first national championship since 1980, but to be extremely nitpicky … it wasn't a perfect season. Alabama got the 2021 SEC Championship t-shirt and confetti shower.
The 2022 version isn't as good as last year's. The defense isn't as strong, but it's got a whole bunch of NFL talent. The offense is a bit steadier than it was, QB Stetson Bennett has been way smoother and more confident in his play, and overall, the attack is more productive.
And this year's team has an SEC Championship and a perfect record so far. Win, and Georgia will be the first back-to-back champion in the College Football Playoff era. Win, and it'll be the first back-to-back national champion since 2011 and 2012 Alabama.
– There's no way we'll be spoiled enough to get a national title game as good as the two College Football Playoff semifinals. It's just not possible – at least historically.
The first four of these set too high a bar. Ohio State ended up blowing out Oregon 42-20 at the end of the 2014 season, but it wasn't that bad a game. Alabama and Clemson combined for two all-time classics, and the Bama overtime win over Georgia to end the 2017 season was special.
Last year's 33-18 Georgia win over Alabama was way tighter and more dramatic than the final score would indicate, but it was also the fourth straight College Football Playoff National Championship decided by 15 points or more.
No pressure, TCU and Georgia. Just put on a terrific show.
– Why Georgia & TCU will win
– CFP  National Championship Prediction, What's Going To Happen, History
NEXT: Why Georgia & TCU Will Win The College Football Playoff National Championship