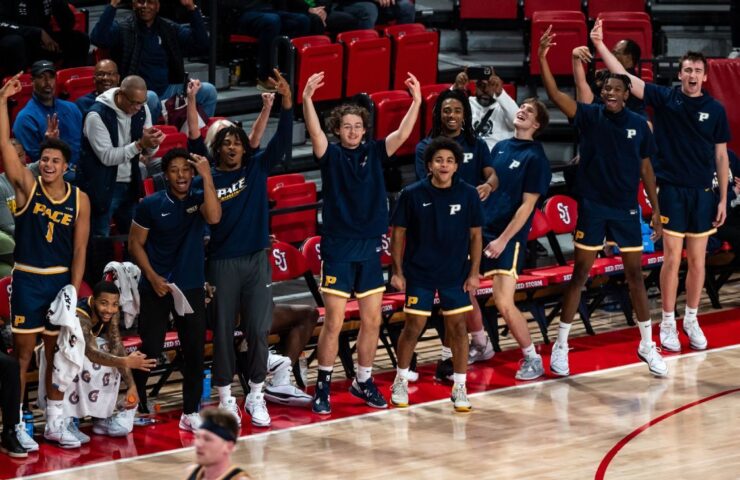 D-II Pace stuns Pitino-led St
Myron Medcalf, ESPN Staff WriterOct 29, 2023, 10:36 PM ET

Close

Covers college basketball
Joined ESPN.com in 2011
Graduate of Minnesota State University, Mankato
In March, St. John's hired coach Rick Pitino to reboot its men's basketball program.
After the Red Storm's 63-59 exhibition loss to Pace University, a Division II school, it's clear those ambitions are still a work in progress.
On Sunday, St. John's, which was picked to finish fifth in the Big East's preseason poll, connected on only 26% of its field goal attempts and finished 6-for-34 from the field in the second half of the loss at Carnesecca Arena in Queens, just 15 miles from Pace's New York City campus.
The Pace Setters were picked to finish sixth in the Division II Northeast-10 Conference's preseason poll.
"I'm sure there are people in our league who put in their votes in the preseason poll and now they're going, 'Oh crap, maybe we ranked these guys too low,'" Pace coach Matt Healing told ESPN on Sunday. "We've had a couple of really good years in a row. We did graduate quite a bit. So maybe people were sleeping on us a little bit too much."
Healing said Pitino added the exhibition against Pace — the loss followed St. John's 89-78 charity exhibition win over Rutgers on Oct. 21 — to the Red Storm's schedule after Pitino was hired in March. Healing knew members of Pitino's staff and pushed for the matchup.
St. John's paid Pace, which led wire to wire on Sunday, $5,000 for the matchup, according to Healing.
"For us Division II programs, every little bit helps," Healing said.
Pace University's bench celebrates during an exhibition win over St. John's on Sunday. "Maybe people were sleeping on us a little bit too much," Pace coach Matt Healing told ESPN. Brenden Willsch
Although St. John's did not have standouts Joel Soriano (15.2 points per game last season) and Jordan Dingle (23.4 PPG at Penn last season) for Sunday's game, it was still a stunning result for the Red Storm, who fired previous coach Mike Anderson and replaced him with Pitino.
Chris Ledlum, who averaged 18.8 points at Harvard last season, finished 2-for-14 in the loss to Pace. Daniss Jenkins, who averaged 15.6 points for Pitino at Iona last year, missed all four of his field goal attempts.
With Pace leading 39-34 at halftime, Healing said he told his players to remain disciplined.
"Just stay the course," he said he told them. "The results were working in our favor, but the results were working in our favor because we were doing all the things, all the little things, that we preach every day."
Pitino's arrival has changed the perception of St. John's, which received 47 votes in The Associated Press Top 25 preseason poll months after an 18-15 finish in 2022-23 under Anderson.
Editor's Picks
1 Related
Pitino, who led Kentucky to the 1996 national title and Louisville to the 2013 national title that was later vacated, was aggressive as he quickly altered St. John's roster by adding 10 transfers who could position the program to compete for an invitation to the NCAA tournament in his first season. Last week, he told ESPN's Seth Greenberg and Kevin Negandhi that he wants a "whole new culture" at St. John's.
That can still happen.
Sunday's loss could be a wake-up call, however, about the challenges ahead for a talented St. John's squad, which will need time to build chemistry.
But it was also a great moment for Healing and his program playing against a legendary coach.
"[Pitino] was just very complimentary," Healing said about his postgame conversation with Pitino. "He said, 'Great game. You guys deserve this. Heckuva job coaching. Your kids fought like hell.' That's really what it was about. We were thankful.
"I know it's not easy to play another New York City school like this in this sort of game, and [I] hope that they continue to do it, whether it's against Pace or somebody else, and give some of us Division II schools an opportunity like this. But [Pitino] was very gracious and complimentary, and I know we are, as well."