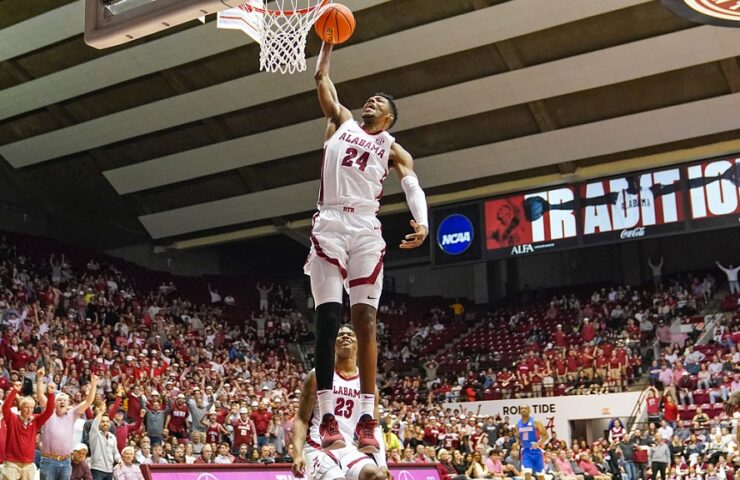 College Basketball Rankings: Top 68 Teams Week 15
College Football News 2023 college basketball rankings for the top 68 teams – and with the remaining schedules – after Week 15
College Basketball Rankings: Week 15
CFN 2023 Rankings: After Week 15
51-68 | 26-50 | 11-25 | Top 10
– AP | Coaches | NCAA Tournament Bracket Projections
Contact @ColFootballNews
Okay, yeah, we're College Football News, so it takes a little while to get up to the speed we should be at for college basketball.
The predictions are doing okay, things are starting to become clear, and we've seen enough to do this right.
Based on a combination of respecting the results, strength of schedule, and more than anything else, just how good these teams appear to be at the moment, here are our college basketball rankings for Week 15 from 1-68 – 68 for the number of teams in the NCAA Tournament, even though a bulk of them here will be knocked out by conference champions with automatic bids.
68 Loyola Marymount Lions 17-10
Remaining Schedule: Gonzaga, Pacific, at Pepperdine
67 UCF Knights 15-9
Remaining Schedule: at Memphis, Cincinnati, USF, at Tulsa, at Temple, East Carolina
66 UAB Blazers 17-8
Remaining Schedule: at UTEP, at UTSA, Rice, at WKU, at Charlotte
65 Penn State Nittany Lions 14-11
Remaining Schedule: Illinois, at Minnesota, at Ohio State, Rutgers, at Northwestern, Maryland
64 North Texas Mean Green 19-5
Remaining Schedule: at Louisiana Tech, at UTEP, at Charlotte, Middle, Tennessee, WKU
63 Florida Gators 13-12
Remaining Schedule: Ole Miss, at Arkansas, Kentucky, at Vanderbilt, at Georgia, LSU
62 Michigan Wolverines 14-11
Remaining Schedule: at Wisconsin, Michigan State, at Rutgers, Wisconsin, at Illinois, at Indiana
61 Vanderbilt Commodores 13-12
Remaining Schedule: at South Carolina, Auburn, at LSU, Florida, at Kentucky, Mississippi State
60 Drake Bulldogs 20-6
Remaining Schedule: at Northern Iowa, Belmont, Illinois State, at Bradley
59 Liberty Flames 18-6
Remaining Schedule: at Kennesaw State, at Jacksonville State, at Queens University, Queens University
57 Utah Utes 17-9
Remaining Schedule: at Arizona, at Arizona State, UCLA, USC, at Colorado
57 College of Charleston 23-3
Remaining Schedule: Northeastern, at Elon, Towson, Stony Brook
56 Southern Miss Golden Eagles 20-4
Remaining Schedule: at South Alabama, Georgia Southern, at Old Dominion, at Texas State
55 Seton Hall Pirates 14-11
Remaining Schedule: Georgetown, at UConn, Xavier, Villanova, at Providence
54 Arizona State Sun Devils 18-8
Remaining Schedule: Colorado, Utah, at Arizona, at UCLA, at USC
53 North Carolina Tar Heels 16-9
Remaining Schedule: Miami, at NC State, at Notre Dame, Virginia, at Florida State, Duke
52 Wake Forest Demon Deacons 17-9
Remaining Schedule: Miami, at NC State, at Notre Dame, Boston College, at Syracuse
51 Utah State Aggies 18-7
Remaining Schedule: Air Force, Nevada, at Wyoming, at UNLV, Boise State
CFN 2023 Rankings: After Week 15
51-68 | 26-50 | 11-25 | Top 10
NEXT: CFN 2023 College Basketball Rankings: Week 15 Top 50