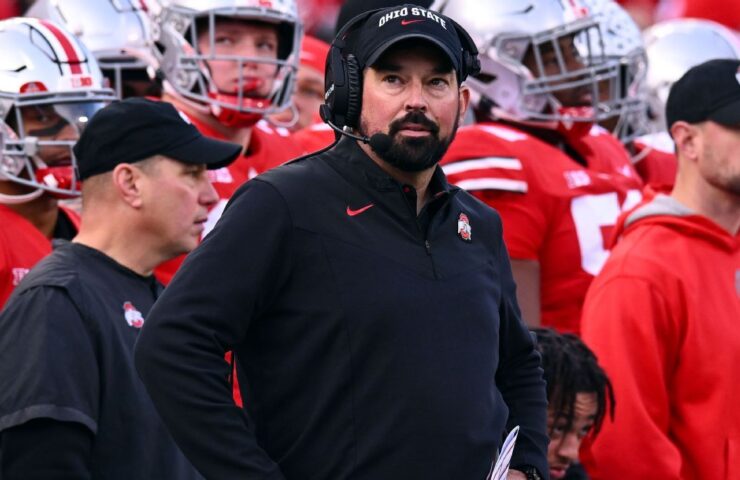 Buckeyes AD backing Coach Day: 'He's my CEO'
COLUMBUS, Ohio– In spite of back-to-back losses to competing Michigan, Ohio State athletic director Gene Smith restated his confidence in coach Ryan Day, informing ESPN on Tuesday that "he's my CEO" which they have actually spoken about everything from workers to playcalling and what they "need to do better."
"My standards are high; our group standards are high," Smith said in a wide-ranging interview in his workplace. "So we talk about how do we get better and how do we make certain we have the ability to win the championships that we aspire to win? We take a look at each specific contest that got in the way of that, and we're attempting to figure out what's the method to reduce that. When we lose, it's extremely disappointing, however I break things down and look at things objectively, and we have excellent conversations about what we require to do much better."
After Ohio State's sensational 45-23 home loss to Michigan this past season, Wolverines protective back Mike Sainristil planted a big maize and blue flag in the block "O" in the middle of the Ohio Stadium grass. Fans were quick to criticize Day, although Smith said more of it comes at them through social networks now than through his inbox or voicemail.Editor's Picks
1 Related"It's really not that bad, "he said.The players have actually heard it, star receiver Marvin Harrison Jr. said.
"We like the coaches, so we want to go out there and protect them and do our best for them, more so than ourselves," Harrison Jr. stated. "In some cases we're simply heading out there and playing for them so they look good. I think that's what type of drives us a little bit from an offense and defense players' point of view. Just going out there playing for your coaches because you're seeing the stuff that's said about our coaches, and we see them every day and we enjoy them a lot since of what they provide for us, so if it anything it makes us play harder."
According to ESPN Stats & Details research, Ohio State hasn't lost 3 straight to Michigan considering that 1995-97. Under Day, the Buckeyes are 1-2 versus the Wolverines and 44-4 against every other challenger, with 3 of those 4 losses can be found in the College Football Playoff. Day is 32-0 against all other Huge 10 teams, consisting of in the championship game game. There is a giant countdown clock in a corridor of the Les Wexner Football Complex as part of a display entitled "The Greatest Rivalry," and another one in the weight space, ticking down the days and minutes up until Ohio State faces Michigan again– on Nov. 25 in Ann Arbor for the regular-season finale. The Buckeyes' focus this spring has been on finding a beginning quarterback to change C.J. Stroud and enhancing a defense that enabled 16 plays of at least 20 yards over the last two games of last season (6 versus Michigan and 10 versus Georgia).
"The competition game's certainly very, extremely essential," Day informed ESPN. "When you look at those games, and you see these single plays that actually cost us the game. When you're speaking about on defense, giving up explosive plays, certainly that's very, really crucial. That's how games can go sideways. And so we need to identify that, get that fixed, and that hurt us in the Georgia game also. That was something we spoke about a lot in the offseason, or we're continually talking about now in the spring, but I actually like the group that we have coming back."
As part of the offseason self-evaluation process, Day stated he is thinking about giving up a few of the playcalling duties to offending coordinator Brian Hartline– a subject he broached with Smith this offseason. Day has actually given more duty to Hartline this spring in part so he can roam the field and invest more time with the defense, but it's unclear how much that will continue this fall.
"His thought process about potentially quiting playcalling, he shared that with me without me ever asking that question," Smith stated. "When we hired him, I informed him, 'You've got to remain in your wheelhouse and call plays. There'll be a natural time in your career where that changes.' So that's not for me to choose; that's for him to decide." Smith said it was the very same process with workers decisions.
"You know, we literally go down everyone– not simply the coaches, but the support staff– and say, 'OK, is our mix right? Do we have the best individual here?'" Smith stated. "We may talk about a deficiency here and how do we strengthen that, so we, it's a collective process, however I don't decide. I hired him to make those decisions."
And to beat Michigan.
"When you take a look at the lineup, all you want to do is identify, OK, does this appear like the teams we've had in the past?" Day stated. "Do we have enough talent to reach our goals every year? And the response is yes. We certainly have it."