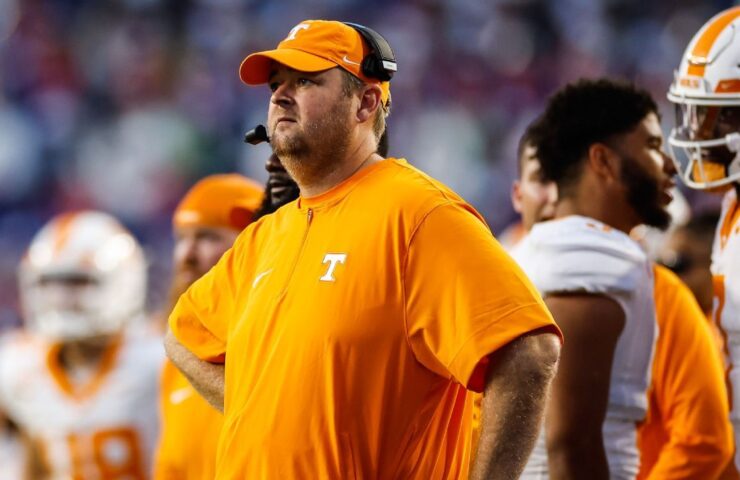 Bottom 10: Tennessee gets stuck in The Swamp once again
Ryan McGee, ESPN Senior Citizen WriterSep 20, 2023, 09:35 AM ET Close Senior writer for ESPN The Publication and ESPN.com 2-time Sports Emmy winner
2010, 2014 NMPA Author of the Year
Inspiring thought of the week:
An old male passed me on the street today
I thought I understood him however I couldn't state
I stopped to believe if I might position his frame
When he tipped his hat, I knew his name
Hi old good friend
It's actually excellent to see you as soon as again
— "Hello Old Good Friend" Eric Clapton
Here at Bottom 10 Headquarters, situated in the deserted Sam Goody's where Desmond Howard now keeps his ginormous record collection, we have long acknowledged and valued the likewise excellent sensations that originate from the notes of a classic tune that you have not heard in a while and recognizing a familiar face of an old buddy you haven't seen in a while.Just just recently, I
sent my daughter off to college and people kept stating to me, "It's such an unusual sensation, isn't it?" But it isn't. The very best part of the Bottom 10 pollster experience is when a longtime citizen of these parts carry on, finishing to stand amongst those who have cashed in their Pillow Battle of the Week frequent leaflet card for routine invites to bowl games.Occasionally, it's excellent to see those old friends pop back in to see us here, returning to their rotten Bottom 10 roots, such as a couple of teams this week. However it's still best to see them appear in the headlines for great factors. OK, good reasons for them, however not for the ones they tripped up.Say, our old buddies the South Alabama Redundancies … I assume @ESPNMcGee will discuss the South Alabama Redundancies in this week's Bottom Ten. Possibly there should be a regular slot to
highlight B10 alumni( or escapees?) who've done something specifically skilled. #BottomTenLobbying pic.twitter.com/z16PPjtCEw!.?.!— InnocentAbroad(@JJGass) September 18, 2023 So, that" U-S-A!"shout you hear? That's not some jingoistic guy waving Old Splendor in a typhoon. That's us. For old times' sake.With apologies to Lee Greenwood, Mike
Gundy and Steve Harvey, here's the Post-Week 3 Bottom 10.
1. Arkansaw State Fightin'Butches(1-2)The Red Wolves earned their very first win of the season, and they did it versus Stony Brook. According to the amazingly and inexplicably accurate ESPN FPI formula, it was the last time they will be favored to win a game this season, balancing a 25.3% opportunity per game from here on out. Also, according to the magically and inexplicably accurate ESPN FPI formula, there is a 100 %possibility that Butch Jones will laugh when he sees who is in this week's Coveted Fifth Spot. 2. Buffalo Bulls Not Costs(0-3) The Bulls opened the season with a 21-point loss to Power 5 stalwart Wisconsin, followed by a 3-point loss to FCS non-stalwart Fordham, followed by a 28-point loss to non-Power 5/former FCS non-stalwart Liberty. In the words of the couple screaming at Steve Martin and John Candy on the interstate," You're going the wrong way!" 3. No-vada (0-3)The Wolf Load had a tough weekend. First, they lost to Kansas to be up to 0-3, then they went back to the dormitories to view their former coach Jay Norvell handle the entire Sanders family and end up looking like Eminem the very first time he tried to rap battle in"8 Mile." 4. EC-Yew(0-3 )The Pirates have officially run aground. There's no shame in losing to Michigan in the Big Home. There's not a lot of embarassment in losing to Marshall in the house. But there is A LOT embarassment in losing
for the second straight
time at Appalachian State, the across-the-state school you have actually been clowning on for a number of years for not playing with the big young boys.
5. Excellent Ol' Rocky Slop(2-1)The last time Tennessee won in The Swamp was Sept. 20, 2003. The No. 1 movie at package workplace that week was"Underworld."Fittingly, a scary action motion picture. 6. The MCU(1-2)No, not the one with the superheroes, though this one does include Zips, Golden Flashes and Falcons. This is the #MACtion Cinematic Universe, where 7 of the league's dozen teams stand at 1-2, which, like Thanos and his big gold glove, makes them almost impossible to separate.
7.
UTEPid (1-2)
The Minors are still reeling from their season-opening losses to Jacksonville State (which is not in the Jacksonville you're thinking of nor is it a state) in the Bottom 10 Waiting Listers' inaugural FBS contest, then to the protecting Bottom 10 champs North by Northworstern. I expect you can forgive their latest loss at Arizona due to the fact that they were most likely looking ahead to October, when they have the prospective to make a failed SpaceX rocket landing Bottom 10 maneuver, as they face FI(not A)U, another FBS beginner in Sam Houston State, We Have Issue, and in between a go to from the group that simply beat …
8. Whew Mexico (1-2) The Lobos fell to Whew Mexico State in the Fight of I-25 as the Other Aggies exacted some vengeance for their season-opening loss to …
9. UMess (1-2)Yes, Massachusetts did knock off Whew Mexico State in Week 1 and this week will host Whew Mexico. If they end up with wins in both of those games, then according to the Bottom 10 Pillow Battle of Year laws, the Albuquerque Convention Center must for the next fiscal year show the Minuteman statue along with its statues of Walter White and Jesse Pinkman, with the soldier from Lexington Green buying a bag of Blue Sky. Speaking of New England …
10. U-Can't(0-3) Hey, Huskies! There y' all … er, yous men, are! Dropping games the very first two weeks to NC State and Georgia State weren't really Bottom 10-worthy. However losing in the house to FI(not A)U in a game where you favored by a goal? That's more like it! In this topsy-turvy college football world where quarterbacks star in national hamburger chain advertisements and UCLA-Rutgers is going to be a conference game, looking at Thanksgiving weekend and understanding that U-Can't vs. UMess has the prospective to as soon as again be a Pillow Battle of the Century resembles a warm blanket. Sure, it has moth holes in it and it's warm since a husky just peed all over it, however still, it's a blanket.Waiting List: Stanfird, State of Troy, Sam Houston State, We Have A Problem, "I'm a male, we just gave up 33 to South Alabama!", the bottom two-thirds of the AAC, the bottom one-third of the Huge 12, No-braska, San No-sé State, internet cowards sending death risks to college football players.