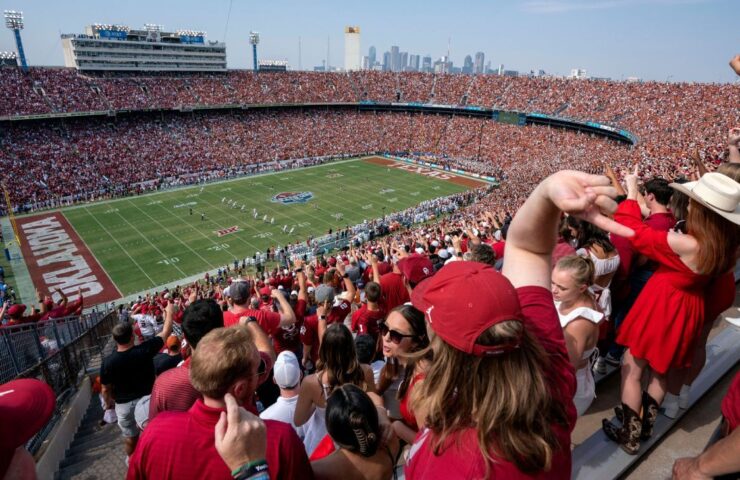 Big 12 spring preview: A year of change and unpredictability
8:00 AM ET
Bill Connelly

Close

Bill Connelly

ESPN Staff Writer

Bill Connelly is a staff writer for ESPN.com.

Dave Wilson

Close

Dave Wilson

ESPN Staff Writer

Dave Wilson is an editor for ESPN.com since 2010. He previously worked at The Dallas Morning News, San Diego Union-Tribune and Las Vegas Sun.
It's a big year for the Big 12. After dropping to 10 football teams in 2011, the conference will balloon to 14 this year with the arrivals of BYU, Houston, UCF and Cincinnati, before once again matching up with its name next season when Texas and Oklahoma depart to the SEC to make it a nice, round 12-team league again.
Of course, given that realignment never stops, that could be only temporary. But that's not why we're here today. We're here to try to make some sense of a league that saw its 2021 title-game participants (Baylor and Oklahoma State) combine to go 13-13 last season. It saw a 5-7 team, TCU, start 12-0 under a new coach, before Kansas State stopped it to win the league championship (a year after the Wildcats went 4-5 in the conference).
What we're saying is this conference is wholly unpredictable, which makes it fun to predict. What we know is Texas and Oklahoma are going on a farewell tour and the teams are sure to hear about it from fans, while the newcomers are in search of new rivalries. The Longhorns and Sooners, as usual, signed stellar classes and are ready to try to battle for the top of the league. But like last year's K-State team, there are sleepers with experience — like Texas Tech, perhaps?
As spring practices get rolling, Bill Connelly and Dave Wilson break down the top storyline and newcomer to watch for each team in the Big 12.
After winning the Big 12 in 2021, Dave Aranda and Baylor will look to bounce back from a 6-7 record last season. Chris Jones-USA TODAY Sports
Top storyline: The Bears followed an incredible 2021 league championship season by stumbling to a 6-7 finish, including a November stretch in which they went 1-3 and gave up 437 yards of offense per game — uncharacteristic struggles for a defensive-minded head coach like Dave Aranda. He responded by replacing Ron Roberts at defensive coordinator with Matt Powledge, who had been co-DC at Oregon for a season after serving as safeties and special teams coach at Baylor the previous two seasons. On offense, running back Richard Reese proved to be a great fit for offensive coordinator Jeff Grimes' running attack, but Aranda opted for Blake Shapen over Gerry Bohanon at quarterback after last spring's practices, leading to Bohanon's transfer. Shapen threw for 2,709 yards and 18 touchdowns with 10 interceptions, but he finished under a 60% completion rate in four games, didn't reach the 200-yard mark in six and threw for five TDs against four INTs in the Bears' four straight losses to end the season. Transfer quarterback Sawyer Robertson from Mississippi State could push Shapen this spring, but Shapen will get every opportunity to improve.
Newcomer to watch: The Bears added a lot of heft up front in the Barrington brothers, offensive linemen from Spokane, Washington, who played at BYU. Campbell, a 6-foot-6, 295-pound junior, played in nine games last season and landed on several freshman All-America teams in 2021 after starting six games. But his brother Clark was a big prize for the Bears as they try to protect Shapen and reinvigorate the offense. The 6-6, 305-pound senior played in 46 games at BYU, starting 40, including all 13 at left guard last season. He was an All-American in 2021 and was on the Outland Trophy watch list last preseason. — Wilson
Top storyline: What changes will Jay Hill bring to the table? The former Weber State head coach takes over as defensive coordinator after Ilaisa Tuiaki's resignation. After an excellent defensive performance in 2020, the Cougars' defense fell off course in 2021, then completely collapsed in 2022, allowing 38 points per game and 7.2 yards per play in five losses. Hill built a defensive juggernaut in the Big Sky, and he takes over a unit that got wrecked by both injury and inconsistency. Twenty-six different players started at least one game, and while a majority of them return, actual playmakers need to emerge. Nickel back Max Tooley, perhaps? Linebacker Ben Bywater? This collapse came at a terrible time, with the Cougars' move to the Big 12, and Hill needs to find traction quickly.
Newcomer to watch: BYU's immediate fortune in the Big 12 will be determined by not only Hill, but also quarterback Kedon Slovis. The senior has thrown for 9,973 career yards and 68 touchdowns in starting stints at both USC and Pitt, and now he'll wrap up his career in Provo, throwing to intriguing weapons such as Keanu Hill and slot man Kody Epps. — Connelly
Top storyline: Luke Fickell took Cincinnati to great heights in part by creating a wonderfully stable and steady environment, but now, with Fickell off to Wisconsin, change is everywhere you look. Former Louisville head coach Scott Satterfield takes over and brings defensive coordinator Bryan Brown with him, while Brad Glenn, most recently of Georgia State and Virginia Tech, takes over as offensive coordinator. Satterfield hit the transfer portal pretty hard, bringing in 15 new players and counting, and basically everything you thought you knew about the UC program is now going to change, for better or worse.
Newcomer to watch: Emory Jones is making a two-man quarterback battle a three-way race. The former Florida and Arizona State starter will battle incumbent Ben Bryant and former blue-chipper Evan Prater; Glenn made the most of mobile QBs at Georgia State, which could make either Jones or Prater an intriguing option, but Bryant threw for 2,732 yards and 21 TDs last season. This is a difficult battle to handicap. — Connelly
Editor's Picks
2 Related
Top storyline: After being left behind in the wreckage of the Southwest Conference, Houston has finally completed its journey to the Power 5, landing in the Big 12 and facing off against five old SWC foes (including the annual nonconference rivalry game against Rice). But coach Dana Holgorsen, who knows the league from his time at West Virginia, is facing a challenge, replacing quarterback Clayton Tune and All-American wideout Nathaniel Dell, while also sorting out offensive and playcalling duties with the departure of trusted assistant Shannon Dawson (who went to Miami). Eman Naghavi joins Houston's staff from Tulane to serve as run game coordinator/offensive line coach, and Holgorsen said that "we're going to experiment with everything" when it comes to who calls plays.
Newcomer to watch: Donovan Smith, a 6-5, 230-pound junior quarterback, beat Houston as Texas Tech's quarterback early last season — throwing for 350 yards and two touchdowns in a 33-30 double-overtime win in September. He transferred to the Cougars after playing in 23 games with eight starts in the past two seasons for the Red Raiders. He threw for 2,686 yards and 19 TDs to 10 INTs in that span, completing 64.2% of his passes. With Clayton Tune graduating, Smith will push sophomore Lucas Coley for the starting job along with true freshman Caleb McMickle. — Wilson
Top storyline: After earning a reputation as an overachiever and a coach on the rise, Matt Campbell and the Cyclones suffered through a disappointing 2022, going 4-8 and 1-8 in conference, followed by a sizable shakeup of Campbell's staff. Iowa State finished 114th in scoring offense last season (20.2 points per game), 83rd in total offense and 116th in rushing offense, averaging just 3.3 yards per carry. Campbell made changes almost across the board on offense, moving Nate Scheelhaase, who has been with Campbell since 2018, from RB/WR coach to offensive coordinator. He'll replace Tom Manning at the position, while the Cyclones also brought in a new strength staff and new coaches for the offensive line, running backs, wide receivers and special teams. But Campbell still expects ISU to play a pro-style attack. What that looks like with a bunch of new faces will be of interest given that the Cyclones had a top-20 national defense last year.
Newcomer to watch: J.J. Kohl, a 6-7, 230-pound quarterback from Ankeny, Iowa, committed to the Cyclones in April and held firm through their struggles and coaching changes (it helps that his father, Jamie, was an ISU kicker). But Kohl had plenty of suitors, including Michigan, which made a late push. Kohl's commitment was a big boost for one of Campbell's best recruiting classes, and the home-state star (Kohl was No. 118 in the ESPN 300 and the No. 8 pocket passer in the class) arrives as the backup to Hunter Dekkers. With changes afoot on offense, Kohl could stand to benefit. — Wilson
Top storyline: After averaging 1.9 wins per year from 2010 to '21, Kansas parlayed a 5-0 start into its first bowl appearance in 14 seasons. Coach Lance Leipold further burnished his culture-building bona fides, but he did it primarily on offense, where quarterbacks Jalon Daniels and Jason Bean combined to throw for 3,294 yards and rush for 641 more. The return of Daniels and running back Devin Neal should assure that KU's offense remains thrilling and dangerous, but further growth will require far more from a defense that allowed 35.5 points per game and 6.2 yards per play last season. The linebacking corps and secondary will boast massive experience, but the biggest storyline of the spring will be whether this unit can actually support such a strong offense.
Newcomer to watch: Leipold brought in six defensive transfers, and with last year's top three linemen gone, a strong spring from either 325-pound senior Devin Phillips (from Colorado State) or 280-pound sophomore Gage Keys (Minnesota) would be a welcome sight. — Connelly
Chris Klieman led Kansas State to a Big 12 title last season but will have to replace plenty of offensive production this spring. Photo by John Bunch/Icon Sportswire
Top storyline: It's all about unearthing playmakers for K-State this spring. The Wildcats will return a healthy core from last year's Big 12 championship squad — quarterback Will Howard, an experienced and potentially spectacular offensive line, sturdy defensive seniors such as linebackers Austin Moore and Daniel Green — but they won 10 games and a ring in part because of explosive players such as running back Deuce Vaughn, receiver Malik Knowles, defensive end Felix Anudike-Uzomah and corner Julius Brents, all of whom are gone. It was a unique and special thing to have that many plus athletes without blue-chip recruiting, and now head coach Chris Klieman has to assemble another crew of explosive players.
Newcomer to watch: Florida State transfer Treshaun Ward could be exactly the type of Vaughn replacement the Wildcats need. The junior rushed for 1,143 yards at 6.5 per carry in 2021-22 and could become an immediate star. — Connelly
Top storyline: The excitement of coach Brent Venables' return to Oklahoma was quickly met with shock when the Sooners lost three straight games to begin conference play, including a 55-24 rout by TCU, followed by a woeful 49-0 loss to Texas. The Sooners finished the season 6-7, gave up 30.0 points per game (99th nationally) and went just 3-6 in the Big 12. Venables did rebound with a stellar recruiting class and landed some instant-impact transfers, but the Sooners will get every team's best shot in their last trip through the conference in 2023, including what will likely be the last Bedlam game for the foreseeable future. There is talent on hand and the players have had time to adjust to the new staff. What will Year 2 bring?
Newcomer to watch: Dasan McCullough, a transfer from Indiana, will get a shot to man the same Cheetah role in Venables' defense that turned Isaiah Simmons into a star at Clemson. The speedy linebacker is 6-5, 230-pounds and could be all over the field, saying recently that he's also been working with the defensive backs and defensive ends. The son of Notre Dame running backs coach Deland McCullough, his brother Daeh signed with the Sooners as a four-star safety recruit this season. Dasan will bring much-needed production to a defense that struggled mightily last season, when he became a freshman All-American for the Hoosiers with 48 tackles (6.5 for loss), four sacks and three pass breakups. — Wilson
Top storyline: After falling from 12-2 to 7-6 following a massive round of turnover, Mike Gundy must replace a few more headliners in 2023 — among them: quarterback Spencer Sanders, leading rusher Dominic Richardson, four of last year's top five wideouts and defensive standouts such as linebacker Mason Cobb, edge rusher Brock Martin and safety Jason Taylor II. Gundy hit the transfer portal hard, especially in the search for offensive playmakers, and he pulled the ultimate Gundy move, handing the defensive reins to a small-school dynamo in former Gannon (Division II) defensive coordinator Bryan Nardo. Spring ball will help to determine whether this giant chemistry experiment can find immediate legs, or whether it's going to take a while.
Newcomer to watch: On defense, Nardo is a fascinating choice, but the most important newcomer might be on the other side of the ball. After an injury-plagued time at Texas Tech and two years as a backup at Michigan, quarterback Alan Bowman elected to finish his career in Stillwater. Is he the right choice for succeeding Sanders? — Connelly
Top storyline: Sonny Dykes took over a team that finished 5-7 in 2021 and went 13-2, with the two losses coming in the Big 12 championship and the College Football Playoff National Championship. Almost every major star from that brilliant run is gone to the NFL. QB Max Duggan, RB Kendre Miller and WR Quentin Johnston were a formidable trifecta, and Steve Avila was one of the country's best offensive linemen. On defense, Dylan Horton (four sacks in the Fiesta Bowl against Michigan), Dee Winters and Tre'Vius Hodges-Tomlinson (the Thorpe Award winner) are gone. So Dykes has his work cut out for him. Players bought in and believed last year, building a strong foundation for the future. The Horned Frogs signed their highest-rated recruiting class in the modern era and landed transfers from Alabama, LSU, Florida and Oklahoma State to help replace those big losses. No pressure for an encore, right?
Newcomer to watch: New offensive coordinator Kendal Briles arrived from Arkansas to replace Garrett Riley, who departed for Clemson after winning the Broyles Award as the top assistant coach in college football last season. Enter Briles, whose name was a tough pill to swallow for many TCU fans because of his affiliation with Baylor and his father, Art, who was fired amid a sexual assault scandal in Waco in 2016. Briles stayed on under Jim Grobe at Baylor before becoming the OC at FAU for Lane Kiffin, then moving on to Houston with Major Applewhite, Florida State with Willie Taggart and working for Sam Pittman at Arkansas — where the Hogs ranked 35th nationally in scoring, averaging 32.5 points per game. At TCU, he'll have to find a new quarterback to replace a Heisman finalist, replenish all those key players on offense and get them up to speed quickly. — Wilson
Head coach Steve Sarkisian said that it's an open competition at quarterback this spring between five-star recruit Arch Manning and returning starter Quinn Ewers. Scott Wachter/USA TODAY Sports
Top storyline: Are the Longhorns ready for prime time? The roster is loaded. There are two top-five national recruits at quarterback in returning starter Quinn Ewers and Arch Manning, a 6-5 freshman with a big arm and a bigger name. The wide receiver corps was depleted last year with the injury to Isaiah Neyor, a transfer with big hopes, and this week's revelation that Xavier Worthy played much of the season with a broken hand. Ja'Tavion Sanders will be a star at tight end. Georgia transfer AD Mitchell is a big addition as a 6-5 target who will complement Worthy, Jordan Whittington and the returning Neyor. On top of that, the young offensive line has key players to build around. On defense, Gary Patterson has gone back home to Fort Worth, and Sarkisian is worried about the pass rush. But the return of linebacker Jaylan Ford and the addition of freshman Anthony Hill could help the LB corps become a strength. A Sept. 9 trip to Tuscaloosa to face Alabama will be a huge benchmark for where Sark's progress stands.
Newcomer to watch: Anthony Hill is a 6-2, 230-pound freshman who was ranked as the top linebacker in the country in the 2023 recruiting class and can play from sideline to sideline. The Horns have firepower all over the field on offense. For them to make serious noise this year, they'll need the defense to make a leap, and Hill could see the field early and often with the graduations of DeMarvion Overshown and Diamonte Tucker-Dorsey. Hill, the No. 16 overall prospect in the ESPN 300, is a huge building block for the future. — Wilson
Top storyline: Year 1 of the Joey McGuire era was a success in Lubbock, with him energizing the fan base and signing a top-25 recruiting class, all while beating Texas and Oklahoma in the same season. McGuire has 10 starters returning on offense, including quarterback Tyler Shough, the former Oregon transfer who started five games last season. He won all of them to move to 8-1 in his career as the starter at Tech. Shough had 353 total yards and was the MVP of the Texas Bowl in the Red Raiders' 42-25 win over Ole Miss. In Year 2, can McGuire make a push to contend?
Newcomer to watch: With the departure of Tyree Wilson, who likely will be a top-10 pick in the NFL draft, the Red Raiders were searching for pass-rushers. Steve Linton, a 6-2, 225-pound outside linebacker/edge rusher, is a senior from Dublin, Georgia, who arrived via transfer from Syracuse, where he started 11 games last season and had 22 tackles (six for a loss) and 3.5 sacks. He has two seasons of eligibility left and could be a key contributor in Tim DeRuyter's aggressive defensive scheme that averaged seven tackles for a loss per game last year — ranking the Red Raiders in the top 20 nationally. — Wilson
Top storyline: After back-to-back nine-win seasons, third-year head coach Gus Malzahn is leading UCF's big power-conference leap with a couple of new coordinators: Darin Hinshaw on offense (replacing North Carolina-bound Chip Lindsey) and Addison Williams on defense (replacing Arkansas-bound Travis Williams). Both have worked for Malzahn recently, and Hinshaw led an explosive, if inconsistent, offense at UAB last season. The Knights boast quite a bit of experience on both sides of the ball, so the spring will be a good opportunity to see exactly what Malzahn, Hinshaw and Williams are looking to change in moving to the Big 12. Will Williams look to get more aggressive? Will Hinshaw work as well with quarterback John Rhys Plumlee (2,586 passing yards, 862 rushing yards) as Lindsey did?
Newcomer to watch: Hinshaw is probably the best answer, though he'll be leaning on some big newcomers — literally and figuratively — up front. UCF is replacing four starters on the offensive line, so Malzahn brought in four transfers, led by former Alabama blue-chipper Amari Kight and All-MAC tackle Marcellus Marshall. — Connelly
Top storyline: What on earth happened to the defense last year (and can it be fixed)? After suffering quite a bit of offseason attrition and in-season injuries, the Mountaineers collapsed from 44th to 116th in scoring defense and gave up 42.7 points per game and 6.5 yards per play in their losses. Head coach Neal Brown kept coordinator Jordan Lesley and added a couple of key MAC DBs in corner Montre Miller (Kent State) and nickel Keyshawn Cobb (Buffalo). Was that enough change? Will young playmakers begin to emerge for Lesley this spring? Will turnover up front (three of last year's top four linemen are gone) offset rich experience in the secondary? There are plenty of questions to ask of this suddenly dismal defense, and there's no time like the present for finding answers.
Newcomer to watch: After losing coordinator Graham Harrell to Purdue, Brown promoted run-game coordinator Chad Scott as a replacement. Scott should like the run personnel he oversees, but quarterback JT Daniels and last year's top four receivers are gone. The QB job will likely go to either of two internal choices (Garrett Greene or Nicco Marchiol), but Brown brought in receivers Devin Carter (NC State) and Ja'Shaun Poke (Kent State) and tight end Kole Taylor (LSU). They'll need to produce immediately. — Connelly