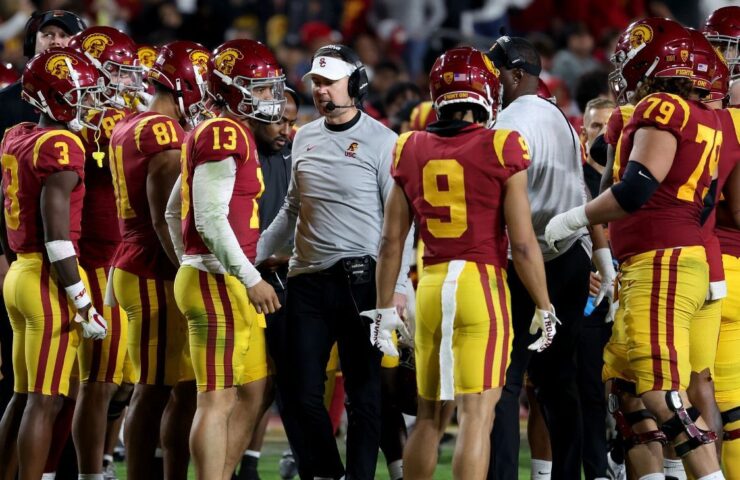 Beyond the flash, Lincoln Riley looking to build a perennial
1:00 PM ET
USC enters the 2023 season with the returning Heisman Trophy winner, the sport's buzziest analyst hire and College Football Playoff aspirations based on recent production rather than reputation.
As Lincoln Riley enters his second season at USC, he has led a turnaround that appears to be waking the echoes of the Pete Carroll glory years. After going from 4-8 in 2021 to 11-3 in 2022, there's a surge of relevance that has again helped the program capture Los Angeles and the country.
Beyond quarterback Caleb Williams walking the runway in fashion shows and Kliff Kingsbury's splashy return to college football, there has been a rare recruiting overhaul that has upgraded the roster and reaffirmed to Riley what USC can become in this new era of college football.
USC brought in a star-studded top 10 recruiting class in 2023 to create a base for the future, all while transforming the top part of the roster with 36 transfers — so far, anyway — in the past two classes.
"It speaks to this place and what it's capable of," Riley told ESPN in a recent phone interview. "If you could bring in that type of class with all the uncertainty and still rebuild the rest of the roster. I don't know other places that could have gone through that overhaul and still done that.
Editor's Picks
2 Related
"Any lingering question out there, 'Does USC still have the firepower it had in other great eras?' This is as good an indication as you could look at."
By the time USC kicks off next year, at least 55 of the 85 scholarship players will be additions since Riley's hire following the 2021 regular season. (There are at least 60 total players, as that number doesn't include the five players like receiver Jordan Addison and tailback Travis Dye who have come through and departed already.)
Riley's burgeoning recruiting juggernaut at USC includes luaus doubling as recruiting dinners at his Palos Verdes mansion, Pacific Ocean beach trips for out-of-town recruits and courtside breakfasts at Crypto.com Arena to remind everyone of legends like Kobe and Shaq who've played in town.
Beyond the flash, USC's quintessential modern roster overhaul may end up being remembered as the archetype of how to flip a program in the new age of college football. With the transfer portal, one-time transfer rules and waiver of annual counter limits, roster remakes have changed seismically in the past five years. At USC, the changes have come thanks to a 17-month sprint that's included his staff learning a new school and city with the unexpected twist of recruiting to a new league after USC's sudden jump to the Big Ten last summer.
USC's roster refurbishment came from two directions. Riley began last spring with what he referred to as the "most unique roster" in USC history. The 25 transfers broke down this way — 20 from a four-year university, four from junior college and one international player, according to the school. They added just 13 high school recruits.
This year, those numbers were essentially reversed. USC brought in 22 high school players and 11 transfers — again, so far — in Riley's first full recruiting class.
The No. 10 recruiting class in ESPN's 2023 rankings is highlighted by offensive skill, starting with ESPN's No. 1 overall recruit, local quarterback Malachi Nelson (Los Alamitos). They also bring in the country's top two wide receivers — the No. 7 player in Zachariah Branch (Las Vegas) and the No. 13 player in local star Makai Lemon (Los Alamitos). The recent addition of the top tight end in the class, No. 40 recruit Duce Robinson, gives the class a final critical bedrock from high school.
USC football general manager Dave Emerick pointed out that Riley's commitment to recruiting includes getting involved early in the players' careers and building deep relationships with them and their families. Branch's first listed power offer came from Oklahoma during Riley's tenure there in February 2020, and both Nelson (July 2021) and Lemon (August 2021) were verbal commitments to Riley at Oklahoma before flipping to USC soon after he left Norman.
Riley said what he has appreciated most about his staff's recruiting effort is that with all the energy geared toward portal players, they still found the time for the phone calls, road hours and rapport building for the first full recruiting class.
"This 2023 class, to bring in that quality of a class," he said. "And, oh by the way, you're also rebuilding half or, honestly more, of the older part of your roster. I think that's gotten lost in translation a little bit.
"For us to sit back 1½ years later having rebuilt the upper part of our roster in the way we did and bring in the quality of high school players on top of that, it was a monumental effort and a testament to this place."
Perhaps only TCU (5-7 to 13-2), Washington (4-8 to 11-2) and LSU (6-7 to 10-4) executed comparable on-field turnarounds with a first-year coach at a program with national title aspirations. (Only LSU had similar recruiting success.) Traditional strong brands like Florida (6-7), Miami (5-7) and Oklahoma (6-7) all endured transition years, which are normal when head coaches depart.
If USC is going to build on the momentum, they'll need to beef up on the defensive side of the ball. The Trojans finished outside the top 100 nationally last season in total defense (423.9), passing yards allowed (264.1) and third-down defense (43.2%). There's a reason that USC brought in six defensive transfers in the 2023 class.
But there are early signs of improvement on defense, which looms as the biggest impediment to USC's CFP aspirations. Riley's excitement about early enrollee inside linebacker Tackett Curtis was clear, as he said he hasn't been around a player at that position who has had a better spring after arriving to college early. "We've been thrilled with him," Riley said.
Anyone who watched USC give up the most yards per game and per play (6.5) in program history last year realized the Trojans were deficient on the front seven. That's why Riley said they've remained aggressive in those areas in the transfer portal, as five of the six defensive transfers are in the front seven. Those include interior defensive lineman Kyon Barrs (Arizona) and linebacker Mason Cobb (Oklahoma State), who were both second-team all-league performers at their prior schools.
"The talent base on the front seven, just watching us now in the spring, there's a giant difference now," Riley said. "We've got a few guys to get here in June. We're getting closer to getting the talent base to where we want it."
It's difficult to discern how much of USC's recruiting success can be attributed to name, image and likeness. Riley said upon the new staff's arrival that USC's NIL required a similar jump-start to the roster. He compares the leap in the effectiveness of the NIL program to the "radical" progress the roster has taken, calling USC's NIL availability "very good and rapidly getting better."
The next class USC brings in will play exclusively in the Big Ten, and it's something Riley and Emerick say has been greeted well on the recruiting trail. Riley said some of the games USC will play are essentially Rose Bowl matchups, only now they'll happen every year — think Ohio State or Penn State.
Riley expects questions about the league switch to pick up in the coming year. He's frequently asked about travel and referenced a study that USC did to counter one of the biggest arguments against the move. After UCLA, the closest conference game is at Nebraska, which is nearly 1,300 miles away.
Riley said that compared to normal years in the Pac-12, the Trojans will end up on planes four to six more hours, perhaps an hour longer per trip. He called the travel questions a "nonissue" for football and added that they are fortunate flying east to west on the way home, as they'll gain hours coming back.
"We're selling that you're going to have an opportunity to build your brand across the country — from New York to Washington, D.C. to Los Angeles," Emerick said. "All those markets. In this day and age of NIL, the opportunity to build a nationwide brand is something that's unique."
There's still a lot of work to be done for USC to catch the ghosts of its championship past. But 17 months into Riley's tenure, he's confident in both the foundation that's been put in place and USC's ability to continue to attract top talent.
"It wasn't as if we won some games so the roster was fixed," he said. "[The number of transfers] will taper down as time goes down, as there's a few less immediate needs. As the portal recruiting tapers down, the high school recruiting will go up."