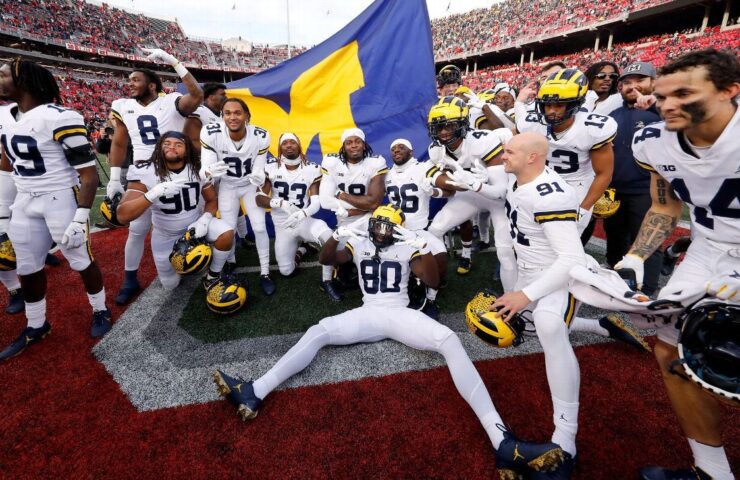 Best of Week 13: Michigan beats Ohio State with style
The beauty of the showdown Saturday between No. 2 Ohio State and No. 3 Michigan is that it was not simply a matchup of playoff contenders in a heated rivalry game, but such a stark contrast in styles.
Ohio State is the sports car, all flash and speed with more skill position talent than the average Big Ten team has in a decade.
Michigan is a Jeep, a rugged machine designed for brute force. The Wolverines win not by sprinting past opponents, but by running over them.
And if that had been the script that played out Saturday — and, for much of the first half, it was — the Buckeyes might be headed to the Big Ten title game.
Instead, Jim Harbaugh's team showed it's far from a one-trick pony. On Saturday, Michigan was Meryl Streep, effortlessly slipping into a new role, cast against type and playing the part perfectly.
In the end, of course, Michigan still ran the ball for 252 yards, forced two Ohio State turnovers and held the Buckeyes to 5-of-17 on third and fourth downs, but that was simply the denouement. Michigan won through the air, through style, pizzazz and an almost comical level of brazenness from Harbaugh that he has rarely shown in the course of his coaching career.
Blake Corum suited up, but he touched the ball just twice in the game. Instead, Michigan relied on quarterback J.J. McCarthy to deliver the big plays.
Back in September, Harbaugh gambled on McCarthy as his starter, benching the QB who took the Wolverines to the College Football Playoff in 2021, Cade McNamara, in favor of the more versatile sophomore. For much of the season, the gamble paid minimal dividends, with McCarthy deferring to his run game in a series of entirely formulaic wins against lesser opponents, like a poker player checking again and again waiting for just the right hand to go all-in.
2 Related
Saturday, McCarthy was dealt one ace after another.
Entering the game, Michigan had just 12 completions of 30 yards or more all year. Against Ohio State, McCarthy delivered four of them, including touchdown throws of 69, 75 and 45.
And if McCarthy's shredding of an overmatched Ohio State secondary wasn't enough, Michigan used its linebacker-turned-running back to throw a 15-yard jump pass on third down in what was less a play call and more akin to slipping a whoopee cushion onto Ryan Day's seat just as he sat down for Thanksgiving dinner. It was designed to embarrass as much as to succeed. Such is the beauty of a rivalry like this one.
Indeed, it was bad enough that even Michigan's punter was dunking on the Buckeyes.
Perhaps as shocking as Michigan's role reversal on offense was the way Ohio State simply cashed in its chips down the stretch. The Buckeyes mustered just three points in the second half, turned the ball over twice and watched as Michigan's Donovan Edwards reeled off touchdown runs of 75 and 85 yards on consecutive drives. Had Ohio State kept the game close, fought to the end, took Michigan to the brink — perhaps there'd still be a reasonable case to put the Buckeyes into the College Football Playoff.
Instead, the epitaph on their season will read, "Lost by 22 at home to that teaX up north."
It's hard to know what this means in the bigger picture for Michigan. Last year, the Wolverines made the playoff, but their fate always felt all but assured, a sacrificial lamb just happy to live long enough to get a free trip to South Beach before getting whipped by Georgia.
Saturday showed something more to the 2022 incarnation though. While Day punted away chances to close the gap in the second half, Harbaugh seemed like a hedge fund manager on a heater at a Vegas craps table — all gas, no brakes, tipping the waitress with $100 bills on every fresh glass of 2% milk she brings (which is what we assume Harbaugh would be drinking in Vegas). While Ohio State was unable to maneuver the foothills in its souped-up sports car, Michigan showed it can sling it around the field, then run it down your throat. And while the Buckeyes were knocked from their place atop the list of contenders for Georgia's throne, Michigan may well have delivered a statement that reverberates beyond Big Ten country. This team is for real.
– Weather was nice
– We were taken seriously
– They didn't have the flu

Any more excuses?

— Brad Robbins (@__BR91) November 26, 2022
Gamecocks ice the ACC
There was a time, two whole weeks ago, when the South Carolina offense was a mess. This was a different era, of course, back before our long national nightmare waiting for Taylor Swift tickets and well before Matt Rhule could locate Nebraska on a map. Many people had only seen "Black Panther: Wakanda Forever" twice. So much has changed since then.
Back in those dark days of mid-November, South Carolina was embarrassed by Florida 38-6 and its offense was in shambles.
But now, the Gamecocks have the hottest offense in the country and Spencer Rattler suddenly looks like … well, 2020 Spencer Rattler.
After throttling No. 5 Tennessee 63-38 last week, the Gamecocks put on an encore performance by toppling No. 8 Clemson for the first time since 2013, 31-30, and effectively ending the ACC's playoff hopes in the process.
play
0:41
South Carolina's special teams recover the fumble to regain control in final minutes.
Rattler was dazzling again, completing 25 of 39 passes for 360 yards and two touchdowns while adding a third on the ground.
Clemson's DJ Uiagalelei, on the other hand, was a mess, completing 8 of 29 throws, as the Tigers turned the ball over three times while wasting a 14-0 lead.
Will Shipley ran for 132 yards on the ground, but had just two carries on Clemson's final four drives.
Now, the ACC championship game will feature two teams that both lost their rivalry games to close out the year, with North Carolina losing to NC State 30-27 Friday night in double overtime.
South Carolina, on the other hand, will wrap the regular season with a likely top-25 ranking and enough cachet to warrant some serious buzz heading into their bowl and beyond. The Gamecocks won eight regular-season games for the first time since 2017 and snapped a seven-game losing streak to the Tigers — handing Dabo Swinney his first home loss in 41 games to boot.
TCU makes playoff statement
The playoff committee has spent the past few weeks pointing out all the flaws in TCU's game. The Horned Frogs just haven't won impressively enough to wow anyone.
On Saturday, however, Sonny Dykes basically held the severed head of Cy the Cardinal aloft and yelled, "Are you not entertained?"
TCU destroyed Iowa State 62-14 behind three touchdown passes from Max Duggan and a defense that forced three turnovers and scored twice.
It was TCU's first win by more than 10 points since beating Oklahoma by 31 on Oct. 1, and it sealed a perfect regular season for the Horned Frogs, who'll move on to the Big 12 title game with a chance to force their way into the College Football Playoff — unless of course the committee finds that a 48-point win over the last-place Big 12 team isn't as impressive as a 22-point loss to Michigan. Got to appreciate those quality losses, and frankly, it's a real knock on TCU that it doesn't have any of them.
Indeed, here's the very definition of irony: What if TCU loses the Big 12 title game next week, then is passed by Ohio State in the committee's final rankings?
That would mean that the Horned Frogs lost out on a playoff berth to Ohio State in 2014 because the Big 12 didn't play a title game … then lost out on a playoff berth to Ohio State in 2022 because it did.
Rivalry roundup
It's rivalry weekend. So, how did some of the less competitive rivalry games go? We've got you covered with a full rundown.
Iron Bowl: Alabama 49, Auburn 27
Scene: Clenching a glass of scotch and sweating nervously, Boo Corrigan stares out the window of his room at the Gaylord Hotel, where the playoff committee is set to meet one final time.
Below, a low fog hangs over a graveyard. Lightning flashes. A thunder crash booms.
Suddenly, the ground begins to move. From the fresh dirt bursts a clenched fist with championship rings on every finger.
"My God," Corrigan gasps. "It can't be."
Into the moonlight, the visage is clear. It's him. He lives.
Who beat up Saban? pic.twitter.com/yUaJLl8c1J

— Anita (@neetsark) November 26, 2022
OK, so it's still a long shot, but we're not writing off Nick Saban. The man is indestructible.
As a side note: Bryce Young belongs in New York for the Heisman Trophy ceremony. He won't win it, but he has been incredible.
The rivalry formerly known as the Civil War: Oregon State Beavers 38, Oregon Ducks 34
Oregon led this game 34-17 with 13 minutes to play.
Oregon State led by four with eight minutes to play and never looked back.
How is this possible? It was a sheer comedy of errors. There was the 43-yard run Oregon allowed that set up a critical third-quarter TD. There was the Ducks settling for a field goal after having the ball with first-and-goal at the 10. There was the huge kick return and face mask penalty that set up another Beavers touchdown. There was the fumble at the 2 recovered by Oregon State. There was the failed fourth-and-1 conversion that gave Oregon State the ball back again deep in Ducks territory.
But more than anything, there was this guy. He isn't the hero Oregon State deserved. He's the hero it needed.
Oregon State is clearly leading Oregon by dozens of hats pic.twitter.com/LcfctJYZ9S

— Red Scott (@red_scott_fb) November 26, 2022
Governor's Cup: Kentucky 26, Louisville 13
Will Levis threw two touchdown passes and the Wildcats won the Governor's Cup for the fourth straight year — all by double digits. What this means for Scott Satterfield's future at Louisville will be the big question for Cardinals fans, but the more important question for everyone else: How is the trophy for this game not just an oversized bottle of Pappy Van Winkle?
Clean, Old-Fashioned Hate: Georgia 37, Georgia Tech 14
Georgia Tech scored on its first possession and led this game well into the second quarter. By any reasonable metric, that's a huge success. (Note: Actually winning this game would've been an unreasonable metric.) Meanwhile, Georgia can now fully turn its attention to the SEC championship game, where Stetson Bennett can accomplish the one thing he has yet to do in his career.
Old Oaken Bucket: Purdue 30, Indiana 16
The Boilermakers secured a trip to the Big Ten championship game with the win Saturday. Purdue is unranked. Purdue in its history has nine wins as an unranked team against top-two opponents, more than double any other program in the country. Purdue will play a likely second-ranked Michigan next week. What could go wrong?
Land of Lincoln Trophy: Illinois 41, Northwestern 3
Remember when Northwestern stunned Nebraska in Week 0? The Wildcats scored 31 in that game. They didn't top 24 in another game all season. In the month of November, Northwestern scored a grand total of 22 points. Maybe we shouldn't have been making fun of Iowa all this time. The Hawkeyes are the 2000 St. Louis Rams compared with Northwestern.
Paul Bunyan's Axe: Minnesota 23, Wisconsin 16
What to make of Minnesota's season? The advanced metrics loved the Gophers all year. Actually winning games, however, was difficult. After a 4-0 start, Minnesota topped 23 points just twice — against Rutgers and Northwestern. But the Gophers did close out the regular season on a high note Saturday, winning the ax for a second straight season after Wisconsin had dominated the rivalry for much of the previous 25 years. As a side note, we appreciate all rivalry trophies that can also be used to fell a tree. More schools should consider getting trophies from Home Depot.
Land Grant Trophy: Penn State 35, Michigan State 16
Penn State won easily, allowing the Nittany Lions to celebrate with a trophy that is actually just a bunch of things Joe Paterno once found in an old storage unit that he stuck together using a glue stick and duct tape. Anyway, the important thing here is the Nittany Lions are now 10-2 and officially count as a good win for Ohio State as it makes its case to still be invited into the playoff.
Under-the-radar game of the day
So maybe UTSA's comeback against UTEP didn't carry the same significance on the national stage as the Oregon State win over Oregon, but it was still pretty wild.
UTEP scored on its first four possessions to go up 24-0. Then UTSA decided to play.
The Roadrunners scored on a 65-yard Frank Harris TD pass, got a pick-six, then scored on their first three drives of the second half to tie the game at 31.
Among the ridiculousness of the frenetic comeback was this wild — or perhaps really smart — play that turned a big gain for UTEP into a drive that ended with a punt.
Game might have turned on the smartest (?) personal foul ever.

UTEP QB runs for 45 yards. Grabs defender's facemask at end. No big deal, right? Still gained 30. But UTSA defender then grabs horse collar, which is an offsetting penalty. Whole play is wiped out.

— Mike Finger (@mikefinger) November 26, 2022
UTEP still had a shot to retake the lead, setting up shop with a first down at the UTSA 14, but Calvin Brownholtz tossed his second INT of the game to end the drive.
In the end, UTSA drilled a 28-yard field goal as time expired, sending the Roadrunners to their 10th win of the season.
Under-the-radar play of the day
Nate Cox's final throw of Nevada's 27-22 loss to UNLV had more drama than most (but notably, not all) Sigfried and Roy shows.
First off, were you aware that there's a rivalry trophy for the winner of the Nevada-UNLV game each year? It seems redundant since Las Vegas is the entertainment capital of the world and Reno is a place to find a cheap steak and dispose of evidence, so no trophy could matter all that much in determining which campus is better. But alas, here we are.
In any case, this year's installment of the Wayne Newton Trophy* came down to the final drive, and Nevada nearly pulled off the type of miracle 90-year-old chain-smoking women dream of while playing the nickel slots.
(*Note: OK, we made that up. The actual trophy is a life-sized rendering of the Blue Man Group playing rock, paper, scissors mounted atop Celine Dion's original tour bus.**)
(**Note: OK, we made that one up, too. The real trophy is called The Fremont Cannon and was once used by the mafia to fend off a hit outside the Golden Nugget.***)
Nevada trailed 27-16 with less than seven minutes to play but engineered a 12-play, 75-yard touchdown drive that including a fourth-and-5 conversion to pull to within 27-22.
UNLV's ensuing drive went nowhere, and the Rebels punted.
Nevada got the ball back with 2:05 remaining, managed 12 plays, and had a shot at the game-winner on a fourth-and-1 from the UNLV 5 with 7 seconds to go. Nate Cox's pass to Jamaal Bell looked like a possible completion — with one official signaling touchdown and another waving it off — but in the end, the call was incomplete, and UNLV hung on for a 27-22 win.
(***Note: OK, we don't know if the cannon was used by the mafia either.)
Freeze ends cold
Liberty opened the year 8-1, its lone loss coming on a failed 2-point try against Wake Forest.
Since then, however, the wheels have come off, and Hugh Freeze appears to still be flying down the highway, rims sparking, bumper hanging off, en route to Auburn.
If the Freeze era at Liberty is over, there might be a real argument that this departure, following a 49-14 loss to New Mexico State, is even more embarrassing than the one at Ole Miss.
Freeze is in talks to take the vacant head-coaching job at Auburn, which three weeks ago might've seemed a home run hire for the Tigers.
Now? Well, hard to blame Freeze for the result Saturday. New Mexico State had only beaten one FBS team by 35 or more in the past 20 years, so clearly the Aggies were due.
Saturday was the cherry on top of the embarrassment sundae Liberty has enjoyed the past three weeks. First came a loss to UConn, getting the Huskies bowl-eligible for the first time since the Taft administration (Note: We didn't fact-check that, but it feels right). Then came a loss to a 2-8 Virginia Tech that hadn't won since mid-September. And now, an absolute demolition by New Mexico State.
Of course, there's a lot more that will go into Auburn's ultimate decision than just three mostly meaningless games. The important thing on The Plains is to ensure the Tigers get a coach who will happily collect a $40 million buyout in 2025.
The most college football thing to happen Saturday
New Hampshire won its first-round game in the FCS playoffs 52-42 against Fordham, and tailback Dylan Laube got to celebrating early.
Laube's 87-yard touchdown run in the first quarter put UNH up 7-0, but he didn't bother with the full 87 before high-fiving teammate Brian Espanet, who was trailing him down the field.
He gave his teammate a high-five before scoring the TD pic.twitter.com/noX4qP1O4C

— ESPN College Football (@ESPNCFB) November 26, 2022
This is a far better way to celebrate than the now entirely derivative fake hamstring pull. But here's an even better idea: a high-five heading into the end zone but then tuck your arm inside your jersey and make it seem like the high five was so emphatic, your arm fell completely off. We've done that with toddlers and it always kills.
Big bets and bad beats
Clemson closed as a 14.5-point favorite against South Carolina on Saturday, which should've been a sure thing for the Tigers. Dabo Swinney was 62-1 straight up when favored by two touchdowns or more. Alas, the Gamecocks don't care about history. They only care about melting faces and covering spreads. South Carolina won outright, a money line payout of +430.
One bettor dropped $753,535 on a money line bet on Ohio State at -315. That wasn't all that smart.
Largest reported Michigan-Ohio St game: $753,535 Buckeyes moneyline (-315). Bet was placed Friday in New Jersey with @WynnBET. It would win $239,214.

— David Payne Purdum (@DavidPurdum) November 26, 2022
Michigan's win will make for a lot of rough Sunday mornings in Ohio, and at least one in Las Vegas.
Trailing 31-10, Oregon State's hopes of beating rival Oregon seemed slim. Vegas agreed. The live odds on the game topped out at +2500 at Caesars Sportsbook, meaning a $100 bet on the Beavers to win would've paid $2,500. And that's exactly what happened, as Oregon State erased a 17-point deficit in five minutes of action in the fourth quarter and won 38-34, giving any bettors who still had faith a nice payday.