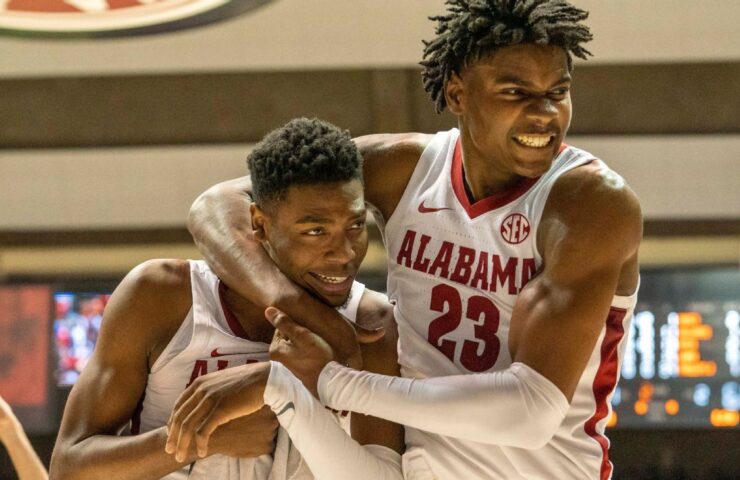 Another week, another major Power Rankings reshuffling
Just when it seemed like the top four or five men's college basketball teams in the country were separating themselves in the rankings, chaos ensued. Kansas lost two games, including Saturday's home blowout to TCU, and then Houston lost at home to Temple on Sunday. According to ESPN Stats & Information research, it was the first time in AP poll history that the No. 1 and No. 2 teams lost at home on back-to-back days. It's also quite likely the first time in Power Rankings history, too.
So what happens now? Is it Purdue or Alabama at No. 1?
Let's look at the résumés.
Alabama has the edge in the metrics. The Crimson Tide are slightly ahead in KenPom, Sagarin and the Basketball Power Index, while also ranking No. 1 in ESPN's strength of record. They were ahead by one spot in the NET, as well.
In terms of quality wins, Purdue has one more Quadrant 1 win and is 9-1 against Quadrants 1 and 2, while Alabama is 10-2. Purdue has wins over Marquette, Gonzaga and Duke, while Alabama counters with a victory over Houston. It's also worth noting Purdue beat Gonzaga by 18 while the Crimson Tide lost to the Zags by 10.
The tiebreaker for me is simply how well Alabama has been playing. The Crimson Tide have won all seven SEC games by an average of 21 points a night. Meanwhile, Purdue has had five one-possession games in the Big Ten, and hasn't looked as overwhelming.
Alabama could find itself at No. 1 for a few weeks, too. It doesn't play another surefire NCAA tournament team until it heads to Auburn on Feb. 11 and Tennessee on Feb. 15.
Onto this week's awards and rankings.
Stan Johnson and the Lions played just one game this past week, but it was as impressive a one-game week as we'll get all season. All Loyola Marymount did was go into Spokane and knock off Gonzaga 68-67, ending the Bulldogs' 76-game home winning streak in the process. According to ESPN Stats & Information research, this was LMU's first win over a top-10 team since beating USC in the 1961 NCAA tournament. More importantly, perhaps, it was the Lions' first win over the Zags since 2010, and their first road win against them since 1991. Cam Shelton was fantastic, scoring 27 points and grabbing nine rebounds, while Jalin Anderson came off the bench to score 15. After an underwhelming campaign a year ago, the Lions have already surpassed their WCC win total from 2021-22 and have also beaten Wake Forest, Nevada and BYU.
play
0:34
Trayce Jackson-Davis throws down filthy one-handed slam
Trayce Jackson-Davis gets the feed in transition and throws down a fantastic one-handed dunk for Indiana.
Indiana had a key week, winning at Illinois by 15 and then taking care of business at home against Michigan State, and Jackson-Davis' dominance was integral. He had 35 points, 9 rebounds, 5 assists and 3 blocks against the Fighting Illini, shooting 15-for-19 from the field. He then followed it up with 31 points, 15 rebounds, 4 assists and 5 blocks in the 13-point win over the Spartans. Neither team had an answer for Jackson-Davis, who consistently finished with ease against the Illini and then got to the free throw line time and time again against Michigan State.
Special mention goes to Detroit Mercy's Antoine Davis, who scored 42 points in a win at IUPUI to pass former Portland State star Freeman Williams and become the No. 2 all-time scorer in Division I men's college basketball history.
This was a blowout from the opening tip. TCU scored 22 points in the first seven minutes, was up by 20 midway through the first half and forced Bill Self to use three of his four timeouts in the opening 10. The Horned Frogs led by double digits for the final 32 minutes of the game, weathering a variety of mini-runs from Kansas when the momentum of the game looked like it might be changing. This was TCU's first-ever win at Kansas, and the Jayhawks' second-largest home loss in the Self era. TCU jumped out early with aggressive defense and surprisingly consistent shot-making from the perimeter. It forced 17 turnovers, turning many of those into easy points at the other end, and shot 8-for-15 from 3. Shahada Wells made timely baskets off the bench, and the Horned Frogs were able to match Kansas' smaller lineup, while also overcoming an ankle injury to starting center Eddie Lampkin.
Coach of the Week: Aaron McKie, Temple Owls
Editor's Picks
2 Related
It was an uneven start to the season for McKie and Temple. The Owls entered league play at 6-7, with four losses to sub-100 teams. They balanced that out with a 3-1 record against the other Big 5 Philadelphia teams and a win over Rutgers. So which is the real Temple? Well, it might be a legitimate contender in the AAC. The Owls went into Houston on Sunday and handed the top-ranked Cougars a 56-55 loss, holding them to one of their worst offensive performances of the season. As 19-point underdogs, this was the largest upset win over a No. 1 team since Stephen F. Austin beat Duke back in 2019. It was also the program's first win over a No. 1 team since 2000. The Owls now find themselves at 6-2 in the American, just a half-game behind Houston in the standings. They'll also get another chance against the Coogs in two weeks — this time in North Philly. What will McKie have up his sleeve for that game?
Three teams with questions
LSU Tigers: It was always going to take Matt McMahon time to really get things going in Baton Rouge. But a 12-1 start featuring a win over Arkansas to open SEC play provided plenty of optimism. Unfortunately, the wheels have fallen off since, with six straight losses, including a pair of home blowouts this past week.
Virginia Tech Hokies: Another hot-starting team that hasn't kept it up in conference play, the Hokies have lost seven in a row since starting the season 11-1. Some of those defeats can be attributed to Hunter Cattoor's injury. But he returned for this past week's road losses at Virginia and Clemson. It's worth noting the Hokies were 10-10 and 2-7 right around this point last season.
Arizona State Sun Devils: Bobby Hurley's team is in far less trouble than the two other teams in this section, but they did go 0-2 at home against UCLA and USC this past week. They're still 15-5 overall and 6-3 in the Pac-12, but they're running out of chances for quality wins to boost their NCAA tournament résumé. Their remaining games against Arizona, UCLA and USC are all away from home.
Power Rankings
1. Alabama Crimson Tide (17-2)
Previous ranking: 4
This week: vs. Mississippi State (Wednesday), at Oklahoma (Saturday)
We've highlighted most Alabama players in this space at one time or another over the past several weeks, but one who's showing flashes as a potentially useful player down the stretch of 2022-23 is freshman Rylan Griffen. The 6-foot-5 guard from Dallas played an extended role early in the season, then saw his minutes diminish as the schedule stiffened up — before seeing quality minutes for most of SEC play. And he's delivering. He had nine points against Missouri and 12 against LSU, and he gives Nate Oats yet another 3-point shooter. He's making 38.5% of his 3s in conference play, and has attempted 19 in his past three games.
2. Purdue Boilermakers (19-1)
Previous ranking: 3
This week: at Michigan (Thursday), vs. Michigan State (Sunday)
play
0:16
Zach Edey throws down the putback just before half
Zach Edey cleans up the miss and dunks it home for Purdue just before the halftime buzzer.
Zach Edey was the only Purdue player who was able to generate any consistent offense Sunday against Maryland, finishing with 24 points and 16 rebounds and further cementing his case to win the Wooden Award. There's one major area of improvement that has flown under the radar this season: He's averaging just 1.9 fouls committed per 40 minutes, according to KenPom, down from 4.2 per 40 in 2021-22 (4.8 in Big Ten play). Edey hasn't fouled out of a single game yet this season, and hasn't committed more than three fouls in a game since Nov. 24. Fewer fouls for Edey means more time on the floor, which obviously means more production.
3. Houston Cougars (18-2)
Previous ranking: 1
This week: at UCF (Wednesday), vs. Cincinnati (Saturday)
Houston suffered its second loss of the season Sunday, getting upset on its home floor by Temple — a team that had been playing well in AAC play but also had losses to Maryland-Eastern Shore and Wagner. The Cougars' offense just couldn't get anything going, especially inside the arc. They shot just 33.3% on 2s, their lowest percentage since the 2021 NCAA tournament against Oregon State. While they did grab 12 offensive boards, it was below their season average from a percentage perspective. Houston had chances late to take the lead or win the game, but came up short multiple times in the final minute. A trip to UCF on Wednesday isn't the easiest of bounce-back games.
4. Tennessee Volunteers (16-3)
Previous ranking: 8
This week: vs. Georgia (Wednesday), vs. Texas (Saturday)
play
1:48
Jordan-James's season-high 22 paces Tennessee past LSU
After battling an injury all season, Josiah Jordan-James scores 22 points and says the No. 9 Vols needed to "match the physicality" of the Tigers in a 77-56 win.
Rick Barnes made a couple of lineup tweaks since last weekend's loss to Kentucky, and he might have stumbled upon the most balanced group on the roster. Santiago Vescovi and Tyreke Key missed the Volunteers' game against Mississippi State, giving Zakai Zeigler his first start since the second game of this season and veteran Josiah-Jordan James his first start since his return from injury. Both kept their spots for Saturday's game against LSU, and with Uros Plavsic out, Vescovi was back in the five. Those three, plus Julian Phillips and Olivier Nkamhoua, provided shooting, playmaking, versatility, elite defense and a nice blend of experience and youth. It will be interesting to see whether Barnes sticks with this group moving forward.
5. Kansas State Wildcats (17-2)
Previous ranking: 15
This week: at Iowa State (Tuesday), vs. Florida (Saturday)
If Kansas State putting up 116 at Texas in early January was a statement win for the Wildcats this season, their win over Kansas on Tuesday might have been the statement win for Jerome Tang. First, he dialed up an alley-oop from Markquis Nowell to Keyontae Johnson for the winning basket — leading Bill Self to say after the game, "It was a great call. I can't believe it was available." After the game, Tang took the mic after the crowd rushed the floor and made it clear what he wanted from the program moving forward. "From here on out, expect to win," he said.
Jerome Tang takes the mic. Says it's about us and not who we beat. And now let's expect to win. And leads KSU chant. pic.twitter.com/YRiB5zkMYi

— Derek Young (@DerekYoungKSO) January 18, 2023
6. Kansas Jayhawks (16-3)
Previous ranking: 2
This week: at Baylor (Monday), at Kentucky (Saturday)
Offensively, Kansas had serious shooting issues this past week. Outside of Jalen Wilson, who was incredible in the two losses to Kansas State and TCU, the Jayhawks were 6-for-31 from behind the arc. Gradey Dick, one of the best shooters in the country, was 3-for-16 from 3 in both games and really struggled against TCU. Meanwhile, Dajuan Harris Jr., who started Big 12 play consistently making shots, is averaging 1.0 point on 1-for-13 shooting in his last three games. Defensively, the Jayhawks have now allowed at least one point per possession in five of their last seven games — including a season-high 1.17 points per possession Saturday.
7. Arizona Wildcats (17-3)
Previous ranking: 12
This week: at Washington State (Thursday), at Washington (Saturday)
Under Tommy Lloyd, Arizona has been known for its offense. Free-flowing, fast-paced bigs running the floor and guards making shots from the perimeter. After a couple losses, though, it was their defense that got the Wildcats back on track last week with home wins over USC and UCLA. They held USC to 66 points on 75 possessions, and the smoking-hot Bruins to 52 points on 66 possessions, with the two combining to shoot 8-for-37 from 3. The Wildcats have had issues against teams that have big men who can step out and shoot, forcing Azuolas Tubelis and, more specifically, Oumar Ballo, to guard away from the rim. But USC and UCLA weren't able to stretch the floor against them.
play
0:47
Ramey and Kriisa's back-to-back 3s extend Arizona's lead
Courtney Ramey and Kerr Kriisa has the crowd on its feet as they drain back-to-back triples to go up 32-26 in the second half.
8. UCLA Bruins (17-3)
Previous ranking: 5
This week: at USC (Thursday)
UCLA looked like it was about to enter the argument for the best team in college basketball, but its 14-game winning streak was snapped at Arizona on Saturday afternoon. In Pac-12 play, the Bruins had been able to close games at an extremely high level, winning close games with regularity. The Wildcats almost gave Saturday's game away, but UCLA wasn't able to overcome a poor second half. Offense was the clear issue. Pelle Larsson made life difficult for Jaime Jaquez Jr., the team shot just 4-for-20 from 3 as a whole and Mick Cronin's squad lacked a little bit of creativity at key moments. A healthy Amari Bailey, who went through warmups Saturday, would provide an injection of dynamism.
9. Virginia Cavaliers (15-3)
Previous ranking: 14
This week: vs. Boston College (Saturday)
Virginia has clearly righted the ship since its three losses in five games around the holidays, winning its fifth straight game at Wake Forest on Saturday. In a dramatic shift from the Cavaliers' December shooting struggles, they're now leading the ACC in 3-pointers — and are coming off 15 made 3s in the win over the Demon Deacons. Armaan Franklin becoming a consistent option has been key for Tony Bennett. He scored in double figures just three times in the first 10 games, including zero points against Miami. But he's scored at least 11 in eight straight games now, averaging 16.6 points and shooting 41.8% from 3 over that span.
10. Iowa State Cyclones (14-4)
Previous ranking: 11
This week: vs. Kansas State (Tuesday), at Missouri (Saturday)
We shouldn't overreact to Iowa State losing two of its last three games, considering both defeats — at Kansas and at Oklahoma State — were by two points. But the Cyclones' offense was far from effective in those games, scoring just 60 points against the Jayhawks and 59 against the Cowboys, and not breaking 0.94 points per possession. There's one constant in ISU's four overall losses this season: Caleb Grill's struggles. He's been terrific in Iowa State's biggest wins this season (31 points against North Carolina, 18 against Baylor, 17 against Texas), but has totaled just six in the Cyclones' four losses, shooting 1-for-15 from 3. They'll need a productive Grill moving forward, but it was revealed after Saturday's loss that he's dealing with back tightness.
11. TCU Horned Frogs (15-4)
Previous ranking: 13
This week: vs. Oklahoma (Tuesday), at Mississippi State (Saturday)
TCU's transition offense is going to be its calling card, but having an anchor like Eddie Lampkin Jr. on the block gives Jamie Dixon a different dimension in the halfcourt. So his health moving forward will be worth watching. He suffered a sprained ankle against Kansas, but returned to the game a couple of times, struggling to move effectively while on the floor. If Lampkin is forced to miss time, Dixon will have to lean more on Xavier Cork and JaKobe Coles. Neither offers the size of Lampkin, but Cork is effective around the rim and Coles can provide an inside-outside weapon in the frontcourt.
12. Texas Longhorns (16-3)
Previous ranking: 9
This week: vs. Oklahoma State (Tuesday), at Tennessee (Saturday)
play
1:42
Texas takes down West Virginia in Morgantown
Marcus Carr scores 23 points leading the Longhorns to a road win over the Mountaineers.
Texas bounced back nicely from its 11-point loss at Iowa State with a road win at West Virginia on Saturday night, with Marcus Carr getting back on track and Christian Bishop building off the momentum he established against the Cyclones. Bishop's role might be worth watching. He scored in double figures in those two games, something he did just twice until that point this season, and was also active defensively, especially against Iowa State. If he and Dylan Disu (13 points against WVU) can continue to provide some balance down low, the Longhorns have more than enough playmakers and perimeter strength.
13. Xavier Musketeers (16-4)
Previous ranking: 6
This week: at UConn (Wednesday), at Creighton (Saturday)
Xavier's 11-game winning streak came to an end last week in surprising fashion, when it fell by one at DePaul. The Musketeers rebounded with a win over Georgetown, although the Hoyas were in the game for most of the 40 minutes and still scored 82 points. That's probably where we need to start. Xavier's offense is flowing at a high level, but the Musketeers are ninth in the Big East in defensive efficiency, allowing far too many open shots both inside and outside the arc. They've allowed at least 1.07 points per possession in four of their last five games. Ironically, the lone game in that stretch where they held an opponent to below one point per possession? The loss to DePaul. They need to tighten up at that end of the floor.
14. Marquette Golden Eagles (16-5)
Previous ranking: 16
This week: at DePaul (Saturday)
play
0:24
Marquette's Chase Ross posterizes Seton Hall
Chase Ross explodes for a ferocious dunk above the rim against the Pirates.
Don't look now, but Marquette suddenly has the No. 1 adjusted offensive efficiency in college basketball, according to KenPom and BartTorvik.com. The Golden Eagles lead the country in 2-point percentage and rank second in effective field-goal percentage, while also turning the ball over on fewer than 15% of their possessions in Big East play. They've scored at least 1.09 points per possession in each of their last nine games. Sophomore guard Kam Jones continues to be one of the biggest breakout stars in the country, ranking sixth in the Big East in scoring. He totaled 43 points and made nine 3s in wins over Seton Hall and Providence last week.
15. Gonzaga Bulldogs (17-4)
Previous ranking: 7
This week: at Portland (Saturday)
It was shocking to see it actually happen, but Gonzaga's streak-ending loss to Loyola Marymount on Thursday had been coming. The Bulldogs had been playing with fire in WCC play for weeks, winning at San Francisco by two, at Santa Clara by five and at BYU by one. Even the Zags' bounceback win over Pacific on Saturday was a one-possession game deep into the second half. There are issues on both sides of the ball, although the defense seems more worrisome. In conference play, teams are shooting better than 40% from 3 against Gonzaga and better than 50% inside the arc. Last year's squad wasn't elite guarding the ball on the perimeter, but they had Chet Holmgren to clean things up. He's no longer around in the interior and teams are still getting open shots from 3, too.
16. Baylor Bears (14-5)
Previous ranking: In the waiting room
This week: vs. Kansas (Monday), vs. Arkansas (Saturday)
Baylor has rattled off four straight wins since opening Big 12 play with three consecutive losses, and with the strength of the Bears' nonconference wins over UCLA and Gonzaga, they're back in the mix for a top-four seed come Selection Sunday. The defense can still be inconsistent (they're 10th in the Big 12 in defensive efficiency and allowed 1.28 points per possession to Texas Tech last week), but they have the best offense in the league. The emergence of former West Virginia transfer Jalen Bridges has provided a boost over the last few weeks; he's averaging 11.6 points and 7.8 rebounds over the last five games, hitting double figures in all five.
Dropped out: UConn Huskies (No. 10)
In the waiting room
UConn Huskies: The Huskies snapped out of their funk against Butler Bulldogs on Sunday, beating the Bulldogs by 30. Prior to that game, they had lost five of their last six, including back-to-back games against St. John's and Seton Hall. A chance at a statement win awaits Wednesday, when Xavier — the team that ended UConn's 14-0 start — comes to town.
Auburn Tigers: Their lack of résumé-boosting wins is noticeable, with just one Quadrant 1 victory at this point in the season. But the Tigers' metrics look good across the board, both résumé-based and efficiency-based. And they just keep winning. Auburn's won five in a row since a loss at Georgia. A key six-game stretch looms, though, with games against Alabama, Tennessee, West Virginia and two against Texas A&M.
Saint Mary's Gaels: Are we at the point where Saint Mary's is the favorite in the WCC? It is 7-0 in the league and is just rolling through teams — while Gonzaga struggles against similar competition. The Gaels' metrics are also outstanding, ranking No. 7 at both KenPom and Sagarin and No. 13 in the BPI. If you're wondering, circle Feb. 4 on your calendar. That's when Gonzaga visits Moraga.