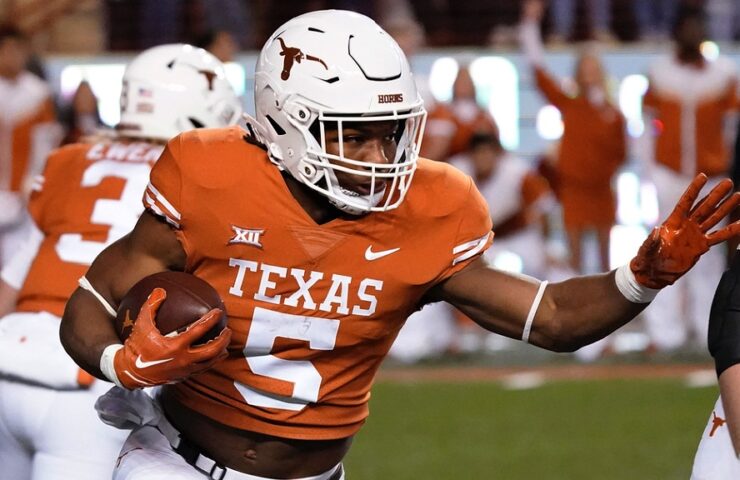 2023 NFL Draft Projections Position Rankings: Pre-Combine
Where do all of the top pro prospects rank before the NFL Combine? From the college perspective, here are all the top position players.
2023 NFL Combine: February 28-March 6
Draft Date: April 27-April 29
Where: Indianapolis, IN
CFN 2023 NFL Draft Top Prospects
QBs | RBs | WRs | TEs | OTs | OG/Cs
Edge | DTs | LBs | CBs | Safeties
Top 100 2023 NFL Prospects, Pre-Combine
2023 NFL Combine Participants
2023 NFL Draft Early Entrants By College
– Contact/Follow @ColFootballnews 
2023 NFL Draft Position Rankings, Pre-Combine: Quarterbacks
Ranked based on how good – from the college perspective – we think all the top prospects look before the 2023 NFL Combine.
1 Bryce Young Alabama
2023 NFL Draft Pre-Combine Projection Best Case: No. 1 Overall
2023 NFL Draft Pre-Combine Projection Worst Case: Top Ten Overall
2 CJ Stroud Ohio State
2023 NFL Draft Pre-Combine Projection Best Case: No. 1 Overall
2023 NFL Draft Pre-Combine Projection Worst Case: Top 10 Overall
3 Anthony Richardson Florida
2023 NFL Draft Pre-Combine Projection Best Case: Top 10 Overall
2023 NFL Draft Pre-Combine Projection Worst Case: Early 2nd
4 Will Levis Kentucky
2023 NFL Draft Pre-Combine Projection Best Case: No. 1 Overall
2023 NFL Draft Pre-Combine Projection Worst Case: Top Ten Overall
5 Hendon Hooker Tennessee
2023 NFL Draft Pre-Combine Projection Best Case: 2nd
2023 NFL Draft Pre-Combine Projection Worst Case: Late 3rd
6 Jake Haener Fresno State
2023 NFL Draft Pre-Combine Projection Best Case: 3rd
2023 NFL Draft Pre-Combine Projection Worst Case: 5th
7 Tanner McKee Stanford
2023 NFL Draft Pre-Combine Projection Best Case: 3rd
2023 NFL Draft Pre-Combine Projection Worst Case: 5th
8 Dorian Thompson-Robinson UCLA
2023 NFL Draft Pre-Combine Projection Best Case: 4th
2023 NFL Draft Pre-Combine Projection Worst Case: 6th
9 Jaren Hall BYU
2023 NFL Draft Pre-Combine Projection Best Case: 4th
2023 NFL Draft Pre-Combine Projection Worst Case: 6th
10 Malik Cunningham Louisville
2023 NFL Draft Pre-Combine Projection Best Case: 4th
2023 NFL Draft Pre-Combine Projection Worst Case: 6th
11 Max Duggan TCU
2023 NFL Draft Pre-Combine Projection Best Case: 4th
2023 NFL Draft Pre-Combine Projection Worst Case: 6th
12 Stetson Bennett Georgia
2023 NFL Draft Pre-Combine Projection Best Case: 5th
2023 NFL Draft Pre-Combine Projection Worst Case: Free Agent
13 Tyson Bagent Shepherd
2023 NFL Draft Pre-Combine Projection Best Case: 5th
2023 NFL Draft Pre-Combine Projection Worst Case: Free Agent
14 Clayton Tune Houston
2023 NFL Draft Pre-Combine Projection Best Case: 5th
2023 NFL Draft Pre-Combine Projection Worst Case: Free Agent
15 Aidan O'Connell Purdue
2023 NFL Draft Pre-Combine Projection Best Case: 5th
2023 NFL Draft Pre-Combine Projection Worst Case: Free Agent
CFN 2023 NFL Draft Top Prospects
QBs | RBs | WRs | TEs | OTs | OG/Cs
Edge | DTs | LBs | CBs | Safeties
Top 100 2023 NFL Prospects, Pre-Combine
2023 NFL Combine Participants
NEXT: 2023 NFL Draft Position Rankings, Pre-Combine: Running Backs