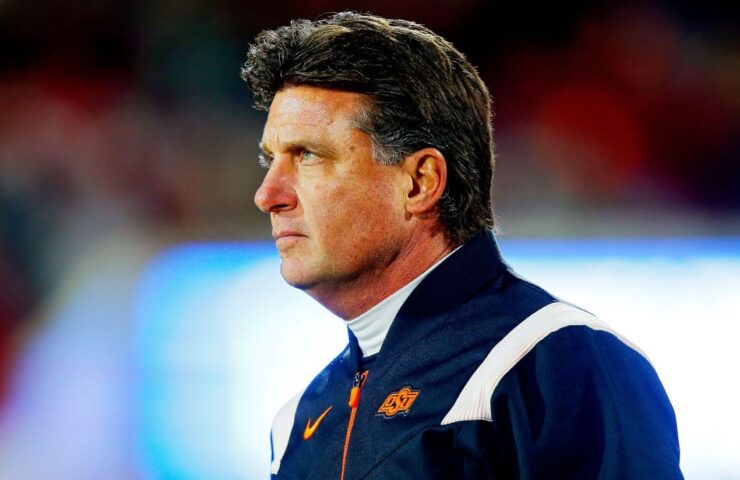 The end of Bedlam through the eyes of Mike Gundy
Chris Low, ESPN Senior WriterNov 3, 2023, 09:00 AM ET

Close

College football reporter
Joined ESPN.com in 2007
Graduate of the University of Tennessee
STILLWATER, Okla. — Mike Gundy isn't sure how the course of football history in the state of Oklahoma might have changed had he stuck to his original choice nearly 40 years ago.
Maybe not at all.
But as Gundy, in his 19th season as Oklahoma State's coach, prepares for Saturday's game with Oklahoma, the last Bedlam matchup for the foreseeable future, he can still see his late mother, Judy, in the living room of their Midwest City, Oklahoma, home, with tears streaming down her face after he told her and his father as a high school senior that he was going to Oklahoma State — and not OU.
Gundy had been committed to Oklahoma and coach Barry Switzer for about two weeks after making a visit to Norman. The Sooners were coming off a national championship in 1985, when dynamic freshman Jamelle Holieway took over at quarterback, running the wishbone after Troy Aikman broke his leg earlier in the season. Aikman moved on to UCLA, and Gundy began having second thoughts about whether Oklahoma was right for him.
Pat Jones, then Oklahoma State's coach, talked Gundy into taking a visit to Stillwater.
"Which was unheard of back then, because once you committed to Coach Switzer, that was it," Gundy said this week. "But I just started thinking, 'Gosh, even if I'm a really, really good player, how am I ever going to get Jamelle Holieway off the field?' Switzer was a powerful person in this state, and I still don't know where I came up with the courage, for lack of a better term, to come up here and visit."
Gundy didn't commit on his visit. He returned home, thought about it for a few days and knew in his heart that Oklahoma State made the most sense for him. He also knew there were some painfully tough conversations looming.
"Mom cried and cried," Gundy recalled. "Where I was from, it was all OU. We were an OU family. And back then, to have a son that Barry Switzer in Oklahoma wanted, that was like royalty."
Gundy's father, Ray, wasn't as emotional but made it very clear to his son that he was going to pick up the phone and call Switzer and then-Oklahoma offensive coordinator Jim Donnan to tell them he wasn't coming. Donnan had been the point person in recruiting Gundy.
"Coach Switzer wasn't happy, not happy at all," Gundy said. "He didn't lose, period, in recruiting or anything else, and certainly not a player he wanted in the state of Oklahoma.
"But coming up here was the right thing for me, and I've never looked back."
This will be the 33rd Bedlam that Gundy has either played or coached in. He has seen the rivalry through just about every lens, be it as a kid attending Oklahoma games with his dad, playing quarterback at Oklahoma State, serving as an assistant coach and offensive coordinator at Oklahoma State and as the Cowboys' head coach for most of the past two decades.
Although he has been on the short end of the score more often than not in a rivalry that has featured some of the sport's most iconic names — including Barry Sanders, Thurman Thomas, Tony Casillas, Brian Bosworth, Leslie O'Neal, Kyler Murray, Bud Wilkinson, Jimmy Johnson and Switzer — Gundy hates to see Bedlam become a victim to Oklahoma's move from the Big 12 to the SEC next season. He said the real losers are the fans, especially the ones who hold on dearly to tradition.
"We've lost 100 years of history," Gundy said. "That's what I'm most disappointed about."
MIKE GUNDY ATTENDED his first Bedlam in 1985, his senior year of high school, with his younger brother Cale. It was the famous "Ice Bowl" in Stillwater.
"I was there with him and thank goodness we were watching it from the old building in the end zone," Cale Gundy said. "It was so cold with all the sleet and everything that people were freezing to their seats."
As with Mike, much of Cale's life has been intertwined with Bedlam — but from the Oklahoma side of the rivalry. Cale was a record-setting quarterback for the Sooners from 1990 to 1993 and an assistant coach at OU from 1999, Bob Stoops' first season as Sooners coach, until his resignation in 2022.
Cale remembers his brother's conversation with their mother even more vividly than Mike, and as a die-hard Sooners fan, was probably the most upset person in the Gundy household.
"Hell, I cried for two weeks," joked Cale, who was 13 at the time. "I thought the world was going to come to an end."
After choosing Oklahoma State over Oklahoma, Mike Gundy never beat the Sooners as a player. Malcolm Emmons-USA TODAY Sports
The Gundy family had two phones in their house at the time, and Cale remembers his brother talking to Donnan first, then Switzer telling Donnan to give him the phone.
"Switzer ripped his ass pretty good, and Mike held the phone out to the side and you could hear Barry telling him, 'We're going to kick your ass every year,'" Cale recalled.
As it turns out, Switzer was prophetic.
Gundy never beat Oklahoma as a player in four tries. And as the Cowboys' head coach, he's just 3-15 against the Sooners. His overall record in the series as a player, assistant and head coach is 6-25-1.
But even long before Gundy was involved, Bedlam was about as one-sided as a rivalry can get. Oklahoma has won 64 of the past 75 meetings in a series that has been played every year since 1910.
"Yeah, it's been a domination. We've had a great run on them, and we've always had the best players," said Switzer, who is 86 and still lives in Norman. "I always told our team before we went out on the field to play Oklahoma State, 'Hey, these guys are more ready to play than you all are. They're pissed off because you had a chance to go to both places and you picked here. Most of those guys in that locker room over there didn't have a chance to come here. They weren't offered a scholarship here, and they don't like you.'"
Gundy suggested at his news conference Monday that the rivalry was spicier, at least among the players, in his playing days and that the advent of social media and camera phones had watered it down. As a freshman in 1986, Gundy said Bosworth, the legendary Oklahoma linebacker, spit in his face and that Gundy spit back in Bosworth's face.
"It was actually a rivalry," Gundy said. He went on to talk about going to a party in Oklahoma City the summer before his sophomore year when somebody told him Bosworth and some of his OU teammates were there.
"So I had to make a decision on whether we were going to have a confrontation there and who was with me. I can kick those guys in the shin and run like hell. But, I mean, I'm not dumb," Gundy said. "So we had to make those decisions. What kind of frame of mind was Brian going to be in at that point? I don't know, had he taken a Vitamin C and had a few drinks? He might not be a guy you want to talk to at that point. He'd get real red across his face."
Editor's Picks
2 Related
It didn't take "The Boz" long to fire back on social media Monday afternoon.
"Guess what Coach G … Bedlam is still a rivalry and BIG BROTHER still wants to whip little brother's ass," Bosworth posted on X, formerly known as Twitter. "How about we meet this Saturday at your place … Let's say the 50-yard line so we can exchange pleasantries the old fashion way … FACE TO FACE … I'll see you there."
Switzer won three national championships at Oklahoma and is one of only three coaches to win a college national title and Super Bowl. But to this day, he says one of his favorite games was when OU rallied from a 20-3 deficit in the fourth quarter in 1983 to beat Oklahoma State and Jimmy Johnson 21-20 in Stillwater. It wasn't just the game Switzer remembers, either.
"We kept scoring in the fourth quarter, and our band does not quit playing 'Boomer Sooner' the entire time, never takes a break and keeps playing it," Switzer said. "They asked our band leader, Gene Thrailkill, to quit playing. He wouldn't and they escorted him off the field."
Switzer said as Thrailkill was being led off the field by security, he yelled back at his band to play OU's fight song even longer and louder.
"So they kept on playing, and sure enough, they were still playing the damn thing when we kicked the field goal to win the game," said Switzer, his voice rising with admiration all these years later. "That's about as good as it gets."
The next day, Switzer presented Thrailkill and the marching band the game ball.
FORMER OKLAHOMA COACH Bob Stoops, who was 13-4 against Oklahoma State, has no plans to be at Saturday's game, nor is he overly concerned about the teams going their separate ways afterward. With Oklahoma moving to the SEC in 2024 and deals in place on both sides with future nonconference opponents, OU athletic director Joe Castiglione said it would be into the next decade at the earliest before the teams would play again.
"That's the way the world is right now. You do what you've got to do to protect your brand," Stoops said. "At the end of the day, this is what's very best for our brand, the University of Oklahoma and all the sports we support. You make big-boy decisions, and that's what happens.
"So I'm not nostalgic about it. Nebraska left us a long time ago, and Nebraska was a much bigger rival than Oklahoma State was back in the day. You move on."
Gundy shakes hands with OU coach Bob Stoops after the 2005 game, his first Bedlam as OSU's head coach. AP Photo/Sue Ogrocki
That doesn't mean Stoops hasn't held on to a few memories from the series. One of his favorites remains the 33-24 upset of No. 6 Oklahoma State in 2013 with the Sooners playing three quarterbacks and rallying in the fourth quarter behind Blake Bell.
"Trevor Knight gets hurt, Kendal Thompson gets hurt, and Blake Bell comes in and leads us to the win and knocks them out of the [Big 12] championship," Stoops said. "Blake had been working at tight end in practice. It was like, 'Wow, are you kidding me?'"
Castiglione's lasting memory from that game, a frigid day in Stillwater, was walking off the field and dodging frozen turkey legs.
"The arc at which the turkey legs took to get from up in the stands down to the field was quite a scientific anomaly," Castiglione said. "I guess because they were frozen they had different aerodynamics."
That 2013 game is a microcosm of the series. Oklahoma has found ways to win, and Oklahoma State has found ways to lose. The Cowboys haven't won back-to-back games in Stillwater since 1930 and 1932.
"It's still a big deal, like Christmas Day every time they come to town," said longtime Oklahoma State fan and donor Anne Greenwood, who's been to most of the Bedlam games since beginning school at OSU in 1972. "Am I going to miss Bedlam? Yes. I'm always the hopeful one. I've gotten my heart broken a lot, but sometimes it's the best day ever."
One of those days was in 2014, when Tyreek Hill returned a punt 92 yards for a touchdown with 45 seconds to play in regulation. The Cowboys won 38-35 in overtime in Norman. Hill's return came after Oklahoma State had been penalized 15 yards for roughing the kicker, and Stoops elected to punt it again.
"I'm still glad they decided to punt it to him a second time, but a lot of people forget that we still had to win in overtime," Gundy said.
Stoops countered: "All that did was make a bad year for us even worse, so if that makes them feel better, they can have it. All I'm saying is the stakes weren't as high because there wasn't a championship on the line."
Don't tell that to the Oklahoma State players who were in Norman that day. Quarterback Mason Rudolph, now with the Pittsburgh Steelers, was just a freshman. He threw for two touchdowns, and it didn't hit him what it truly meant for OSU to beat Oklahoma until the team arrived back on campus that night.
Allstate Playoff Predictor
How will Saturday's top games affect the College Football Playoff chase? What are the current odds for the top four? The Allstate Playoff Predictor has the answers. Check back every week as the odds are updated following that week's games.
"I think the whole town of Stillwater was there," Rudolph said. "It was crazy, people on top of people."
Rudolph looked at the sea of fans and saw Gundy's wife, Kristen, sitting in the truck by herself waiting on Gundy to wade through the mass of orange and black.
"She motioned to me to come over and was hugging me with joy," Rudolph remembered.
Gundy walked over and said, "Hey, hey, enough of that. Let's act like we've been here before."
Former NFL quarterback Brandon Weeden grew up in Edmond, Oklahoma, and played minor league baseball before joining the Oklahoma State football team. He was 22 when he arrived on campus and was more into baseball than football growing up, but he was quickly indoctrinated into the Bedlam rivalry. Oklahoma State beat OU 44-10 during his senior season in 2011, snapping an eight-game losing streak against the Sooners. The Cowboys had lost the year before despite being rare favorites.
"I just remember being out for blood my senior year," Weeden said. "Even when we'd beat Texas, this was the game our fans remembered. It was just different. I was mad we didn't try to score 60 on them, just to make a statement."
GUNDY AND THE Pokes get one last shot, at least for now, to ease some of the heartbreak that has tormented OSU players, coaches and fans for decades. Saturday's game finds both teams part of a five-way tie atop the Big 12 standings.
"No question they've gotten the best of us over a period of time and have gotten the best of most everybody, and that doesn't sit well with a lot of people on our side, most of all me," Gundy said. "But it is one game, and I understand people in our state don't approach it that way, the fans, because we don't have pro football. This is what people get fired up about, and it's not easy because so many people put so much stock into it."
Gundy is steadfast in placing the blame for Bedlam's demise on Oklahoma. "We didn't leave the conference," he said. Chris Coduto/Getty Images
So he does often hear about his struggles against Oklahoma despite making his alma mater nationally relevant on a yearly basis.
"The way I balance it is I look at the big picture," Gundy said.
That picture is impressive by any standard, even if the "Little Brother" stigma within the state festers. Entering the 2023 season, Oklahoma State was tied for ninth among Power 5 teams in overall wins (89) in the previous 10 years. Gundy, who owns a .677 winning percentage, has won nine of his past 12 matchups with AP nationally ranked opponents and can join Stoops (121) and Bill Snyder (104) in becoming the third coach to win 100 Big 12 games with a victory Saturday.
A year ago, Oklahoma State bid adieu to Texas, also headed to the SEC, with a 41-34 win in Stillwater. The Cowboys have won six of their past eight games against the Longhorns, and in Austin, Oklahoma State has won six of the past seven.
"To be truthful, and I know our fans love beating Texas, but I bet they would flip that, our record against Texas and our record against OU," Gundy said. "They'd rather beat OU. But for Oklahoma State to beat Texas the number of times we've beaten them in the last 10-12 years is a hell of an accomplishment."
Gundy has been outspoken about the Bedlam series ending and is more adamant than ever that the blame lands directly at OU's feet.
"Just don't tie Oklahoma State to any of this," said Gundy, who started going to OU games with his dad when he was in middle school. "We didn't leave the conference. They chose to take the SEC route so they can balance their checkbook.
"We're not going to reschedule our long-term schedule and change what we do based on them going to the SEC. We need to look at the facts."
There's no bigger OU fan than Jim Ross, a WWE Hall of Fame broadcaster and one of pro wrestling's most influential figures. From the time "Good Ol' J.R." realized Bedlam was going by the wayside, he was deeply bothered. Now that it's about to happen, he's still peeved.
"It's hard to believe. I'm 71 and it's been part of my culture ever since I can remember," Ross said. "There's always been Bedlam. It's one of those rivalries that doesn't go away when the game's over. I don't know all I need to know on how we've gotten to this point. But by golly, is this what we're faced with now, that TV and money have completely taken over when you lose a game like Bedlam?"
College Pick 'Em
Pick games every week and compete for prizes! Make Your Picks
Even though it might be 10 years (or longer) before this game is played again, both athletic directors say they continue to have discussions.
The Cowboys' nonconference schedule is set through 2038 with Power 5 games against the likes of Alabama, Arkansas, Nebraska and Oregon. Oklahoma State athletic director Chad Weiberg said there might be a window in 2030-31. But with the ever-changing landscape in college athletics, scheduling will only become trickier.
"If you've noticed, I've never in one place said that we will never play them again because 'never' is a very long time and things change," Weiberg said. "But currently as it lays out now, it's going to put us into the 2030s before it becomes a real possibility."
In his 26th year as Oklahoma's athletic director, Castiglione said the schools would continue to play in other sports and that this is not a case where the sides are digging in and refusing to play each other in football simply because of conference realignment. (See Texas vs. Texas A&M after the Aggies left for the SEC.)
"It takes two parties and will take some work, but I firmly believe it will happen at some point," Castiglione said.
Cale Gundy won't be at Saturday's Bedlam game, although he has attended a few Oklahoma State games the past two seasons. He even has worn OSU apparel this year.
"Just no orange. The orange is too much. I haven't gotten there," he said. Cale coached and recruited some of the greatest players in OU history, including Adrian Peterson, Joe Mixon, DeMarco Murray and CeeDee Lamb. (He resigned from Oklahoma in August 2022 after reading aloud off a player's iPad "not once but multiple times, a racially charged word that is objectionable to everyone" according to Sooners coach Brent Venables.)
No family is more synonymous with Bedlam than the Gundys. Lifelong Oklahomans, they've managed their split allegiances remarkably well, although older sister Kari said Bedlam wasn't necessarily a week the family looked forward to when Mike and Cale coached against each other.
Mike has been too dialed in on game prep to get overly reflective this week, but he does get a bit emotional when he thinks about his weekly talks with his dad and the subject turning to who in the family needs tickets to the game.
"I wish I needed one for your mom," Ray Gundy told his son last week. Judy died in 2020 after suffering a stroke and then developing pneumonia.
Mike had a ready answer: "Well, she doesn't need a ticket anymore. She gets in for free."
Something says she'll be rooting for the Pokes on Saturday.