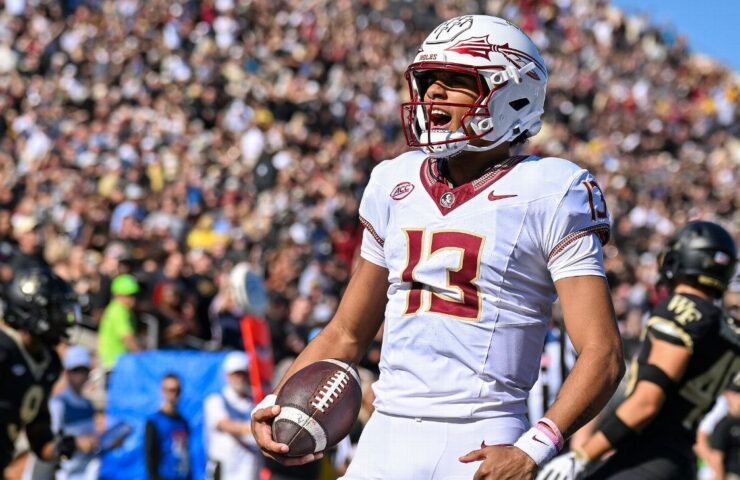 Survival of the fittest: Georgia, Florida State flex big in
David Hale, ESPN Staff WriterOct 29, 2023, 01:48 AM ET

Close

ACC reporter.
Joined ESPN in 2012.
Graduate of the University of Delaware.
The beauty pageant that is the College Football Playoff rankings begins Tuesday, which made Week 9 a perfect time for a few top teams — Florida State, Texas, Georgia and Oregon — to flex for the judges, while a few others are apparently saving their best for the evening gown portion of the contest.
Saturday was a day in which one playoff hopeful — Oklahoma — was asked to move to the back of the line.
It was a day in which Ohio State and Washington survived scares but once again proved their mettle.
It was a day in which the biggest and baddest bruisers in the country stuffed their competition into a locker and stole their lunch money.
In other words, it was a Saturday that gave the committee a lot to chew on without making the job of ranking the remaining contenders all that much easier.
Georgia has developed a reputation for having two speeds: Bored or Death Star. Saturday's showdown with Florida fell distinctly into the planet-destroying category.
Carson Beck and Ladd McConkey, who somehow aren't the namesakes of a successful venture capital firm, hooked up six times for 135 yards and a score, and the Bulldogs' D sacked Florida four times in a 43-20 win.
A quick recap: Georgia beat South Carolina by 10 and Auburn by seven. Both of those teams are awful. Georgia beat ranked Kentucky by 38 and a streaking Florida by 23. Lull the Dawgs to sleep, and you have a chance. Convince Georgia you're dangerous, and you should probably pack a spare pair of underwear. This leads us to the unmistakable conclusion that the only team that can end this Georgia dynasty is Iowa.
Former Florida Head Coach Dan Mullen picked the Gators to beat Georgia. Kirby Smart addressed it after the Bulldogs' 43-20 victory:

"He didn't like to recruit." #GoDawgs pic.twitter.com/NvCDtFHrc9

— The Next Round (@NextRoundLive) October 29, 2023
The knock on Florida State through a 7-0 start was that the Seminoles had yet to post a genuinely complete performance. Saturday's 41-16 win over Wake Forest offered an answer. Jordan Travis threw for 359 yards, ran for 29 more and accounted for four touchdowns, while Trey Benson scored once on the ground and once on an 80-yard catch-and-run, and the defense held Wake to just 210 yards of offense.
Utah had been a fun story through eight weeks, marching along despite playing without quarterback Cam Rising and instead building an offense around six guys they found hanging around outside the 7-Eleven. But the scrappy success came to a screeching halt Saturday when Bo Nix and Oregon shredded the Utes' defense early and cruised to a 35-6 win.
Texas' strong start to 2023 came after Quinn Ewers shed his mullet and scraggly beard that made him look like the base player for a mediocre '90s cover band (Worse Than Better Than Ezra) in favor of a clean-cut look and some big throws. But Ewers was out for Saturday's game against BYU thanks to a shoulder injury that could sideline him for the next month (and also allow him to continue work with his new Mumford & Sons cover band, Son of Mumford & Sons). Instead, Maalik Murphy took the reins of the offense and delivered two TD throws in a 35-6 win. More importantly, Oklahoma lost to Kansas, so Texas fans can spend the time between now and Ewers return pointing and laughing at the Sooners for a change.
Even Louisville, a playoff longshot, bounced back from a brutal loss to Pitt by annihilating a ranked Duke team behind a suffocating defense and 163 yards from tailback Jawhar Jordan.
If the goal was to showcase for the committee that they had an extra gear, that there was more left in the tank, that dominance, more than just winning, was the goal — Saturday was an emphatic statement for many.
For the Buckeyes and Huskies, on the other hand, Saturday showed a different sort of resolve.
What to make of Washington? Its 33-30 win over Oregon two weeks ago felt like a season-defining moment, but it also has come in the middle of a four-game stretch in which the Huskies have failed to win a game by double digits. Against Oregon, the close score made sense. Against Arizona, Arizona State and Stanford though? It's a bit more confounding. Michael Penix Jr.'s 369 yards and four touchdowns provided some needed relief after last week's clunker against the Sun Devils, and Dillon Johnson's late TD finally put Stanford away Saturday, but to borrow a Seattle analogy, the overall effort was more "In Utero" than "Nevermind."
Ohio State, meanwhile, continues to struggle for much offense beyond Marvin Harrison Jr., who caught six passes for 123 yards and two touchdowns. The Buckeyes finally found some success on the ground with a healthy TreVeyon Henderson, but it still wasn't until late that Ohio State managed to pull away from Wisconsin, ultimately winning 24-10. Ohio State is 4-0 in games in which it's scored 24 or less this year, which is an odd dynamic after the defense killed the team's recent playoff hopes again and again in recent years.
So what's the big takeaway here? Should Florida State or Georgia or Michigan (which spent its off-week in a nondescript white van parked in front of Ryan Day's house) be the clear-cut favorites, atop the committee's rankings and packing their bags for playoff games? Should Ohio State be punished for its lack of offense or rewarded for its resolve in the face of adversity? If a one-loss team is going to make a run, did Oregon or Texas put themselves in better position? (Actually, scratch that question. Texas beat Alabama, so according to committee bylaws, the Longhorns are definitely in.)
The first set of playoff rankings are always about splitting hairs, and this year, those hairs are as neatly gelled together as a Mike Gundy mullet.
Saturday offered some new perspectives, but it hardly delivered many clear answers.
Kansas rocks Oklahoma
There have been a few stunners already this season, games that went against script and upended playoff hopes for teams that, if we're being honest, probably didn't have much hope to begin with. (Sorry, North Carolina, but it's true.) But Saturday delivered something more — an upset that truly rocked the blueprint for the 2023 season.
Oklahoma's road to the postseason was as wide open as I-40 west of Elk City after its Red River win against Texas. The lone true stumbling block remaining looked to be a potential rematch with the Longhorns in the Big 12 championship game. Surely, Week 9 wouldn't be the moment the Sooners collapsed. Not against Kansas, a team that hadn't beaten Oklahoma in so long John Steinbeck wrote bleakly about it in "The Grapes of Wrath." (Probably. We never actually read that. "The Pearl" was only 118 pages, so that made for a much easier high school book report.)
And yet, here we are: Kansas 38, Oklahoma 33.
After Dillon Gabriel had shredded so many defenses this season, Kansas gave him next to nothing. He completed 14 of 19 passes, but the big plays were rare, he never found the end zone and his pick six in the first quarter set the tone for what was to come.
Editor's Picks
1 Related
Jason Bean, in his sixth year of being the second-best quarterback on a roster, delivered a career-defining performance, even if it wasn't always pretty. He completed less than half his throws, managed just 218 yards and tossed two picks. And yet his 37-yard completion to Lawrence Arnold on fourth-and-6 with less than a minute to play proved to be the game winner.
Oklahoma led 21-14, 27-26 and 33-32 — each small lead feeling like an inevitable nail in Kansas' coffin. After all, this was the Jayhawks. They pull upsets against Texas that Oklahoma fans then use as ammunition for jokes for years to come. They don't beat the Sooners.
And yet, here we are: Oklahoma is 7-1, and just three days before the first playoff rankings are released, its hopes for a national tile appear to be on life support.
Gabriel ran for three touchdowns. Tawee Walker ran for 146 yards. Kendel Dolby's tipped ball led to a late INT that was supposed to seal the game. And none of it was enough.
So Kansas is bowl-eligible for the second straight year. That's its own story. What Lance Leipold has done in a place utterly devoid of hope is borderline astonishing. Fans celebrated accordingly by removing the goalpost — not because of the win, but because no structures taller than 12 feet are allowed within the state lines.
play
0:37
Kansas fans tear down goalposts after upset over Oklahoma
Kansas fans rush the field after the final play and bring down the goalposts after their upset over Oklahoma.
But more important to the big picture of this season, the threat of true playoff chaos in the last year of the four-team format took a major blow. The Big 12 is now without an undefeated team. Oklahoma will be playing to an inside straight the rest of the way. And as October comes to a close, it feels like the season has really just gotten started.
It took a while, but 2023 finally got a real dose of chaos.
Allar leads Lions
James Franklin can gloat, at long last, that his quarterback actually can complete a deep ball.
For Penn State, one dismal disappointment against Ohio State last week threatened to bleed into Week 9, as Indiana jumped out to an early lead, then erased a late deficit, tying the game at 24 with less than three minutes to play. All the same misery from last week's loss was on display for the Nittany Lions: too many big plays allowed, too few created. The ground game didn't account for a single run longer than 12 yards, and Drew Allar entered the Lions' final drive having thrown (we're estimating) 30 straight checkdowns.
Allar's last pass, however, was a dime, finding KeAndre Lambert-Smith down the sideline for a 57-yard touchdown. On Indiana's next play, the Hoosiers remembered that they were actually the Hoosiers and took a 25-yard sack for a safety, securing Penn State's 33-24 win.
play
0:33
Penn State takes late lead with Drew Allar's clutch 57-yard TD pass
KeAndre Lambert-Smith hauls in a 57-yard touchdown pass from Drew Allar to give Penn State a late lead.
Entering Saturday, Allar had attempted just 12 passes of 20 air yards or more — fewer than 142 other quarterbacks nationally. He'd completed just three of them. In last week's loss to Ohio State, he was 0-for-4 on the deep ball. And before the heave to Lambert-Smith, Allar was averaging just 5.1 yards per pass.
But when it mattered, Allar showed he had it in him, delivering a dagger that keeps Penn State's hopes for a Big Ten title — and perhaps a playoff berth — still flickering.
Next up for the Lions: a trip to Maryland, where Franklin will have the team bus stop at every third rest stop to make the 220-mile trip in just under 11 hours.
Clemson makes playoff case
On the field, Clemson lost to NC State 24-17 on Saturday, yet another frustrating example of the Tigers snatching defeat from the jaws of victory. It is Clemson's seventh loss in its past 12 games vs. Power 5 opponents, and it effectively ensures that, for the first time since 2010, the Tigers won't reach double-digit wins.
But does that mean Clemson shouldn't be in the playoff conversation? Only a small-minded bandwagon jumper would be foolish enough to believe that.
Dabo Swinney has been pretty clear that the Tigers' losses this year have all been flukes. Against Duke, Clemson had 200 yards passing and rushing, he noted. Clemson never loses those games. And two losses came in overtime, when Clemson gave away leads against Florida State and Miami — two teams with national championship pedigrees, we might add. And Saturday's loss to the Wolfpack was a matter of some problematic turnovers, a little bug that's plagued the Tigers all season, but really doesn't say much about their overall ability (except for the ability to not give the ball away). Clemson actually had more yards than NC State, and if yards were points, well, Clemson would've had a good chance to come away with the win.
So, the point everyone needs to remember here is Clemson is just a few plays away from being undefeated, and are we really going to punish a team for a few bad plays? Do we suggest "Our American Cousin" was a bad play just because one really fluky thing happened during its performance at Ford's Theater?
Clemson's losses have all been close. When Nebraska went 0-8 in one-score games back in 2021, did anyone hold that against Scott Frost? Of course not! That would've been ridiculous.
So, let's not focus on silly things like fluky plays or bad luck. Clemson is well in the running for Butch Jones' famed championship of life, and we're pretty sure that comes with an automatic bid to the playoff. Besides, it's not like the Tigers lost to a basketball school.
play
0:28
Dave Doeren hits back at Steve Smith's 'waiting for basketball' jab
NC State coach Dave Doeren doesn't hold back in responding to comments made by former Panthers WR Steve Smith on "College GameDay" about his team.
Trojans' D survives Cal
Cal's 2-point try with 58 seconds to play came up empty, and USC survived an upset bid 50-49. What's less clear now is how long defensive coordinator Alex Grinch will survive, because most USC fans are ready to recommend a nice tarmac at LAX for a quick talk with team brass.
Caleb Williams threw for 369 yards and accounted for four touchdowns, but it was nearly not enough. Jaydn Ott, who ran for three touchdowns in the game, was banged up late in the third quarter and didn't touch the ball again. With Ott out, Cal turned the ball over twice on fumbles and once on downs in the fourth quarter, allowing USC to turn a 43-29 deficit into a 50-43 lead in a collapse that would suggest Cal is fully engaged in ACC football already.
Still, Grinch's woeful defense allowed the Bears to march down the field late, scoring on a nine-play, 79-yard drive inside the final minute. Cal opted to go for two because, honestly, no one wanted to see any more of this game, and Fernando Mendoza's heave into the end zone fell incomplete.
If it was a win for the Trojans, it sure felt like another nail in the coffin for their beleaguered defensive coordinator. Four of USC's past five opponents have scored or matched a season high vs. Power 5 competition against the Trojans' D, and the lone outlier is Colorado, which hung 41 on them.
Of course, rather than blame Grinch, it's possible USC just has too many players from California, as Lincoln Riley noted earlier this week.
Lincoln Riley had a long answer about recruiting today. Here's part of it, mainly on local recruiting. #USC pic.twitter.com/LmVfqcRRcQ

— Antonio Morales (@AntonioCMorales) October 26, 2023
Riley later suggested L.A. didn't have a good downtown, In-N-Out burgers weren't as good as Shake Shack, and was ambivalent as to whether Reggie Bush should get his Heisman back.
The best 5-3 team in the country? That might be the Arizona Wildcats, who scored a massive win over No. 11 Oregon State, 27-24 on Saturday.
Freshman QB Noah Fifita has been exceptional since stepping into the starting job one month ago, throwing for 275 yards and three touchdowns in Saturday's win. As Arizona's starter, he has 11 TD passes and just three picks.
Arizona is in the middle of a five-game stretch against teams that were ranked at kickoff, but it has won its past two and posted 112 points in its past three, despite head coach Jedd Fisch spending the bulk of every game looking at his play card like it's a set of IKEA instructions on how to build a bookshelf. Meanwhile, all three of Arizona's losses have come by a touchdown, including overtime defeats at Mississippi State and USC.
For the Beavers, the loss is a blow to title hopes in the crowded Pac-12, which now has seven teams at 3-2 or better in conference play. However, in a nice bit of sportsmanship, QB DJ Uiagalelei honored his former team — Clemson — by completing just 15 of 29 throws.
Heisman Five
We're going to start printing "Ollie 4 Heisman" T-shirts this week.
1. Ohio State WR Marvin Harrison Jr.
He caught six passes for 123 yards and two touchdowns in the win over Wisconsin and was blissfully referred to as "Marv the Magician" rather than "Maserati Marv" 63 times.
play
0:42
Marvin Harrison Jr. gets another TD against Wisconsin
Marvin Harrison Jr. gets Ohio State back in the lead 17-10 with this 19-yard reception from Kyle McCord.
2. Oklahoma State RB Ollie Gordon II
Gordon ran for 271 yards and two touchdowns in a 45-13 win over Cincinnati Bearcats on Saturday, his fifth straight game with 120 or more on the ground and his second straight with 250 or more on the ground. Add in his 116 receiving yards three weeks ago against Kansas, and Gordon became only the second player in the last 20 years to post 250 scrimmage yards in three straight games (joining BC's Andre Williams, per ESPN Stats & Information).
3. Florida State QB Jordan Travis
Travis had his best game of the season against Wake Forest, completing 22 of 35 passes for 359 yards and accounting for four total touchdowns. Then, after the game, Travis and Keon Coleman retreated to the Bat Cave, donned their superhero outfits, and spent the rest of the evening fighting crime.
4. Washington QB Michael Penix Jr.
After a brutal performance against Arizona State last week, Penix returned to form in Week 9, throwing for 369 yards and four touchdowns. Between Cal giving up 50 to USC and Stanford getting scorched by Penix, it was a rough week for ACC defenses.
5. Michigan QB J.J. McCarthy
The Wolverines were off Saturday, but a low-level staffer with CIA hacking experience was able to add six touchdowns and 800 yards to McCarthy's total by accessing the NCAA's mainframe via a high tech password cracking algorithm. It might seem a bit disreputable, but also the NCAA's master password was actually just "password," so it's hard to be too mad at Michigan.
Smith keys Aggies' win
There hasn't been much to cheer about for Texas A&M this season, but Week 9 was something of a high-water mark for the Aggies, by which we mean no one fell asleep while Bobby Petrino was signaling in his third adjustment at the line of scrimmage.
Texas A&M toppled South Carolina 30-17, holding the Gamecocks to just 209 yards of offense, while Ainias Smith paced the Aggies with 118 yards on six catches, including a nifty 42-yard TD reception.
play
1:04
Max Johnson throws 42-yard touchdown pass to Ainias Smith
Max Johnson throws 42-yard touchdown pass to Ainias Smith
Texas A&M is now just one win away from bowl eligibility, and given the injury to starting QB Conner Weigman earlier in the year, there's a case for keeping Jimbo Fisher beyond the hefty buyout A&M would have to pay to fire him. On the other hand, since finishing No. 5 in the country during the COVID-impacted 2020 season, the Aggies are just 9-12 in SEC play and just four wins have come against other winning teams in the Power 5.
Of course, things could be worse. At South Carolina, the Gamecocks lost their fourth straight and head coach Shane Beamer responded to the defeat by karate chopping some stacks of lumber, driving his car into the side of a Hardee's and tweaking his knee after trying to win a kickboxing match against a shark.
SMU wins big
The over/under for Saturday's game between Tulsa and SMU was 55 at kickoff.
At halftime, SMU led 52-3.
It would've been hilarious to see a second-half shutout by both sides, of course, but there was no slowing the Mustangs' offense. SMU finished off the 69-10 win with 638 total yards, including 446 through the air, and starting QB Preston Stone averaged a ridiculous 18.6 yards per throw. To put that in perspective, Penn State QB Drew Allar is legally required to report any throw of more than 15 yards on his taxes.
In the past three seasons, according to ESPN Sports & Information, only one team has scored at least 52 in a half. SMU has done it twice (including against Houston last year).
This embarrassment for Tulsa comes just a week after the school's attempt to set the world record for largest beer tasting fell short by 163 people. On the upside, after what happened against SMU, most of the city of Tulsa will now be eagerly consuming the leftover beer.
Coaching insight of the week
Charlotte's Biff Poggi, sporting the newest from Pat McAfee's athleisure line, summed up his team's problems nicely ahead of the fourth quarter of the 49ers' 38-16 loss to FAU.
pic.twitter.com/EKLVkjJOK9

— no context college football (@nocontextcfb) October 28, 2023
So to sum up: When playing football, do block and tackle. Do not make sausage. Do wear pads. Do not wear sleeves. "Do your damn job." Do not talk to anyone or even send funny GIFs on the text chain you're on with your buddies from high school.
Afterward, Poggi returned to his full-time job serving as a lifeguard at the YMCA at the local seniors center and, honestly, if Mable doesn't stay off the diving board, he's just going to absolutely lose it.
Under-the-radar play of the week
It's hard to pick just one key moment from Georgia Tech 's 46-42 win over North Carolina on Saturday because there were so many.
The Jackets ran for 348 yards against UNC, their most in a game since 2020.
There was Haynes King's four touchdown passes, which might officially make him the most successful Jimbo Fisher QB recruit in the past decade. (Seriously, look it up.)
There was the visit from former coach Paul Johnson, who might or might not have borrowed his pants from a guy he met on the MARTA on the way to the game.
If you thought Paul Johnson was gonna waste 6 minutes of his day finding a tailored pair of khakis rather than just pulling something off the rack at Old Navy, you don't know Paul Johnson. pic.twitter.com/lvB2WvTdJB

— 🅰️️🆔 (@ADavidHaleJoint) October 29, 2023
But if we can only pick one, the honor goes to Ahmari Harvey for delivering this textbook hit on Tez Walker, as UNC was driving to take a late lead.
play
0:53
Tez Walker shaken up after GT forces a crucial fumble
Tez Walker catches Drake Maye's pass but is blindsided on the run, conceding the fumble and staying down for several minutes before walking off the field.
K.J. Wallace recovered, Georgia Tech ran out the clock, and the Yellow Jackets scored yet another shocking upset win.
Under Brent Key, Georgia Tech is now 4-0 against ranked ACC teams and 3-5 against unranked ACC teams. The ACC Coastal may be dead, but its legacy remains.
Under-the-radar game of the week
There's just one FBS team still in search of its first win on the season, and Sam Houston State has endured some misery along the way, capped Wednesday by a UTEP field goal with just three seconds left on the clock, giving the Miners a 37-34 win and sending the Bearkats to their seventh loss in seven tries since moving up from FCS.
A quick rundown of Sam Houston's defeats:
On Wednesday, it led 27-20 entering the fourth quarter, blew that lead, scored with 6:02 to go to tie it at 34, shanked a punt, immediately coughed up a 37-yard completion, then lost on a kick by a man named Buzz Flabiano, which is definitely not the pseudonym Tom Cruise uses when checking into hotels.
A week earlier, FIU booted a field goal with five seconds left to send the game to overtime, where Sam Houston lost in 2OT.
Two weeks before that, Sam Houston had undefeated Liberty on the ropes. The Bearkats trailed 21-16 with 3:36 to play, engineered a 15-play, 96-yard drive that stalled at the Flames' 3-yard line with an incomplete pass on fourth-and-goal.
A week before that, Sam Houston took an eight-point lead with 1:11 to go, but allowed a 28-yard TD pass and 2-point conversion with 13 seconds left to play against fellow first-year FBS program Jacksonville State, sending the game to overtime, where again, the Bearkats lost.
Week 9 ICYMI
Iowa State is 4-1 in Big 12 play and has a real shot at the league's title game after toppling Baylor 30-18 on Saturday. After an ugly 10-7 loss to Ohio in September, the Cyclones have won four of five. With a win over Oklahoma State and games remaining against both Texas and Kansas State, the Cyclones control their own destiny in conference.
Nebraska thumped Purdue 31-14 behind two touchdown passes from Heinrich Haarberg, and now needs just one win in its last four games to make a bowl.
It might be time to think about taking the interim tag off David Braun's title at Northwestern. The Wildcats beat Maryland 33-27 Saturday to move to 4-4 on the season, matching their win total from the prior two seasons combined. QB Brendan Sullivan accounted for more than 300 yards and two touchdowns, and Northwestern hit 31 points for the third time in its last seven games — something it had done just twice in the prior 33.
UMass beat Army 21-14, giving the Minutemen their first multiwin season since 2018.
Colorado State's passing game accounted for 297 yards by its QBs and minus-15 yards by its fans.
best graphic of all time just dropped pic.twitter.com/AGflKyXCRb

— no context college football (@nocontextcfb) October 29, 2023
The Rams went to the half tied with Air Force, but the Falcons pulled away down the stretch to remain undefeated.
UCLA knocked off Colorado 28-16, sacking Shedeur Sanders seven times and hitting him six more in the process. As a result, Deion Sanders has added Chip Kelly to his "enemies list" and will exact his revenge.