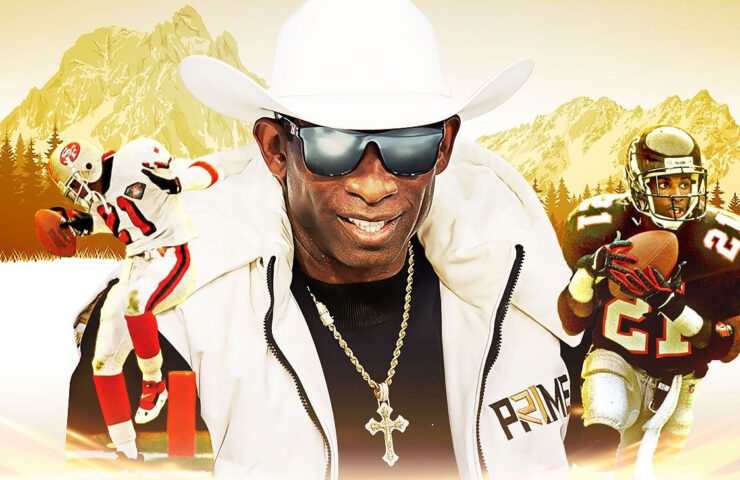 Before there was Coach Prime, there was Prime Time: Tales
NFL Nation, ESPNOct 25, 2023, 06:55 AM ET
Before there was Coach Prime, there was Deion Sanders, the electrifying football star.
The brand would come later, a mélange of highlight-reel plays and compelling sound bites and commercials, even a rap album that helped preserve Sanders' place as a sports figure who transcended generations.
The persona was largely forged on the NFL field, where the six-time All-Pro and two-time Super Bowl winner was feared as a cornerback, a return man and occasionally as a wide receiver, but he also ran track in college and moonlighted with a nine-year career in Major League Baseball after being drafted by the Yankees in 1988.
Neon Deion did it all with an incomparable style.
But a constant theme in Sanders' NFL story, noted by nearly everyone ESPN contacted about their experience with him as a pro between 1989 and 2005, was not Sanders' flamboyance or even his preternatural athletic abilities. It was the work.
"On the field it was about how good could he be," said Brad Johnson, who was Sanders' teammate at Florida State and in the NFL. "The game wasn't going to be on Tuesday, Wednesday, Thursday. That was work."
With the nationwide excitement Sanders has generated in college football as Colorado's head coach, ESPN reached out to teammates and coaches across all eras of Sanders' NFL career to provide a portrait of what made him exceptional between the lines on Sundays.
In the early 1990s, Deion Sanders spent five seasons playing football for the Atlanta Falcons and four seasons playing baseball with the Atlanta Braves. Gin Ellis/Getty Images
The first widespread public exposure to Sanders came when Bobby Bowden recruited the player from North Fort Myers, Florida, to Florida State in the Seminoles' pre-ACC era. He was a three-time All-American and a baseball and track star, and it was in Tallahassee from 1985 to 1988 when the legend began to emerge.
Brad Johnson, Florida State QB: A lot of people would not throw to his side, same thing in the NFL. There were times he would entice someone to throw his way. I remember against Michigan State, they had the great Andre Rison, so Deion let him go by him on a post. The QB didn't throw it far enough and Deion picked it off. He had to entice balls to be thrown his way. He was always before his time.
In practice, he was actually pretty quiet. Prime was into getting better and into working. If we went one-on-one versus him, we might complete a hitch or a curl, but you were never going to complete a go ball. He took it away. That's who he was. He was an endless worker. Now, on game day, he became Prime Time when the bright lights came on. He could turn it on.
People got caught up in that dance. The dance happens after he scores. I remember him working, I remember the sweat. He was always helping. He was always talking, always helping the other corners out. That didn't always happen, especially at that time.
Though Sanders' multisport legend was shaped on the football field and baseball diamond, Sanders was also a track star for the Seminoles. A champion in the 100 and 200 meters and 4×100 relay, Sanders showed a flair for the dramatic and an early aptitude for unforgettable quips.
Johnson: At Florida State, there was a track meet, and it was him, Dexter Carter, Sammie Smith — another running back who played in the league — and Arthur Blake in the 4×100. The track meet was at 5:30 or so. I'd been playing golf the whole day, so I get home and run down to the track meet. When I park, I feel like I'm late in getting there. When I get to the apartment, he's outside there in a bathrobe in the parking lot — by the pool — in flip-flops talking on a cellphone. That was a big-ass cellphone; it was 1988. I said, "Prime, you got a meet. Will you be ready to go?" He said, "You never seen a cheetah stretch before he runs, do you?"
"We brought Deion in for one reason, and that's to take on Michael Irvin one-on-one." Jesse Sapolu, 49ers offensive lineman
On the heels of a celebrated four-year career at FSU and a 4.27 40-yard dash performance at the NFL combine, Sanders was selected at No. 5 by the Atlanta Falcons in the 1989 NFL draft. The Falcons were in the midst of a stretch of eight consecutive losing seasons (including Sanders' first two in the league). But in 1990, when the team hired Jerry Glanville as head coach, the franchise's fortunes began to turn. Glanville respected Sanders' on-field style, even when it came to the danger of giving wide receivers a huge cushion so he could make plays.
Glanville: He goes, "I gotta lay off to get work. If I smother-cover him, I'm not gonna get any work." That's what he'd say. I go, "I know you gotta let him open, but don't let him open that far because he was open about nine yards."
Glanville also allowed Sanders to manage all the sideline and celebrity guest appearances, as well as pregame speeches, a practice that Sanders has continued as a head coach at Colorado. Guests of the Falcons back then included megawatt stars such as MC Hammer and Evander Holyfield.
In five years with the Falcons, Sanders scored 10 touchdowns, three defensive scores, three kick returns, two punt returns and two as a receiver. AP Photo/Doug Mills
Glanville: Hell, they didn't want to know me. But Deion would say, "Is it OK if I get this guy? Is it OK if I have this guy?" I said, "Hey, do whatever you wanna do if it helps us win."
So what you see him doing today, I did that way back then. Only because he knew those people. It wasn't me.
In August 2023, Glanville got a call from former Falcons offensive tackle Chris Hinton, who said Sanders had borrowed from Glanville's repertoire at a news conference.
Glanville: [Hinton] goes, "He said something you said every week." I said, "What was it?" He said, "If one's fighting, we're all fighting." He goes, "Do you have any idea how many times you told us that, Coach?" … So I take great pride that he was with us and he gave us a lot.
After five seasons with the Falcons, Sanders signed a one-year, $1.3 million contract with the San Francisco 49ers in mid-September 1994, with the season already underway. Sanders had been playing center field for the Cincinnati Reds, but the strike-inspired end of the 1994 baseball season led to his signing with a 49ers team that had Super Bowl aspirations. Sanders would indeed win his first Super Bowl as well as NFL Defensive Player of the Year honors with six interceptions and an astounding 303 return yards with three touchdowns on those interceptions.
Jesse Sapolu, 49ers offensive lineman: Everybody knew before the season started, it was going to be either one team or the other. It was either the Cowboys or the 49ers. And those predictions came true. … It just shows you how above the head and shoulders those two teams were for the rest of the league. And we brought Deion in for one reason, and that's to take on [Cowboys future Hall of Famer] Michael Irvin one-on-one and some of the other great receivers from some teams that we might see in the playoffs, and we can roll our coverage the other way. And then when Deion came and his influence on our other cornerback who became a Pro Bowler later, Eric Davis, I mean, now we got something.
Although multiple 49ers teammates had to restructure their contracts to accommodate Sanders' salary, he immediately connected within the locker room. Offensive coordinator Mike Shanahan remembers his son and later 49ers head coach, Kyle, looking up to Sanders.
Shanahan: Kyle was a ball boy for us — he was probably in eighth grade. He comes to me one day and says, "Deion and some of the veterans are going to take all of the ball boys to dinner, is it OK if I go with them?" I say sure; I think it was Harris Barton, Steve Young, (Tom) Rathman, a bunch of players in that veteran group and Deion. So they go to dinner and Kyle wears his 49ers jersey to dinner, Deion's jersey, No. 21, that Deion had signed for him. Kyle's at the restaurant and somebody sees Kyle on the way out and offers Kyle $200 for the jersey. Deion doesn't see it happen, but all of the other ball boys see it happen, some of the other players see it. Kyle says, "No way, not selling."
Next day at practice, Deion sees Kyle and points at him and, you know, kind of motions Kyle to come over to where he is. And in that voice he has when he's really asking a question, Deion goes, "Did I understand this right? Did I hear this right? Did you have some guy come up to you last night in that restaurant and offer you $200 for my jersey and you wouldn't sell it to him?" Kyle says he refused to sell it, and Deion looks at him and says, "I'm going to teach you some business. No. 1, I get these jerseys for free, all you had to do was sell it, come to me, get another one and I'll sign it." … Deion just keeps going, says to Kyle, "Hey, you have to recognize business opportunities."
"We're talking trash to see who will touch the ball first. I got to trade jabs in the game with the best corner ever to do it. It was that Karate Kid moment, the sensei against Mr. Miyagi." Fred Smoot, Washington cornerback
One of the notable performances in what would be Sanders' lone season with the 49ers came on Oct. 16, 1994, when he returned to Atlanta to face his former team. Sanders and the 49ers routed the Falcons, then fellow members of the NFC West, 42-3.
Sapolu: You talk about emotions that that crowd had when we came back with Deion. And he got into a fight with Andre Rison. It was like a full-out swinging, man, just the two of them. And then we all went in there and Atlanta's bench came off and we stopped it, and those two guys were friends. It was just the emotion of the moment that I think Andre felt like we were the rulers of the division for so long, and now Deion's coming over to add to that, and those emotions came out. And then right after the fight, it wasn't long, like a couple drives later, and Deion picked off an interception on the 2-yard line and ran right in front of their bench. And Deion's fast enough as it is, and by the time he got to the 40-yard line now, he was looking at the Atlanta bench and then was doing the high knee from the 15-yard line in and pulled a groin muscle doing that.
Deion didn't say much in the locker room, but when he got to the press conference, he just went off, "This is the house Deion built." And we just started laughing because we knew that we didn't have to worry about his focus. He was a showman, and he was a showman that came over to a team that was blue collar with great athletes, but our mentality was blue collar, and we were able to accept him coming into the family, and it formed that chemistry that allowed us to go on to win it all.
After helping the 49ers win Super Bowl XXIX, Sanders joined the Cowboys in 1995 and won his second straight title in Super Bowl XXX. AP Photo/John Greilick, File
As a free agent who was the reigning NFL Defensive Player of the Year and fresh off of beating Dallas on the way to a San Francisco Super Bowl win, Sanders switched sides and signed a seven-year, $35 million contract with the Cowboys, making him the highest-paid defensive player in the league. He made his presence felt immediately.
Darren Woodson, Dallas Cowboys safety: His first day he came to us, we're doing one-on-one drills. Half the DBs on one side, the other half on the other side. He got his first rep and he gave up an out, like a 12-yard comeback, whatever. And there's five other DBs on that side and I'm on the opposite side, and I saw the other DBs heading our way.
I hear him yelling at the DBs, "Hey, if you want to get reps, you better go on the other side," because he's pissed off he gave up an out. "You ain't getting no reps. I'm going to lock this down." And he did all the one-on-ones on that side of the field by himself and he shut it down. They tried to run a post, run nines [go routes], deep comebacks. He's knocking them down. It was like right then I knew he was different. He was willing to do whatever. That's what made him special.
The Cowboys would go on to win Super Bowl XXX that season, Sanders' second straight championship, and he showed his next-level understanding of football on a play when he actually allowed a touchdown. If only Woodson had listened.
Woodson: There's one story, he still gets mad at me about. We're in the Super Bowl. We're playing man and Pittsburgh is on the 5-yard line. So Deion says before the play, "Mingo." We had skinny legs and he called me Flamingo, but Mingo for short. I hear him, "Mingo, they're running a slant. Pick it off. Be the hero." Because he knows [receiver Yancey] Thigpen is running the slant on the back side and all I've got to do is stand there.
But I've got the [running] back. So the back flares the opposite way and I go with him. But if I sit there, I could've been the hero. [Sanders is] playing outside leverage. He doesn't actually give up the touchdown if we just play it the right way, but he's expecting me to stand there. They throw the slant, score the touchdown and he looked at me, and I mean … he wouldn't look at me the rest of the game. He was done.
Then after the game, "Mingo, you could've been the hero. Could've been the hero. Now I'm the dude giving up a touchdown." We bring it up all the time. That story stuck with me for so long because if I just stood there, it's [a pick-six]. But that's Deion. Highly intelligent. High football IQ.
Former NFL teammates Champ Bailey (left) and Sanders attending the International Poverty Forum in 2022. Derek White/Getty Images
After spending five Pro Bowl seasons with the Cowboys, Sanders was released for salary cap reasons in 2000 and signed a seven-year, $56 million contract with Washington. Future Hall of Fame cornerback Champ Bailey was in his second NFL season, and the 22-year-old found himself in a locker room full of defensive legends.
Bailey: I was just a young player, I hadn't even scratched the surface at that point, and I already had one of my idols in the locker room — [future Hall of Famer] Darrell Green — and now Deion Sanders signed. It was so surreal at the time; I mean, that was like cornerback college. Just the knowledge, sitting in the meetings, all of the things I would get from him, how to watch tape, looking at receivers' splits and how they come off the ball, how he used all those things when he played. It was just really surreal.
"He was always such a good mentor … as a young guy then, every gesture he made to me, everything he took the time to do, no matter how big or how small, it meant so much to me." Champ Bailey, Washington cornerback
Even when it came to style, Bailey saw Sanders' attention to detail in his trademark game gear.
Bailey: First preseason game that year, I walk in the locker room, and his locker is right next to mine. His uniform is all laid out on the floor — everything — bandana, gloves, shoes, jersey, pants, everything, and it's all laid out like he was in it and just jumped up out of it and it stayed behind. Like he laid down and got up and his clothes were still there — even the headband he would put around his neck — everything. [Laughs] it was just his thing, like how he visualized it all.
You can't put a price on those memories. It makes me laugh now, but everybody respected that space, nobody was going to mess with his stuff, that was a first ballot Hall of Famer right there.
Of course it was only for like six months, once [coach] Norv Turner got fired, I knew that was it for him there.
Sanders' 49ers uniform on the locker room floor before Super Bowl XXIX. Michael Zagaris/Sports Illustrated/Getty Images
Sanders' first retirement came in July 2001, when he was 33, because he didn't want to play for coach Marty Schottenheimer, who replaced Turner. Cornerback Fred Smoot didn't get to play with Sanders since he was drafted that spring, but he practiced with the veteran, who already was guiding younger players.
Smoot: What blew me away, the first time I was in the meeting room and I'm looking at these guys [Sanders, Green, Bailey] and I'm like, "Why did they draft me?" Prime's got a recliner in there. He's got a recliner! He would say "You need to get off them feet now." Now I know why, because it was hurting him.
I used to talk to Prime when I was in college. I would get phone calls and we'd chat it up and just talk, and I mimicked everything I did after Prime. He was everything for me. And then to be drafted to the same locker room. I patterned everything I did [after him].
Best of NFL Nation
• Before he was Coach Prime, he was Prime Time
• How Kyler learned Cardinals' new offense
• 49ers concerned about sluggish D-line
• Commanders' early woes leading to late headaches
• Mac Jones gives Pats a boost with win over Bills
• Rookie Jordan Addison emerges for Vikings
That included wanting to wear Sanders' uniform number.
Smoot: I wore 23 for the first month I was here because Prime was wearing 21. I got 21 when he gave me his locker, the number. He gave me everything. Then he was not only like, "Smoot, I know you want this 21. I'll give it to you. I'll give you the locker. I'm out. Next time I see you, we'll be playing on different sidelines."
He was right. On Aug. 31, 2004, Sanders came out of retirement to sign a one-year, $1.5 million contract (plus $2 million in incentives) with the Baltimore Ravens and played against Smoot and Washington that season.
Smoot: He's playing for the Ravens wearing 37 [Sanders' age]. We're talking trash to see who will touch the ball first. Second quarter I get the interception and run it back and get tackled [on their sideline] and I'm looking for him. A drive later he gets a pick. He's looking for me. I was nowhere to be found.
That's one of my favorite games ever. I got to trade jabs in the game with the best corner ever to do it. It was that "Karate Kid" moment, the sensei against Mr. Miyagi.
In 2005, Sanders' final NFL season, he was a nickelback for the Ravens. In his final game, a 20-16 loss to Cleveland, safety Ed Reed picked off Charlie Frye and lateraled it to Samari Rolle. He then lateraled it to Chad Williams in a creative play that showed how much Sanders meant to them.
Rex Ryan, Ravens defensive coordinator: [Sanders] had some kind of bonus for play time. It was like a $1 million bonus or something. The last game he's ever playing, we're sitting there, and it's like, "We got to get him in the end zone." So every time we got a takeaway against Cleveland [in the finale], we kept pitching to try to find Deion.
One of the funniest ones, and I guess I forgot to tell [coach] Brian [Billick]. [Defensive back] Chad Williams is going down, and he literally throws the ball backward 20 yards, thinking, "Well, Deion has to be back there somewhere." Brian was like, "What the hell are we doing?" We were going to get Deion's ass in the end zone. We never did, but man, we were trying.
Now Coach Prime, Sanders is leading the Colorado Buffaloes, who are 4-3 and set to face UCLA on the road Saturday. Christian Petersen/Getty Images
Sanders retired for good in January 2006 at age 38. After some time coaching high school football, he became the head coach at Jackson State on Sept. 21, 2020, before taking over at Colorado on Dec. 3, 2022. But long before then, Sanders was showing signs as a player that he might one day become a coach with his ability to connect with younger people.
Bailey: He was always such a good mentor. Even now, I could reach out to him for anything. He was always looking out for guys. It was just his way, it never felt phony. He definitely loves himself [laugh], but he always treated everyone, treated me, so well.
But as a young guy then, every gesture he made to me, everything he took the time to do, no matter how big or how small, it meant so much to me.
As a coach's dream player, he also understood the symbiotic relationship between coach and player, making each other better.
Shanahan: I'm not surprised he's a coach at all. Because you know what? The way he did things, the way he practiced, works, one of the smartest players I've been around, and always just so honest in how he dealt with you.
I mean, I tried to get him to sign in Denver when I got the job with the Broncos [in 1995]. Deion was trying to go to Dallas as a free agent, but I wanted him here. I tried so hard to get him, I mean I picked him up at the airport myself — I was his Uber.
I knew this guy could make me a much better head coach if I could get him.
Sanders' slick tongue has come in handy off the field, too, as a recruiter — like when he flipped cornerback Travis Hunter from his alma mater, Florida State, to Jackson State in 2021. It was the first time a five-star high school football prospect had signed with an FCS team since ESPN started its rankings in 2006.
Smoot: Football is this dude's life. When I knew he was going into coaching, I said this will be dangerous. First, there's no household in America he can't walk in and he'll walk out with your son. As a player, who better to teach me what I've got to go through on the field, off the field, how to promote myself, how to do every niche of the game. No other coach can do that.
Dallas Cowboys owner and general manager Jerry Jones couldn't hold back his excitement after watching Deion coach this season.
Jones: What I loved more than anything is when those players would come off that field and he was over there giving them some love, and those weren't his sons. Oh, my goodness, I could see him sitting over there. I loved it.
Let me tell you something: He's a hell of a coach. He's a hell of a coach.
Todd Archer, Jamison Hensley, Jeff Legwold, John Keim, Mike Rothstein and Nick Wagoner contributed to this story.